I honestly can't remember why I felt the need to make this dairy free, lactose free, vegan Eggnog. I just remember the idea coming to me whilst I was watching Tv. Welcome to the way my brain works! Once I get an idea it's like a nagging thought that I have to build into a recipe before I can put it to the back of my mind. This one didn't take too long to work out thankfully and after 2 attempts, the recipe was born.
It's not even a drink we tend to make here in the UK around the festive season, yes we do have Advocaat which we make into the retro cocktail The Snowball (more about that later) but I had to look up what a traditional eggnog ingredients are having never tried it before.
You could argue, how do you know this tastes like original homemade eggnog then Rebecca, well the truth is I don't. However, I've not always been dairy and egg free, I know what these things taste like and can imagine the combination and the flavour. Hey, prove me wrong! Give this recipe a go and tell me in the comments – did I get it right?
Going back to the Advocaat, this is a Dutch recipe and the difference is that Advocaat is cooked the thicken whilst Eggnog is generally made with raw eggs. My recipe merges the ingredients of one with the method of the other. Plus, for any one wanting a safe Eggnog drink, this may be the recipe for you.
The History of Eggnog
Oddly enough, despite Eggnog not being huge here in the UK, it is believed to originate in Medieval Britain as a drink called Posset enjoyed by monks. This drink was more of a hot milky stout with eggs and sweetened with figs. [source Time] Honestly, I have no idea what they were thinking at the time, it's the oddest of concoctions. Later the aristocracy made the drink a little more refined by adding sherry. At this time the ingredients used to make what we now know as eggnog were more likely to be afforded by the upper classes. In the 18th Century the recipe made it over the seas to the land of opportunity and over time, as with lots of nostalgic recipes from Britain, was associated with celebrations such as Thanksgiving and Yuletide.
Where the name Eggnog came from is a little greyer. The following is an excerpt from the dictionary for the word 'Noggin'
A small quantity of alcoholic drink, typically a quarter of a pint.

"I imagine you all go round to the pub afterwards for a quick noggin and a chat"

Oxford Dictionary
This is the definition for the word 'Nog'
ARCHAIC: a kind of strong beer brewed in East Anglia.

OXFORD DICTIONARY
The latter ties in with the history about the monks using stout in the earliest version. I guess the fact that a main ingredient being eggs and nog referring to the alcohol merged and stuck.
How do you make homemade Eggnog dairy free?
I made this Eggnog dairy free by using soya milk instead of normal milk or cream, the original Eggnog recipe calls for whole milk or cream. I guess this makes my eggless and dairy free Eggnog recipe a little bit healthier, can you have a healthy Eggnog? Think the jury may be out on that one.
Other dairy alternatives you could use are coconut milk, almond milk or rice milk. You will be familiar with the other types and know if your normal brand can be heated without splitting.
How do you make Eggnog vegan?
The clue is in the name here, yes, Eggnog does have eggs in it. In fact most recipes call for up to 6 eggs. So how on earth, you may be thinking, can you make this a vegan Eggnog Rebecca? Jolly good question. My little light bulb moment was when I discovered that Eggnog is described as a thin custard-style drink. Well I happen to love Birds Custard Powder which was made originally by Alfred Bird in 1837 as his wife was allergic to eggs. [source Recipe Reminiscing] I've always loved the fact Mr Bird did this.
Making up a batch of Birds custard with a dairy free alternative makes the custard both dairy free and vegan. This is therefore how I make my No Eggnog eggless.
Different ways to serve Eggnog
Over in America, Eggnog is often fully loaded with cream in the main recipe and finished with squirty cream and dusted with coco powder, cinnamon or nutmeg. It can be served warm or cold.
Personally, I love this recipe served over ice. The idea of loading it up makes me feel it would be too sweet. The idea of warming it up worries me I'd lose the edge on the brandy I've added!
I have demonstrated how versatile this recipe is though and with a nod to the similarities with Advocaat, I made this into a dairy free and vegan Snowball Cocktail. It's a lovely refreshing drink that tastes a bit like I remember cream soda, with a dollop of ice cream when I was a kid.
What different alcohol can I use to make my Eggnog?
The original recipe called for Nog, or stout, but I think I'll pass thank you very much! I made this No Eggnog with a cheap brandy but a dark rum would be a wonderful substitute as would a lovely Irish Whisky or a Scotch. I have even seen people mention using Southern Comfort in their Eggnog. To be fair the spices would compliment the nutmeg in this recipe.
How to store Eggnog?
I keep this vegan Eggnog in a 1 litre Kilner Bottle with a rubber seal. It keeps perfectly well in the fridge and doesn't thicken when cold. This is thanks to the substantial amount of alcohol I use (you are welcome). If you plan to make in advance as festive homemade gifts then this will keep for up to a month. This is due to the fact there are no short life ingredients included in the making of this recipe. Besides, the alcohol helps to preserve it anyway.
If you like these Eggnog, you'll love these other dairy free cream liqueurs and festive treats
I may get a reputation given the number of alcoholic cream liqueurs on my website, but I do so love a creamy liqueur. Here are the others below, and you can expect more in the future I promise!
You can also find all my Christmas Recipes in the link. These include Stollen, Trifle, Mini Christmas Cakes, Lebkuchen, Brandy Truffles, Clootie Dumpling and much, much more. Christmas Recipes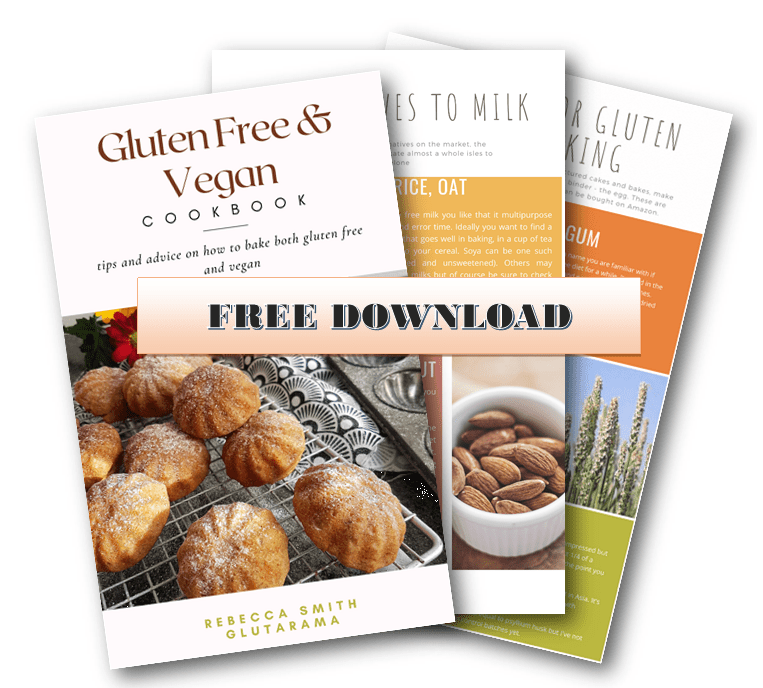 Never miss out again…
Sign up to my weekly Friday newsletter and not only get a FREE e-Book (currently my Gluten Free & Vegan Cookbook) but also get VIP subscriber discounts on free from goodies delivered to your door. Join me in my journey and learn to make anything gluten free.
No Eggnog – A Vegan Festive Drink Recipe
If you make it and like the recipe I would be eternally grateful if you popped back and commented leaving a star rating as this will tell search engines that this recipe is worth checking out and others will get to find it in searches.
No Eggnog – A Vegan Festive Drink
This vegan Eggnog is deliciously creamy custard like festive liqueur that you simply would not believe is eggless and dairy free. Perfect to festive parties and homemade Christmas gifts.
Ingredients
425

ml

tin coconut milk needs to be 60% or over in coconut extract

I can of coconut milk, make sure its over 60% coconut extract

150

g

caster sugar

600

ml

dairy free milk

or your normal dairy free alternative

4

tbsp

Bird's original custard powder

NOTE: level tablespoons

1

tsp

nutmeg

250

ml

brandy
Instructions
First make the vegan condensed milk by adding the tin of coconut milk and 150g of caster sugar to a saucepan, stir to combine and allow to gently boil for 20mins

Take the pan off the heat and set aside to cool for 10mins

In a large jug, measure out 4 level tablespoons of Birds Custard Powder, 1tsp nutmeg and add 100ml of the soya milk. Using a whisk mix the custard powder and milk alternative until all lumps have gone and you have a smooth thin paste. Pour in the remaining 500ml of soya milk and whisk to combine.

Return the saucepan with the condensed milk back to the hob and pour in the cold custard liquid.

Gently begin to reheat the saucepan whisking continuously, you want to be careful the custard does not thicken too much or go lumpy.

Continue to whisk until the spiced custard has thickened and turned a bright warm yellow.

Remove from the heat and allow to cool to room temperature.

At this point you could add a clingfilm lid to the saucepan to help prevent a skin from forming on the cooling custard. I don't have clingfilm in the house, so I simply give the custard a stir every time I walk past, this works perfectly fine.

Once the custard is body or room temperature you can pour in 250ml of brandy and whisk to mix thoroughly. You will now have a thin drinkable custard-like drink (that smells divine).

Pour your Eggnog into a 1 litre sterilised bottle [see notes] and place in the fridge until you plan to drink it.
Notes
To sterilise the bottle simply put in the dishwasher for a cycle or pour boiling water from the kettle into the jar and stand on the side until cooled (lid off), pour away water when you plan to fill with Eggnog.
Nutrition
Nutrition Facts
No Eggnog – A Vegan Festive Drink
Amount per Serving
% Daily Value*
* Percent Daily Values are based on a 2000 calorie diet.
Have you tried this recipe?
Let me know how it was & I will be super grateful. Take a picture & tag me @glutarama on your social media posts – I love seeing your photos more than you will ever know x
I love to see your own photos of my bakes, dinners and treats head to your favourite social media account and don't forget to tag me in @glutarama
Subscribe to my email list so that you get NEW recipes straight in your mailbox every Friday PLUS a FREEBIE and access to some amazing gluten free DISCOUNTS
Don't lose this delicious Eggnog recipe – pin it for later.
And one last thing! I've linked this festive recipe with these other awesome Foodies websites, go check them out
Cook Blog Share | Fiesta Friday | Friday Favourites | Over the Moon | Handmade Monday
*disclaimer: I use affiliate codes on my website, the vast majority are to Amazon. If you click on any of the links or images in the post and make a purchase my family will benefit from a small % of that purchase at no extra cost to you, in fact, for full transparency, in 2020 I made my first £25, and recently in 2022 I reached my next £25 (Amazon don't transfer the money until you reach £25). As you can see, it won't make me a millionaire but it will treat me to a few coffees, Lord knows I need the caffeine!