Right, I'm not going to lie to you, these Cherry Brandy Truffles are a bit fiddly to make but they're worth it. I personally love cherry brandy chocolates and always stockpile them at Christmas time but never thought to make my own. I also like chocolate truffles so I thought 'why not merge the two'? Enter Indigo Herbs, I used their products to make my Mocha Walnut Slice a while back and as I liked the products so much (especially making my own chocolate) I decided to be cheeky and ask if I could use their products again AND bag a bunch of goodies for you my lovely reader. For your chance to win the Indigo Herbs ingredients required to make these Cherry Brandy Truffles, scroll down to the bottom of this post and follow the instructions on how to enter, the more actions you complete, the more chances you get to win.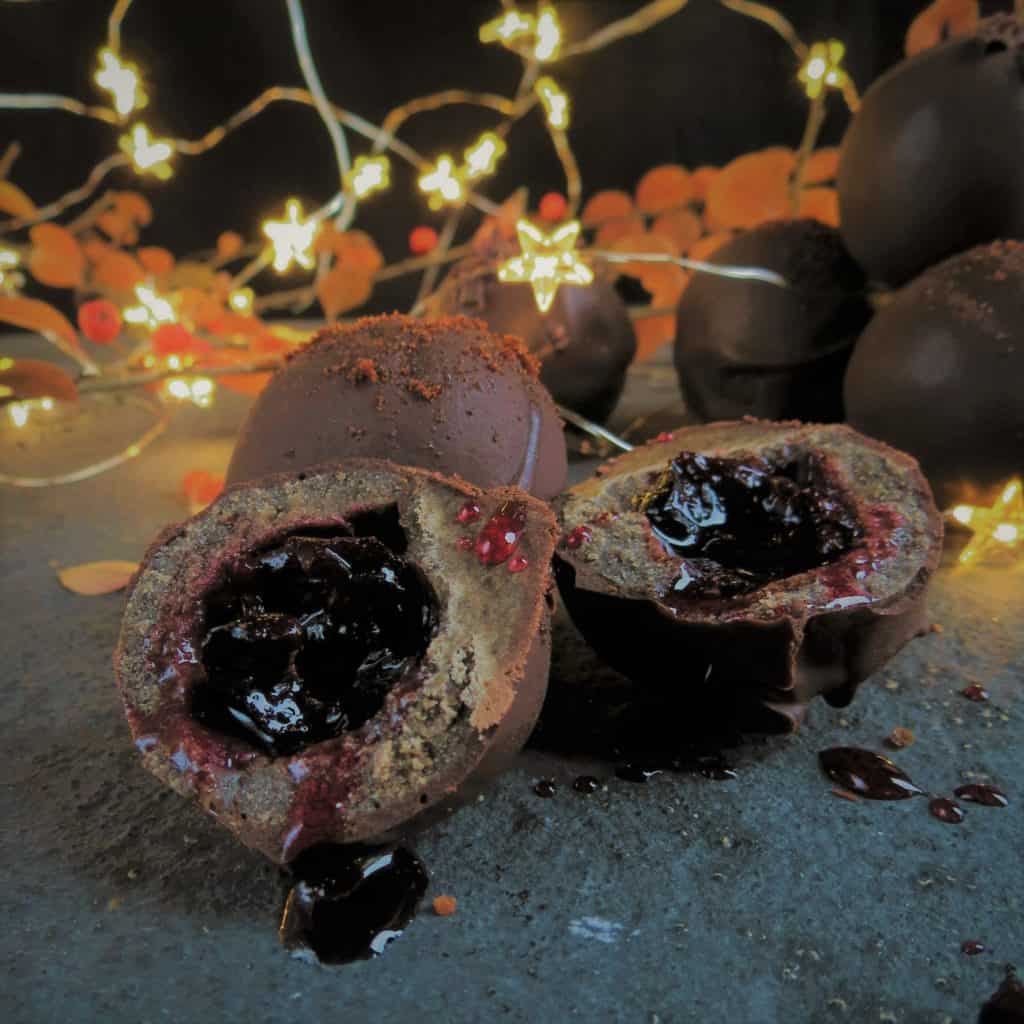 Lets get back to the truffles shall we? Like I say these are a wee bit fiddly to make but not what I'd call 'masterclass' and due to the fact that you need to make these truffles in stages they take approximately 2 hrs from start to finish. Given the effort, and how gorgeous these delicious monster truffles are to look at, I'm considering making more and boxing them up as gifts this Christmas. This recipe makes 15 Cherry Brandy Truffles and after a slightly dodgy bit of maths I worked out that it would cost £5-6 depending on the cost of the additional ingredients such as maple syrup and brandy.
Just to point out that I used a silicone cake-pop mould to achieve the perfect rounded truffle, I have added a link below and an clickable image below to the mould  that I have at home, I've gotten heaps of use out of it now for cake pops, chocolates and doughnut balls so it was a good investment. If you did click on the link and make a purchase it will cost no extra to you but amazon would give me a few pennies for the link.
Never miss a recipe!
PLUS FREE BONUS
Get 15 gluten, dairy free & vegan recipes plus a FREE shopping list printable for the ideal store cupboard ingredients
---
also receive discounts on delicious gluten free goodies delivered to your door (UK subscribers only)
Finest Cherry Brandy Truffles Recipe
Finest Cherry Brandy Truffles
A combination of cherry brandy liqueur chocolates and chocolate truffles, perfect made as a gift over the festive period or indulge yourself.
Cuisine:
Free From – gluten, dairy, wheat, soya, egg
Keyword:
Chocolate, Dairy Free, Gluten Free, Truffles, Vegan
Ingredients
For the cherry filling
15

frozen or tinned cherries

2

tbsp

brandy

1

tbsp

maple syrup

2

tbsp

cherry conserve
To coat and decorate
300

g

Organic Chocolate Starter Kit

or you can use dairy free chocolate

1

tbsp

acerola cherry powder

optional

1

tbsp

cacao nibs

optional
Instructions
To make the brandy cherries
Add your cherries to a bowl along with the brandy and maple syrup (if using tinned cherries in syrup there may be no need to add the maple syrup to sweeten)

Soak the cherries in the brandy syrup mixture for at least 30mins, in the meantime crack on with making the truffle centre.
To make the truffle
In a blender add the melted cacao butter, maple syrup, cherry powder, brown rice flour, extract and raisins. Blitz until you have a smooth dough

Take pieces of the dough and press into your cake pop mould, do this 30x. Using a rounded kitchen tool or your thumb press a cherry sized indent into each piece of moulded dough to make a little cup shape

Add a soaked cherry to 15 of the halves and spoon any excess brandy syrup into the moulded cup.

In the remaining 15 cups add a drop of cherry conserve and pop into the fridge to set the truffle.

Whilst waiting for the truffle centre to firm you can set to work making your chocolate [see packet instructions for details]
Making and coating your truffle
Once chilled the truffle cups will pop out of their moulds easily. to seal the two halves together take a small pastry brush or handle of a teaspoon and paint one half of the truffle cup with a cherry in it with your melted chocolate.

Take a truffle cup filled with cherry conserve and press down gently onto your painted cherry cup, repeat until all halves are stuck together.

Return to the fridge to allow the chocolate paint to harden.

Once hardened remove each truffle and dip into your remaining chocolate to coat, placing each coated chocolate on a silicone baking sheet or grease proof paper on a baking tray. Decorate with a topping of your choice and return to the fridge one last time to allow to set.
Nutrition Facts
Finest Cherry Brandy Truffles
Amount Per Serving
Calories 242
Calories from Fat 108
% Daily Value*
Fat 12g18%
Sodium 29mg1%
Potassium 186mg5%
Carbohydrates 27g9%
Protein 3g6%
Vitamin A 10IU0%
Vitamin C 0.5mg1%
Calcium 26mg3%
Iron 2.9mg16%
* Percent Daily Values are based on a 2000 calorie diet.
Click to save my Finest Cherry Brandy Truffles

I really love to read your comments and feedback and will always comment back. Do drop a line in the comment section if you liked this post I would love to hear your thoughts, if you share photos of your delicious creations, please do tag me or use the hashtag #Glutarama on Facebook, Twitter and Instagram. Subscribe to my email list so that you get all my reviews and recipes straight in your mailbox.
And one last thing! I've linked my Finest Cherry Brandy Truffles with these other awesome bloggers pages, go check them out
Cook Blog Share | That Friday Linky | Blog Crush | Cook Once Eat Twice
Baking Crumbs | Tickle My Tastebuds Tuesday | Fiesta Friday
*disclaimer: I use affiliate codes on my website, the vast majority are to Amazon. If you click on any of the links or images in the post and make a purchase my family will benefit from a small % of that purchase at no extra cost to you, in fact, for full transparency, in 2020 I've made my first £25, so it won't make me a millionaire but it will treat me to a few coffees, Lord knows I need the caffeine!