This page contain affiliate links. Please refer to my Disclosures Page for more details.
Also, before you hit 'Jump to Recipe' just check my contents section 'Skip to the Good Bit' below. I may answer a query you have about this recipe straight away in the post.
This Gluten Free Courgette Tart Recipe is perfect for when you have a glut of courgettes (zucchini). Whether you're a green fingered home grower or the happy recipient of someone else's home growing skills, it's lovely to have homegrown veggies. The only issue is what to do with them as they all come at once. Indeed, for a good long month in the summer you find yourself overwhelmed by allotment and veggie patch riches!
This recipe is a lovely quick and easy recipe, and can be served both hot and cold so great for picnics, supper and lunchboxes.
Never miss out again…
Sign up to my Friday newsletter and receive not one, but THREE FREEBIES.
GF and Vegan e-Book
conversion charts
3 simple guides to allergies, intolerances & autoimmune.
Join me and learn to make anything gluten free.
What pastry to use for this courgette tart?
I am all about making things simple so for this Easy Gluten Free Courgette Tart I use gluten free puff pastry by Jus~Rol.
There are other gluten free puffs on the market here in the UK such as Genius Ready to Roll Puff Pastry Blocks but these just aren't as easy to use, you have to thaw them out first then roll them out, that takes time and we don't all have the time or the energy for such shenanigans, especially if we're looking after little ones or carers.
Why bake the tart base first?
Hands up who loves a soggy bottom – I thought so! The reason I bake the puff pastry tart base first is to prevent the attack of the soggy bottom. In fact, there are two steps to prevent excess moisture in this tart but I'll explain the second in the next paragraph.
There's a fine line between pre-baking and cooking. You will have to use your common sense as only you will know your oven and how it behaves. I look for the signs that the puff has risen and puffed but not taken on too much in the way of colour.
You still need to go on to bake your tart a bit longer once you've added the toppings so baking too long at this stage will run the risk of a burnt tart later.
Preparing courgettes for this savoury tart
I suggested in the paragraph above that there are two steps to prevent a soggy tart. How you prepare your courgettes is the second.
I slice the courgette into coins and season both sides before adding to a hot pan (I spray my griddle with oil to prevent sticking).
Chargrilling the courgette prior to adding to the tart means that (a) you get a wonderfully pleasing to the eye finish and (b) you cook off lots of excess moisture in the vegetable that could seep into the tart when baking in the final stages.
How to make this courgette tart dairy free as well as gluten free
To make this Easy Gluten Free Courgette Tart so that I can eat it too, i.e. dairy free, I use plant based cream cheese and a dairy free tomato pesto. I have two favourite pesto's for such occasions. The dairy free cream cheese I use normally is either Violife or a supermarket own version vegan cream cheese.
Love Biscuits?
Me too so how about over 45 gluten free biscuit recipes in one place!
Other gluten free courgette recipes
Gluten Free Courgette and Beetroot Chocolate Cake
Prepare for a taste sensation with this Courgette and Beetroot Chocolate Cake. Who knew that garden vegetables worked so well together. This chocolate cake is moist and rich in flavour with a delicious earthy sweet beetroot frosting coloured a natural beautiful rose pink. Great for using up homegrown veg and hiding veggies in bakes for the children to eat. This is not only gluten free but also dairy free and egg free but you can make with dairy and eggs if you wish.
Check out this recipe
Roasted Ratatouille Recipe
A naturally gluten free traditional recipe made simple using the roasting method. This is also aubergine free but of course you can add aubergine if it agrees with you. Always a great recipe for using up a bumper harvest of courgettes/zucchini and tomatoes from your allotment or garden vegetable patches.
Check out this recipe
Family Friendly Mild Gluten Free Chilli Con Carne
A wonderful way to sneak veggies into a family meal that the whole family will eat and you can sit back in the comfort that everyone's getting a daily dose of nutrients. This is both gluten free and dairy free and can be made vegan too with meat free mince and a vegan stock.
Check out this recipe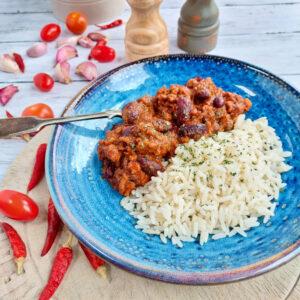 How to build this courgette tart
I have provided some simple step-by-step images to show you the process of making this Easy Gluten Free Courgette Tart. As you can see, it really isn't rocket science.
Also can we all take a second to admire my ruler. It was a present from my sister in law and it one of my most treasured things – yes I have added King Charles III to the bottom in biro!
Equipment you will need
Ingredients you will need
Jus-Rol Gluten Free Puff
courgette/zucchini
tomato pesto use vegan if needed
dairy free cream cheese I used Violife
fresh basil
salt & pepper
Gluten Free Courgette Tart Recipe
If you make it and like the recipe I would be eternally grateful if you popped back and commented leaving a star rating as this will tell search engines that this recipe is worth checking out and others will get to find it in searches.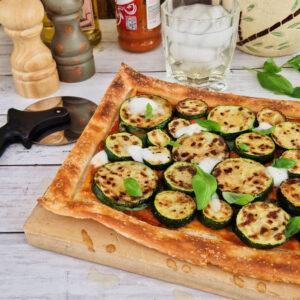 Easy Gluten Free Courgette Tart
A simple end of summer Gluten Free Courgette Tart. Perfect to use up some of your Zucchini harvest and great for picnics, lunchboxes, salads and last minute BBQ's before the Autumn comes. Using the right ingredients this can also be made dairy free too.
Ingredients
1

packet

Jus-Rol Gluten Free Puff

1

large

courgette/zucchini(s)

or 2 medium ones

4

tbsp

tomato pesto

use vegan if needed

3

tbsp

dairy free cream cheese

I used Violife

handful

fresh basil

salt & pepper to taste
Instructions
I start by heating my griddle pan with a spray of oil on a medium heat. Cut the courgette into coins about 1cm thick, season and place on the griddle until charred both sides. Repeat until you have cooked all your courgette coins. Set aside for now.

The next thing you need to do is pre-bake your gluten free puff pastry. I roll out the puff rectangle and gently score a margin using a ruler around the outside of the roll. This creates a little frame for your tart.

TOP TIP: score very gently and avoid cutting all the way through to the other side.

Bake in a preheated oven on 220°C | 200°C fan | 400°F | Gas 7 for 10 minutes, maybe a little longer so you have a decent rise in your puff pastry.

Remove the part-baked pastry from the oven and start to build your courgette tart.

Using a silicone spatula spread the tomato pesto over the tart base avoiding the 'frame' edges.

Dot fresh basil leaves around the tart as you see fit and then arrange your cooled courgette coins in a pattern to fill the area.

Now taking small spoonfuls of cream cheese, add little dollops of the cheese across the tart in any little gaps in the courgette pattern.

Return the tart to oven and keep a close eye on it whilst it bakes for the final 10-15mins. You are looking for the cream cheese to melt into the gaps.

NOTE: be careful the pastry edges do not catch.

Remove from the oven and if you have some left, arrange some fresh basil leaves for decoration. Eat immediately or serve cold later.
Nutrition
Nutrition Facts
Easy Gluten Free Courgette Tart
Amount per Serving
% Daily Value*
* Percent Daily Values are based on a 2000 calorie diet.
Have you tried this recipe?
Let me know how it was & I will be super grateful. Take a picture & tag me @glutarama on your social media posts – I love seeing your photos more than you will ever know x
I love to see your own photos of my bakes, dinners and treats head to your favourite social media account and don't forget to tag me in @glutarama
Subscribe to my email list so that you get NEW recipes straight in your mailbox every Friday PLUS a FREEBIE and access to some amazing gluten free DISCOUNTS
*disclaimer: I use affiliate codes on my website, the vast majority are to Amazon. If you click on any of the links or images in the post and make a purchase my family will benefit from a small % of that purchase at no extra cost to you.

For full transparency, in 2020 I made my first £25, and in 2022 I reached my next £25 (Amazon don't transfer the money until you reach £25). Recently I got paid a whopping £27.10 for 2023.

So to date I have made £78.58 since I first started the scheme in 2017. It won't pay the bills, that's for sure but it does help to pay for ingredients or little treats to cheer me up!
Join my friendly Facebook Group
life's a drama, gluten free doesn't have to be….