Presenting this Roast Ratatouille Recipe as my answer to a huge glut of courgettes in our home grown vegetable patch. This recipe is also an Aubergine free recipe as, like many others, I cannot tolerate Aubergine (Eggplant).
My son Lewis loves to grow his own veggies, but rarely will he take part in actually eating them. My recipe for Ratatouille is no exception (bet you thought I was going to say otherwise!). I on the other hand have lots of delicious roasted ratatouille to eat thanks to his green fingers! That's right folks, I'm the ONLY courgette eater in this family – go figure.
It's a good job I've learnt to hide the little critters in many other recipes such as my Mild Chilli Con Carne and my Gluten Free Courgette and Beetroot Chocolate Cake.
Oh, while I think of it, yes my dear friends over the seas and far away, I am of course referring to Zucchini when I say courgette.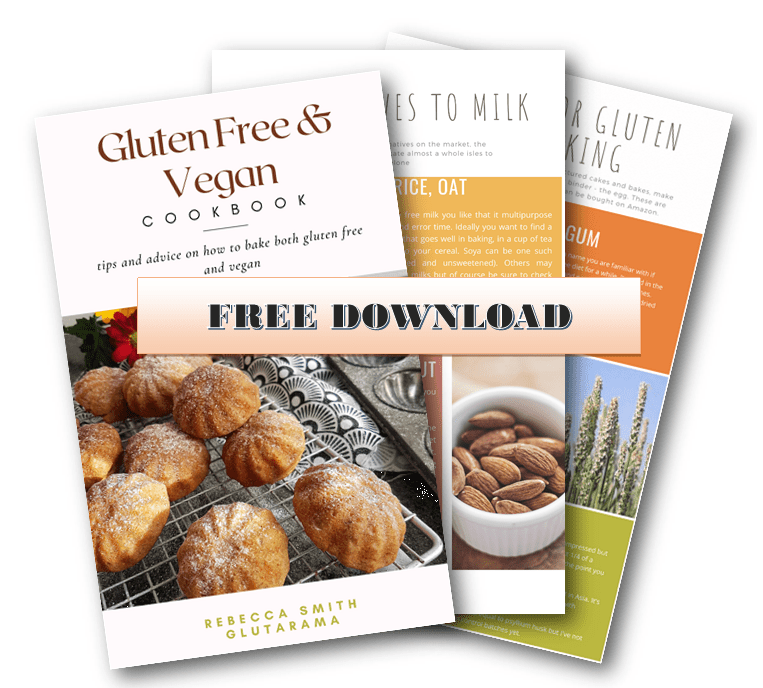 Never miss out again…
Sign up to my weekly Friday newsletter and not only get a FREE e-Book (currently my Gluten Free & Vegan Cookbook) but also get VIP subscriber discounts on free from goodies delivered to your door. Join me in my journey and learn to make anything gluten free.
Where does Ratatouille Come From?
Ratatouille fans would say that this is an age old traditional dish from Nice in the south of France and yes, they're not wrong. The caveat to this is that some of the ingredients didn't originate in Europe. Aubergine being one of them. Which incidentally, is called eggplant in America as the original plant was white and egg shaped (you can still get this variety in good green grocers).
When doing some research I winced when I saw many websites claim the dish to have been made famous by the 2006 Pixar film of the same name. Don't get me wrong, I love that film but I am in my mid-forties and distinctly remember being brough up on Ratatouille as it was one of my mum's favourite dishes to make me and my two sisters. So let's not give Pixar that little win shall we!
The word Ratatouille is supposed to translate as 'stew' or 'mixed up'. The internet fails me when I try to evidence this translation. Commonly referred to as peasant food for it's simplicity in cheap bountiful ingredients. Which is why you are excused for being confused if served with a beautifully presented 'ratatouille' with finely sliced ingredients layered and displayed in a fan shape. This is in fact a Confit Byaldi and was developed by a French chef in the 1970's. This is the version a rat made in an animated film.
The ratatouille I know and love is the stewed and frankly not at all pretty version.
As you can see from the images above, I do not get stressed about the ratio of vegetables. I simply use what I have, which is a great way to use up home grown courgettes, tomatoes and peppers. As long as you have about 1 pound of vegetables to 500g of passata you'll be fine.
What is in a traditional Ratatouille?
Traditional Ratatouille ingredients are whatever you managed to grow and harvest in the south of France before the 19th Century.
The reference below sums up the ingredients perfectly;
Whilst ratatouille, or local variants are made throughout the Mediterranean, a true ratatouille from Provence will be made with just eggplant, zucchini, tomatoes, peppers, and onions, then simmered in olive oil, and seasoned with herbes de provence, a particular mixture of herbs that grew traditionally in the region, these being rosemary, oregano, basil, thyme, serpolet, and savory. Chefs from the Provence region of France will scoff at any other recipe claiming the name ratatouille niçoise if any other combination of vegetables or herbs are used.

History of things – History of Ratatouille
Now let's unpick this shall we. The eggplant (aubergine) and zucchini (courgette) are pretty self explanatory. Serpolet is thyme and savory is a herb related to mint, rosemary and thyme (complicated family tree that!)
What is a deadly nightshade?
I'll break this down for you in the next three sub headings.
What 'fruits' and vegetables are in the deadly nightshade family?
Nightshades are part of the plant family Solanaceae. Some species are toxic, including the belladonna plant, which is also called deadly nightshade. Another nightshade is the tobacco plant – make of that what you will. Here's a list of widely eaten nightshades;
white potatoes.
tomatoes.
aubergine/eggplant.
peppers/bell peppers.
cayenne pepper.
paprika.
Can you eat deadly nightshade?
No, you cannot eat DEADLY NIGHTSHADE, there is a clue in the name. However, technically you can eat all the cousin nightshades in the bulleted list above.
Why can some people not eat nightshades?
The internet wasn't too forthcoming on this subject, there was a lot of thought on the whys and wherefores but not much in the way of evidence. I'll summarise by saying that nightshades are know to be inflammatory. Therefore, people with existing dietary issues (allergies, auto immune conditions, intolerances) may find if difficult to digest certain nightshades.
I am one such person. While I can eat cooked tomatoes, I cannot eat them raw. I can't eat aubergine and I can't eat potatoes. Both will make me bloat and feel a bit fuzzy, almost drunk.
How to make a roast or baked ratatouille?
Some recipes will have you fry off the diced vegetables before mixing with the herby tomato sauce. Another method is to add all the ingredients to a casserole dish and bake in the oven. In my method of Roast Ratatouille, I simply chop the vegetables to similar sizes, add them to a well oiled roasting tin and pop in the oven to roast for 35-40 minutes.
All you need to do is give the vegetables a mix up halfway through cooking to prevent them from stick to the pan too much.
When you pop the veggies in the oven the only thing left to do is to heat your tomato passata with the herbs and seasoning in a large saucepan. Heat on a low heat for the same time the veggies are in the oven. This will reduce the passata and leave you with a rich fragrant tomato sauce.
Once the time is up just tip your roasted vegetables (oil and juices too) into the reduced tomato sauce, stir to combine and you're ready to serve.
This method lends to a more intense flavour sauce and vegetables following the caramelisation process of roasting.
Never miss out again…
Sign up to my weekly Friday newsletter and not only get this super handy FREE conversion guide but also get VIP subscriber discounts on free from goodies delivered to your door. Join me in my journey and learn to make anything gluten free.
p.s. I have this on the back of a cupboard door in my kitchen – true story!
How to store this Roast Ratatouille
If making in batches, I store portion sized ratatouille in the fridge for up to 5 days and other portions go in the freezer for up to 3 months. Simply reheat in a pan or microwave after defrosting or heat straight from the fridge.
Other Deliciously Gluten Free Dinner Ideas
Simple Gluten Free Sausage Plait
Gluten Free Beef Stew and Dumplings
Gluten Free Fennel Fish Cakes – also potato free!
Roast Ratatouille Recipe
If you make it and like the recipe I would be eternally grateful if you popped back and commented leaving a star rating as this will tell search engines that this recipe is worth checking out and others will get to find it in searches.
Roasted Ratatouille Recipe
A naturally gluten free traditional recipe made simple using the roasting method. This is also aubergine free but of course you can add aubergine if it agrees with you. Always a great recipe for using up a bumper harvest of courgettes/zucchini and tomatoes from your allotment or garden vegetable patches.
Ingredients
450

g

courgette/zucchini(s)

(zucchini) chopped and diced

1

large

onion(s)

chopped into petals

500

g

passata

350

g

tomato(s)

I used plum tomatoes on this occasion

1

large

pepper

(bell pepper) red or yellow is fine

1

tsp

mixed herbs

Herbs de Provence

2

tbsp

olive oil

salt & pepper to taste
Instructions
Preheat oven to 220°C | 200°C fan | 425°F | Gas 7

Add all your prepared vegetables to a roasting tin with the olive oil and mix to coat in the oil.

Pop the roasting tin into the preheated oven and set the timer for 35-40 minutes

In a large saucepan, pour the passata and add the herbs and salt and pepper. For reference, I add 5 twists of ground pepper and 10 twists of rock salt.

Heat the tomato sauce on a gentle heat and forget about it while your veggies roast, you just need to give it a stir once or twice.

The sauce will reduce in volume by about half giving you a thick, sweet, fragrant tomato sauce.

NOTE: You may need to mix up your roasting vegetables once to prevent any sticking to the tin.

Once you're happy with the roasting process and have achieved the colour you want, scrape the contents of the roasting tin into the tomato sauce (including the oil and juices – these are the best bits).

Give all the ingredients a good stir to coat the roasted vegetable with the tomato sauce and you're ready to serve.

Serving Suggestion: I have mine as a side dish with mid-week meals or in a bowl and a chunk of bread, the later is especially good fort supper in the winter.
Notes
Try not to get too concerned about the ratio of vegetables, as long as you have about 1lb of vegetables to 500g of passata you can't go wrong.
This is a great recipe for using up a few odds and sods of vegetables in the drawer in the fridge so you can be flexible.
Nutrition
Nutrition Facts
Roasted Ratatouille Recipe
Amount per Serving
% Daily Value*
* Percent Daily Values are based on a 2000 calorie diet.
Have you tried this recipe?
Let me know how it was & I will be super grateful. Take a picture & tag me @glutarama on your social media posts – I love seeing your photos more than you will ever know x
I love to see your own photos of my bakes, dinners and treats head to your favourite social media account and don't forget to tag me in @glutarama
Subscribe to my email list so that you get NEW recipes straight in your mailbox every Friday PLUS a FREEBIE and access to some amazing gluten free DISCOUNTS
*disclaimer: I use affiliate codes on my website, the vast majority are to Amazon. If you click on any of the links or images in the post and make a purchase my family will benefit from a small % of that purchase at no extra cost to you, in fact, for full transparency, in 2020 I made my first £25, and recently in 2022 I reached my next £25 (Amazon don't transfer the money until you reach £25). As you can see, it won't make me a millionaire but it will treat me to a few coffees, Lord knows I need the caffeine!