This page contain affiliate links. Please refer to my Disclosures Page for more details.
Also, before you hit 'Jump to Recipe' just check my contents section 'Skip to the Good Bit' below. I may answer a query you have about this recipe straight away in the post.
This recipe for Gluten Free Fig and Almond Danish Pastries follows on from my recent Gluten Free Apricot Danish Pastries. I am super lucky to have a little fig tree in my garden and this year was a bountiful harvest. So naturally I needed to find different ways to use up said figs.
Like my Apricot Danishes, I knew it was going to be a relatively straight forward recipe to work out. The main component, gluten free puff pastry, is shop bought to make life easier. However, the cream cheese and almond paste that fills each Danish was a bit of trial and error to get the right consistency and level of sweetness.
Never miss out again…
Sign up to my Friday newsletter and receive not one, but THREE FREEBIES.
GF and Vegan e-Book
conversion charts
3 simple guides to allergies, intolerances & autoimmune.
Join me and learn to make anything gluten free.
What makes a pastry Danish?
This is where I completely debunk this recipe as NOT being a true Danish Pastry! A traditional Danish Pastry is in fact a layered bread made with yeast, butter, eggs, cream, milk and sugar. All the no-no's that both Bethany and I cannot eat.
A traditional custard or jam filled Danish Pastry is called a Spandauer and there is a lovely recipe here for muggles who can eat ALL the gluten, dairy and eggs by two Danish sisters Emma and Sofie.
Yet here in the UK, I think the name Danish Pastry has been expanded to include various puff pastry creations such as the cinnamon swirl, the pain aux raisin and so on.
Actually, I may have entered into a vortex that is Danish baking and I'm not sure I'm coming back for a while! I have found so many bakes I want to make gluten and dairy free since researching the humble Danish Pastry (which let's remember, this recipe technically is not!). Thanks to this amazing website Visit Denmark I have now added Brunsviger cake and Gåsebryst to my to-do-lists.
How do you make a gluten free Danish pastry?
I am all about making things simple so let's forget what we just learnt in the previous paragraph and for these Gluten Free Fig and Almond Danish Pastries I use gluten free puff pastry by Jus~Rol.
There are other gluten free puffs on the market here in the UK such as Genius Ready to Roll Puff Pastry Blocks but these just aren't as easy to use, you have to thaw them out first then roll them out, that takes time and we don't all have the time or the energy for such shenanigans, especially if we're looking after little ones or carers.
How do you make this Fig and Almond Danish dairy free too?
There are two elements that, if making normally, would have dairy in them. Firstly the puff pastry which is traditionally layer upon layer of dough and butter rolled out super thin to create the final puff pastry laminations. Using Jus~Rol Gluten Free Puff Pastry you are in fact already making the pastry dairy free as it is made with plant fats.
The second element is the cream cheese and almond filling. This is made dairy free using a plant based cream cheese. On this occasion I used Violife Cream Cheese.
What other fruits could I use to make this Danish Pastry?
I've mentioned my Apricot Danishes a few times so naturally you could swap the fig half for a halved Apricot.
How about thinly slicing apple and fanning slices out in the centre of the pastry. Another idea is to use pears, peaches or even tinned orange segments.
I'd love to hear from you if you do try this recipe with other fruits, please leave a comment so we can all learn of your successes!
How to make a Danish Pastry shape: step-by-step
I use a different shape to my Danish Treacle Tarts and Gluten Free Apricot Danish Pastries recipies. This time I've opted for the traditional pinwheel/windmill shape. The shape is a nod to the rich history of windpower in Denmark dating back to the 1800's.
It's a simple but effective shape that looks really professional but I promise it's not hard to do.
Step One: make the initial square shapes you will need for this style of Danish Pastry. (This works with the Jus~Rol GF Puff Pastry as it comes in a rectangular sheet). You will have a strip of excess pastry but you can make two little filled slices with this using any leftover cream cheese filling.
Step Two: begin to build the Danish Pastry using the prepared cream cheese and almond paste, halved figs and raspberry jam glaze. I use a 7-8cm cutter to gently press a mark in the pastry to give you a guide to cut up to.
Use the jam as a glue to ensure the pastry sticks down and the strips stay in place. As the jam also acts as a delicious glaze so don't be afraid to be liberal when brushing the final Danish shape.
What to do with leftover puff pastry?
As mentioned above, why not make two little pop tart style slices filled with leftover cream cheese and almond filling or jam, or dairy free chocolate spread, be inventive but don't waste good pastry!.
Other gluten free recipes you'll love
Gluten Free Apricot Danish Pastries
A simple and easy to make Danish Pastry using simple ingredients. Quick to make for a treat or breakfast and impressive to look at too despite not needing a masterclass in pastry skills! Gluten free, dairy free and egg free these are a winner in our family!
Check out this recipe
Gluten Free Danish Treacle Tarts
A quick and simple way to make gluten free, vegan danish pastries using Jus Roll puff pastry, perfect for a teatime treat or for breakfast with a strong coffee.
Check out this recipe
Gluten Free Cream Horns
Don't worry, you can make these Gluten Free Cream Horns and impress friends and family with your baking skills. Follow my simple step-by-step instructions and enjoy fresh cream puff pastry horns (can also be made dairy free and vegan too)
Check out this recipe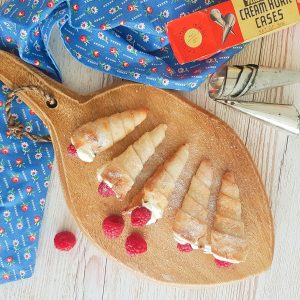 Rice Crispy Treats
These cute Rice Crispy Treats are inspired by the rice crispy doughnuts you can get in Costa, but these are friendly for everyone's tummies as they're gluten free, dairy free and vegan.
Check out this recipe
Free From Fig Inspired Recipes for you to try
Gluten Free Fig Custard Pudding
A delicious combination of light sponge pudding topped with a fig infused custard that's baked together in the oven to create a sticky caramel fig custard topping. So simple to make and delicious for pudding and suppertime.
Check out this recipe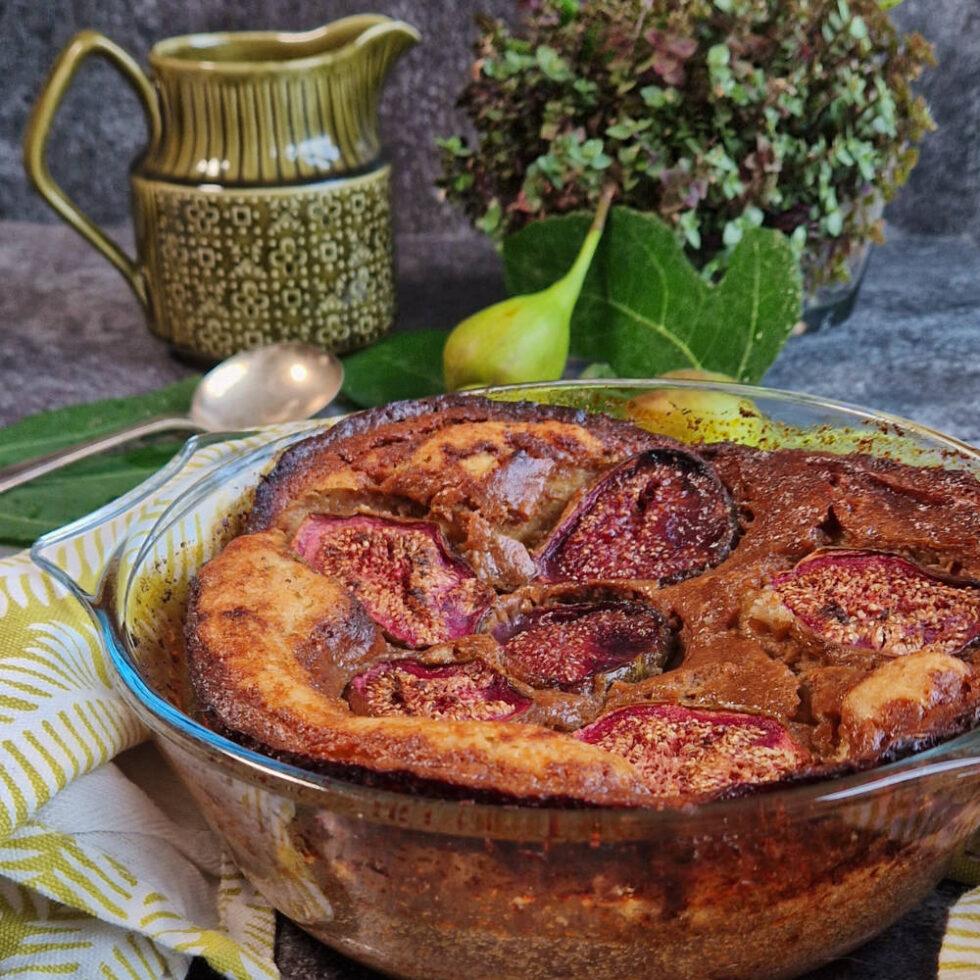 Delicious Gluten Free Fig Frangipane Tart
This easy to make Fig Frangipane Tart is a celebration of fig season, so if you're not sure what to do with fresh figs then this is the gluten free bake for you. This is also vegan so dairy and egg free too.
Check out this recipe
Equipment you will need
Ingredients you will need
1 packet Jus~Rol Gluten Free Puff
ripe fresh figs
dairy free cream cheese
ground almonds
caster sugar
raspberry jam
boiled water
Gluten Free Fig and Almond Danish Pastries Recipe
If you make it and like the recipe I would be eternally grateful if you popped back and commented leaving a star rating as this will tell search engines that this recipe is worth checking out and others will get to find it in searches.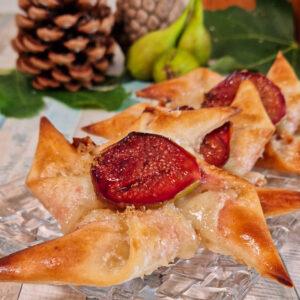 Gluten Free Fig and Almond Danish Pastries
A simple and easy to make Danish Pastry using simple ingredients. Quick to make for a treat or breakfast and impressive to look at too despite not needing a masterclass in pastry skills! Gluten free, dairy free and egg free these are a winner in our family!
Ingredients
1

packet Jus~Rol Gluten Free Puff – 280g packet

2

ripe fresh figs

50

g

dairy free cream cheese

50

g

ground almonds

1

tbsp

caster sugar

1

tbsp

raspberry jam

1

tbsp

boiled water
Instructions
Take your ready-rolled puff pastry rectangle (ideally using Jus~Rol GF Puff Pastry) and cut into 4 equal size squares.

TOP TIP: The excess pastry can be used for cheeky little parcels with any leftover cream cheese filling.
To make the cream cheese filling
In a small bowl weight out the cream cheese, ground almonds and sugar, beat to combine. You should have a thick nutty cream filling.
To build the Danish pastry
Next halve the fresh figs after cutting off the stem (if they have ones).

Cut your puff pastry squares in a windmill shape as shown.

Now add a good spoonful of the almond and cream cheese filling to the centre of the shape and fold each corner inwards to create your Danish windmill.

Next brush the shape with the watered down raspberry jam and place the halved fig in the centre of the Danish, pressing down gently.

Pop in a preheated oven set at 220°C | 200°C fan | 400°F |Gas 7 for 15-20mins until a golden brown.

Transfer to a cooling rack and eat once cooled to room temperature.

If you have any leftover raspberry jam you can give the Danish a final glaze, especially the fig as this may look a bit dry after being baked.
Nutrition
Nutrition Facts
Gluten Free Fig and Almond Danish Pastries
Amount per Serving
% Daily Value*
* Percent Daily Values are based on a 2000 calorie diet.
Have you tried this recipe?
Let me know how it was & I will be super grateful. Take a picture & tag me @glutarama on your social media posts – I love seeing your photos more than you will ever know x
I love to see your own photos of my bakes, dinners and treats head to your favourite social media account and don't forget to tag me in @glutarama
Subscribe to my email list so that you get NEW recipes straight in your mailbox every Friday PLUS a FREEBIE and access to some amazing gluten free DISCOUNTS
*disclaimer: I use affiliate codes on my website, the vast majority are to Amazon. If you click on any of the links or images in the post and make a purchase my family will benefit from a small % of that purchase at no extra cost to you.

For full transparency, in 2020 I made my first £25, and in 2022 I reached my next £25 (Amazon don't transfer the money until you reach £25). Recently I got paid a whopping £27.10 for 2023.

So to date I have made £78.58 since I first started the scheme in 2017. It won't pay the bills, that's for sure but it does help to pay for ingredients or little treats to cheer me up!