There's nothing more satisfying than a Sausage Plait on a cold summers day in August – eh?
You heard me, it's ridiculously cold for this time of year so I craved a hearty autumnal meal… Ok, I started to write this last week when I'd all but given up hope of having a British summer, as I type this now it's 10am and the heat must already be 20°C outside!
Still this sausage plait was a yummy unexpected treat to have in August so I'm sharing it with you, you'll notice I've gone for the easy option and used a packet of ready-made pastry, I'm ashamed to say I've still not plucked up the courage to make my own pastry after a few historical disasters, watch this space though, I will do it!
What gluten free pastry can I use to make this Sausage Plait?
Well I used the Jus-Roll Gluten Free Puff Pastry Roll, it comes in a handy rectangular sheet, the same size as the gluten-filled version so you know what to expect. No need to trim, this is the perfect size for the plait. You can get chilled or frozen gluten free blocks of puff on the market, Genius do an excellent one here in the UK. If you're feeling up for the challenge you could make your own rough puff. I do not personally have a recipe for this but I know a fairy who does. Vicki Montague aka Free From Fairy is a queen of gluten free pastry so you might like to give this quick and simple pastry course a go if you want a homemade gluten free puff pastry made from scratch
How To Make Gluten Free Puff Pastry – Video Lesson – £9.99
What gluten free sausages would you recommend?
That is entirely down to your own preference. there are so many lovely brands of gluten free sausage on the market now, we personally love the Black Farmer Gluten Free Sausages but you also have Heck and the Sainsbury's and Tesco finest are gluten free too (always check labels). If you'd rather make a lower fat version then of course you'll need to go for a lesser fat sausage, chicken sausages are very low in fat so why not give that a try?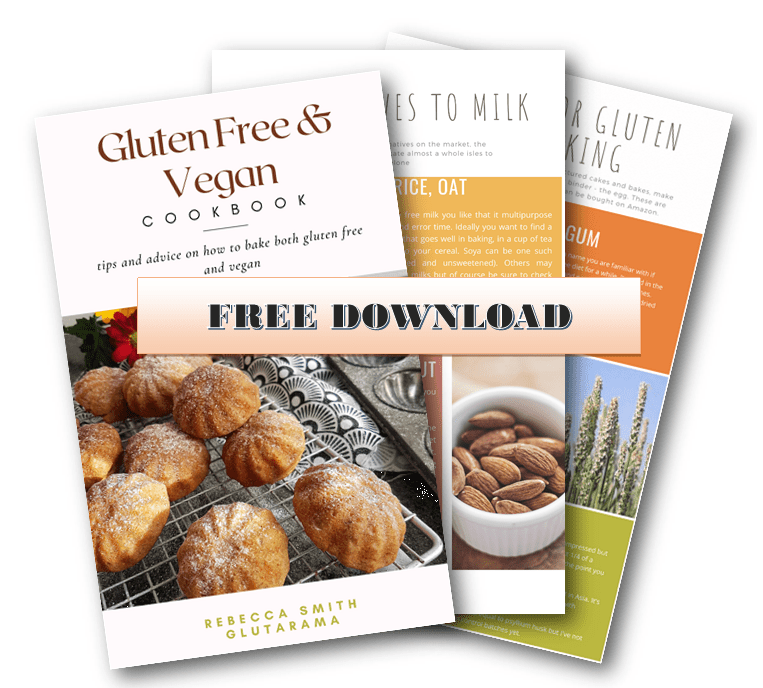 Never miss out again…
Sign up to my weekly Friday newsletter and not only get a FREE e-Book (currently my Gluten Free & Vegan Cookbook) but also get VIP subscriber discounts on free from goodies delivered to your door. Join me in my journey and learn to make anything gluten free.
Like the look of this sausage plait? You'll love these recipes
I have a few sausage inspired recipes here on Glutarama like my Gluten Free Sausage Casserole and this Sausage Pasta Bake. Finally, if it's picnic food you were looking for how about this Sausage Roll with Chutney and Mustard
Gluten Free Sausage Plait Recipe
Sausage Plait
Really simple to make, especially if, like me, you use ready made gluten free pastry! I've added apple for moisture and celery for a little crunch but this meal is so flexible so have fun with it.
Ingredients
1

packet of gluten free puff pastry

6

GF sausages

1

stick celery

1

small carrot

1

small eating apple

parsley

1

egg beaten
Instructions
Roll out pastry (if in a block) to half a centimetre thickness, otherwise unroll your pastry sheet

(this is the fun bit!) Cut the ends off the sausages and squeeze the meat out of it's skins into a bowl.

Add the finely diced celery, carrot and apple, a pinch or two of parsley and seasoning if you think it necessary.

Add the sausage meat down the centre of the pastry length ways.

Cut the pastry either side of the sausage meat at a slight downward angle – I made each strip about 1-2cm thick.

From the top overlap a strip on each side – right to left, left to right and so on until you've reached the bottom. No need to seal ends unless you want to make it prettier?

Brush the plait with the beaten egg and add a touch of salt and cracked pepper.

Cook on middle shelf at 200C 35-40 mins – you may need to cover to prevent over-browning

serve immediately or allow to cool for picnics and ploughman's.
Nutrition
Nutrition Facts
Sausage Plait
Amount per Serving
% Daily Value*
* Percent Daily Values are based on a 2000 calorie diet.
Have you tried this recipe?
Let me know how it was & I will be super grateful
I value every comment, more than you could know. Don't be shy and leave a comment. If you share photos of your delicious creations, please do tag me or use the hashtag #Glutarama on Facebook, Twitter and Instagram.
Subscribe to my email list so that you get NEW recipes straight in your mailbox PLUS a FREEBIE and access to some amazing gluten free DISCOUNTS
*disclaimer: I use affiliate codes on my website, the vast majority are to Amazon. If you click on any of the links or images in the post and make a purchase my family will benefit from a small % of that purchase at no extra cost to you, in fact, for full transparency, in 2020 I made my first £25, and in 2021 I clocked up £16.05 – so it won't make me a millionaire but it will treat me to a few coffees, Lord knows I need the caffeine!