This Gluten Free Beef Lasagne is an old recipe that's been in my family since I was 15 years old. I created it to make for my sister whilst my parents took my youngest sister to Athletics each week on a Tuesday and Thursday evening. When I moved out of home, I wrote the recipe down for my sister and she still uses the basic recipe now with her own little tweaks.
It funny how these things start and kind of stick with us throughout our lives. It's lovely to know that my two will now make this recipe and maybe their children too!
It dawned on me recently that this recipe may be of use to others. As it's been around for years I didn't think about it being worthy of sharing…I just didn't think about it at all! However, some of you may be just starting out on your journey in the kitchen and this is the perfect recipe to start. Whether you're cooking for a family meal or just for yourself with plenty of leftovers for the next few days. This recipe is one you'll come back to time and time again.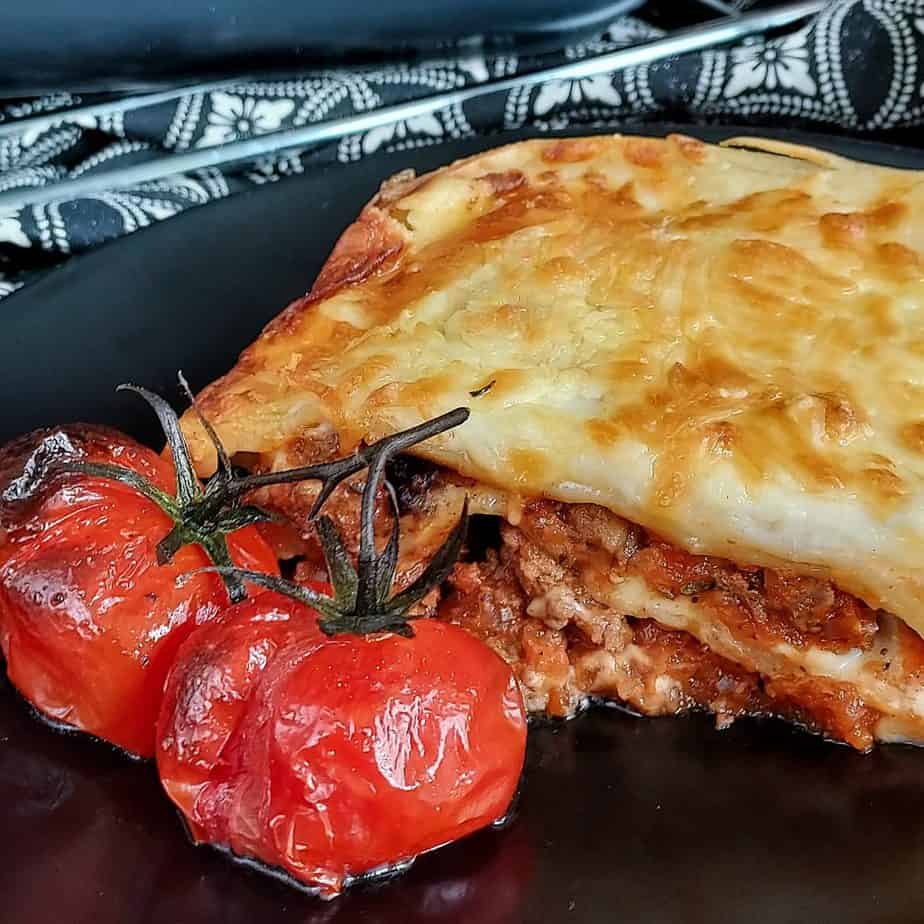 Do I need to soak the lasagne sheets first?
To soak or not to soak, that is the question. I use to be on the side of not bothering to soak my lasagne sheets. With normal lasagne sheets, this isn't too much of an issue, the pasta absorbs the liquid in the meat ragu (beef and tomato sauce) and behaves itself. With gluten free pasta things aren't that straight forward.
The No-Soak Approach
If you choose to opt for the no-soak approach you need to do two things. First off make sure your sauce is wet enough with plenty of liquid to soak into the gluten free pasta sheets.
Secondly I'd recommend baking on a cooler heat for longer, low and slow is the key. Even better, cover your lasagne dish with foil for the first half of the baking process and then uncover for the second half to get that delicious golden colour on top.
The Soaked Approach
This is the approach I opt for now after the family have told me in no uncertain terms that they do not like crunchy pasta in their lasagne – it's a tough crowd here!
I simply soak my gluten free pasta sheets in boiled water from the kettle whilst I get on and make the beef ragu and béchamel sauce components of the dish. This works out approximately 10-15 minutes and at the end of the soaking process I'm left with soft pliable lasagne sheets that I can even trim to size with a pair of kitchen scissors.
How do I stop my Lasagne sheets sticking together when I soak them?
Now for my top tip on how to prevent lasagne pasta sheets from sticking together when you soak them. Remember those toaster pockets we use to make safe gluten free toast? Well they are multi purpose and save the day when it comes to soaking your lasagne sheets perfectly without them sticking together like you've used super glue!
I simply layer my lasagne sheets in the lasagne dish I plan to use. First a lasagne sheet, then a toaster pocket, then a lasagne sheet and continue until you've used all the sheets you plan to use in your pasta dish.
This recipe uses 6 lasagne sheets so I use 5 toaster pockets.
I then pour a recently boiled kettle of water over the sheets and forget about them whilst I get on with the beef ragu and white sauce preparation.
Yes, it's really that simple.
Is béchamel sauce the same as white sauce?
Béchamel or besciamella in Italian, is basically a white sauce by another name. When it becomes something different is when you add cheese, then it's a cheese sauce.
A bechamel starts with melting your butter then adding enough flour to make a roux which is a flour and butter paste that becomes the base of many sauces. The flour is added at this stage because flour needs to be cooked through to remove the flour taste. You just want to be left with the thickening qualities of the flour with none of the flavour of the grains.
The same applies with gluten free flour, but with gluten free grains you tend to need less flour to butter ratio as gluten free grains used in plain/all purpose flours tend to be more absorbent.
How do you make a gluten free béchamel sauce?
So like I said in the last paragraph, a roux is the base necessary for a béchamel sauce. In the case of a gluten free béchamel sauce you need less flour to butter ratio. In this recipe, ideal for 4 people, I use 3 tablespoons of plain gluten free flour to 40g butter.
Making the roux is easy, simply melt the butter and add three level tablespoons of flour, I just run my finger over the top of the measuring spoon to level the spoon off. Take the saucepan off the heat and quickly stir the flour into the melted butter with a wooden spoon.
You'll end up with a golden coloured stiff paste, this is your roux.
To loosen the roux into a béchamel you slowly add milk. Still with the saucepan off the heat, add 2 tablespoons of your 200ml milk and rapidly stir to incorporate into the paste. Don't worry if your paste seems to do the opposite and harden at this point, the cool milk will make your roux stiffen. Keep adding 2 tablespoons of milk at a time and keep rapidly stirring the mixture until it loosens enough that you are confident to pour the remaining milk in without creating any lumps.
Now you can return the saucepan to the heat. Stir continuously as you heat the béchamel gently. Don't wander off at this point, I guarantee the sauce will thicken and go lumpy if you walk away even for one second!
You now have a smooth white sauce ready to add to your lasagne. All I do at this point is add salt and pepper to taste and a pinch of ground nutmeg for an unmistakable warm nutty flavour, it really lifts your béchamel to the next level adding nutmeg.
How can I make a gluten and dairy free béchamel sauce?
To make your sauce dairy free as well as gluten free simply swap the 40 grams of butter for dairy free butter and swap the milk for dairy free milk. I use soya milk as a substitute and Flora plant butter for the butter. If you can try to use a solid butter alternative as opposed to a margarine or dairy free spread, the solid fats work better in my opinion.
Never miss out again…
Sign up to my Friday newsletter and receive not one, but THREE FREEBIES.
GF and Vegan e-Book
conversion charts
3 simple guides to allergies, intolerances & autoimmune.
Join me and learn to make anything gluten free.
How do I hide the veg in this Beef Lasagne?
Despite knowing I'm going to pulverise the veggies in this ragu I still take the time to chop the celery, carrots and onion into small pieces. Maybe I live in hope that one day I'll be allowed to keep them whole but until that day my trusty Braun blender is the tool I reach for to ensure my teens will eat the lasagne I've lovingly prepared them!
Once the veggies have been delicately browned (I still do this as it deepens the flavour of the ragu) I spoon into a large pyrex jug and add the passata. I then blend with a hand blender until as smooth as I can be bothered.
This frees up the large pan I used to brown the vegetable ragu base. I can now use the same pan to brown off the beef mince. Once the mince is beautifully browned to a rich caramelised colour I add the jug of blended veggies and passata back into the pan and finish adding the final few ingredients.
How about these gluten free family dinners ideas
This gluten free Beef Lasagne is a top family favourite in this household. It's great served with either a shop bought gluten free garlic bread or make your own, how about this No Knead Gluten Free Focaccia made with sundried tomatoes I made using a bread mix.
Here are some other family meal ideas to give you some mid-week gluten free meal inspiration.
Seriously Good Gluten Free Stuffed Crust Pizza
A deliciously simple Stuffed Crust Pizza that is gluten free, dairy free and egg free too – can be vegan if you choose vegan toppings. Great to share or have on your own with a glass of wine on a Friday – perfect Fakeaway Meal for one/two people
Check out this recipe
Easy Gluten Free Beef Lasagne Recipe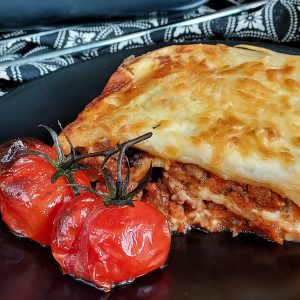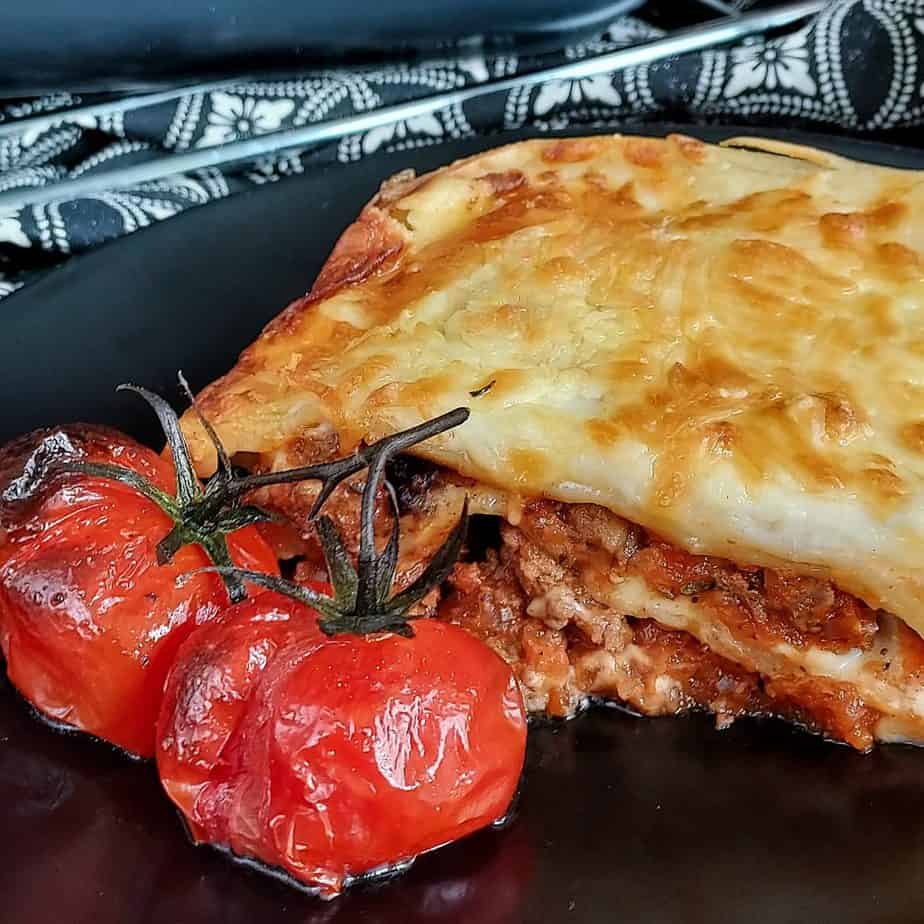 Easy Gluten Free Beef Lasagne
An easy Gluten Free Beef Lasagne made with dairy free options for the béchamel sauce. Made from a recipe I developed when I was 15 years old and tweaked to be gluten free later in life. The recipe also has a handy tip on how to get the best lasagne pasta with no inedible crunchy bits (a common downside to gluten free lasagne sheets).
Ingredients
For the beef ragu
300

g

beef mince

200

g

passata

2

sticks

celery

1

carrot(s)

1

medium

white onion

50

ml

red wine

or use 50ml water if alcohol free

1

tbsp

tomato puree

1

tsp

garlic (powder, puree or clove)

1

tsp

oregano

salt & pepper to taste

to taste

6

lasagne sheets

soaked [see notes]
For the béchamel sauce
40

g

butter

I use a dairy free plant butter by Flora

3

tbsp

gluten free plain flour

200

ml

milk

I use unsweetened soya milk

pinch

nutmeg

salt & pepper to taste

to taste
To top
100

g

mature cheddar

grated, use a dairy free cheddar style cheese.
Instructions
Soak pasta sheets
Follow the instructions in the notes if you plan to pre-soak your lasagne sheets for a far better resulting lasagne.
To make the beef ragu
Prepare the carrot, celery sticks and onion, chopping these into small pieces.

In a large pan or wok gently fry the chopped vegetables in a splash of oil. Cook until the vegetables have started to go a delicate brown, the darker the colour the deep the flavour. Be careful not to burn.

Spoon the fried veg into a large jug and into the same jug pour the passata and add the dried herbs. If hiding the vegetables this is when you can use a hand blender to blend the contents to a thick tomato sauce.

In the same pan you fried the vegetables, add the beef mince and fry until browned.

Once browned, add the gluten free Worcester Sauce, garlic puree, tomato puree and red wine (if not using wine don't add the water just yet).

Cook the meat, wine and sauce on a high heat for a couple of minutes to burn off the alcohol and intensify the flavours.

Now add the jug of passata and vegetables (blended or not) back into the large pan and heat through one last time to combine. If you didn't use red wine, add your 50ml of water now to loosen the ragu.

Set aside to cool while you set to work making your béchamel sauce.
To make the béchamel sauce
In a medium saucepan melt the butter (or dairy alternative) then add 3 tablespoons of gluten free plain flour. Mix quickly with a wooden spoon to make a thick paste or roux.

Remove the pan from the heat and add the milk or milk alternative to the roux 2 tablespoons at a time until the roux has loosened enough to add the remaining milk.

Return to the heat and stir continuously until the béchamel has thickened to a thick custard consistency.

Remove from the heat, add a pinch of nutmeg and salt and pepper to taste.
Build your lasagne
Time to build your lasagne. Drain the water away from the lasagne dish and place the soft sheets of lasagne on a plate, ready to use.

Grease your lasagne dish and preheat the oven to 190°C | 170°C fan | 375°F | Gas 5

Spoon half the beef ragu into the bottom of the greased dish, over the ragu place three sheets of lasagne, then pour approx. ⅓ of the béchamel sauce over the paste sheets. With a spoon smooth the white sauce over the sheets.

Repeat the last step with the remaining ragu, pasta and the rest of the béchamel sauce. You want the white sauce to completely cover the lasagne sheets, any pasta showing will crisp up and go hard.

Finally top your homemade lasagne with the grated cheese and a good sprinkle of salt and crack of pepper to taste.

Pop into the oven and bake for 30 minutes or until the top has gone a lovely golden colour.

Top Tip: if you're worried your lasagne is cooking too long but isn't going a beautiful golden colour pop under the grill to finish it off.

Remove from the oven and allow to cool for 5 minutes before cutting into 4 portions and serving with salad or gluten free garlic bread.
Notes
I simply layer my lasagne sheets in the lasagne dish I plan to use. first a lasagne sheet, then a toaster pockets, then a lasagne sheet and continue until you've used all the sheets you plan to use in your pasta dish.
This recipe uses 6 lasagne sheets so I use 5 toaster pockets.
I then pour a recently boiled kettle of water over the sheets and forget about them whilst I get on with the beef ragu and white sauce preparation.
Nutrition
Nutrition Facts
Easy Gluten Free Beef Lasagne
Amount per Serving
% Daily Value*
* Percent Daily Values are based on a 2000 calorie diet.
Have you tried this recipe?
Let me know how it was & I will be super grateful. Take a picture & tag me @glutarama on your social media posts – I love seeing your photos more than you will ever know x
I love to see your own photos of my bakes, dinners and treats head to your favourite social media account and don't forget to tag me in @glutarama
Subscribe to my email list so that you get NEW recipes straight in your mailbox every Friday PLUS a FREEBIE and access to some amazing gluten free DISCOUNTS
*disclaimer: I use affiliate codes on my website, the vast majority are to Amazon. If you click on any of the links or images in the post and make a purchase my family will benefit from a small % of that purchase at no extra cost to you.

For full transparency, in 2020 I made my first £25, and in 2022 I reached my next £25 (Amazon don't transfer the money until you reach £25). Recently I got paid a whopping £27.10 for 2023.

So to date I have made £78.58 since I first started the scheme in 2017. It won't pay the bills, that's for sure but it does help to pay for ingredients or little treats to cheer me up!