I've said it before and I'll say it again, I love the type of cake, like this deliciously moist Honey Cake, where you throw all the ingredients into one large bowl, doesn't matter what order you add them, just add-mix-pour. It's even better when the little beauty turns out to look like this!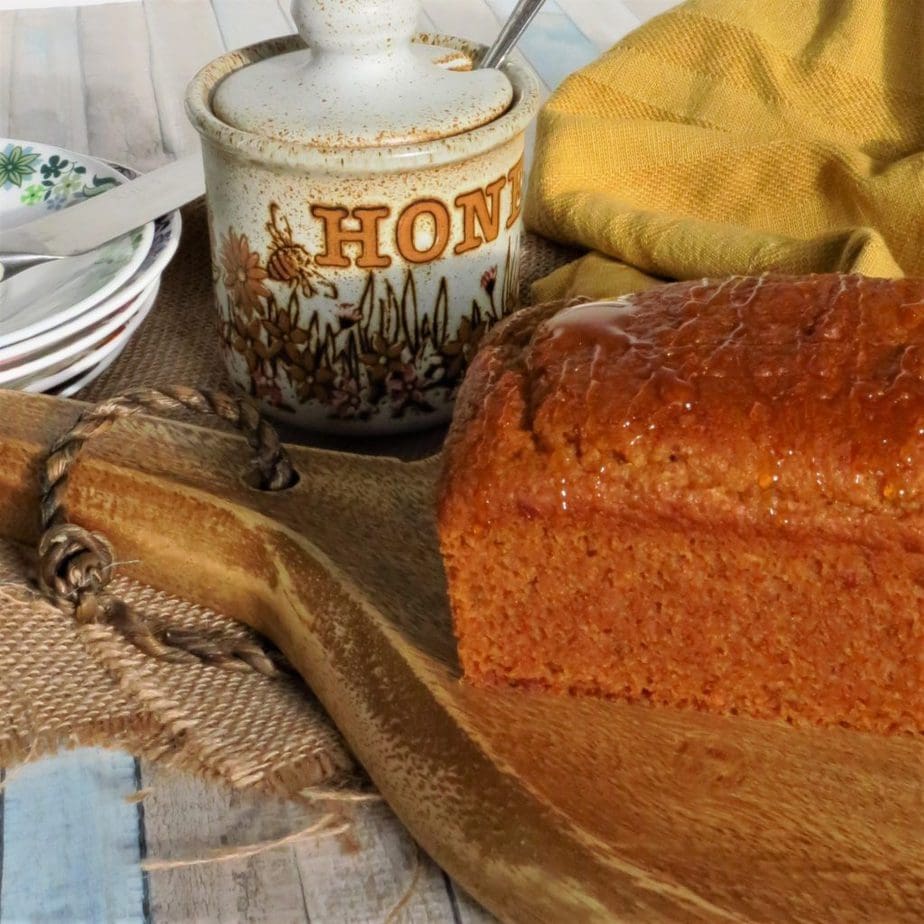 The story behind my Honey Cake
I first made this gluten free Honey Cake back in 2014. It was for a friends daughter so that she could come over and have a cake t eat along with the other children. Freya is diagnosed with FPIES and could not eat wheat or dairy at the time (among many other foods), so I needed to find a cake recipe that was dairy free. My daughter Bethany had already been diagnosed with Coeliac Disease at the time so baking gluten free was no biggie. I remembered a recipe a friend had scribbled down for me at an NCT jumble sale a year or so before and with a few tweaks my honey cake was born.
Can you make this Honey Cake egg free?
Since 2015 my recipe has been tweaked again so that can eat it too. After finding out that I am unable to tolerate dairy or eggs I've had to change up a few of my recipes so that I can still eat them but also, importantly that the family don't notice the fact that my baking has become eggless too. I'm pleased to report that this Eggless Honey Cake is not compromised in flavour or texture if you make it egg free – in fact, just to prove a point the cake in the images is my latest bake that's gluten free, dairy free and egg free too.
To make the Gluten Free Honey Cake egg free too, simply use 100ml sunflower oil instead of the 250ml in the recipe below and exchange the 2 eggs for 2 'flax eggs'
How to make a flax egg

to make 1 flax egg you need the following ingredients:
– 1tbsp ground flax seed
– 3tbsp water
– 1tsp psyllium husk (optional but does add elasticity to baking)

Simply add all ingredients to a glass and stir before measuring out the other recipe ingredients, by the time you come to use your 'egg' mixture it will have thickened to a frog-spawn consistency (thicker if you added psyllium husk)

Then just add to your baking as you would an egg. For 2 eggs double the ingredients but note that recipes that require more than two eggs may fail due to lack of support in the structure.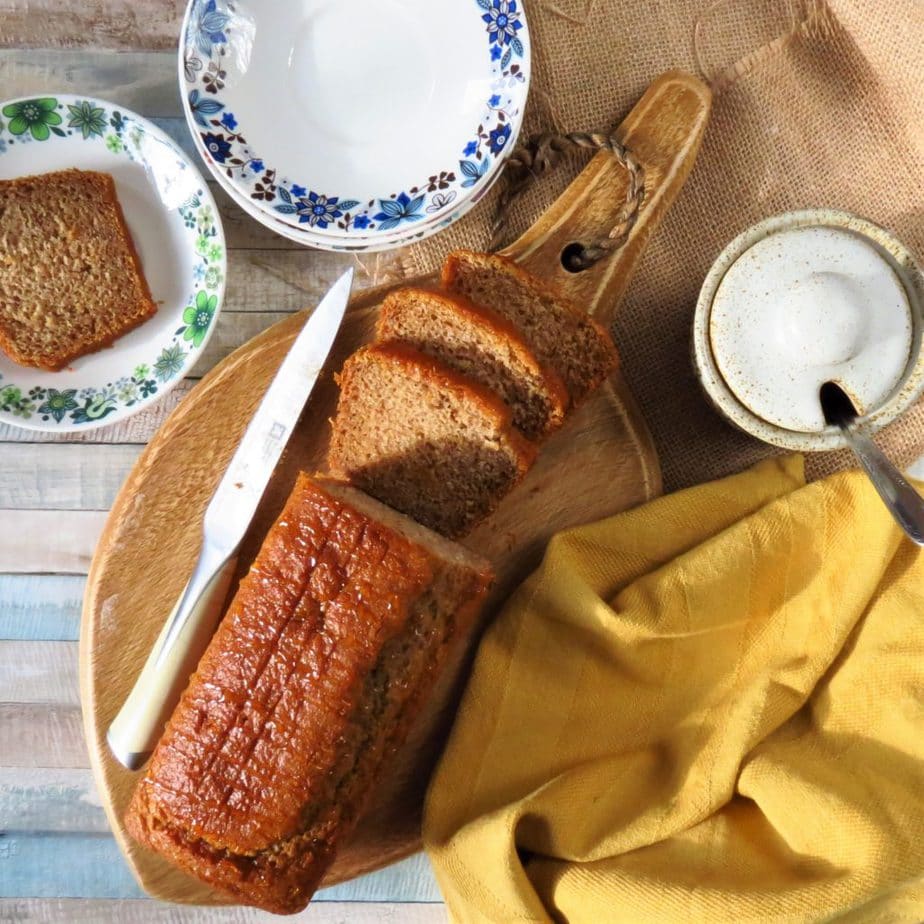 Can you make a Vegan version of Honey Cake?
In a word; Yes! I've already pointed out you can make the cake eggless but last year I came across this brand of vegan honey in a local Budgen's store. I have since found that the Plant Based Artisan make several types of vegan honey which are perfect for use everyday as a sweetener or to use in baking. Click on the image or below to follow links to Amazon where you can see the whole range and if you make a purchase I get a couple of pennies at no expense to you.
Honey Cake – Gluten & Dairy Free
A simple one bowl recipe for this beautifully moist Honey Cake. Take note: it is a very sloppy mixture…trust me, it'll be fine. This recipe makes two 2lb gluten free Honey Cakes or use a roasting tin and cut into squares
Ingredients
2

large egg(s)

or flax eggs

125

g

caster sugar

250

ml

oil (I use vegetable or sunflower)

I used sunflower (if making eggless version reduce to 100ml)

250

ml

honey

or a vegan alternative

250

ml

water

400

g

gluten free self raising flour

½

tsp

bicarbonate of soda

2

tsp

cinnamon

2

tsp

ginger
Instructions
If making a flax egg mix make this now and set aside until ready to add with other ingredients.

Grease and line two 2lb loaf tins/large roasting tin, or halve mixture and use one 2lb tin.

Preheat oven to 150°C/300F/Gas 2

Add all ingredients to a large bowl, combine with a whisk

The mixture will be very wet and sloppy, a bit like a thin custard, don't worry, have faith and continue!

Pour the mixture into the tins and pop in the oven for 45-55 mins (60-75 mins if baking as one large bake)

Once cooled this cake is super moist and spongy, but, as with all ginger cakes, the taste will deepen and improve with age so this can also be a keeper!
Notes
If making two honey cakes using two 2b loaf tins you can either gift the second or freeze it and defrost for 24hrs before cutting. I recommend freezing in a tupperware container, if you wrap the cake remember to unwrap before defrosting otherwise you'll damage the appearance of the cake 'crust'.
Nutrition
Nutrition Facts
Honey Cake – Gluten & Dairy Free
Amount per Serving
% Daily Value*
* Percent Daily Values are based on a 2000 calorie diet.
Have you tried this recipe?
Let me know how it was & I will be super grateful. Take a picture & tag me @glutarama on your social media posts – I love seeing your photos more than you will ever know x
Other one bowl cake recipes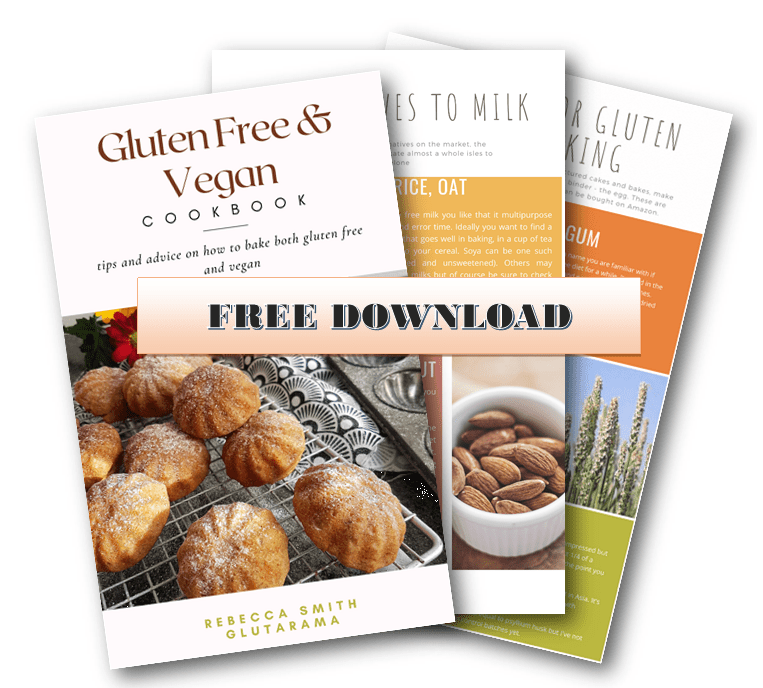 Never miss out again…
Sign up to my weekly Friday newsletter and not only get a FREE e-Book (currently my Gluten Free & Vegan Cookbook) but also get VIP subscriber discounts on free from goodies delivered to your door. Join me in my journey and learn to make anything gluten free.
I love to see your own photos of my bakes, dinners and treats head to your favourite social media account and don't forget to tag me in @glutarama
Subscribe to my email list so that you get NEW recipes straight in your mailbox every Friday PLUS a FREEBIE and access to some amazing gluten free DISCOUNTS
*disclaimer: I use affiliate codes on my website, the vast majority are to Amazon. If you click on any of the links or images in the post and make a purchase my family will benefit from a small % of that purchase at no extra cost to you, in fact, for full transparency, in 2020 I made my first £25, and recently in 2022 I reached my next £25 (Amazon don't transfer the money until you reach £25). As you can see, it won't make me a millionaire but it will treat me to a few coffees, Lord knows I need the caffeine!
If you've only just happened across my blog Glutarama, then you may also be interested to know this is not the main topic I write about, the majority of my posts relate to free from recipes and food reviews, as our family are affected by Coeliac Disease, egg, dairy other intolerances it keeps me busy in the kitchen, but boy do I have fun experimenting for my family and followers.