How did my Beetroot Brownie Cake come about you ask? I really love beetroot, and I don't feel that I eat enough of it, maybe it's the preparation that puts me off? First you've got the peeling whereby you end up with bright pink hands and fingers if, like me, you don't own a pair of rubber gloves (what no rubber gloves I hear you cry!) Yep, that's right, no rubber gloves I like to get my hands dirty when I'm cleaning or gardening, I hate feeling restricted by gloves…anyhoo, I digress (as usual!)
Where was I? Oh yes….bright pink hands! Then you've got the boiling process to eat it cooked which can stink or you shred for a salad (even pinker hands) or you pickle them.
I have a new toy for my kitchen, its a rotary grating-thingy (can you tell this isn't a review, like I'd get away with calling a product a 'thingy'!!) I saw it advertised on Instagram, quick tip here, if you ever see anything that takes your fancy on Instagram pop over to Amazon, you'll get it almost half the price I guarantee it! Anyway, I saw this rotary grating thingy and it's been a blessing, Lewis loves grating all sorts of veggies in it and actually let me put carrots in his spaghetti bolognaise because HE'D grated them! Eureka!
Back to the beetroot…I'll get there, promise!
My father-in-law has an allotment and his allotment neighbour gave him some beetroot. I ended up with said beetroot so obviously I decided to make a cake!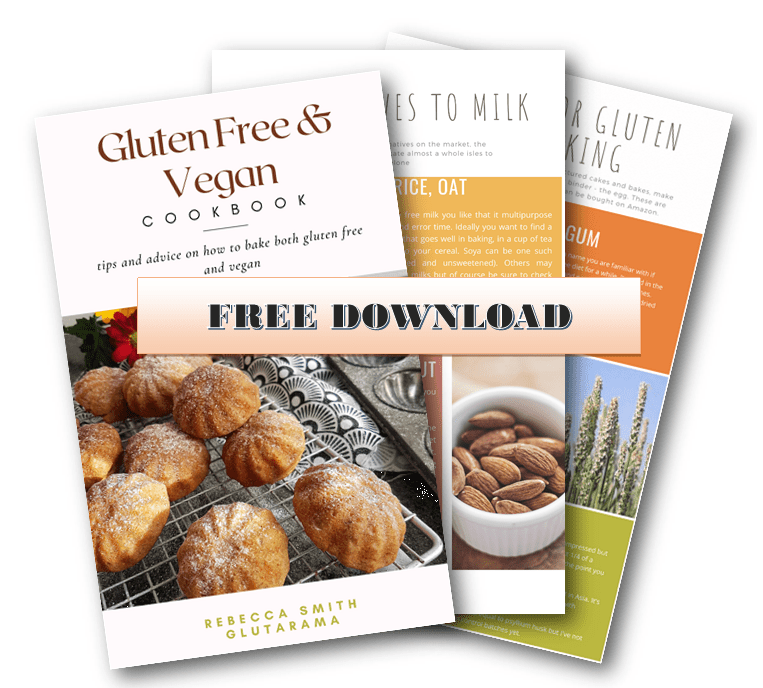 Never miss out again…
Sign up to my weekly Friday newsletter and not only get a FREE e-Book (currently my Gluten Free & Vegan Cookbook) but also get VIP subscriber discounts on free from goodies delivered to your door. Join me in my journey and learn to make anything gluten free.
Can this Beetroot Cake be made eggless?
Yes! I wanted to make an egg-less, dairy free, gluten free cake…basically so that I could eat it because I was pretty darn sure the kids would run for the hills if I offered them a slice. I also wanted to add less sugar, beetroots sweet enough as it is.
Normally in my eggless baking I'd make up a flaxseed egg but this cake is already a bit faffy with the grating of the beetroot so I just throw some seeds into the cake mixture, on this occasion I used ground chia seed, other times I use ground flax seed (linseed) and I'm currently using a combination of both that blitzed together in the blender for a few seconds and added to a Tupperware tub.
For future reference this is how I make my flaxseed eggs.
How to make a flax egg

to make 1 flax egg you need the following ingredients:
– 1tbsp ground flax seed
– 3tbsp water
– 1tsp psyllium husk (optional but does add elasticity to baking)

Simply add all ingredients to a glass and stir before measuring out the other recipe ingredients, by the time you come to use your 'egg' mixture it will have thickened to a frog-spawn consistency (thicker if you added psyllium husk)

Then just add to your baking as you would an egg. For 2 eggs double the ingredients but note that recipes that require more than two eggs may fail due to lack of support in the structure.
Chocolate and beetroot is a classic flavour combination, the richness of the beetroot and dark chocolate really compliment one another so I knew this beetroot brownie cake combination would work well. I also decided to add a bit of coconut flour to add another flavour dimension. Now coconut flour can be a interesting flour to work with, a teaspoon of coconut flour could soak up a puddle..it's really absorbent, with that in mind you need to make sure you add enough liquid to cope with the flour.
Don't worry, if you don't have any coconut flour and literally can't be bothered to get some just for this recipe, then remove the coconut flour and add 50g of self raising flour instead.
Other vegetable inspired gluten free recipes
Vegan and Gluten Free Beetroot Brownie Cake Recipe
Beetroot Brownie Cake
The perfect way to use up excess beetroot from yours or friends/families allotments, this deeply rich flavoured brownie cake has an earthy tone to it but you'd have to be a detective to work out it's beetroot. This cake not only has one of your five-a-day in it but it's also gluten free, dairy free and vegan too.
Ingredients
3

medium

beetroot

grated you'll need approx 250g

150

g

caster sugar

50

ml

sunflower oil

50

g

cocoa powder

150

g

gluten free self raising flour

4

tbsp

coconut flour

2

heaped tsp

ground chia seeds

100

ml

dairy free milk

add more or less to create a smooth but firm consistency
The icing topping
50

g

butter or butter alternative (I use Flora plant butter)

I carried on with the coconut theme and used coconut Vitalite

150

g

icing/confectioners sugar

1/2

tsp

vanilla extract
Instructions
Peel and grate the three beetroot and add to a large bowl.

Add the sugar, oil and coco to the beetroot along and mix thoroughly to combine.

Next add the soya milk and the coconut flour, mix again to combine.

Finally add the self raising flour with the ground chia seeds mixed in gradually you may need a little extra soya or a touch of water to loosen the mixture you need a soft dropping consistency.

Plop into a prepared 8″ cake tin and pop in the oven on 200C/180C fan for 25 minutes.

The cake will not rise much but will have a soft bounce to the touch when gently pressed with your finger.

Remove from the oven and allow to cool completely.

To make the icing simply beat the icing sugar and dairy free spread together with the vanilla extract.
Notes
If you're wondering what's sprinkled on top it's cacao nibs, not to everyone's liking but I love the bitter crunch to them and it adds a different texture to the cake.
Nutrition
Nutrition Facts
Beetroot Brownie Cake
Amount per Serving
% Daily Value*
* Percent Daily Values are based on a 2000 calorie diet.
Have you tried this recipe?
Let me know how it was & I will be super grateful. Take a picture & tag me @glutarama on your social media posts – I love seeing your photos more than you will ever know x
#FreeFromHarvest
This recipe is in fact part of our new Free From Gang collection celebrating the autumnal harvest, to see other delicious free from recipes click on the links below and follow the #FreeFromHarvest hastag. I'll be updating this page with direct links and recipe titles once each gang member has posted their recipe live, in the meantime there are links to everyone's homepages…Enjoy!
Mel – Vegan Pasta with hidden veg sauce
Nathalie – Intolerant Gourmand; Best Ever Gluten and Dairy Free Apple Crumble
Nathalie – The Best Ever Pumpkin Risotto
Eb – Easy Peasy Foodie; Easy Vegetable Korma
Eb –Easy Peasy Foodie; Peri Peri Chicken (Nando's Copycat)
Vicki – Sensational Sausage Stuffed Marrow
Kate – Mocha Pear Upside-down Cake
Emma – Easy Pumpkin Pasta
Laura – Apple and Blackberry Crumble
Midge – Pink Pickles

Don't forget it, pin it!
Click to save my Beetroot Brownie Cake
*disclaimer: I use affiliate codes on my website, the vast majority are to Amazon. If you click on any of the links or images in the post and make a purchase my family will benefit from a small % of that purchase at no extra cost to you, in fact, for full transparency, in 2020 I made my first £25, and recently in 2022 I reached my next £25 (Amazon don't transfer the money until you reach £25). As you can see, it won't make me a millionaire but it will treat me to a few coffees, Lord knows I need the caffeine!