This Chocolate Orange Cake was created to deal with a HUGE craving for Terry's Chocolate Oranges! I really miss Terry's chocolate oranges, is it me or are they also stricken with the shrinking epidemic that seems to be sweeping across the country? Anyway, back to the cake. This recipe is similar to my Rich Mocha Cake; vegan and gluten free in the fact that it needs no eggs or dairy and is still rich in flavour and deliciously moist. It's delicious to eat cool, slightly warmed with dairy free cream (go on, indulge yourself) or even with custard.
[gifted] Incidentally, these photos feature some pieces gifted to me from Foodcare Direct who are keen to spread the word on Coeliac Disease in their industry.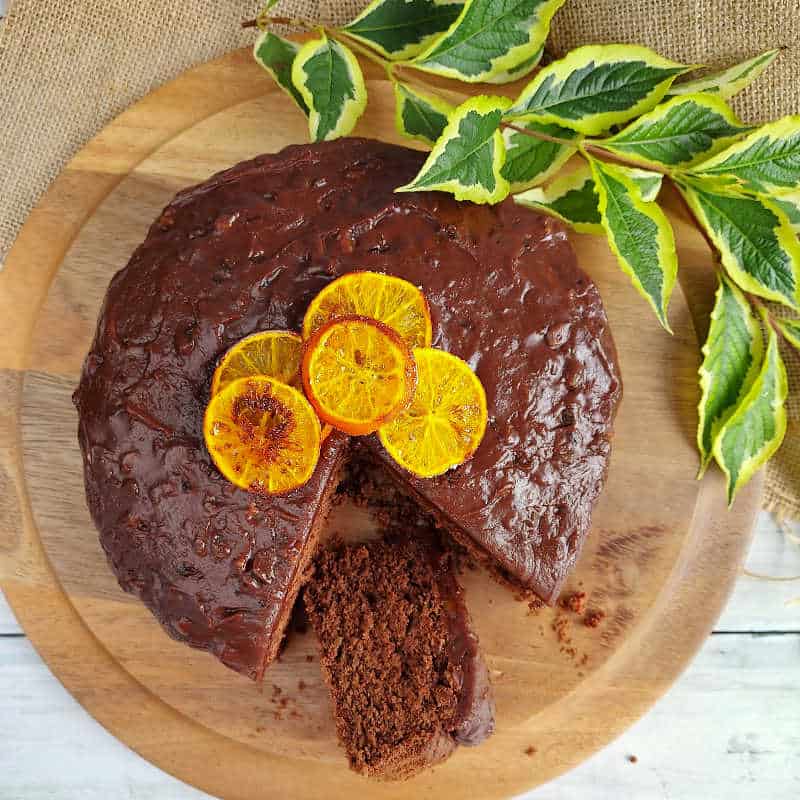 Never miss out again…
Sign up to my Friday newsletter and receive not one, but THREE FREEBIES.
GF and Vegan e-Book
conversion charts
3 simple guides to allergies, intolerances & autoimmune.
Join me and learn to make anything gluten free.
Do I have to use fresh oranges for this orange cake?
It is not compulsory that you use fresh oranges for this Chocolate Orange Cake but having the added zing of fresh orange zest certainly adds that extra orange punch of flavour.
That said, I have made this cake with fresh orange juice in a bottle (we get ours delivered by the milkman as it's eco-friendly). You also have the option to add orange extract and I tend to use Nelson Massey extracts in my baking as these are in most supermarkets in the UK.
If using fresh oranges, be sure to remove the zest first using a citrus zester. I roll my oranges on the kitchen worktop to release all the juice and then cut them in half and squeeze them using my glass juicer. The juice goes into the cake but you have choices as to where you add the zest. You could add it to the cake, or the ganache style icing or simply sprinkle it on top of the cake to decorate.
What is the best dairy free butter to use in baking?
I get asked this a lot on my social media. I always opt for a solid block of dairy free butter as opposed to a spread or margarine – why? The fact is that in gluten free baking you loose the elasticity of the gluten (it is after all the glue that holds things together). When you bake gluten and dairy free you're potentially loosing another building block in the structure, this time it's solid fats. An oil or spread with stay as an oil or spread, a solid fat will melt, then solidify once more – hey presto a free from building block! This leads to bakes that are less crumbly and hold their structure much better.
My personal preferences (and this is not an advert) are Flora Plant Butter of which you can get salted and unsalted, and Stork Plant Blocks (beware as some Stork products have dairy in them).
What can I use to decorate my Chocolate Orange Cake?
As mentioned above you could decorate your Chocolate Orange Cake by sprinkling it with orange zest. Another option is to go a bit masterclass and add toasted/roasted orange slices. They look fancy but they're actually really simple to make.
Slice your orange thinly. In the images here I used a clementine that I had in the fruit bowl. Pat the slices dry and place onto a baking sheet, preferably on a silicone baking mat. Then cover each slice with icing sugar, I mean really cover it so you can't see the slice anymore! You then have the option to pop this under the grill and watch like a hawk until each slice is lovely and golden. Alternatively, you could pop into the oven once you've removed the cake and bake for about 10 minutes.
A third option would be to add a scattering of citrus candied peel and/or shavings of dark chocolate. Be creative and have fun with it. I'm always keen to see what you've made so feel free to share on social media and tag me in @glutarama.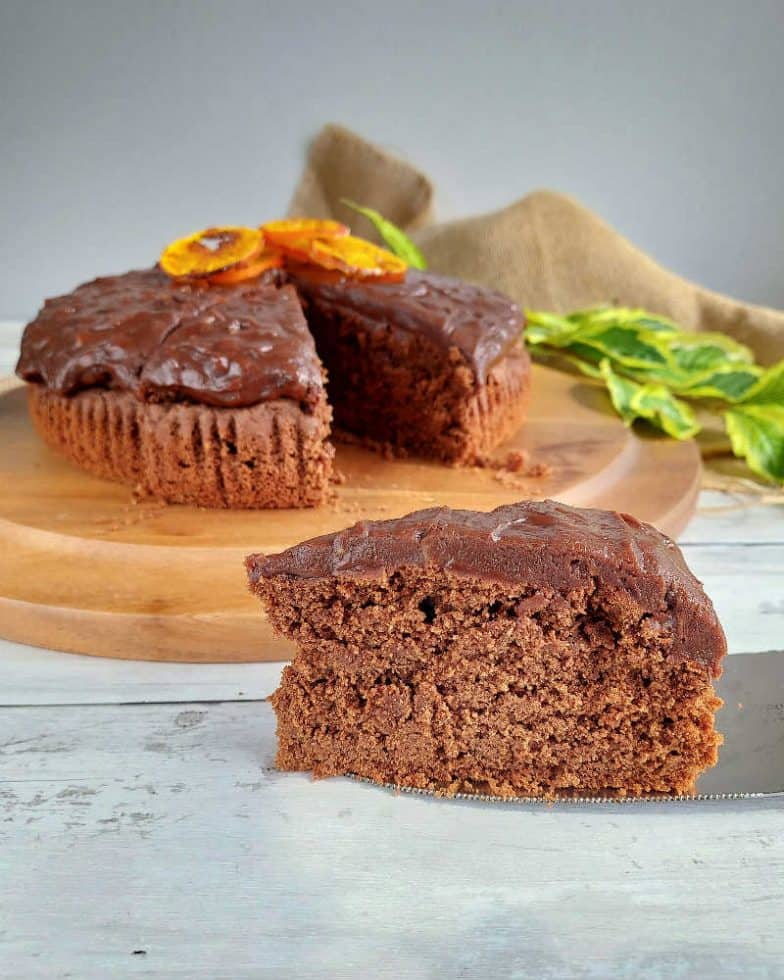 How can I make this Chocolate Orange Cake egg free?
This is a vegan recipe so there's no need to alter it to make it egg free as well. How you add your egg substitute is up to you though. In this particular recipe I've gone for the simple method of adding the ground flaxseed into the mixing bowl directly.
The other option is to make the 'egg' beforehand as explained below in my guide 'how to make a flax egg'. This recipe calls for 2 'eggs' so you'll need to double the ingredients below as it is a one-egg example. If you do choose this option you may need a little less milk alternative in the cake mixture so bear that in mind.
How to make a flax egg

to make 1 flax egg you need the following ingredients:
– 1tbsp ground flax seed
– 3tbsp water
– 1tsp psyllium husk (optional but does add elasticity to baking)

Simply add all ingredients to a glass and stir before measuring out the other recipe ingredients, by the time you come to use your 'egg' mixture it will have thickened to a frog-spawn consistency (thicker if you added psyllium husk)

Then just add to your baking as you would an egg. For 2 eggs double the ingredients but note that recipes that require more than two eggs may fail due to lack of support in the structure.
Can I make this cake just gluten free?
Absolutely, you can make this simply gluten free and add all the eggs and dairy you want. Well, not all the eggs and dairy, that would be silly!
If you're sticking to the same quantities for a 12 slice 20cm cake, add two eggs, normal butter, normal milk, any chocolate you please and an extra splash of milk in the ganache-style icing.
TOP TIP: as you're adding eggs you'll need to add less milk to the cake so try just 50ml of milk instead of 100ml and take it from there. You need the cake mixture to be a thick dropping consistency.
How long will this Chocolate Orange Cake keep?
This cake keeps fairly well when stored in a Tupperware container for up to three days. The cake you see picture below was two days old and I zapped it in the microwave for 10 seconds and added squirty vegan cream. As you can see the ganache icing started to melt a little so it was super tasty and more like a pudding. Other serving suggestions for a slightly older cake would be with custard, because custard and cake makes everything alright doesn't it?
Other similar gluten free recipes to inspire you
Gluten and Dairy Free Chocolate Orange Cake Recipe
If you make it and like the recipe I would be eternally grateful if you popped back and commented leaving a star rating as this will tell search engines that this recipe is worth checking out and others will get to find it in searches.
Gluten and Dairy Free Chocolate Orange Cake
Superbly moist and the perfect addition to an afternoon tea table, this simple to make gluten free and dairy free Chocolate Orange Cake will have family coming back for more time and time again. It also has no eggs so is vegan too.
Ingredients
For the chocolate orange cake
250

g

gluten free self raising flour

150

g

golden caster sugar

150

g

butter or butter alternative (I use Flora plant butter)

I use Flora plant butter blocks

60

g

cocoa powder

2

tbsp

ground flaxseed

or linseed

100

ml

dairy free milk

or your preferred dairy free milk alternative

100

ml

orange juice

if using fresh oranges, keep the zest too

orange extract

optional but adds extra flavour
For the chocolate orange icing
100

g

dark chocolate

I use an orange flavoured chocolate

100

g

icing/confectioners sugar

60

g

butter or butter alternative (I use Flora plant butter)

60

g

mixed candied peel

optional but adds flavour

1

tbsp

dairy free milk

or alternative

orange extract

optional to add extra flavour
Optional toasted orange slices
1

small

orange

or use a clementine.

3

tbsp

icing/confectioners sugar
Instructions
Pop the oven on to preheat at 200°C | 180°C fan | 350°F | Gas 4

In a large mixing bowl add the caster sugar and dairy free 'butter' and beat to combine.

In a medium jug measure the milk alternative and orange juice (the liquid may thicken a little, this is fine)

To the beaten sugar and butter, add the flaxseeds and cocoa powder. Beat again to thoroughly incorporate.

Next add the orange and 'milk' liquid and start spooning in the measured flour. Take out any frustration on the cake batter and beat like crazy until you've added all the flour – this is a throw it in the bowl kind of recipe, my favourite kind!

Dollop the cake batter into a prepared greased and lined tin, I used a loose bottom 20cm cake tin. Tap the tin to level out the mixture, if it's being stubborn use at wet spoon or spatula to smooth to the edges of the tin.

Bake for 20-22mins, it's ready when it smells awesome and is springy to the touch.

TOP TIP: this cake can go from moist to dry quite quickly so air on the side of it feeling ever so slightly underdone. it will continue to set on the cool rack.

Allow to cool completely before proceeding to the icing stage.
To make the icing
For the best results do this using a bowl over a pan of simmering water.

Add the dark chocolate and 'butter' to the bowl and allow to melt, no need to stir at this point, use the time to tidy up a bit!

Next sieve in the measured icing sugar and add the mixed peel if using.

Now you're going to think it's gone horribly wrong – so add the tablespoon of 'milk' and a few drops of orange extract and stir.

To your relief the chocolate orange icing should appear glossy like a ganache.

Smooth the icing over the cooled cake making sure you tease it to the edges.
To make the optional topping
Simply slice your orange and pat dry with some kitchen towel.

Sprinkle each slice liberally with icing sugar, I mean until it's almost hidden!

Pop the baking sheet under a hot grill and keep a watchful eye to prevent burning. Once toasted remove and allow to cool before removing and adding to cooling rack.
Nutrition
Nutrition Facts
Gluten and Dairy Free Chocolate Orange Cake
Amount per Serving
% Daily Value*
* Percent Daily Values are based on a 2000 calorie diet.
Have you tried this recipe?
Let me know how it was & I will be super grateful. Take a picture & tag me @glutarama on your social media posts – I love seeing your photos more than you will ever know x
I love to see your own photos of my bakes, dinners and treats head to your favourite social media account and don't forget to tag me in @glutarama
Subscribe to my email list so that you get NEW recipes straight in your mailbox every Friday PLUS a FREEBIE and access to some amazing gluten free DISCOUNTS
*disclaimer: I use affiliate codes on my website, the vast majority are to Amazon. If you click on any of the links or images in the post and make a purchase my family will benefit from a small % of that purchase at no extra cost to you.

For full transparency, in 2020 I made my first £25, and in 2022 I reached my next £25 (Amazon don't transfer the money until you reach £25). Recently I got paid a whopping £27.10 for 2023.

So to date I have made £78.58 since I first started the scheme in 2017. It won't pay the bills, that's for sure but it does help to pay for ingredients or little treats to cheer me up!