This page contain affiliate links. Please refer to my Disclosures Page for more details.
Not the shortest title for my Hot Cross Bun Treacle Tarts but think I made myself clear! These are in fact also dairy free so even better.
Inspired by my Easy Gluten Free Spiced Treacle Tart, this recipe takes the humble traditional hot cross bun (but gluten free) and merges it with the equally traditional treacle tart. If there were ever two worlds that deserved to collide this is that moment.
Click the jump to recipe button above, or read on for useful tips and advice on how adapt this recipe to suit your dietary needs. I often include suitable equipment, storage information and other ingredient suggestions for the more adventurous home cook.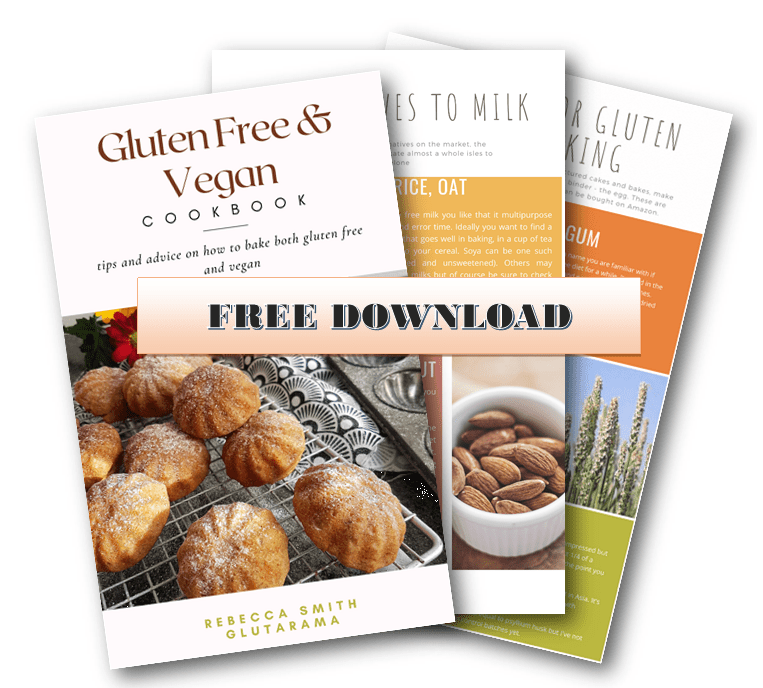 Never miss out again…
Sign up to my weekly Friday newsletter and not only get a FREE e-Book (currently my Gluten Free & Vegan Cookbook) but also get VIP subscriber discounts on free from goodies delivered to your door. Join me in my journey and learn to make anything gluten free.
What Hot Cross Buns can I use to make Treacle Tart?
Depending on your dietary needs will depend very much on the hot cross buns you use for these mini treacle tarts.
The hot cross buns pictured are Marks and Spencer gluten free buns. These are gluten and dairy free but still have egg in them so are not egg free (obviously) nor vegan. Many of the own brand supermarket buns are gluten and dairy free so this is a bonus if dairy effects you too.
So that's the dietary information out of the way. Now, which state of hot cross bun should you use? By sate I mean fresh as a daisy straight from the packet, a day old or hard as nails?
I'm going out on a limb here and saying if you have hard as nail hot cross buns in your cupboard, do you really like hot cross buns? If the answer was yes you'd have scoffed them all by now surely? Hard as nail buns will not be ideal for this recipe, I'm good, but I can't bring your buns back from the dead.
This recipe is perfect for the hot cross buns that are a day or two, or three old. A teeny bit stale but still great for toasting. This is a great recipe for those of you (ahem, me included) who may end up purchasing too many hot cross buns and find by the 4th day you fancy a change.
Great news, you only need two buns to make 6 mini Hot Cross Bun Treacle Tarts.
Can I make these Mini Treacle Tarts vegan too?
I alluded to the fact this may be possible above. Yes you can get gluten free and vegan hot cross buns here in the UK. After a bit of quick research I found that Asda now do gluten, dairy and egg free hot cross buns. Previously JUST: gluten free did them but I can't seem to source them at this time.
The other element of this recipe is the pastry case and on this occasion I've made a pastry without egg or my go-to egg substitute; flax seeds. I opted for a more robust water, fat and sugar pastry without the need for egg.
---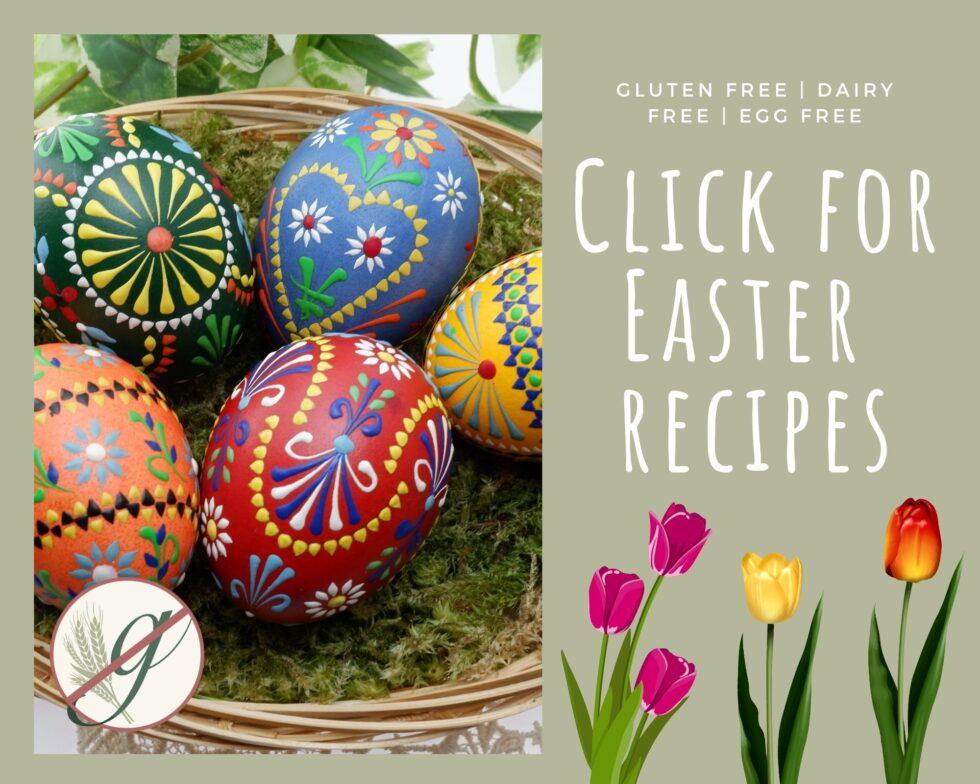 ---
Can I use Homemade Hot Cross Buns?
If you want to make your own Gluten Free Hot Cross Buns then I can recommend Laura's recipe over on My Gluten Free Guide. These are not vegan though and I've not tried making them yet with a dairy alternative and flaxseed egg so if you do make them vegan let me know how you get on.
Top Tips on How to Handle Gluten Free Pastry
Gluten free pastry can be a fiddly little beggar. My normal pastry recipe [see below] is quite happy to be handled, yes, even the egg free version. Plus if you use the trick in the images below you can see how simple it is to get the dough into tins without ending up with a million fragments of raw pastry.
With a gluten free pastry you want to dough to feel a bit wetter than 'normal' pastry. This will make the pastry dough more pliable and less likely to break.
Chilling pastry dough before use is a great tip to reduce shrinkage when baking. However, gluten free pastry has absolutely no glue qualities to it unless you add gums which can make the pastry broken teeth worthy once baked. By all means chill the pastry, but to make it pliable to fill the tin you may have to work it back to room/hand temperature (so a waste of time in other words)
If you are worried about shrinkage, line your tin/s and then pop into the fridge for about 20-30 minutes before baking.
Your raw pastry is likely to crack, even after all the tips above. Get used to it, stop being a perfectionist and learn to patch if/when necessary.
Gluten Free Pastry Recipe (with vegan option)
INGREDIENTS
80 g butter I use Flora plant butter
20 g fat I use Trex vegetable fat solids
200 g plain gluten free flour all purpose flour
50 g caster sugar
1 egg
vegan option:
1 tbsp ground flax seed
3 tbsp water
1 tsp psyllium husk powder (optional but does prevent crumbling)
INSTRUCTIONS
To make the pastry add the flour and butter/fat to a bowl and combine to make bread crumbs with your fingers.
Stir in the flour, salt and your egg (or flaxseed egg), start to mix the crumble mixture with a knife to help bring the dough together.
Turn out the crumb mixture onto the kitchen surface and begin to work together into a soft dough. Wrap and pop into the fridge for 30mins to rest.
Serving Suggestions
How best to store these mini Hot Cross Bun Treacle Tarts?
I keep my mini tarts in a bell cake jar that my my mum gave me. I love having my mini bakes and biscuits on display in the kitchen by the kettle. If you're not luckily like me then (a) invest in your own display jar* or (b) keep in a suitable tin or Tupperware container. These are best eaten within a day or two but are great heated in the microwave and eaten just as they are or with cream or custard.
Gluten Free Recipe Inspiration
Hot Cross Bun Treacle Tarts Recipe
If you make it and like the recipe I would be eternally grateful if you popped back and commented leaving a star rating as this will tell search engines that this recipe is worth checking out and others will get to find it in searches.
Gluten Free Hot Cross Bun Treacle Tarts
The merging of two traditional recipes, these Gluten Free Hot Cross Bun Treacle Tarts combine hot cross buns and the delicious treacle tart in one mini bite. Made gluten free with easy adaptations to make the recipe dairy free and vegan too. A great simple recipe for the Easter tea table and great to use up those slightly stale hot cross buns.
Ingredients
For the pastry
150

g

gluten free plain flour

50

g

soft dark brown sugar

50

g

butter or butter alternative (I use Flora plant butter)

or your normal butter

2

tbsp

water
For the mini tart filling
2

gluten free hot cross buns

100

g

golden syrup (corn syrup)

50

g

granulated sugar

50

g

butter or butter alternative (I use Flora plant butter)

or your normal butter

30

g

candied mixed peel

(optional to decorate)
Instructions
To make the pastry cases
Preheat the oven to 200°C | 180°C fan | 400°F | Gas 6

In a medium bowl, measure out the flour, butter and sugar and blend with your finger tips into breadcrumbs. I use a pastry blender for this as it's way quicker and less messy.

Next add the water and mix with a rounded knife for a few seconds until the crumbs start to come together. Don't worry if it's still crumbly, this is normal.

Tip the crumble mixture out onto the kitchen work surface and bring together, kneading into a ball. Set aside while you make the filling.
To make the filling
Tear up the hot cross buns into large pieces and add to a food processor, I use my handheld blender then blitz into breadcrumbs.

Measure the golden syrup, 'butter' and sugar into a medium sized saucepan and heat gently until the butter and sugar have melted/dissolved.

Remove the sugar and butter liquid from the heat.

Add the crumbed hot cross buns to the sugar liquid and give it a good stir to ensure all the crumbs are coated. Now set aside to cool a little while you line your tins.
To make the tarts
Give the pastry dough another gentle knead to prevent cracking.

Roll out to a good thickness – approx 0.5 cm.

Using a large 8cm round cutter cut out 6 circles.

Using the technique shown in the image, place each circle into a deep muffin tin. Gently press the pastry to the edges. smooth out any overlaps and fill in any cracks with left over pastry.

The hot cross bun treacle tart filling will have had time to cool now. Spoon equal measures into each of the 6 mini tarts. press down to prevent any pockets of air.

Pop into the oven for 20 minutes, keeping an eye on the tarts to prevent the pastry burning.

Remove from oven and eat still warm with custard or cream as a mini dessert or allow to cool completely for the tea table.

To decorate you could add a small spoon of mixed peel to each tart if you desire.
Nutrition
Nutrition Facts
Gluten Free Hot Cross Bun Treacle Tarts
Amount per Serving
% Daily Value*
* Percent Daily Values are based on a 2000 calorie diet.
Have you tried this recipe?
Let me know how it was & I will be super grateful. Take a picture & tag me @glutarama on your social media posts – I love seeing your photos more than you will ever know x
I love to see your own photos of my bakes, dinners and treats head to your favourite social media account and don't forget to tag me in @glutarama
Subscribe to my email list so that you get NEW recipes straight in your mailbox every Friday PLUS a FREEBIE and access to some amazing gluten free DISCOUNTS
*disclaimer: I use affiliate codes on my website, the vast majority are to Amazon. If you click on any of the links or images in the post and make a purchase my family will benefit from a small % of that purchase at no extra cost to you, in fact, for full transparency, in 2020 I made my first £25, and recently in 2022 I reached my next £25 (Amazon don't transfer the money until you reach £25). As you can see, it won't make me a millionaire but it will treat me to a few coffees, Lord knows I need the caffeine!
Join my friendly Facebook Group
life's a drama, gluten free doesn't have to be….