Presenting Cook Blog Share Week 7
I've got a treat for you with this latest round up of recipes – Free From Food for the Soul. Preceding this round up of recipes was Sisley's Sweet Treats for Spring. Quite a drool worthy collection of bakes to lift the spirits on dull grey days.
My round up is a game of two halves.
Starting with a selection of savoury recipes, followed by a selection of sweet recipes. All are gluten free, or can easily be made gluten free with my tips in the recipe introduction. The theme that stood out from the linked recipes to last week was food for the soul.
The savoury recipes are all packed full of delicious vegetables to squeeze in as many of your five-a-day and boost those much needed vitamins and minerals as we slowly emerge from winter. The sweet recipes give a nod towards the fruits on offer now or soon to be in season and brighter days ahead.
---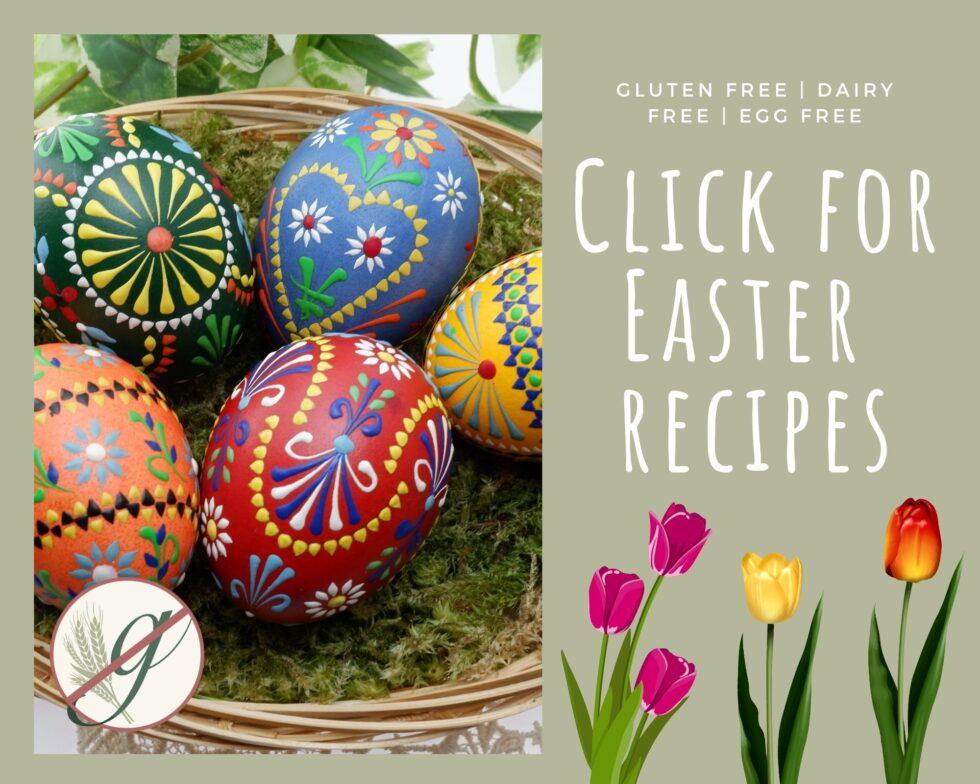 ---
Free From Savoury Recipes
Chloe's recipe for Creamy Garlic Mushroom Soup is an excellent way to a full tummy. Chloe has given tips on how to swap out ingredients to make this gluten free and a simple swap for a plant based cream means this can be dairy free too.
Creamy Garlic Mushroom Soup
This extra rich and Creamy Garlic Mushroom Soup is so packed with flavour, your taste buds will be tingling. It's quick and simple to make and just as good for a quick lunch as a main meal.
Check out this recipe
Eb has mastered the traybake over on Easy Peasy Foodie and this simple, no fuss, washing up friendly bake is ideal. Simple to make gluten free or plant based if you use your favourite safe sausages. Both filling and packed with nutritional and slow release energy goodness.
Sausage, Tomato and Bean Traybake
A simple traybake version of cassoulet! This easy Sausage, Tomato and Bean Traybake features delicious oven-roasted sausages and cannellini beans in a rich tomato sauce – but without all the hassle and long cooking time of a traditional cassoulet.
Check out this recipe
Naturally gluten free, this recipe for oven roasted veggies by Lesley and Michelle at Lost in Food is a midweek triumph. Great way to get that rainbow of colours into one meal. Psst – this makes veggies actually taste nice!
Easy Oven Roasted Vegetables
Our easy oven roasted vegetables are quick to prepare. A great tasting selection of root vegetables cooked to perfection in no time.
Check out this recipe
Janice from Farmersgirl Kitchen added this super meal in one Paella de Carne. I'm imagining a taste explosion with all the elements of this dish. Another great way to fill up, cosy up and have less washing up!
Tips: check your paella rice for may contains and ensure you get a gluten free chorizo.
Paella de Carne
Paella de Carne is an original recipe for this classic Spanish rice dish. It's a feast of Mediterranean vegetables, chicken and prawns andrice that soaks up all the glorious flavours.
Check out this recipe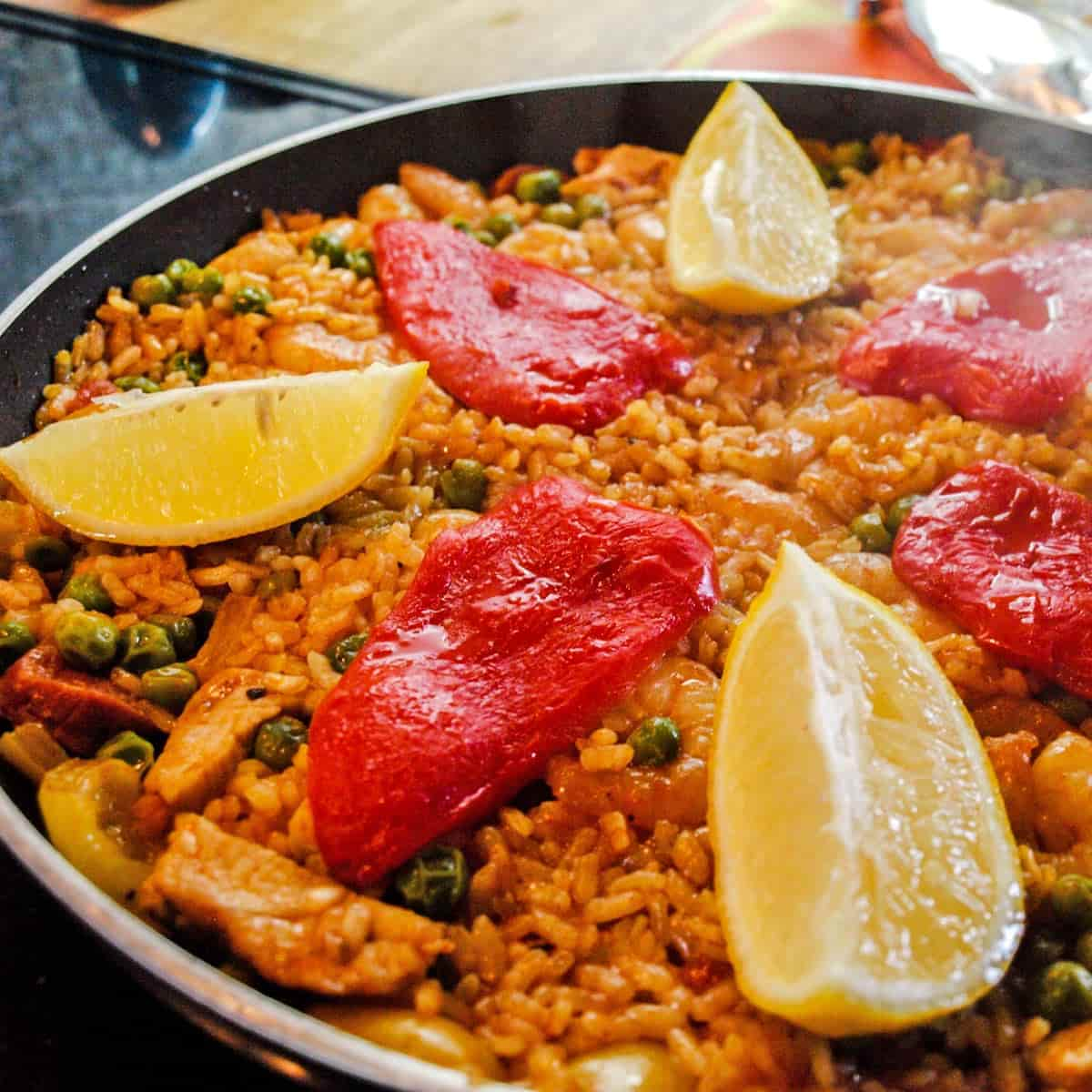 I'm adding my Leftover Chicken Slice here for good measure, always great to have a leftover recipe in your arsenal. In this recipe write up I give tips on how you can play with this simple method and create a whole plethora of leftover meals so no food need go to waste ever again!
Gluten Free Leftover Roast Chicken Slice
This easy recipe for my Leftover Roast Chicken Slice is such a feel good recipe. You're saving waste and creating a delicious dinner for the day after a Roast Dinner. So versatile, these pastry slices can be made with any roast dinner leftovers including roasted potato's and vegetables. Made gluten free and dairy free using a ready rolled gluten free puff pastry. Can also be easily adapted to be vegan too.
Check out this recipe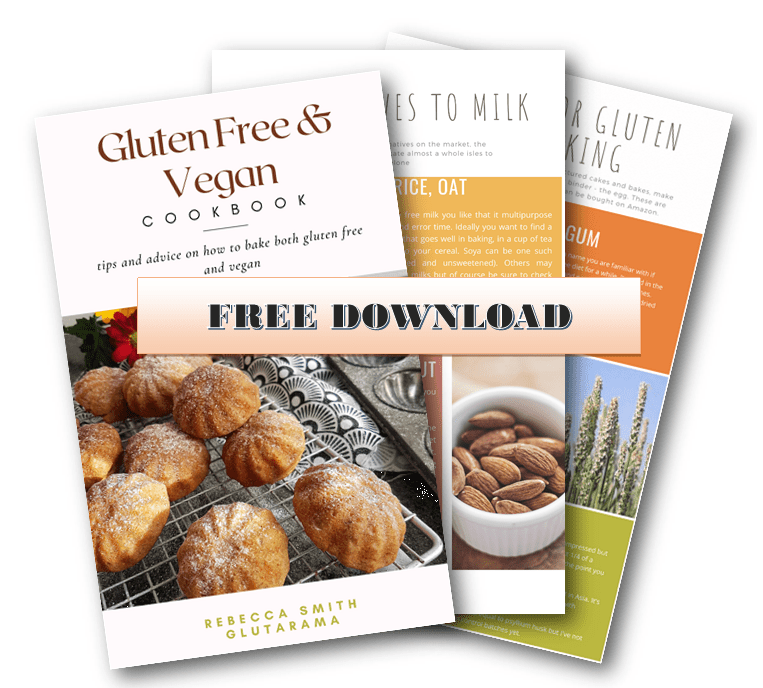 Never miss out again…
Sign up to my weekly Friday newsletter and not only get a FREE e-Book (currently my Gluten Free & Vegan Cookbook) but also get VIP subscriber discounts on free from goodies. Join me and learn to make anything gluten free.
Free From Sweet Recipes
Kate over at Gluten Free Alchemist has combined two super flavours into one delicious crumble. Once you've mastered a gluten free crumble topping there's no end to the flavour exploration and rhubarb is the best place to start, especially with the new season of forced rhubarb out in the early months each year.
Rhubarb and Blueberry Crumble
A Rhubarb and Blueberry Crumble that is something a little special. Carefully created to ensure the most deliciously textured crumble topping and fruit that shines with every mouthful, it is gluten free dessert heaven.
Check out this recipe
Ok, so this is not a dessert as such, it's the makings of a delicious dessert though. This Mixed Berry Compote by Sisley at Sew White is super quick, easy to make. It also goes well with almost any dessert; cheesecakes, gateau's, brownies, flans and tarts. Or why not add this compote to your Gluten Free Pancakes
Mixed Berry Compote using frozen berries
This rich and juicy mixed berry compote is so easy to make and is perfect as a topping for pancakes, porridge and as a filling for cakes.
Check out this recipe
I was impressed with how simple this dairy free recipe for Strawberry Mousses was by Corina at Searching for Spice. Getting hold of freeze dried strawberries may seem a chore but you can get them in the fruit snack section in most large supermarkets now, just blitz them into powder like Corina suggests.
Tips: check for may contains on freeze dried snacks as these factories often produce many snack items
Strawberry Tofu Mousse
This simple vegan strawberry tofu mousse has just three ingredients! It's quick and easy to make and perfect for a healthy family or dinner party dessert
Check out this recipe
Amy over at The Copper Table added her Peanut Butter, Banana and Oat muffins to last weeks round up. This recipe tickled my fancy. Probably because as I'm writing this it's 10:58am and I've still not had breakfast yet! This is an excellent recipe to give instant energy and keep it coming all day.
Tips: swap the all purpose flour for gluten free plain flour and make sure you use gluten free oats.
Peanut Butter, Banana, and Oat Muffins
These Peanut Butter, Banana, and Oat Muffins are a great quick breakfast and are easy to make. They are great for meal prep!
Check out this recipe
Anyone still got some mincemeat rattling around in their cupboards (my hand is up). If, like me, you bought WAY too much in the lead up to Christmas then you may like to try this recipe with apples and mincemeat in this twist on the classic Eve's Pudding.
Gluten Free Mincemeat and Apple Eve's Pudding
How to take a delicious traditional bake and add an extra ingredient to blow your mind! Made gluten free with dairy free and egg free instructions. This Mincemeat and Apple Eve's Pudding is super indulgent and makes for an excellent pudding for family and friends. Delicious served hot with custard or lashing of cream.
Check out this recipe
WHAT IS #COOKBLOGSHARE?
CookBlogShare is a community for food bloggers to share recipes and foodie posts and generally support the food blogging community. The community is centred around the #CookBlogShare linky.
It is a wonderful way for a wide range of food writers, recipe creators and bloggers to come together and share each other's recipes.
The linky is now hosted regularly by Sisley from Sew White & Chloe from Feast Glorious Feast. New members are always welcome to join so make sure you invite your other food blogger friends!
The last linky was hosted by Sisley at Sew White who put together a collection of Sweet Treats for Spring – Week 5.
Each week the host chooses a selection of recipes which have been submitted during the previous week to showcase.
HOW TO TAKE PART IN THIS WEEK'S #COOKBLOGSHARE
BLOGGERS
Scroll down to the linky widget and add your links. Make sure to read the rules so we can all share the love!
I'll be commenting and sharing as many of the links as possible. They'll also be pinned to the #CookBlogShare group Pinterest board.
Use the same hashtag #CookBlogShare on Instagram and social media and you can post your recipes in the CookBlogShare Facebook Page.
READERS
Scroll down to see what recipes have been linked up so far this week. Have a read and let us know what you think. Feel free to help share the love by sharing the recipes far and wide! You can also follow the #CookBlogShare hashtags on Twitter and Instagram to discover new and wonderful recipes.
THE RULES!
You can link up any recipe or foodie posts you have. Both old and new posts are welcome as long as they have not been linked to #CookBlogShare before. There is no set theme but it is always sensible to think about upcoming seasons and holidays.
It is usually beneficial to link up towards the beginning of the week for maximum benefit to you.
You can link up to a maximum of 4 posts per linky.
Required – For each recipe that you link up, choose at least 2 of the other recipes which have been linked that week, go to the blog post and leave a 5* rating & lovely positive comment. You might want to come back later in the week when more posts have been linked up – but don't forget!
Required – Please also comment on at least one post from that week's host. Their linked posts will be marked "HOST" in the title. Please note that a host might request that comments are not left on the linky post as this isn't always the most beneficial place for a host to feel the love!
The next linky will be hosted by my fellow foodie blogger Janice at Farmersgirl Kitchen for #CookBlogShare Week 8. You can find this info and sign up on the rota!
Bonus – There is no set requirement but there are several other ways that you can help share the love with the other members linking up. These can include:
Pinning the recipe
Sharing or scheduling a share to your Facebook page
Sharing or scheduling a share to your Twitter Feed
Saving the post to other sites like Yummly
Hitting the heart icon in the bottom left corner if the blogger is using Grow.Me or Slicksteam.
Please note that by joining in, you are giving the #CookBlogShare hosts permission to use your pictures in a roundup and on social media if your recipe is selected as one of our favourites!
BECOME A GUEST HOST
CookBlogShare are always looking for new bloggers to become guest hosts. Please get in touch with one of the regular hosts or post in the Facebook group if you want to be added to the rota.
OTHER WAYS TO HELP THE COMMUNITY
Follow #CookBlogShare on Instagram and like/comment on linked up posts.
Follow #CookBlogShare on Twitter and like/retweet linked up tweets.
Keep up with the Facebook Group for roundup recipe requests and other shouts for help.
And do all these things yourself too!
Get involved with the Facebook Group. Ask questions, answer questions, share successes and generally be part of the awesome community!
Join my friendly Facebook Group
life's a drama, gluten free doesn't have to be….