There are two reasons this recipe for Spiced Treacle Tart came about. The first (and lets face it probably the most obvious to those in the know) is that Beth's gluten free bread fell apart.
I was left with a jigsaw puzzle of a loaf and refused to throw it away, so what to do? Well, I had a hankering for treacle tart after seeing some in the chilled cabinet of a supermarket a week or two before and so treacle tart seemed a fitting destination for this poor unfulfilled loaf of gluten free bread!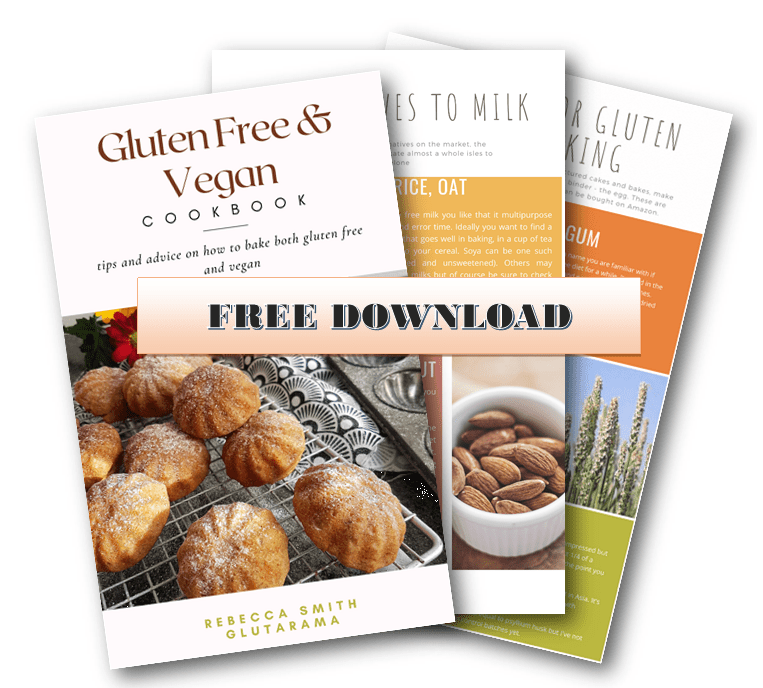 Never miss out again…
Sign up to my weekly Friday newsletter and not only get a FREE e-Book (currently my Gluten Free & Vegan Cookbook) but also get VIP subscriber discounts on free from goodies delivered to your door. Join me in my journey and learn to make anything gluten free.
What's the second reason I hear you cry?
I love the lead up to any festive season and being a food blogger means that I pay particular attention to what's new across social media….I have to say, this year I've been underwhelmed by NEW ideas for Easter bakes and treats…. mind you, my most popular Easter gluten and dairy free free recipe is doing very well this year so that said, follow the link to my Supersize Cream Egg recipe. This was first published in 2017 so maybe we don't need new ideas every year, and the old ones are the best?
---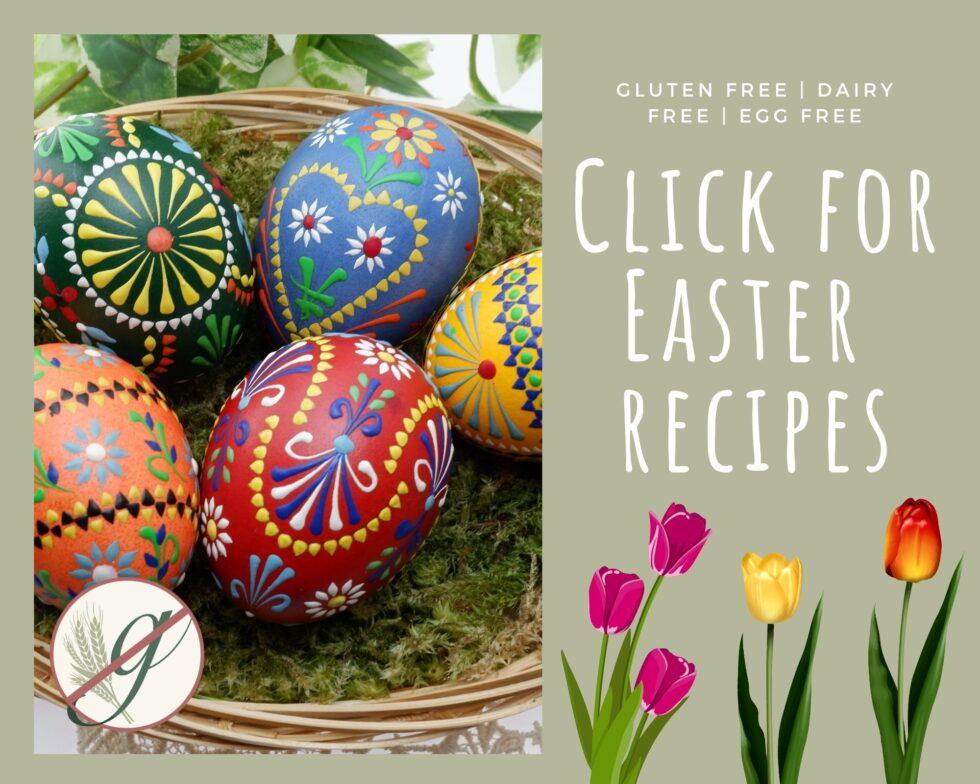 ---
Oops, I've gone off on a tangent again haven't I? This year I decided that my craving for treacle tart could easily be spiced up a bit and so the Spiced Treacle Tart was born (I simply can't help it, I have to tamper with a recipe and experiment!) The lovely thing about this recipe is that you can easily omit the spices and/or hot cross buns and hey-presto you have a Traditional English Treacle Tart!
How do I make this Spiced Treacle Tart using Hot Cross Buns?
super simple my dear reader. To make an Easter themed Treacle Tart, simply blitz 4 hot cross buns into breadcrumbs. On average 4 buns will give you 300g of breadcrumbs. That's literally it – simple!
You can purchase gluten free Hot Cross Buns in all supermarkets in the lead up to the Easter period. Not all are vegan too, so if this is an issue for you be mindful when adding to your shopping basket. For this recipe I used Just Gluten Free Hot Cross Buns that are also vegan (egg and dairy free, as I am intolerant to both).
If you want to make your own Gluten Free Hot Cross Buns then I can recommend Laura's recipe over on My Gluten Free Guide. These are not vegan though and I've not tried making them yet with a dairy alternative and flaxseed egg so if you do make them vegan let me know how you get on.
Another side note, I've also made this in a mini version with a richer sweeter pastry in my Mini Gluten Free Hot Cross Bun Treacle Tarts recipe.
How do I make this Spiced Treacle Tart without Hot Cross Buns?
This too is fairly straight forward you just use 300g of plain gluten free bread crumbs and add the spice. This does also give you control of what you do and don't add. For example, the Hot Cross bun version obviously has raisins in it. With this adapted version you can omit the raisins and just keep the candied peel, or leave that out too and just add the spice.
Don't be afraid to play with the recipe, you really can make this to your tastes.
Traditional Easter Spices are Cassia Oil which is a form of cinnamon extract that has been developed to take away the bitterness of the bark. You find cloves in a lot of Easter cooking too. So to add the spice element to your plain white gluten free bread crumbs you simply add cinnamon (preferably sweet cinnamon if you can) and clove, but use the clove sparingly, it's strong and can knock your socks off!
How to make a flax egg

to make 1 flax egg you need the following ingredients:
– 1tbsp ground flax seed
– 3tbsp water
– 1tsp psyllium husk (optional but does add elasticity to baking)

Simply add all ingredients to a glass and stir before measuring out the other recipe ingredients, by the time you come to use your 'egg' mixture it will have thickened to a frog-spawn consistency (thicker if you added psyllium husk)

Then just add to your baking as you would an egg. For 2 eggs double the ingredients but note that recipes that require more than two eggs may fail due to lack of support in the structure.
Other recipes you might like to try
Easy Gluten Free Spiced Treacle Tart Recipe
If you make it and like the recipe I would be eternally grateful if you popped back and commented leaving a star rating as this will tell search engines that this recipe is worth checking out and others will get to find it in searches.
Gluten Free Spiced Treacle Tart
A simple twist on the original traditional treacle tart recipe to spice this traditional favourite up just in time for Easter, the perfect way to use up those unwanted slices of bread or go all out and use Hot Cross Buns instead
Ingredients
To make the pastry
200

g

gluten free plain flour

50

g

caster sugar

50

g

fat (I use Trex white vegetable fat)

I use Trex or Crisp n Dry

50

g

butter

I use Flora vegan butter blocks

1

egg(s)

I use a flaxseed egg (1tbsp flax/3tbsp water)
To make the Treacle Tart filling
300

g

gluten free hot cross buns

4 buns, use a vegan brand if necessary

200

g

golden syrup (corn syrup)

100

g

granulated sugar

1

tbsp

lemon juice
For non – Hot Cross Bun version see notes…
Instructions
To make the pastry weigh the flour, butter and fat into a large bowl, using a pastry cutter work the fat into the flour to make breadcrumbs

add your flaxseed egg: 1tbsp flaxseed, 1tsp psyllium husk powder (optional) and 3tbsp water.

Give the mix a stir and turn out onto the kitchen worksurface and bring the pastry together. Roll into a ball and pop into a Tupperware container and pop in the fridge whilst you set to work on the treacle tart filling.

Add the golden syrup and sugar to a large saucepan and heat gently until the sugar has dissolved.

Remove from the heat and add all the remaining filling ingredients and stir until all the breadcrumbs have been fully coated in the syrup mixture. Set aside and allow to cool to room temperature.

Now get your pastry out of the fridge and work it for a minute or two to prevent cracks. Roll into a large enough round to line a 8 inch loose based flan tin. Prick the bottom of the pastry shell with a fork to encourage an even bake

Pop the tin into the fridge while you set to work making pastry shapes of your choice to decorate – you should have a decent amount of pastry to do this.

Now the tart filling will have cooled enough to tip into the pastry shell. remove tin from fridge.

Tip the treacle tart mixture into the pastry case and smooth to the edges with the back of a spoon, add your decorations if using them and pop into a preheated oven at 200°C | 180°C fan | 395°F | Gas 6 for 25-30 minutes or until a delicate golden brown.

Serve immediately with custard or cream or cool to enjoy later.
Notes
For the plain white bread version
300g plain white gluten free breadcrumbs
50g candied peel (optional)
1tsp cinnamon
1/2tsp ground clove
instead of 200g golden syrup and 100g caster sugar, use 200g of both as normal plain bread will not be sweet.
Nutrition
Nutrition Facts
Gluten Free Spiced Treacle Tart
Amount per Serving
% Daily Value*
* Percent Daily Values are based on a 2000 calorie diet.
Have you tried this recipe?
Let me know how it was & I will be super grateful. Take a picture & tag me @glutarama on your social media posts – I love seeing your photos more than you will ever know x
I love to see your own photos of my bakes, dinners and treats head to your favourite social media account and don't forget to tag me in @glutarama
Subscribe to my email list so that you get NEW recipes straight in your mailbox every Friday PLUS a FREEBIE and access to some amazing gluten free DISCOUNTS
*disclaimer: I use affiliate codes on my website, the vast majority are to Amazon. If you click on any of the links or images in the post and make a purchase my family will benefit from a small % of that purchase at no extra cost to you, in fact, for full transparency, in 2020 I made my first £25, and recently in 2022 I reached my next £25 (Amazon don't transfer the money until you reach £25). As you can see, it won't make me a millionaire but it will treat me to a few coffees, Lord knows I need the caffeine!