Ad: Before you read any further, I've baked Grassroots 7 Seed Bread to accompany my hearty winter Roast Chicken Soup. The bread mix was gifted to me and I happily accepted a fee to promote Andrea's wonderful bread mix. I can do so with confidence as I've raved about Grassroots mixes for a long time now and as my regular readers will know, I don't accept work unless I love the product.
So let's get back to the Roast Chicken Soup first and then I'll make your saliva glands prickle even more with Andrea's Grassroots Bread – which incidentally is what you can see in the photos…oooh just look at that crust would you!
Lewis believes that if you're going to have roast chicken with stuffing and all the trimmings for Sunday dinner then you have to have the whole bird. I have to agree but we're always left with the bird carcass and loads of meat (Bethany eats very little meat, so the bird is between just the three of us). Sometimes I'll pick at the bones later in the evening (huge apologies to the vegans who follow me – not that you'd be reading this recipe I imagine). Sometimes I'll do a Chinese Stir-Fry with the leftover meat, often the dogs Hope and Faith get the majority.
A traditional way to make Roast Chicken Soup
If I can be bothered, I'll simmer the carcass with 2ltr water, 1 onion peeled and quartered, 1 celery stick chopped, pepper corns, salt and bay leaves in a huge pot to make a chicken stock. This takes a good 2-3hrs and then there's the picking through the bones and separating the meat – it can be a rather drawn out process.
I can then go on to freeze the stock in 500ml pots for future meals or using both the stock and meat from the bones I add whatever vegetables I have at the time and make a nutritious chicken soup. Mum used to make this, and my sister and I affectionately called it 'Gruel'.
The recipe I'm sharing with you today has the same delicious nutrition but is like a Roast Chicken Dinner in a bowl – and it's quick and simple to make.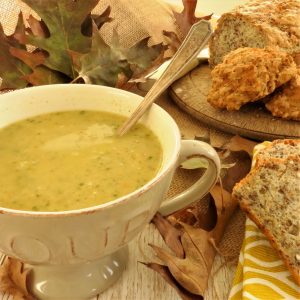 Roast Chicken Soup
A quick and simple (cheats) Roast Chicken Soup made using the leftovers from the Sunday Roast Chicken Dinner – yes, even the stuffing and roasties. Gluten free, dairy free and perfect served with a warm crusty gluten free bread roll.
Ingredients
1

leftover roast chicken carcass

2

ltrs

water

4

stuffing balls

4

roast potatoes

I used roast parsnips as I can't eat potato

garlic

I used a dried garlic pepper mill rather than 1 fresh clove

salt and pepper to taste
Optional Ingredients (any combination)
100

g

carrots

100

g

broccoli

100

g

brussel sprouts

100

g

swede

100

g

cabbage
Instructions
Remove all meat from the chicken carcass and add to a large saucepan.

Add 2ltrs of water to the pot plus the seasoning and garlic.

Add the left over gluten free stuffing balls and roast potatoes (no need to cut these up)

Depending on what vegetables you have left add them to the pot. A handful of each veg will do, don't overfill the pot, all ingredients need to be submerged in the water.

If you didn't have leftover veg or you want to add fresh, then simply roughly chop your veg and add to the pot.
Notes
Using the roast potato, or in my case the parsnips, helps to thicken the soup and make if my filling. The ingredients for this soup will vary depending on what you served with your roast dinner, don't be shy to shove whatever takes your fancy into the soup.
Nutrition
Nutrition Facts
Roast Chicken Soup
Amount per Serving
% Daily Value*
* Percent Daily Values are based on a 2000 calorie diet.
Have you tried this recipe?
Let me know how it was & I will be super grateful
If you like this Roast Chicken Soup you'll love these
Last year I got fed up with missing out on nutritious meals, as I'd gotten caught up in the endless loop of boring foods that my lovely, but unadventurous, kids were only prepared to eat. In an act of defiance I made a batch of soups for one which meant I had the choice to have them at lunchtime or dinner time when the family tucked into their billionth spaghetti bolognaise or chill.
Anyhoo, I'm waffling. You can find my 5 Simple Free From Soups for One here. There's; Roast Parsnip, Curried Parsnip, Roast Tomato and Red Pepper, Smokey Butternut Squash and last but not least Broccoli and Vegan Stilton Soup. That lots should keep you going for ideas for a couple of months at least. Another deliciously simple soup is this vegan and gluten free Butternut Squash Soup by Copper Confetti who also has a new course on IBS called The FODMAP Journey – well worth a look if you suffer with IBS issues. But wait! want something super filling but kind to your gut, then in that case have a go at Claire's Creamy Corn Chowder over on Through the Fibro Fog.
The perfect accompaniment to Roast Chicken Soup
I told you I'd whet your taste buds further by wafting fresh baked crusty bread under your noses, and frankly I've not found another bread mix quite like it. Grassroots Bakery produce three bread mixes, a pizza base mix, two muffin mixes and, as if that wasn't enough, a vegan hot chocolate too.
The particular mix I used to accompany my Roast Chicken Soup was Andrea's latest mix; 7 Seed Brown Bread Mix it's the first time I've tried this mix and have to say I think it's my favourite brown bread mix of the two, but I do love breads with extra bits in them.
I keep referring to Andrea, founder of Grassroots. I actually got to meet Andrea in person at the Free From Food Awards in London. It was lovely, as if we've been friends for years, she is such a wonderful person and her passion for her mixes is contagious. It goes without saying that she won awards for two of her mixes this year and I have no doubt she'll win again in 2020.
One thing I love about Andrea's mixes, apart from the perfect crust and texture inside the loaf, is that they're so easy to make. Pop in a mixer, add the tepid water, oil and egg (you can make this vegan too) then mix, prove, mix, shape and Bob is indeed your Uncle!
I'm so confident about these rolls/loaves that last year I made and donated 30 rolls for Bedford's Soupfest and am going to do the same this year too with mixes that Andrea has kindly donated to the charity.
My top tip for the rolls is to get a silicone spatula dipped in water and smooth the tops of the dough balls before baking if you wish for a smoother, less rustic end result – clearly I didn't for this photo shoot, I got carried away and was far too hungry to be the perfectionist I consider myself to be!
I really love to read your comments and feedback and will always comment back. Do drop a line in the comment section if you like my Roast Chicken Soup and don't forget to rate the recipe too. If you try this recipe, I would love to see your creations, take a picture and do tag me using the hashtag #Glutarama on Facebook, Twitter and Instagram. Subscribe to my email list so that you get the recipe straight in your mailbox.

And one last thing! I've linked my Roast Chicken Soup with these other awesome bloggers pages, go check them out
Cook Blog Share | Fiesta Friday
disclaimer: I've started using affiliate codes on my website again (needs must). If you click on any of the links in the post and make a purchase my family will benefit from a small % of that purchase at no extra cost to you.