This page contain affiliate links. Please refer to my Disclosures Page for more details.
Presenting my hearty winter Roast Chicken Soup. A simple recipe using the leftovers from the Sunday dinner. Being such a flexible recipe, you can add literally anything that's leftover making this an excellent money-saver recipe.
What can you add to leftover roast chicken soup?
Lewis believes that if you're going to have roast chicken with stuffing and all the trimmings for Sunday dinner then you have to have the whole bird. I have to agree but we're always left with the bird carcass and loads of meat (Bethany eats very little meat, so the bird is between just the three of us).
Sometimes I'll pick at the bones later in the evening (huge apologies to the vegans who follow me – not that you'd be reading this recipe I imagine). Sometimes I'll do a Chinese Stir-Fry with the leftover meat.
The point being, there's ALWAYS leftovers! So what else can you add to this leftover chicken soup?
roast potato's
roast parsnips
stuffing
vegetables – any vegetable you had with your dinner
gluten free Yorkshire puddings
cranberry or red currant jelly
As you can I wasn't joking when I said you could anything!
How do I turn leftovers into soup?
In the recipe below I'm working on the assumption that you have similar quantities of leftovers. But, life doesn't work that way so the general rule of thumb is to make sure that all your leftovers are fully submerged in water.
Once everything is added to the pot, simply reheat on a medium heat. The veggies, potato's, stuffing will start to breakdown making it easier to blend into a thick wholesome hearty healthy soup.
To blend you can ladle the soup into a liquidiser/blender but for such a large quantity of soup I find my reliable Braun hand blender is perfect for the job.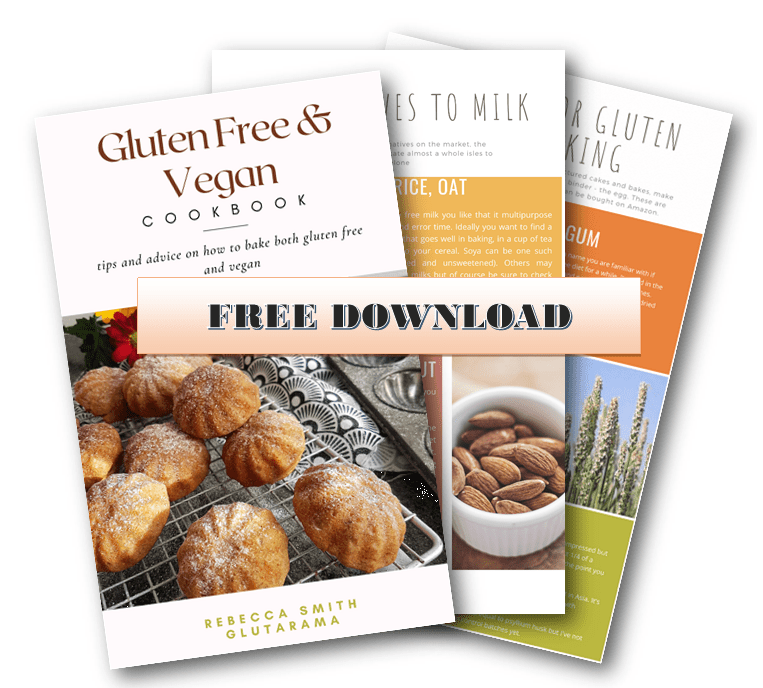 Never miss out again…
Sign up to my weekly Friday newsletter and not only get a FREE e-Book (currently my Gluten Free & Vegan Cookbook) but also get VIP subscriber discounts on free from goodies. Join me and learn to make anything gluten free.
How to make roast chicken soup from scratch
If I can be bothered, I'll simmer the carcass with 2ltr water, 1 onion peeled and quartered, 1 celery stick chopped, pepper corns, salt and bay leaves in a huge pot to make a chicken stock. This takes a good 2-3hrs and then there's the picking through the bones and separating the meat – it can be a rather drawn out process.
You can freeze the stock in 500ml pots for future meals or using both the stock and meat from the bones I add whatever vegetables I have at the time and make a nutritious chicken soup. Mum used to make this, and my sister and I affectionately called it 'Gruel'.
The recipe I'm sharing with you today has the same delicious nutrition but instead of making your own stock I use a Knorr stock pot. This recipe is effectively Roast Chicken Dinner in a bowl – and it's quick and simple to make.
What stock cubes are gluten free?
I always use Knorr Rich Beef Stock pots in my chilli con carne but there are other versions of stock by Knorr that are also gluten free that are ideal for making soups. I find the stock pots are often on multi-buy special offer so only buy them when this is the case.
NOTE: gravy pots are NOT gluten free.
Other stock pots are OXO who now have gluten free stock pots (not cubes, these are not currently gluten free). Kallo do gluten free stock cubes and granules and Marigold make gluten free and vegan Bouillon.
If you like this Roast Chicken Soup you'll love these
Another deliciously simple soup is this vegan and gluten free Butternut Squash Soup by Copper Confetti who also has a new course on IBS called The FODMAP Journey – well worth a look if you suffer with IBS issues. But wait! want something super filling but kind to your gut, then in that case have a go at Claire's Creamy Corn Chowder over on Through the Fibro Fog.
Roasted Tomato, Red Pepper and Garlic Soup
Experience the taste of the Mediterranean in this vibrant coloured bowl of tomato and red pepper soup for two, pure bliss. Even better, its vegan, gluten free and packed with vitamins too. Use the handy serving calculator to make this a soup-for-one or family-sized or better still batch cook to save the pennies.
Check out this recipe
Dairy Free Cream of Carrot and Coriander Soup
The perfect autumnal comfort food, this Dairy Free Cream of Carrot and Coriander Soup is thick, creamy and flavourful. Even better, it's vegan, gluten free and packed with vitamins too. Use the handy serving calculator to make this a soup-for-one or family-sized or better still batch cook to save the pennies.
Check out this recipe
Smoky Butternut Squash Soup
A comforting butternut squash soup made even warmer by the smoky its undertones, this is ever so simple to make. A cost effective way to get your daily nutrients and it's dairy free, gluten free and vegan
Check out this recipe
For a full soup recipe collection and top tips on how to; make free from soups from scratch, thicken soup, source gluten free stock cubes and more head over to my Delicious Free From Homemade Soup Recipe Collection
Leftover Roast Chicken Soup Recipe
If you make it and like the recipe I would be eternally grateful if you popped back and commented leaving a star rating as this will tell search engines that this recipe is worth checking out and others will get to find it in searches.
Leftover Roast Chicken Soup
A quick and simple (cheats) Roast Chicken Soup made using the leftovers from the Sunday Roast Chicken Dinner – yes, even the stuffing and roasties. A great money saver encouraging no waste food. Gluten free, dairy free and perfect served with a warm crusty gluten free bread roll.
Ingredients
1

leftover roast chicken carcass

2

ltrs

water

1

gluten free stock cube

I use Knorr Chicken Stock Pots

4

stuffing balls

4

roast potatoes

I used roast parsnips as I can't eat potato

1

tsp

garlic (powder, puree or clove)

I used a teaspoon of dried garlic on this occasion

salt & pepper to taste
Optional Ingredients (any combination)
100

g

carrot(s)

100

g

broccoli

100

g

brussel sprouts

100

g

swede

100

g

cabbage
Instructions
Remove all meat from the chicken carcass and add to a very large saucepan.

Next add the left over gluten free stuffing balls and roast potatoes (no need to cut these up)

Depending on what vegetables you have left add them to the pot. A handful (100g) of each veg will do, don't overfill the pot.

Add 2ltrs of water to the pot all the ingredients need to be submerged in the water. Now add the seasoning and garlic.

TOP TIP: If you didn't have leftover veg or you want to add fresh, then simply chop any vegetables you wish to add into small thumbnail sized pieces so they cook quickly.

Heat the soup for 10-15 minutes (you may to do heat longer if you've added fresh vegetables).

Once cooked dive in with the hand blender (or spoon into a liquidiser) and blend until you've reached your preferred consistency. I love my soup to be quite thick with a few lumps in it for texture.

Finally, taste for seasoning and add more salt and pepper if required.
Notes
Using the roast potato, or in my case the parsnips, helps to thicken the soup and make it more filling. The ingredients for this soup will vary depending on what you served with your roast dinner, don't be shy to add whatever takes your fancy into the soup.
Nutrition
Nutrition Facts
Leftover Roast Chicken Soup
Amount per Serving
% Daily Value*
* Percent Daily Values are based on a 2000 calorie diet.
Have you tried this recipe?
Let me know how it was & I will be super grateful. Take a picture & tag me @glutarama on your social media posts – I love seeing your photos more than you will ever know x
I love to see your own photos of my bakes, dinners and treats head to your favourite social media account and don't forget to tag me in @glutarama
Subscribe to my email list so that you get NEW recipes straight in your mailbox every Friday PLUS a FREEBIE and access to some amazing gluten free DISCOUNTS
*disclaimer: I use affiliate codes on my website, the vast majority are to Amazon. If you click on any of the links or images in the post and make a purchase my family will benefit from a small % of that purchase at no extra cost to you.

For full transparency, in 2020 I made my first £25, and in 2022 I reached my next £25 (Amazon don't transfer the money until you reach £25). I'm now up to £17.80 for 2023 so edging closer to the magical £25 mark!!

To date I have made £69.28 since I first started the scheme in 2017. It won't pay the bills, that's for sure but it does help to pay for ingredients or little treats to cheer me up!
Join my friendly Facebook Group
life's a drama, gluten free doesn't have to be….