This page contain affiliate links. Please refer to my Disclosures Page for more details.
Updating this Gluten Free Cranberry Stuffing recipe made me giggle, what on earth could be so funny about stuffing I hear you say?
It makes me giggle because it reminds me of our first gluten free Christmas back in 2009. Bethany had been diagnosed with Coeliac's in the summer at the age of 4, she was now 5 years old, the season of good will was upon us and I was determined to make the whole of Christmas gluten free, my Bethany wasn't going to miss out on a single morsel festive treats.
I discovered that year that Bethany did not like;
Stuffing
Sausage Meat
Mince Pies
Pigs in Blankets
Christmas Pudding
…she LOVED brandy butter though. Sadly, the next year she couldn't even have that due to a temporary secondary lactose intolerance, but that's a different story!
This is still a wonderful stuffing recipe and the rest of the family enjoy it. Plus, it's an excellent way to use up broken, holey bread or the end bits of loaves (which I call heels). I keep a bag of these misfits in the freezer for such occasions or to make Bread Pudding or Bread and Butter Pudding.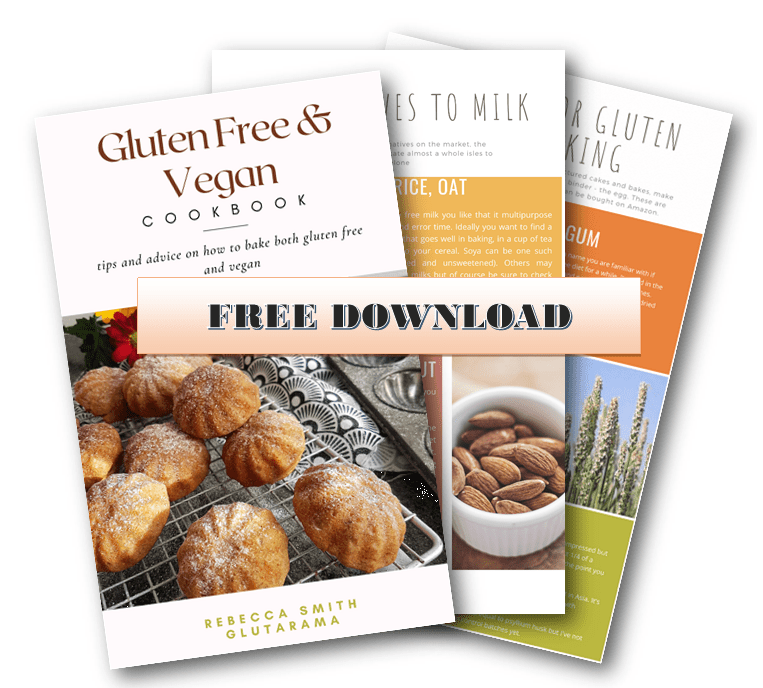 Never miss out again…
Sign up to my weekly Friday newsletter and not only get a FREE e-Book (currently my Gluten Free & Vegan Cookbook) but also get VIP subscriber discounts on free from goodies. Join me and learn to make anything gluten free.
Can I use different fruit to cranberries?
I realise that not everyone can have cranberries. I have sadly lost my Gran and Grandpa but both had to avoid cranberries due to the medication they were on. The good news is that this Luxury Cranberry Stuffing is just as good if you make it with dried apple or dried apricots.
Can I use fresh cranberries for this stuffing recipe?
You could use fresh cranberries for this stuffing recipe. Supermarkets often have fresh cranberries in store in the winter months. However, you will find the stuffing may need cooking a bit longer to ensure the cranberries cook through. To speed things up you could par-boil the cranberries first or chop them into smaller pieces rather than have them whole or in hales.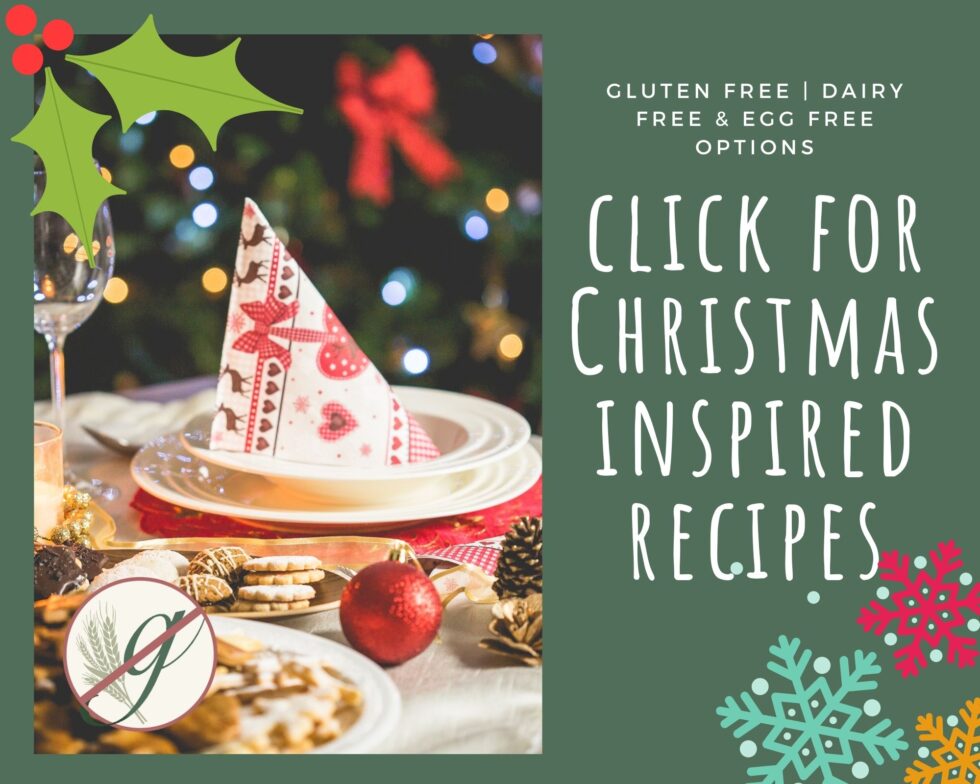 What bread crumbs do you use in homemade stuffing?
On this occasion I used a tiger loaf from Tesco. Bethany had forgotten about it and it had gone a bit stale. Making it perfect for turning into bread crumbs. On other occasions I'll use the bread that I save up in a resealable and reusable freezer bag*. These are the bits of bread that don't get used, the ends (or heels) and the slices that are wonky or have holes in them.
You can also use dried breadcrumbs, Paxo have a gluten free version in some supermarkets, below I've found some popular free from brands you can get delivered.
If you do use dried breadcrumbs you will get a slightly different consistency in the resulting stuffing. You will also need to add more liquid to help it bind. The downside to using ready made breadcrumbs is the cost as they're not cheap – but then again, neither is gluten free bread!
How do you make stuffing balls?
Making this Cranberry Stuffing into staffing balls is very simple. You just have to be patient, that way you won't burn your hands.
Once you've add the hot water and mixed to combine, take a dessert spoon of mixture and roll in the palms of your hands. If you find the mixture a bit too sticky use some flour to coat your hands.
This recipe makes approximately 16 walnut sized stuffing balls.
Can this gluten free stuffing be made in advance?
This Cranberry Stuffing is so simple to make in advance. In fact, I'd certainly recommend making in advance on Christmas Day, it's one less thing to have to worry about.
Method One – Dry Mix: this method means you can make your stuffing in bulk, maybe double the ingredients, and just use what you want to make up a batch of stuffing. When you get to the crumble stage (onion, cranberries, bicarbonate of soda, flour, sage, breadcrumbs, seasoning) simply tip the stuffing crumble into a reusable freezer bag* and take out what you want the next time you cook a roast dinner.

Method Two – Ready Made: follow the entire recipe and instead of baking, cover the stuffing (either balls or baking tin) and keep in the fridge or freezer until you need it. If cooking from frozen cover with foil for 20mins and then remove the foil for a further 20mins to crisp the stuffing crust.
Gluten Free Christmas Gift Guide
Every Year I update this post on Glutarama's website to give you the latest gluten free gifts perfect for a loved one or to gift yourself. The guide is broken into advent calendars, gifts for the Christmas Day, hampers for gifts or to cater for a gluten free Christmas and finally I try to find something a bit special to treat yourself in the new year.
How to store homemade gluten free stuffing.
As mentioned above, you can make this stuffing in advance and freeze it. However, if you're making this the day before, you can place the stuffing balls into an air tight Tupperware container. Alternatively, spoon the stuffing into the dish you plan to bake in, cover with foil and pop into the fridge until your ready to bake.
TOP TIP: got any leftover stuffing? how about adding it to some bubble and squeak? Another great idea is to make sausage rolls with added stuffing.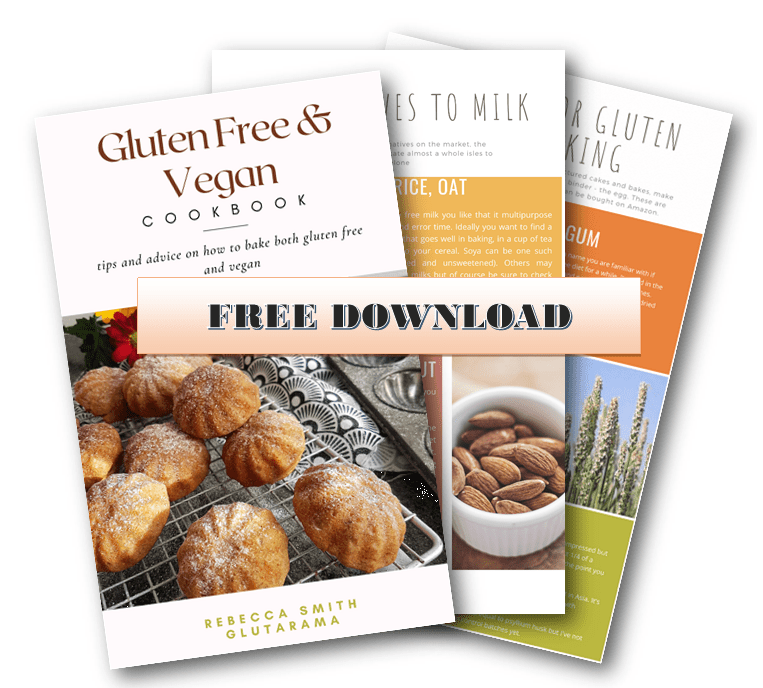 Never miss out again…
Sign up to my weekly Friday newsletter and not only get a FREE e-Book (currently my Gluten Free & Vegan Cookbook) but also get VIP subscriber discounts on free from goodies. Join me and learn to make anything gluten free.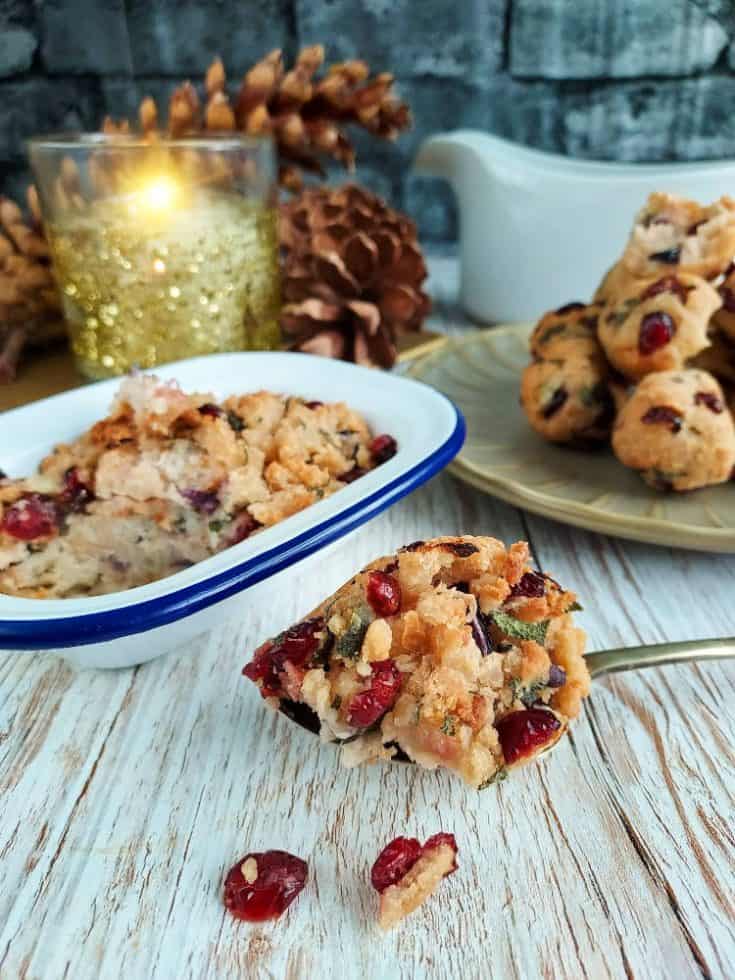 Other Gluten Free Dinner Ideas
Easy Gluten Free Cranberry Stuffing Recipe
If you make it and like the recipe I would be eternally grateful if you popped back and commented leaving a star rating as this will tell search engines that this recipe is worth checking out and others will get to find it in searches.
Luxury Cranberry Stuffing made gluten free
The perfect accompaniment to your Christmas dinner. This simple to make gluten free cranberry stuffing can be made in advance of the big day and cook or reheated whilst you rest the turkey. It's also vegetarian and dairy free.
Ingredients
200

g

gluten free bread crumbs

80

g

gluten free plain flour

50

g

dried cranberries

50

g

onion(s)

finely chopped

50

g

fat (I use Trex white vegetable fat)

or shortening (white solid vegetable fat)

2

tbsp

brandy

2

tbsp

fresh chopped sage

(1tsp dried)

1

tsp

baking powder

1

tsp

salt

1

tsp

ground black pepper

1

tsp

onion powder

(optional)

125

ml

water

warm/hot water
Instructions
Soak the chopped raw onion and cranberries in the brandy for 10mins (if not using alcohol, miss the soaking stage and add the onion and cranberries to the breadcrumbs).

To make the breadcrumbs, break up the bread and add to a blender, blitz until fine breadcrumbs.

Add sage, seasoning, onion powder flour and baking powder to the breadcrumbs and mix to combine.

Melt the white vegetable fat (I melt mine quickly in the microwave) add this to the crumble mixture and stir.

Finally, pour over the 125ml of warm to hot water and mix to combine, don't over mix you want to keep the mixture loose.

If making stuffing balls ensure the mixture is cool enough to handle and scoop out spoonful's of mixture and roll into walnut size balls. Place in a greased/lined oven proof dish.

If baking together in a dish spoon the mixture into a greased oven proof serving dish.

Cook in the oven heated to 200°C | 180°C fan | 400°F | Gas 6 for 30 minutes or 20 if rolled into balls. Serve immediately with your dinner.
Nutrition
Nutrition Facts
Luxury Cranberry Stuffing made gluten free
Amount per Serving
% Daily Value*
* Percent Daily Values are based on a 2000 calorie diet.
Have you tried this recipe?
Let me know how it was & I will be super grateful. Take a picture & tag me @glutarama on your social media posts – I love seeing your photos more than you will ever know x
I love to see your own photos of my bakes, dinners and treats head to your favourite social media account and don't forget to tag me in @glutarama
Subscribe to my email list so that you get NEW recipes straight in your mailbox every Friday PLUS a FREEBIE and access to some amazing gluten free DISCOUNTS
*disclaimer: I use affiliate codes on my website, the vast majority are to Amazon. If you click on any of the links or images in the post and make a purchase my family will benefit from a small % of that purchase at no extra cost to you.

For full transparency, in 2020 I made my first £25, and in 2022 I reached my next £25 (Amazon don't transfer the money until you reach £25). I'm now up to £17.80 for 2023 so edging closer to the magical £25 mark!!

To date I have made £69.28 since I first started the scheme in 2017. It won't pay the bills, that's for sure but it does help to pay for ingredients or little treats to cheer me up!