Although this is a recipe for Gluten Free Mirabelle Plum Galette you can easily swap the Mirabelle's for standard plums. Never the prettiest of bakes but what it lacks in looks it makes up for in taste. If you're sat there scratching your head asking yourself what exactly is a Mirabelle Plum anyway, I answer that in the next section – lucky you getting all the answers on tap like that!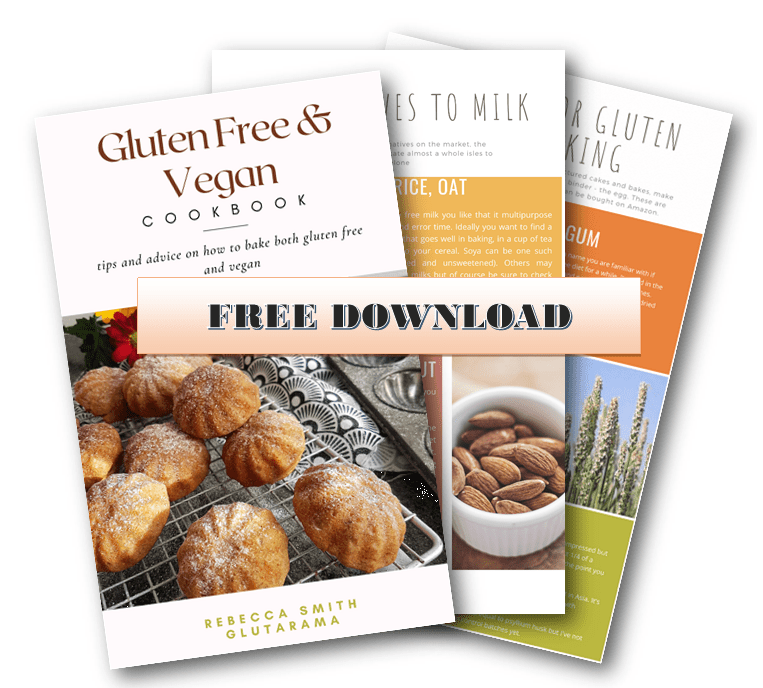 Never miss out again…
Sign up to my weekly Friday newsletter and not only get a FREE e-Book (currently my Gluten Free & Vegan Cookbook) but also get VIP subscriber discounts on free from goodies delivered to your door. Join me in my journey and learn to make anything gluten free.
What are Mirabelle Plums?
So what are Mirabelle plums and can you eat them? Normally I wouldn't link to Wikipedia as it's not always accurate but this link is packed with interesting information about where the Mirabelle originates, where it can now be found in the EU and how it's harvested.
The Mirabelle is a speciality of the French region of Lorraine, which has an ideal climate and soil composition for the cultivation of this fruit. This region produces 15,000 tons of Mirabelle plums annually, which constitutes 80% of global commercial production.

Wikipedia – mirabelle Plums
So to sum up, the Mirabelle is a fruit bearing tree that originated in France and bears the sweetest little golden and red berry-like plums that many mistake for ornamental plums.
Where do Mirabelle's normally grow in the UK?
I am seriously so glad you asked because if you didn't know prepare to have your mind blown. These dainty little plum trees pop up in many rural places. Where I live we have lots. The school nearby have several lining the school playground and we can access them on the outside of the property. We also have a few lining the streets in my ward.
Imagine that, plum trees just sitting there minding their own business.
Many people have no idea the fruits are edible and so every year lots of the fruits are left to fall and rot on pavements and hedgerows. Not me, as soon as I see the trees jewelled with perfect berry shaped fruits I'm there with my poo-bags (best thing for impromptu scrumping).
The bounty you see in the images below are from one dog walk and I could easily have filled 4 bags worth on that occasion.
What is a Galette?
The answer to this question is a bit more convoluted, however, as usual I'll reel it in to make things simple. Galette comes from the Norman word Gale or 'flat cake' in a round-about way. So we now understand why this is a flat bake.
It gets a little more complicated when you see variations of galette, some sweet, some savoury, some frankly looking like a crepe or pancake.
The answer is in the region the recipe originates from in France. The galette I have recreated here is based on the free from pie-like dessert that seems to be generic across all regions but fillings tend to vary. This style of galette lends itself to having both sweet and savoury fillings.
Another type of galette comes from Bretton and is the pancake or crepe style I mentioned above. Specifically, this galette is made with buckwheat, a naturally gluten free flour rich in fibre (to be Coeliac safe it needs to be certified GF and made/packaged in a gluten free environment).
Finally there is a super posh celebratory galette called the Galette de Rois or King Cake. To me, this resembles a less complicated baklava.
The galette de rois is one of France's most traditional festive bakes, and while many traditionalists swear by the original recipe, you'll find more modern recipes include the likes of chocolate, fruit jams and chopped nuts. It's quite a simple cake to create, but the flavour is incredibly rich and indulgent – perfect for rounding off the end of all that Christmas feasting.

Great British Chefs – The Galette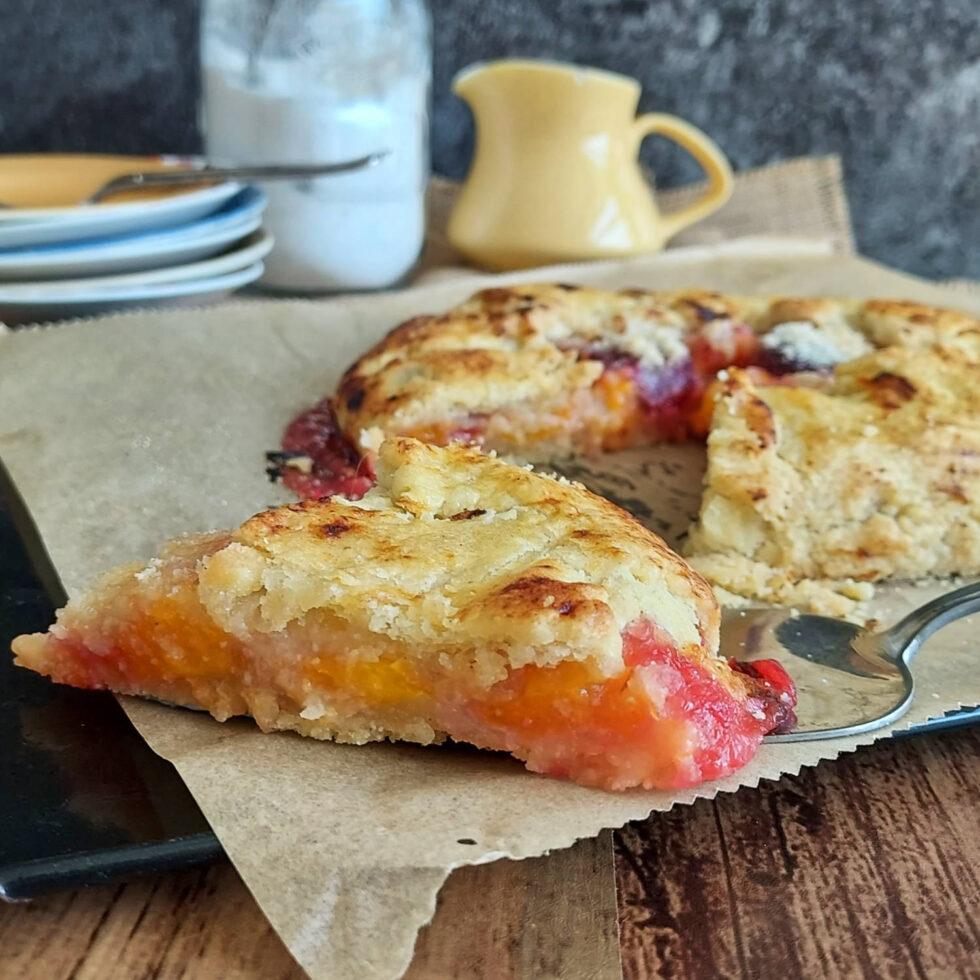 What other fruits can I use in a Galette?
What other fruits can you use to make this gluten free galette? The possibilities are endless. What's your favourite fruit?
The rule of thumb is that the fruit needs to be soft or will become soft on baking. That's it really. Here are some flavour combinations to get your teeth sunk into;
apple and cinnamon
blackberry and apple
peach and apricot
rhubarb and apple with ginger
pear and chocolate
banana and chocolate
And that's just off the top of my head, seriously there are no limits. Tell you what, if you try one of the suggestions above or make up you own flavour combination then please do come back and let me know what you used, I'd love to hear about it.
How do you make a Galette?
Making this Mirabelle Plum Galette is super easy. Make up your galette dough, much like a shortcrust pastry. Then once chilled add the washed and stoned fruit, liberally sprinkle with the sugar and ground almond. Finally fold in the edges of the galette dough. No need to follow a design, just fold in the edges and overlap them – that's it. Said it was simple.
For good measure I hold back a few of the Mirabelle fruits and mush them up a bit with a fork to create a raw jam that can be brushed over the galette to encourage a rich brown glaze.
Great toppings for this Mirabelle Plum Galette
Fancy something a bit special to accompany this Mirabelle Galette? Well then why not try making your very own clotted cream, this clotted cream is dairy free and vegan but you'd never know. For other serving suggestions keep scrolling to see my range of custards and ice creams.
Homemade Vegan Clotted Cream
Make your own homemade thick clotted cream but dairy free and vegan. A simple recipe to make 125ml of imitation clotted cream with a tell-tale thick crust on top. Perfect for scones for a cream tea or to accompany puddings and desserts
Check out this recipe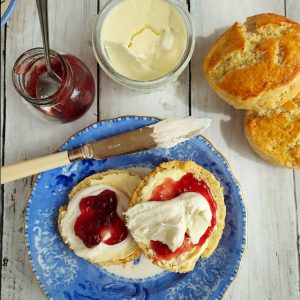 Homemade Vegan Custard Recipe
A quick guide to making dairy free, egg free vanilla custard using just three ingredients to make a vegan custard powder. Simply add you favourite dairy free alternative milk and you're ready to enjoy with a delicious gluten free and vegan pudding (Self Saucing Chocolate Pudding used as serving suggestion) This recipe makes enough custard for two people.
Check out this recipe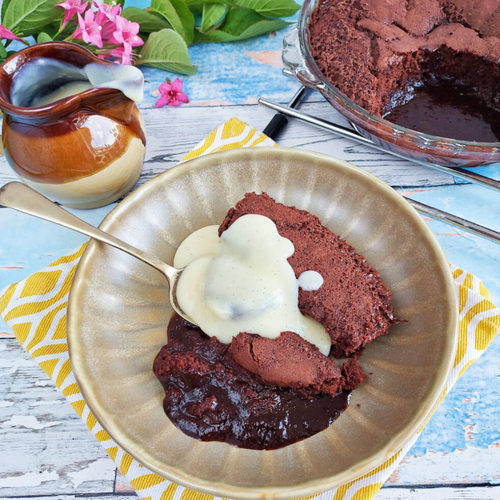 Quick and Easy Dairy Free Custard
A quick guide to making dairy free vanilla custard using safe instant custard powders. There is also guidance on how to make your very own instant custard powder for the store cupboard.
Check out this recipe
Homemade Dairy Free Blackberry and Gin Ice Cream
This simple, no churn Blackberry and Gin Ice Cream is a creamy rich ice cream, the perfect end to a heavy meal or accompaniment to a chocolate dessert even to add a flash of colour. Made gluten free, dairy free and vegan, you will have to make two batches if you plan to share!
Check out this recipe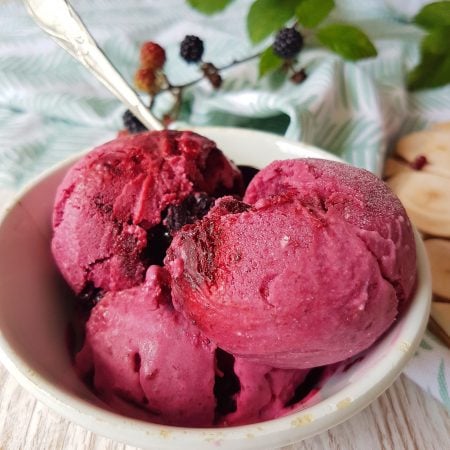 Other Fruity Recipes you might like to try
Simple Gluten Free Spiced Peach Tarte Tatin
Deliciously Easy Gluten Free Peach Cobbler
Simple Dairy Free Gooseberry Fool Crumble
Gluten Free Rhubarb Fool Dessert
Gluten Free Gooseberry Crumble
No Bake Dairy Free Raspberry Cheesecake
Gluten Free Apple and Blackberry Crumble
Gluten Free Mirabelle Plum Galette Recipe
If you make it and like the recipe I would be eternally grateful if you popped back and commented leaving a star rating as this will tell search engines that this recipe is worth checking out and others will get to find it in searches.
Gluten Free Mirabelle Plum Galette
A deliciously simple recipe, perfect for a Mirabelle harvest. Can be made with all variety of soft fruits too. Both gluten free and dairy free plus no egg so this is vegan too. Never the prettiest of bakes but what it lacks in looks it makes up for in taste.
Ingredients
For the galette dough
250

g

gluten free plain flour

100

g

butter or butter alternative (I use Flora plant butter)

50

g

caster sugar

5

tbsp

water

iced water or as cold as you can make it
For the plum filling
250

g

Mirabelle plums

or normal plums [see notes for alternative suggestions]

2

tbsp

ground almonds

1

tbsp

caster sugar
Instructions
To make the galette dough
In a large mixing bowl measure the flour, sugar and butter. Using your fingertips or a pastry blender (I use the latter as hands can be too hot), break the butter down into the flour and sugar to make breadcrumbs.

Add the iced water one tablespoon at a time to the crumble mixture. After each addition use a rounded knife (like a butter knife) to cut through the crumble in a figure of eight. This motion brings the crumble together gradually as you keep adding the water.

TOP TIP: you are not looking to blend this galette dough as you would pastry. Ideally you want it to be flecked with little lumps of butter.

Once the dough has come together and is speckled with butter, gently roll into a ball and pop into the fridge to chill while you prepare your fruit.
To prepare the fruit filling
Wash and pat the fruit dry with a tea towel.

If using Mirabelle plums you can either cut them in half and pop the tiny cherry-like stones out or, like me, use a cherry stoner.

In a little bowl or cup, measure out the caster sugar and ground almonds and give them a little mix to combine.
To make the galette
Preheat the oven to 200°C | 180°C fan | 400°F | Gas 5

Remove the chilled dough from the fridge and place on a dusted worksurface. Roll out into a dinner plate sized circle. No need to worry about the circle being perfect.

TOP TIP: keep the rolling pin well floured. The little speckles of butter may stick to the pin otherwise.

Once the dough is rolled out and placed on a prepared baking tray, add the prepared fruit to the centre of the dough with a decent margin, ideally you need to leave 1.5-2 inches of dough around the edges.

NOTE: Keep a couple of plums back for the final step.

Next sprinkle the almond and sugar mix over the fruit.

Now you can fold the edge of the dough in towards the middle of the galette. the ends won't meet and you will be left with a hole in the top of the galette exposing the crumbly fruit centre.

For a finishing touch I crush the couple of plums I held back with a fork and using a pastry brush I brush the tops of the galette to ensure it turns a beautiful golden colour when baking.

Pop into the oven for 35mins until golden brown and the fruit juices have started to run.

Once cooked remove from the oven and serve immediately with cream, custard or ice cream or cool and eat at room temperature with cream.
Notes
What other fruits can you use to make this gluten free galette? The possibilities are endless. What's your favourite fruit?
The rule of thumb is that the fruit needs to be soft or will become soft on baking. That's it really. Here are some flavour combinations to get your teeth sunk into;
apple and cinnamon
blackberry and apple
peach and apricot
rhubarb and apple with ginger
pear and chocolate
banana and chocolate
Nutrition
Nutrition Facts
Gluten Free Mirabelle Plum Galette
Amount per Serving
% Daily Value*
* Percent Daily Values are based on a 2000 calorie diet.
Have you tried this recipe?
Let me know how it was & I will be super grateful. Take a picture & tag me @glutarama on your social media posts – I love seeing your photos more than you will ever know x
I love to see your own photos of my bakes, dinners and treats head to your favourite social media account and don't forget to tag me in @glutarama
Subscribe to my email list so that you get NEW recipes straight in your mailbox every Friday PLUS a FREEBIE and access to some amazing gluten free DISCOUNTS
*disclaimer: I use affiliate codes on my website, the vast majority are to Amazon. If you click on any of the links or images in the post and make a purchase my family will benefit from a small % of that purchase at no extra cost to you, in fact, for full transparency, in 2020 I made my first £25, and recently in 2022 I reached my next £25 (Amazon don't transfer the money until you reach £25). As you can see, it won't make me a millionaire but it will treat me to a few coffees, Lord knows I need the caffeine!
Join my friendly Facebook Group
life's a drama, gluten free doesn't have to be….
---