This page contain affiliate links. Please refer to my Disclosures Page for more details.
I've been working on this Free From Homemade Soup Collection for a while now and think I've nailed it. This post is the ultimate guide to making homemade soups. It covers what stock cubes are Coeliac safe and which are vegan. It discusses the best ways to keep soup when you make it in batches. I cover the topic of how to thicken soups and get the best flavour out of your ingredients. And I also have a section on what equipment you'll need to start your very own homemade soup production line!
Memories of home made soup and how to make your own
I'm a big fan of soup, us three girls grew up on what we fondly nicknamed 'gruel'. It was a simple chicken soup made with the carcass of a chicken, boiled, picked, strained and then packed with any veg available, blended, chicken meat thrown back in, seasoned and tah-dah; Gruel!
It didn't seem to matter what mum put in that soup it always tasted the same, thick, hearty, delicious warming chicken (gruel) soup.
Homemade stock ingredients – chicken stock
1 chicken carcass or chicken wings/drumsticks
1 white onion – simply peel and cut into quarters
1 carrot – roughly chopped, no need to peel
1 stick celery – roughly chopped
peppercorns (just throw a few into the pot)
1 tbsp salt
enough water to cover the chicken and vegetables (approx 1.5-2ltrs)
To make the stock, you simply boil the bones and added vegetables for a good couple of hours. Once you've done this, pick any meat off the bones, discard the bone and gristle and inedible bits and blitz the whole lot up with a hand blender.
You can add herbs to the stock during the boiling process but if you pan to use this stock for all manner of soups I'd recommend you don't so you can add those flavours later.
Homemade stock ingredients – vegetable stock
1 white onion – simply peel and cut into quarters
1 carrot – roughly chopped, no need to peel
1 stick celery – roughly chopped
peppercorns (just throw a few into the pot)
1 tbsp salt
1tsp onion powder
1tsp garlic powder
enough water to cover the vegetables (approx 1.5-2ltrs)
The reason for adding the garlic and onion powders to the vegetable stick is to increase the umami flavours. Vegetable stock can be quite bland otherwise.
Adaptable portion sizes
The great thing about my recipes is that you can adapt the portion sizes. If you look at the recipe card you'll see you can select 0.5x, 1x, 2x ,3x. Every recipe is automatically set at 1x and most of my soup recipes are aimed at feeding two people. However, if you're a bigger family simply choose 2x or if you're making soup for one click 0.5x.
So let's get into it and learn everything there is to learn about making soup at home for soup-lovers like myself.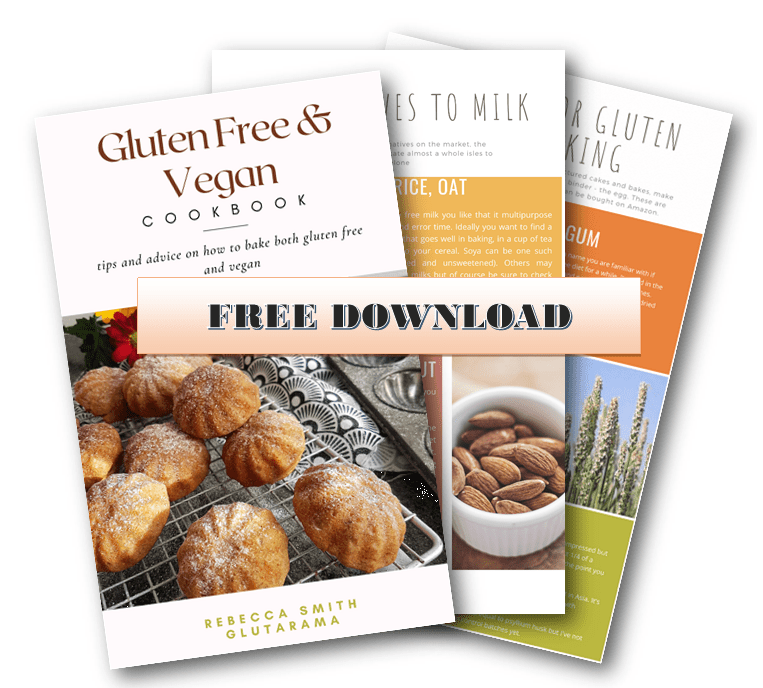 Never miss out again…
Sign up to my weekly Friday newsletter and not only get a FREE e-Book (currently my Gluten Free & Vegan Cookbook) but also get VIP subscriber discounts on free from goodies delivered to your door. Join me in my journey and learn to make anything gluten free.
What are the best gluten free shop bought stocks?
When making Free From Homemade Soup you need to consider what ingredients you are avoiding and if you have a preference over liquid stocks, cubed stocks or jelly stocks?
I always use Knorr Stock Pots as they clearly state on pack that they are gluten free. But there are other versions of stock by Knorr that are also gluten free. I find the stock pots are often on multi-buy special offer so only buy them when this is the case.
In the images below you can see they come in various flavours too depending on the type of soup your making.
NOTE: Knorr gravy pots are NOT gluten free.
Other stock pots are OXO who now have gluten free stock pots (not cubes, these are not currently gluten free).
What stocks are vegetarian or vegan?
If you are looking specifically for a stock that is not just gluten free but also vegetarian or vegan then Kallo do gluten free stock cubes and granules. In addition to this Marigold make gluten free and vegan Bouillon.
---
Free £10 off with this link
If you click the link you can get £10 off your first order over £40. I buy in bulk so save up all my dairy free needs and buy them once a month or every two months. You can filter to make sure everything you search for is gluten free too.
How do you thicken a homemade soup?
Usually a shop bought soup would use cornflour (corn starch) or wheat as a thickener. Obviously Coeliac diets have to avoid wheat but there are many other ways you can naturally thicken soups without having to any grains at all.
In the Free From Homemade Soups in this recipe collection I use three different methods to thicken the soups and I'll share each with you now.
Root based vegetables
Root based vegetables tend to have more starch and or fibre in them. therefore they act as natural thickeners. It's a bit like when you add potatoes to a Gluten Free Beef Stew, the potatoes cook and absorb the liquid but at the same time break down and thicken the juices. Great vegetables for thickening soups are;
potatoes
sweet potatoes
parsnips
swede
carrots
turnips
Cheese or cream
Obviously, if you are avoiding dairy like myself then you'll be wanting to add plant based cheeses and creams but the same principle applies. If you add a cheese or cream to a soup it tends to thicken the soup. Whilst this is only ever so slightly, it certainly makes any soup fuller bodied, and who doesn't love a cream of '…' soup.
Reduction
This method of thickening soup seems to be quite obvious but how often do we really use this cooking method to it's full potential? Have you ever left a curry or ragu on the stove for a little longer than planned and come back to it thickened and intense in both flavour and colour? Well this form of cooking does exactly that. Intensifies the flavour as it concentrates.
If you can bear to give you soup a good rapid simmer (making sure not to burn the bottom of the pan) then the liquid will thicken and improve in flavour. if you've gone too far and reduced too much, no bother, simply add a splash of boiled water or whack in some cream to loosen it to your desired consistency.
Useful kitchen equipment and utensils for making soup
I've added some of my favourite kitchen appliances and utensils here. There are obviously more utensils you'd need such as measuring spoons and scales but these are all items that I'd rather not be without when making homemade soups. I have all the items listed myself so can vouch for the quality, the only one I do not have is the soup maker but have on good authority that they are great if you have the room in your cupboard to store one.
Utensils
Sieve (to make lump-free soups)
Storage
Best ways to store homemade soup
I think people fall into two categories, those who batch cook and store in jars and those who batch cook and store in Tupperware. Hands up, I'm the latter but these days my freezer spaces seems to be very limited and the pro's to storing foods in glass jars (that have been properly sterilised) is that you can keep them in cupboards or outbuildings for up to 3 months!
If, like me you're a bit of a Tupperware Queen, then you can buy perfect portion-sized containers and portion your homemade soup ready for the next day or freeze to keep for longer. Generally, homemade soup will keep in the fridge for up to 3 days and freeze for 3 months.
On the other hand, if you're leaning towards storing in jars then the next section is for you.
What's the best way to sterilise jars – oven or water bath?
In all of my homemade soup recipes I've added the handy box below to tell you the quickest and simplest way to sterilise jars.
How to sterilise jars for your individual soup portions
Wash your jars* and the lids in hot soapy water, but do not dry them. Instead, leave them to stand upside down on a roasting tray while they're still wet.
Pop the tray of clean, wet jars and lids in to a preheated oven at 160-180ºC for about 15 mins.
Using a funnel pour your soup into the jars. Be very careful not to touch or get any of the mixture onto the rim of the jars as this could introduce bacteria.
Ideally you want to fill the jars not quite to the top, leave about 1/4 inch (1/2 cm) gap at the top between the soup and the lid.
While everything is still hot, secure the lids tightly.
Once in sterilised jars like this your soups should keep for about 1 month in the fridge probably longer.
*you could easily use 500g jam or cooking sauce jars
If you're up for more of a challenge and plan to take your glass jar sterilisation very seriously indeed you can adopt the water bath method.
This method is illustrated beautifully here on the Kilner website in their article How to sterilise jam jars.
Step 1 – Check Jars For Chips Or Cracks
The first process of sterilisation is to check the jars or bottles thoroughly for damage such as cracks, breaks, and chips. If you find any of your jars or bottles are damaged you must discard them.
It is important that you only sterilise your jars, bottles and lids or seals a short time before you are ready to fill them to ensure they remain warm for the filling process.
Step 2 – Wash Your Jars
To remove any initial dirt of grime, wash your jars in warm soapy water and leave to dry.
Step 3 – Prepare The Waterbath
Remove the lids or rubber seals from your jars and put to one side. Place a heat resistant plate upside down in the bottom of your Kilner® Preserving Pan then place the jars inside.
Step 4 – Sterilise Your Jars With Boiling Water
Fill the pan with cold water until the jars are covered. Bring to the boil and keep at the maximum temperature for 10 minutes, turn the heat off and cover the pan to keep the jars warm until you are ready to fill them.
Do not attempt to sterilise your Kilner® Bottles and Kilner® Jars by pouring boiling water into them.
Step 5 – Sterilise Your Lids
Place vacuum seal lids or rubber seals in a small pan and fill with 4 inches of cold water, heat and simmer at 82 degrees for 10 minutes, turn the heat off and cover the pan until you are ready to seal the jars.
Step 6 – Leave Jars To Dry
Use your tongs to remove the jars, seals and lids from the boiling water. Place these on a clean jay cloth and leave them to dry. Your jars are now sterilised and ready to be filled!
Of course, they're suggesting you purchase all their equipment to do so, including their Kilner Preserving Pan which isn't cheap at just under £50 but you can also use it to make your soup in too so I guess it's useful in that respect.
Is making free from homemade soup cheaper than shop bought?
if you are comparing any shop bought soup with free from homemade soup then the homemade version may come out slightly more expensive. But lets just break that down shall we?
Scan the shelves in the local supermarket and you'll find that many cans of soup or even fresh soups in the chilled aisles, either have gluten in them or are may contains. The same goes for dairy, in fact, I'd say it's more difficult to get a dairy free soup than a gluten free soup.
So by making your own homemade soups, you're already onto a winner because you're giving yourself a wider choice of flavours.
If you plan to make in bulk then this would be a more cost effective way to make soup. But I have these other tips to keep costs down;
buy wonky or essential vegetables, its not a beauty contest when it comes to soup!
only get stock cubes or pots when they're on special offer, you save a fortune this way.
microwave root vegetables to add to soup instead of roast (does impact flavour though).
use leftovers to make soup, don't throw away the uneaten veggies, save them.
befriend someone with an allotment and be creative with any bounty they gift you!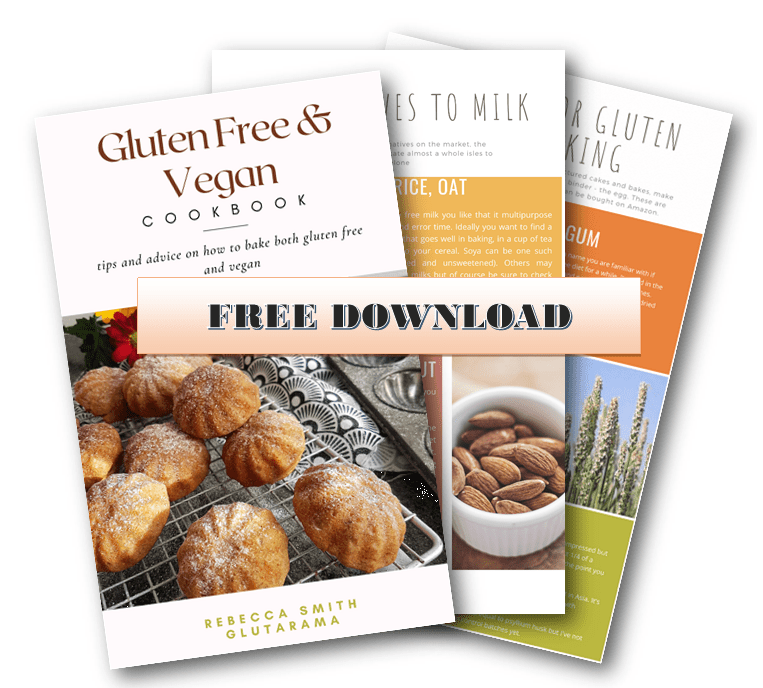 Never miss out again…
Sign up to my weekly Friday newsletter and not only get a FREE e-Book (currently my Gluten Free & Vegan Cookbook) but also get VIP subscriber discounts on free from goodies delivered to your door. Join me in my journey and learn to make anything gluten free.
Roasted Tomato, Red Pepper and Garlic Soup Recipe
Roasted Tomato, Red Pepper and Garlic Soup
Experience the taste of the Mediterranean in this vibrant coloured bowl of tomato and red pepper soup for two, pure bliss. Even better, its vegan, gluten free and packed with vitamins too. Use the handy serving calculator to make this a soup-for-one or family-sized or better still batch cook to save the pennies.
Check out this recipe
Leftover Roast Chicken Soup Recipe
Leftover Roast Chicken Soup
A quick and simple (cheats) Roast Chicken Soup made using the leftovers from the Sunday Roast Chicken Dinner – yes, even the stuffing and roasties. A great money saver encouraging no waste food. Gluten free, dairy free and perfect served with a warm crusty gluten free bread roll.
Check out this recipe
Dairy Free Cream of Carrot and Coriander Soup Recipe
Dairy Free Cream of Carrot and Coriander Soup
The perfect autumnal comfort food, this Dairy Free Cream of Carrot and Coriander Soup is thick, creamy and flavourful. Even better, it's vegan, gluten free and packed with vitamins too. Use the handy serving calculator to make this a soup-for-one or family-sized or better still batch cook to save the pennies.
Check out this recipe
Smoky Butternut Squash Soup Recipe
Smoky Butternut Squash Soup
A comforting butternut squash soup made even warmer by the smoky its undertones, this is ever so simple to make. A cost effective way to get your daily nutrients and it's dairy free, gluten free and vegan
Check out this recipe
---
I love to see your own photos of my bakes, dinners and treats head to your favourite social media account and don't forget to tag me in @glutarama
Subscribe to my email list so that you get NEW recipes straight in your mailbox every Friday PLUS a FREEBIE and access to some amazing gluten free DISCOUNTS
---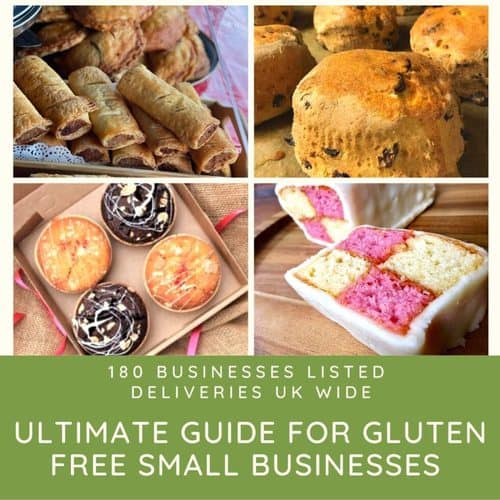 Fancy buying yourself a treat or a gift for a loved one this festive season, then go small…small businesses' that is!

Guide for Gluten Free small businesses that deliver across the UK

— Glutarama, supporting small businesses
---
*disclaimer: I use affiliate codes on my website, the vast majority are to Amazon. If you click on any of the links or images in the post and make a purchase my family will benefit from a small % of that purchase at no extra cost to you, in fact, for full transparency, in 2020 I made my first £25, and recently in 2022 I reached my next £25 (Amazon don't transfer the money until you reach £25). As you can see, it won't make me a millionaire but it will treat me to a few coffees, Lord knows I need the caffeine!