It's about time my Sausage Pasta Bake had a face lift, this recipe was added to the website back in 2016 and it's been a constant favourite for readers and traffic, but my goodness did the photographs make me cringe (giggles to self) so as part of my Glutarama shake up and wake up for 2019 I've remade and instead of the family scoffing immediately, I've managed to get a few shots. It's funny to see how far my food photography has come and there's still a lot to learn but these are shots I can be proud of for now!
Another recipe I hope to update images for that you may be interested in are Sausage Dinner Roll, and two more recent recipes are my Sausage Plait and the perfect picnic or lunchbox snack is my Sausage Roll with Chutney and Mustard.
So back to the original post and recipe…
How do you end up making a Sausage Pasta Bake by chance? Don't you find that the meals you knock up in no time with a bit of this and a dash of that often seem to go so well that everyone licks their plates clean…this was one of those occasions. And about time too! I had originally decided to kebab the sausages, but it was raining and cold outside, and despite it being summer here in the UK, I felt a winter warmer dinner was called for so presenting my Sausage Pasta Bake originally made with Debbie & Andrews Sausages, but I've also used Black Farmer and Heck, all work equally as well, it simply depends on what's on special offer in the shops at the time. I also used a Schar baguette for the garlic bread side order, but again, whatever you can put your hands on will work, Bethany also loves the B-Free part baked baguettes.
How about going overboard on the carbs and make this No Knead Gluten Free Focaccia made with sundried tomatoes to go with your Pasta Bake?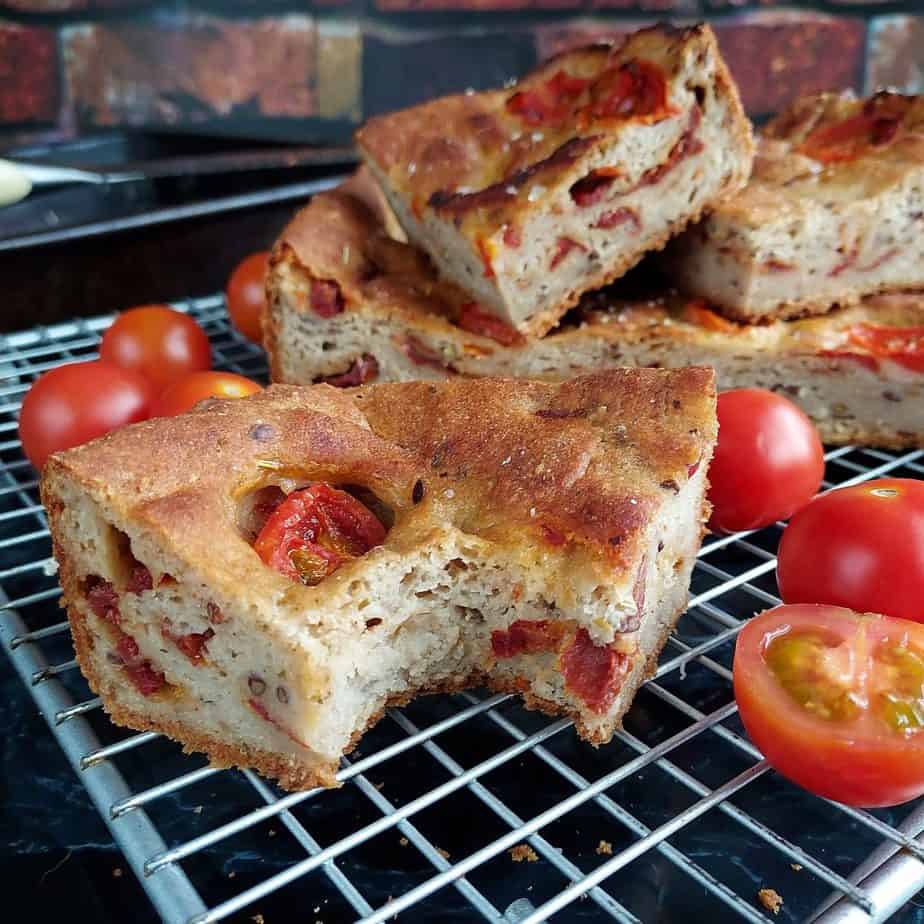 Can I make this Sausage Pasta Bake Vegan?
Yes you most certainly can make this pasta bake vegan simply by swapping out the sausages for meat free sausages. Please be wary of vegan products however. Many meat substitute products have wheat and specifically rusk in them to support the structure of the product. It goes without saying but always read the labels.

To make the sauce and garlic bread vegan and dairy free, follow the recommendations in the recipe and use dairy free cream cheese, yogurt and butters alternatives. Again (it's a shame I have type this) but don't assume a vegan cheese and yogurt is dairy free if you have an allergy. there is sadly a bit of a trend with vegan brands producing their products in unsafe environments for CMPA – Cows Milk Protein Allergy sufferers so >always check the labels<
I've also shared my Sausage Pasta Bake with Foodies 100 link up 'Great Big Pasta Recipe Link Up'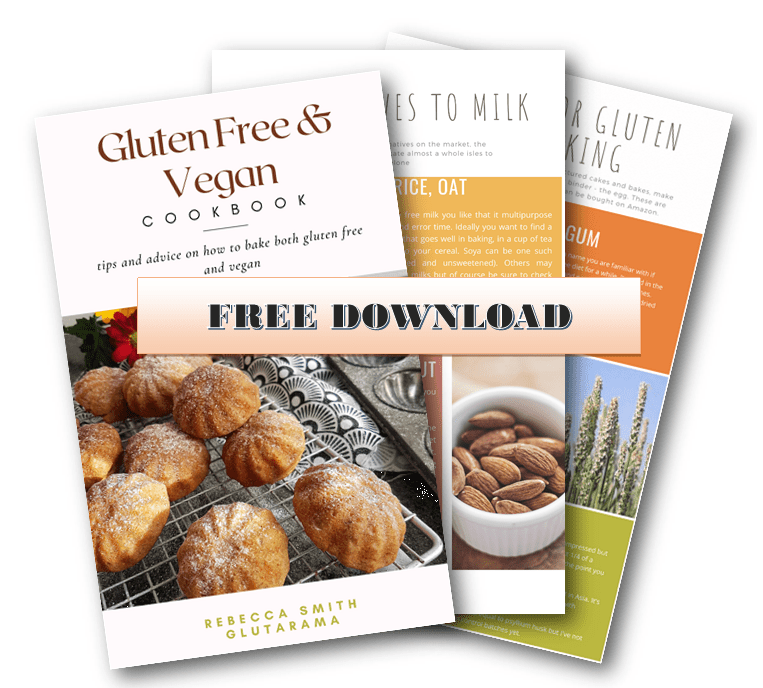 Never miss out again…
Sign up to my weekly Friday newsletter and not only get a FREE e-Book (currently my Gluten Free & Vegan Cookbook) but also get VIP subscriber discounts on free from goodies delivered to your door. Join me in my journey and learn to make anything gluten free.
Easy Gluten Free Sausage Pasta Bake Recipe
Sausage Pasta Bake
A simple family friendly recipe that's equally satisfying and filling. This is both gluten and dairy free but can be made with dairy products if you're able to eat dairy.
Ingredients
500

g

passata

250

ml

Natural Yogurt or Cream Cheese

I used dairy free cream cheese

1

garlic (powder, puree or clove)

handful of chopped parsley

salt & pepper to taste

6

gluten free sausages

400

g

dried gluten free pasta

12

baby plum or cherry tomatoes halved

50

g

grated cheese (or dairy free alternative)
For the Garlic Bread
3

tbsp

butter or butter alternative (I use Flora plant butter)

1

garlic (powder, puree or clove)

handful of chopped parsley

3-4

gluten free part baked roll/baguette(s)
Instructions
Preheat the Oven to 190C Fan Gas 5.

Bring a large pan of water to the boil and add the pasta, making sure to stir to avoid sticking, cook for 8-10mins until al dente, strain and put to one side.

In the meantime chop the sausages into bite size pieces, I use scissors for this!

Fry the sausage bites dry in a pan until they are caramelised, put to one side.

To make the sauce add the passata, garlic, yogurt (or cream cheese), seasoning and herbs to a jug and mix to combine.

Mix the pasta, sausages, tomatoes and sauce together and pop into a ovenproof dish, sprinkle with grated cheese.

Cover the pasta bake with foil and bake into the oven for 25 minutes. After 15 minutes remove the foil to allow the top to brown for the last 10 minutes
To make the garlic bread
slice the part baked rolls diagonally to get authentic bread wedges, arrange on a baking tray.

Mix the butter, garlic and herbs to a soft spread and butter each bread slice liberally.

Pop into the oven for the remaining 10mins to melt the butter and go golden brown.
Nutrition
Nutrition Facts
Sausage Pasta Bake
Amount per Serving
% Daily Value*
* Percent Daily Values are based on a 2000 calorie diet.
Have you tried this recipe?
Let me know how it was & I will be super grateful. Take a picture & tag me @glutarama on your social media posts – I love seeing your photos more than you will ever know x
I love to see your own photos of my bakes, dinners and treats head to your favourite social media account and don't forget to tag me in @glutarama
Subscribe to my email list so that you get NEW recipes straight in your mailbox every Friday PLUS a FREEBIE and access to some amazing gluten free DISCOUNTS
Don't forget it, pin it!
Click to save my Sausage Pasta Bake
Finally, if you have the room, how about a delicious gluten free dessert or pudding to follow your Sausage Pasta Bake? Well here are 20 recipe ideas to get you started!
And one last thing! I've linked my Sausage Pasta Bake with these other awesome bloggers pages, go check them out
Cook Blog Share | That Friday Linky | Blog Crush | Cook Once Eat Twice
*disclaimer: I use affiliate codes on my website, the vast majority are to Amazon. If you click on any of the links or images in the post and make a purchase my family will benefit from a small % of that purchase at no extra cost to you, in fact, for full transparency, in 2020 I made my first £25, and recently in 2022 I reached my next £25 (Amazon don't transfer the money until you reach £25). As you can see, it won't make me a millionaire but it will treat me to a few coffees, Lord knows I need the caffeine!