This Sausage Roll with chutney and mustard recipe has been born out of a beautiful memory and time spent with two of the most wonderful people that I have the fortune to know. I'm actually a very lucky girl (yes, I may be 40-something but I'm still a girl inside), I have a number of special friends who I hold very close to my heart and quite literally I wouldn't be here now if it wasn't for them.
This recipe is dedicated to the wonderful Mel from Le Coin de Mel and Emma from Free From Farmhouse. We have a special café in the middle of nowhere that we meet up regularly to discuss work, ideas, life and ambitions. Of course while were there it would be rude not to partake in the delicious coffee, savoury bites and sweet treats.
I have a favourite snack in particular and it's their Sausage Roll, they have chutney running through it and you can choose between Dijon or English mustard options. I've not been cheeky enough to ask for the recipe, but felt I just had to attempt to recreate this treat so that I could recreate the feelings it evokes at home too…oh, and I guess share with the family.
Have you noticed a theme in my recipes and posts…I do seem reluctant to share food with my family recently, I wonder why that is. I don't follow through obviously, please don't think my family are locked in a cellar and I intermittently throw scraps down to them!
Goodness me, I've gone off on one again…refocus Rebecca.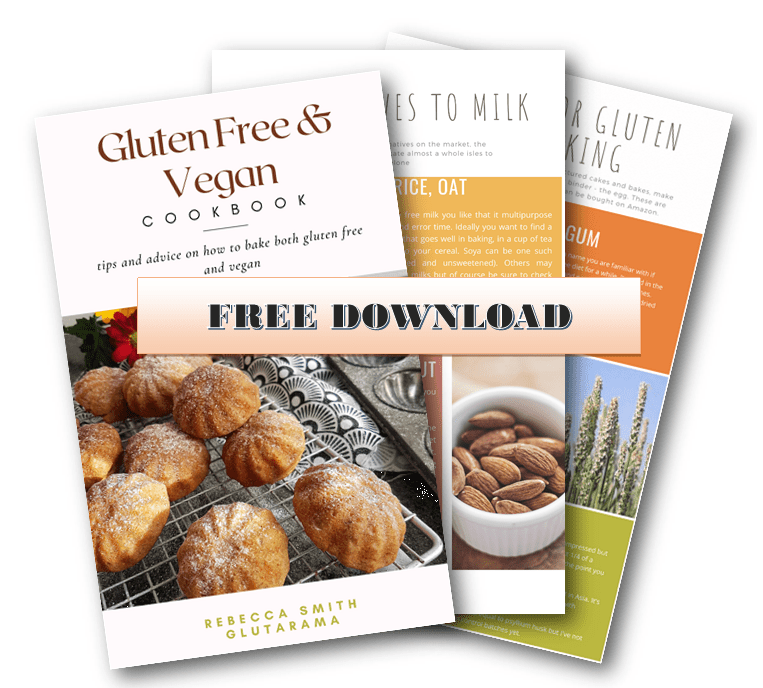 Never miss out again…
Sign up to my weekly Friday newsletter and not only get a FREE e-Book (currently my Gluten Free & Vegan Cookbook) but also get VIP subscriber discounts on free from goodies delivered to your door. Join me in my journey and learn to make anything gluten free.
Is Colman's English Mustard Gluten Free?
No! Plot twist, bet you didn't expect me to say that with a tin of Colman's in the picture below. But wait, the clue is in the tin in the fact it's not a jar. Have I lost you yet or are you still with me? Basically, the original mustard powder is finely ground hulled mustard seeds, nothing more nothing less. This is also made in its own dedicated factory. The jar or squeezy bottled English Mustard is made into the mustard sauce we all know and love but sadly Mr Colman shoved wheat in with the ingredients ergo, not gluten free. So to recap; powder good, mustard sauce bad.
Can I make this Sausage Roll Vegan?
Yes you most certainly can make this gluten free luxury sausage roll vegan simply by swapping out the sausages for meat free sausages. Please be wary of vegan products however. Many meat substitute products have wheat and specifically rusk in them to support the structure of the product. It goes without saying but always read the labels.
Other Gluten Free Sausage Recipe ideas and inspiration
I ought to point out that I have another sausage roll recipe on my blog, it's my Sausage Plait which is very popular and a little less rich and packed with flavour so much better for younger pallets if you plan to make one for a family meal…and actually share it with them (kidding). In fact below are a few other sausage inspired recipes you might like to try.
Gluten Free Sausage Roll with Chutney & Mustard Recipe
Sausage Roll with Chutney and Mustard
This Sausage roll with chutney and mustard is everything comfort food should be, warming, rich in flavour and filling. I've used red onion chutney is this recipe and English mustard but other delicious variations are to use a pickle and Dijon mustard, the options are endless really so have fun with it.
Ingredients
8

gluten free sausages

1

Jus-Rol Gluten Free Puff

1

medium onion

diced finely

4

heaped tbsp red onion chutney

½

tsp

Colman's Mustard Powder
To glaze
1

tbsp

dairy free milk

¼

tsp

Colman's Mustard Powder

1

tbsp

chia seeds
Instructions
Before you start take your ready-made puff pastry out of the fridge to bring to room temperature, this makes it easier to work with.

In a small pan fry the finely diced onion until you have a delicate caramelisation to it. Set it aside to cool slightly.

In a large bowl add the sausage meat from the gluten free sausages (a great stress reliever this, squeezing the meat out of its skins!)

Add the mustard powder and cooled onion and using a fork or your hands mix the ingredients until thoroughly combined.

In a small bowl or cup mix together the soya milk and mustard powder, set aside while you build your sausage roll.

With your sheet of puff lengthwise in front of you, spoon the sausage meat mixture evenly from left to right on the first third of the pastry (leave an inch gap so you can seal your roll).

Spoon the chutney evenly over the top of the sausage meat.

With a pastry brush, paint the inch of pastry and fold over the large flap of puff to cover the meat and chutney.

Using a fork press the pastry down to seal the filling in.

With a sharp knife score cuts across the length of the sausage roll and paint with the soya/mustard milk.

Finally sprinkle with chia seeds and pop into the oven on 180°C Fan/200°C for 25mins or until a delicious golden brown.

Remove from the oven and wait to cool for 5 mins, then gently tease from the baking tray and place onto a sheet of baking paper on a cooling tray. If you leave the sausage roll to cool completely on the baking tray you may never get it off again!
Notes
Notes… The chutney and sausage meat fat will run from the sausage roll, don't worry about this it all adds to the delicious caramelisation process. I've used chia seeds in this recipe because a) I like chia seeds, b) they're packed with calcium and omega-3 oils among other nutrients and c) they look good.
Nutrition
Nutrition Facts
Sausage Roll with Chutney and Mustard
Amount per Serving
% Daily Value*
* Percent Daily Values are based on a 2000 calorie diet.
Have you tried this recipe?
Let me know how it was & I will be super grateful. Take a picture & tag me @glutarama on your social media posts – I love seeing your photos more than you will ever know x
I love to see your own photos of my bakes, dinners and treats head to your favourite social media account and don't forget to tag me in @glutarama
Subscribe to my email list so that you get NEW recipes straight in your mailbox every Friday PLUS a FREEBIE and access to some amazing gluten free DISCOUNTS
Don't forget it, pin it!
Click to save my Sausage Roll with Chutney and Mustard

*disclaimer: I use affiliate codes on my website, the vast majority are to Amazon. If you click on any of the links or images in the post and make a purchase my family will benefit from a small % of that purchase at no extra cost to you, in fact, for full transparency, in 2020 I made my first £25, and recently in 2022 I reached my next £25 (Amazon don't transfer the money until you reach £25). As you can see, it won't make me a millionaire but it will treat me to a few coffees, Lord knows I need the caffeine!