This page contain affiliate links. Please refer to my Disclosures Page for more details.
Also, before you hit 'Jump to Recipe' just check my contents section 'Skip to the Good Bit' below. I may answer a query you have about this recipe straight away in the post.
I had a bit of a giggle making this Gluten Free Sausage Wreath. It was all going fine with the recipe development and then I decided to make it and film it for an Instagram Reel/TikTok video. That's when I messed up the plait and nearly bailed on the video entirely.
However, I kept the camera rolling (good job the sound was off – the language was colourful). And you know what? It didn't turn out half as bad as I thought.
I said to the family, as they poked fun at me, that this is real life and we can't get things picture perfect every time – even supposedly simple Gluten Free Sausage Wreaths! So I've kept this version and immortalised it for you to see!
What pastry can I use for this sausage wreath?
I use gluten free Jus-Rol pastry. Here in the UK it can be found in most supermarkets and online shops such as Ocado. The benefits to this gluten free puff pastry is that it's also dairy and egg free, and it's ready rolled so no need to get the rolling pin out.
Other readymade puff pastries are available such as the Genius block of puff pastry but these seem to be fewer and far between these days.
If you are overseas and have an alternative to Jus-Rol GF puff, then please do let me know in the comments and I can add your recommendations here.
Can I use a different jelly to cranberry?
You can use other fillings instead of Cranberry Jelly if you wish. Some relatives may not be able to eat cranberries for various reasons so you could use a redcurrant jelly if you wish to keep the pink/red colour tones. Alternatively, you may wish to use a caramelised onion chutney (my son's favourite) or a Christmas spiced chutney. The options are pretty much endless and could just depend on what you happen to have in your cupboards at the time.
Can I make this sausage wreath vegan?
It would be very easy indeed to make this gluten free sausage wreath into a vegan version. I nearly did that myself for the purpose of making it again to photograph but all of the vegan sausages I had in my local corner shop had pea in them and I can't tolerate pea (as well as egg or dairy – I know, what am I like?).
The point being that this would work superbly with a vegan sausage or even falafel filling. The Jus-Rol Gluten Free Puff Pastry is already vegan anyway and I use a dairy free and vegan glaze to brush the pastry to get a beautiful golden colour.
Let me know if you do make this totally vegan, I'd love to know what you used instead.
Never miss out again…
Sign up to my Friday newsletter and receive not one, but THREE FREEBIES.
GF and Vegan e-Book
conversion charts
3 simple guides to allergies, intolerances & autoimmune.
Join me and learn to make anything gluten free.
How do you make this sausage wreath?
Jolly good question! While it is actually rather easy, it's not the easiest to describe so I have created a short video for you to watch. As I mention in the introduction, it wasn't my finest hour when it comes to plaiting pastry but hey, life's to short to get hung up on these things. Hopefully I have demonstrated that even if things don't go quite according to plan, the end result still looks pretty good!
What could I decorate my wreath with?
On this occasion I decided to decorate this gluten free sausage wreath with little Christmas tree cut outs. Simply use the offcuts from the pastry circle and placed them over the wreath in an overlapped fashion.
I was actually going to use star shapes but I ask the family for their opinion and was voted against with the tree idea! Personally, I think it looks better than my previous star-studded sausage wreaths!
Make sure a season the wreath really well; lots of cracked salt and pepper. I sometimes like to add sesame seeds, chia seeds, or even poppy seeds if I have them.
How do I get a golden brown finish to my puff pastry?
Now I'm letting you into my not-so-secret-secret! Gluten free puff pastry can be a fickle soul. Sometimes it refuses to go a beautiful golden colour, so to avoid taking the gamble I always brush my savoury bakes with this concoction;
1-2 tablespoons milk (I use soya milk)
1 teaspoon Henderson's Relish. This is very much like Worchester Sauce but it's gluten free and vegan too.
I mix the two a while before needed it and the relish sours/thickens the 'milk' to a lovely double cream thickness, perfect from brushing the tops of pies, pasties and rolls alike.
TOP TIP – gluten free puff pastry can be very greasy. I tend to remove the sausage wreath half way through baking and drain off the fat then return to the oven for the remaining time. This also helps with the baking process and ensures a gorgeous golden colour.
Some delicious dip ideas for your wreath
The dips you can see in the images are just simple cupboard essentials; mayo, ketchup and BBQ sauce. I choses these so my family could tuck in after I'd finished photographing the sausage wreath in all it's glory.
You may wish to use more 'party-worthy' dips so here are some ideas for you (obviously go for options that are safe for you and your guests);
Cranberry Jelly
Garlic Mayonnaise
Sour Cream
Guacamole
Spicy Tomato Salsa
Satay Sauce
Other savoury gluten free buffet ideas
Egg Free Buffet Quiche
Don't worry, these mini buffet quiche are totally dairy free, egg free, vegan and gluten free! The mature 'Cheese' flavour comes from nutritional yeast and a few other tricks to get that wonderful umami flavour we all crave. Filled with different savoury flavours to cut into bite-size pieces perfect for any party table or canapé. Lots of flavour combo ideas included in this simple free from recipe.
This recipe makes 2x20cm quiche or 4x10cm quiche
Check out this recipe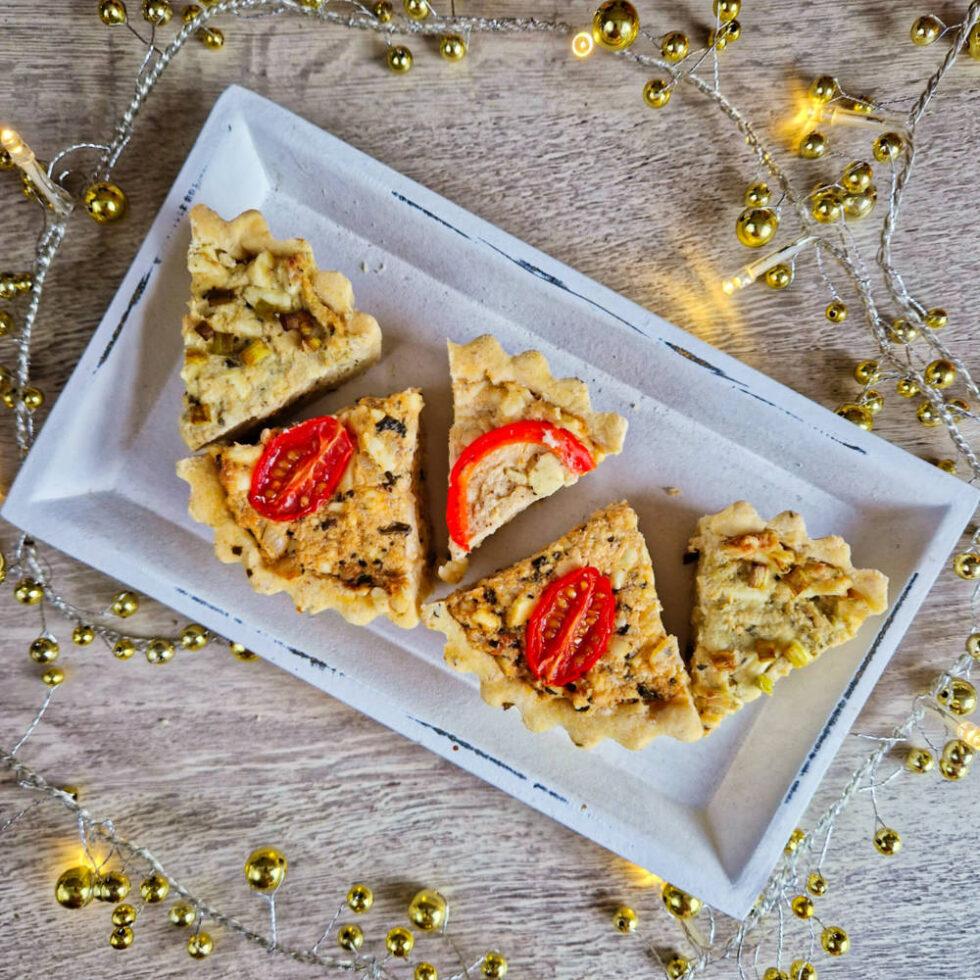 Sausage Roll with Chutney and Mustard
This Sausage roll with chutney and mustard is everything comfort food should be, warming, rich in flavour and filling. I've used red onion chutney in this recipe and English mustard but other delicious variations are to use a pickle and Dijon mustard, the options are endless really so have fun with it.
Check out this recipe
Egg Free Scotch Eggs!
That's right, now you can enjoy gluten free and egg free scotch eggs at your summer picnics, buffets and party tables with this simple to make free from recipe. Made with gluten free sausages and a gluten free crumb. Using a clever little trick with cauliflower to imitate the egg filling.
Check out this recipe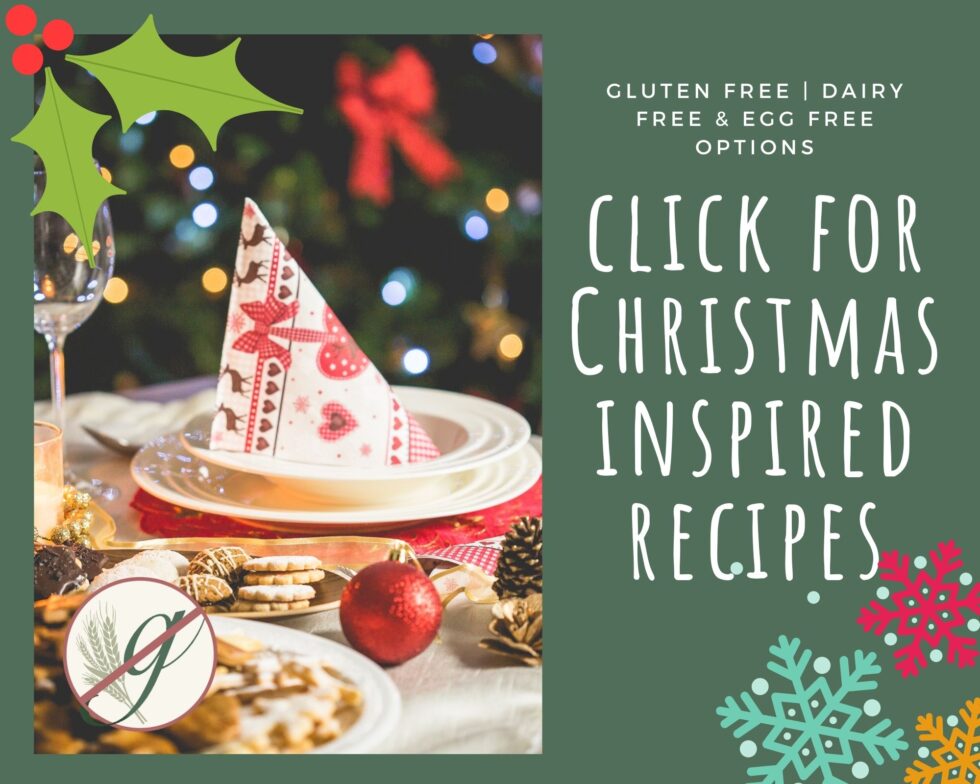 Gluten Free Sausage Wreath Recipe
If you make it and like the recipe I would be eternally grateful if you popped back and commented leaving a star rating as this will tell search engines that this recipe is worth checking out and others will get to find it in searches.
Gluten Free Sausage Wreath
A fun gluten free sausage wreath that will be centrepiece to any festive party table this Christmas and New Year. Easy to make gluten free as well as dairy free and even vegan if you source a couple of packs of good quality vegan (and GF) sausages. Enjoy with a selection of dips or on its own – hot or cold.
Ingredients
560

g

Jus-Rol Gluten Free Puff

that's equal to 2 packets of 280g Jus-Rol

6-8

gluten free sausages

100

g

dried cranberries

optional

80

g

cranberry sauce/jelly

2

tbsp

milk or dairy free alternative to brush

1

tsp

Henderson's Relish

you can use GF Worchester Sauce

salt & pepper to taste
Instructions
To prepare the puff pastry
Roll out both sheets of ready rolled puff and stick them together long-side with a little overlap and some of the pastry wash (relish and 'milk' mixture).

Find the biggest saucepan lid or round chopping board you have and cut a large circle with as little waste as possible.

Take a round cutter (approx. 8 cm) and cut out a circle in the centre of the large circle. This is your pastry wreath base.
To prepare the sausage meat
break up the sausage (remove skins if necessary) into a bowl and add a couple of handfuls of dried cranberries. Using your hands or a wooden spoon mix to combine.
To add the sausage meat
take small pieces of sausage meat and place in the centre of the 'donut' shape with an equal amount of pastry overhang either side. Continue until you have a circle of sausage meat.
To add the cranberry jelly
Using a couple of teaspoons, spoon the cranberry jelly over the top of the sausage circle.
To wrap the sausage meat
Now make lots of cuts (about the width of your middle finger) away from the sausage meat towards the outside of the pastry circle. Continue to do this all the way around.

Did you count how many cuts you made? Try to do the same on the inside of the sausage meat circle and cut into the centre of the pastry.

TOP TIP: you have less room to make cuts in the centre of the pastry circle so don't worry if you make fewer cuts, it will work out, trust me!

Now, fold the pastry tabs inside first, then outside overlap. Repeat until you have roughly 'plaited' all your pastry tabs. Gently press down to seal in place.
Decorate your wreath
Finally you can take a festive cutter of your choice and cut out enough shapes to decorate your sausage wreath. I suggest around 16 shapes so you have enough to overlap the pattern.

Before adding the decorations, liberally brush the wreath with your relish and 'milk' glaze. Then add the festive shapes. Repeat the glaze on the tops of each shape once decorated.

All that is left to do is season with lots of cracked salt and pepper and pop into a pre heated oven at 220°C | 200°C fan | 425°F | Gas 7 for 20 minutes or until golden brown.
Notes
TOP TIP – gluten free puff pastry can be very greasy. I tend to remove the sausage wreath half way through baking and drain off the fat then return to the oven for the remaining time.
Nutrition
Nutrition Facts
Gluten Free Sausage Wreath
Amount per Serving
% Daily Value*
* Percent Daily Values are based on a 2000 calorie diet.
Have you tried this recipe?
Let me know how it was & I will be super grateful. Take a picture & tag me @glutarama on your social media posts – I love seeing your photos more than you will ever know x
I love to see your own photos of my bakes, dinners and treats head to your favourite social media account and don't forget to tag me in @glutarama
Subscribe to my email list so that you get NEW recipes straight in your mailbox every Friday PLUS a FREEBIE and access to some amazing gluten free DISCOUNTS
Gluten Free Christmas Gift Guide
Updated every year to give you the latest gluten free gifts perfect for a loved one or to gift yourself. The guide includes; Advent Calendars, gifts for Christmas Day, Hampers for a gluten free Christmas and much more.
Join my friendly Facebook Group
life's a drama, gluten free doesn't have to be….
*disclaimer: I use affiliate codes on my website, the vast majority are to Amazon. If you click on any of the links or images in the post and make a purchase my family will benefit from a small % of that purchase at no extra cost to you.

For full transparency, in 2020 I made my first £25, and in 2022 I reached my next £25 (Amazon don't transfer the money until you reach £25). Recently I got paid a whopping £27.10 for 2023.

So to date I have made £78.58 since I first started the scheme in 2017. It won't pay the bills, that's for sure but it does help to pay for ingredients or little treats to cheer me up!