This recipe for Sausage Casserole is one of the first recipes I added to my collection here on Glutarama, it's quite warm cozy thought to think that a family favourite became one of the first steps on my blogging journey and now, years later it's one of my most popular posts neck-a-neck with my Dumplings recipe using my very own gluten free suet.
Different ways to serve Sausage Casserole
The clear winner in this family is to have Sausage Casserole with a pile of mash high enough to hide behind! We always add veggies too as unlike other casseroles this does not have vegetables added to the pot.
I can no longer eat potato so I certainly would not be having this with mash but it's also delicious with crusty bread so you can mop up the gravy juices at the end. If you're interested the bread in these images is in fact from a Bakels packet mix which I'm sad to say (at time of updating this Feb 2019) will no longer be available for customers to buy online or in the supermarkets so if you're a fan of the mixes then I recommend you stock up now as they're going to go extinct.
Never miss out again…
Sign up to my weekly Friday newsletter and not only get a FREE e-Book (currently my Gluten Free & Vegan Cookbook) but also get VIP subscriber discounts on free from goodies delivered to your door. Join me in my journey and learn to make anything gluten free.
Other recipes that are similar to my Sausage Casserole
So before I leave you to read on with the original post, you may (or may not) be interested in a few other sausagey recipes. Sausage Casserole is hard to beat granted but how about; Sausage Roll with Mustard and Chutney, or Sausage Plait or Sausage Pasta Bake
I've also added links to some delicious recipes I've found on these fellow foodies pages; there's this delicious Moroccan Lamb Sausage and Chickpea Tagine by Easy Peasy Foodie. I've not yet come across gluten free lamb sausages but that's not to say they don't exist, please drop a comment below if you've come across any and where you found them please. Otherwise, I'd be tempted to make Eb's recipe with some taste the difference beef sausages.
Another delicious recipe not to overlook is this Sausage Gnocchi Bake over on Fab Food 4 All, now of course normal gnocchi is not gluten free but there are free from versions on the market and we've personally had this one from Difatti before and can recommend it highly.
Too much sausage, had enough? Nah!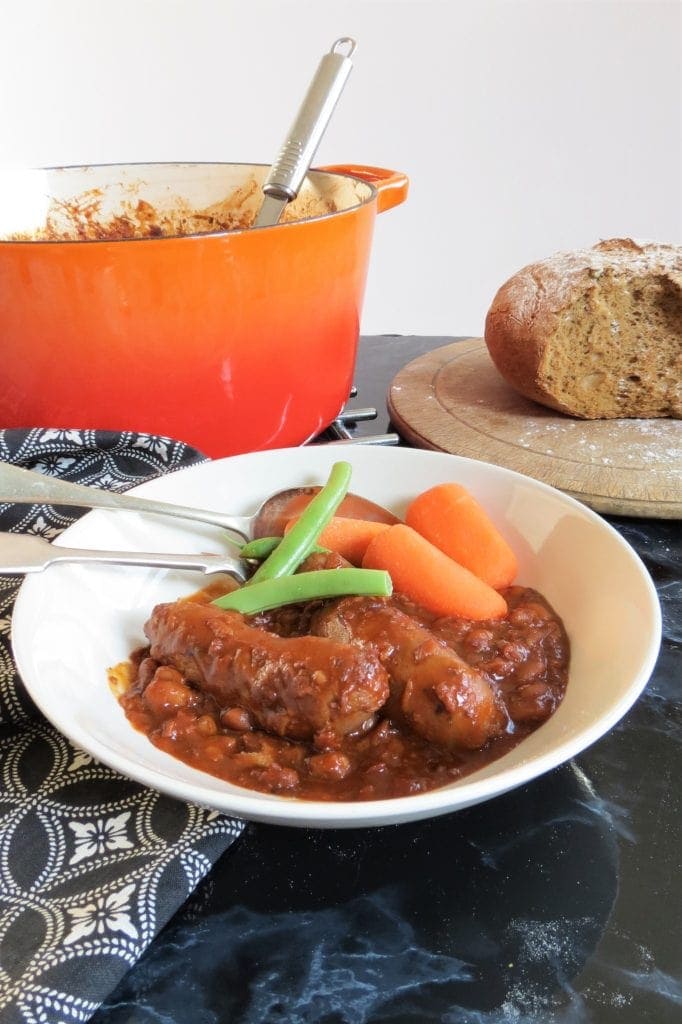 Without further ado, here's the original post from way back in 2015 when this all began;
Listening to the Four Tops 'I'll Be There' whilst I type this, talk about motivation boosting! My fingers can't keep up with me! I was already excited to post about my Sausage Casserole (a huge plate-licking winner in our family) but the Four Tops have taken it to the next level!
Calm yourself dear, RIGHT! Sausage Casserole. This recipe is made super fantastic by the fact that it's so easy to do, I love recipes where you thrown things into a casserole dish give it a stir and cook it for hours enjoying the delicious smells emanating from your kitchen. I had my parents over for Sunday dinner and decided to break from the norm and serve the family this casserole with super creamy mash potato and veggies. My husband made the mash, or rather I mashed, he added nearly a whole pack of butter, and ample salt and pepper. In his world, this means that HE made dinner – bless him! … in that case, this is how he made the casserole – apparently!
How to keep Sausage Casserole leftovers
One last tip for this Gluten Free Sausage Casserole recipe or any of my family dinner recipes (such as my Chilli Con Carne or Stew and Dumplings), I use Igluu Meal Prep* storage containers to portion up leftovers and freeze…makes life a heck of a lot easier later down the line.
*Igluu link is not an affiliate link, just a top tip.
Gluten Free Sausage Casserole Recipe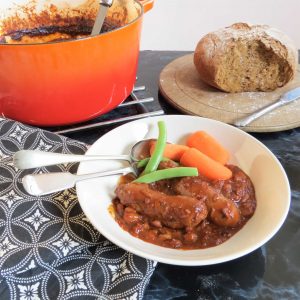 Gluten Free Sausage Casserole
This one-pot Sausage Casserole is a simple comfort food favourite in our family. Using gluten free sausages it's perfect for our whole family to enjoy and with a lump of fresh gluten free bread to mop up the gravy it's pure bliss, comfort food at its best.
Ingredients
2

packs of gluten free sausages

8

bacon rashers

I use smoked bacon

1

Knorr beef stock pot

2

tin of baked beans

500

ml

passata

3

tbsp

tomato puree

1

tsp

sage

200

ml

red wine
Instructions
Brown off sausages first in the casserole dish or in a separate frying pan (using a separate pan will reduce fat content as you can drain it before adding to the casserole dish)

Add the bacon and gently brown this off too. adding this to the casserole pot.

Throw all the other ingredients into the pot give it a mix and pop into the oven on 150C for approx 3hrs

Remember to stir once in a while to prevent the casserole from sticking to the bottom of the pot.

Once cook serve with vegetables of your choice, mash or just a lump of crusty bread to mop up the gravy.
Nutrition
Nutrition Facts
Gluten Free Sausage Casserole
Amount per Serving
% Daily Value*
* Percent Daily Values are based on a 2000 calorie diet.
Have you tried this recipe?
Let me know how it was & I will be super grateful
I value every comment, more than you could know. Don't be shy and leave a comment. If you share photos of your delicious creations, please do tag me or use the hashtag #Glutarama on Facebook, Twitter and Instagram.
Subscribe to my email list so that you get NEW recipes straight in your mailbox PLUS a FREEBIE and access to some amazing gluten free DISCOUNTS
*disclaimer: I use affiliate codes on my website, the vast majority are to Amazon. If you click on any of the links or images in the post and make a purchase my family will benefit from a small % of that purchase at no extra cost to you, in fact, for full transparency, in 2020 I made my first £25, and in 2021 I clocked up £16.05 – so it won't make me a millionaire but it will treat me to a few coffees, Lord knows I need the caffeine!
A post packed with 20 delicious Autumn/Winter inspired comfort foods made gluten free, dairy free and in most cases egg free too
---