This page contain affiliate links. Please refer to my Disclosures Page for more details.
This recipe for Sausage Casserole is one of the first recipes I added to my collection here on Glutarama, it's quite warm cozy thought to think that a family favourite became one of the first steps on my blogging journey and now, years later it's one of my most popular posts neck-a-neck with my Dumplings recipe using my very own gluten free suet.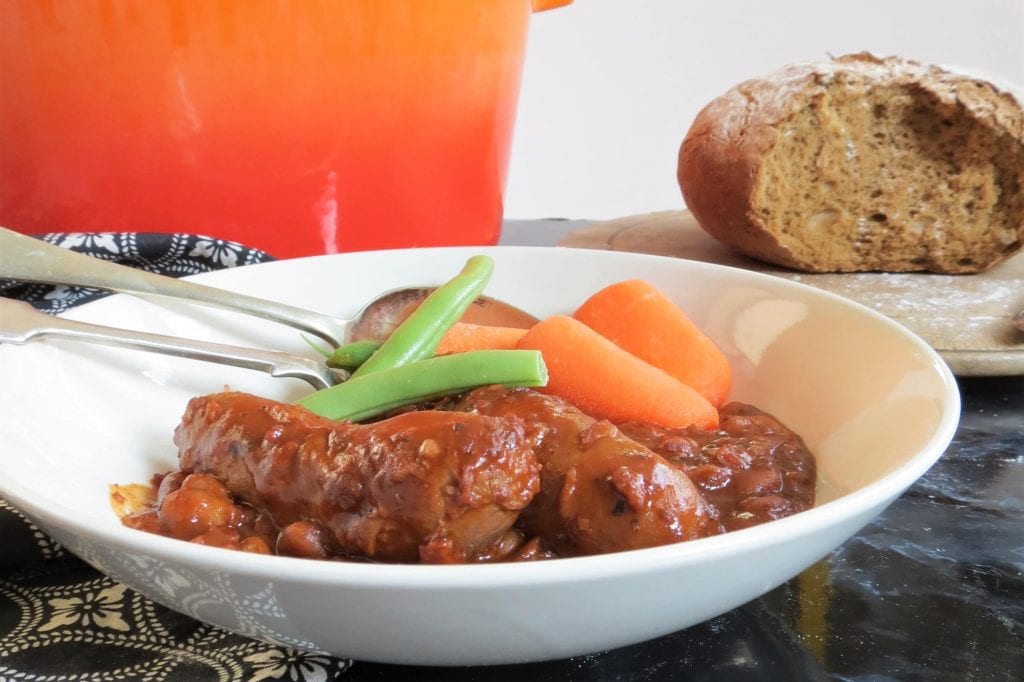 What gluten free sausages can I use for this sausage casserole with wine?
Where in the world are you? Obviously here in the UK I am only familiar with the British Sausage options that are safe for Coeliac diets.
The good news is that the choice is getting wider and wider for us. With cheaper supermarkets like Aldi and Lidl now choosing to ditch the gluten in their sausages we don't have to rely on solely gluten free brands. This too has brough the price down or at the very least stopped them from going up as we now have a price war to be the best, cheapest gluten free sausage products.
For many of my recipes I opt for own brand sausages. The 'taste the different' or 'finest' options pretty much all state they are gluten free. This is excellent news as with premium products you also get posh flavours too meaning you could have pork and apple cider sausages or caramelised onion sausages in your casserole too.
Always check the labels though, updated or new improved recipes can often mean another allergen has been added, I'm yet to see a previously gluten free sausage go back to adding WHEAT but there's always a first time.
Different ways to serve Sausage Casserole
The clear winner in this family is to have Sausage Casserole with a pile of mash high enough to hide behind! We always add veggies too as unlike other casseroles this does not have vegetables added to the pot.
I can no longer eat potato so I certainly would not be having this with mash but it's also delicious with crusty bread so you can mop up the gravy juices at the end. If you're interested the bread in these images is in fact from a Bakels packet mix which I'm sad to say is no longer available for customers to buy online or in the supermarkets however, there are plenty of crusty loaves but the likes of Warburton and B-Free now including frozen rolls by Schar.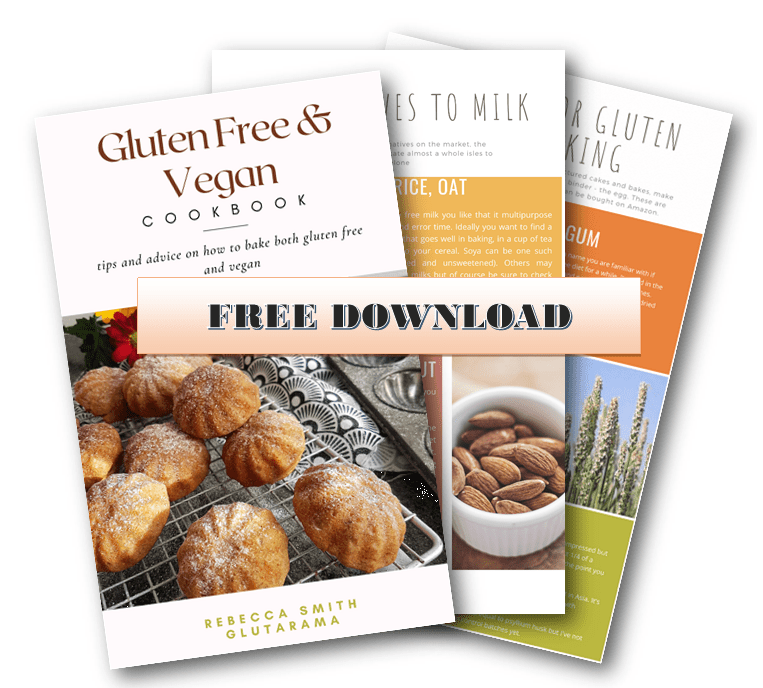 Never miss out again…
Sign up to my weekly Friday newsletter and not only get a FREE e-Book (currently my Gluten Free & Vegan Cookbook) but also get VIP subscriber discounts on free from goodies delivered to your door. Join me in my journey and learn to make anything gluten free.
What stock cubes are gluten free?
I always use Knorr Rich Beef Stock pots in this chilli con carne but there are other versions of stock by Knorr that are also gluten free. I find the stock pots are often on multi-buy special offer so only buy them when this is the case.
NOTE: gravy pots are NOT gluten free.
Other stock pots are OXO who now have gluten free stock pots (not cubes, these are not currently gluten free). Kallo do gluten free stock cubes and granules and Marigold make gluten free and vegan Bouillon.
Okay, firstly, this is more of an adult recipe given the fact it has wine in it so I have to ask myself why do you need to hide vegetables?
Then I'm reminded of my brother-in-law who goes into shock every time he sees 'GREEN' on his plate. I may have exaggerated a bit there, but seriously he's not a vegetable fan. So, if you too have such an adult that you want to improve their veggie intake then I strongly recommend you head over to my Mild Chilli Con Carne with hidden vegetables recipe as it gives you all the tips necessary to hide a rainbow of goodness in your mid-week meals.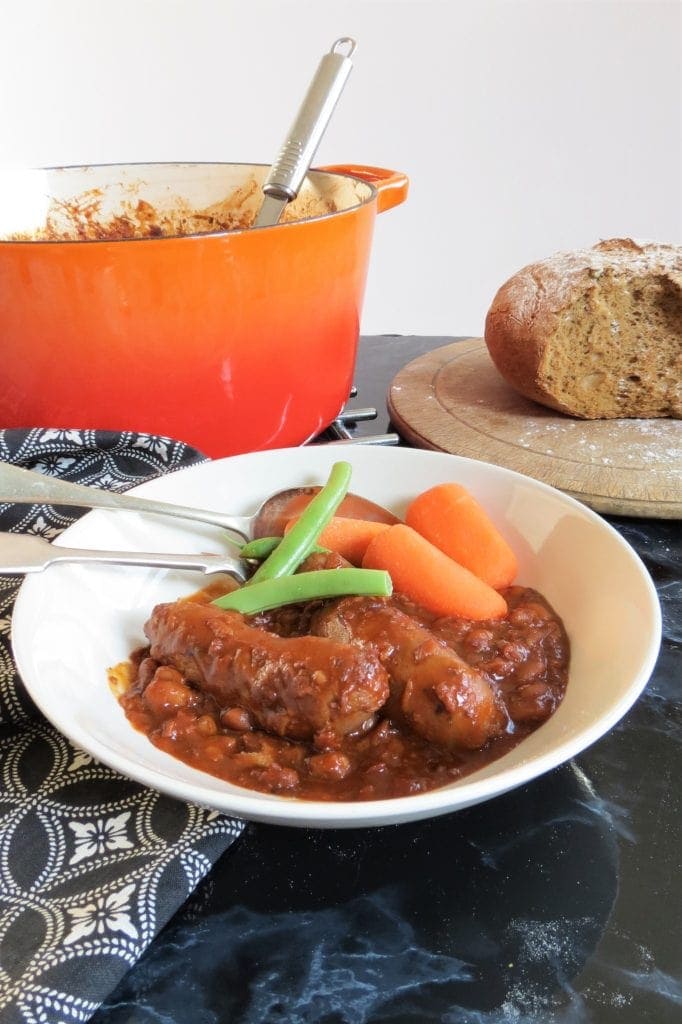 Other recipes that are similar to my Sausage Casserole
So before I leave you to read on with the original post, you may (or may not) be interested in a few other sausagey recipes. Sausage Casserole is hard to beat granted but how about; Sausage Roll with Mustard and Chutney, or Sausage Plait or Sausage Pasta Bake
I've also added links to some delicious recipes I've found on these fellow foodies pages; there's this delicious Moroccan Lamb Sausage and Chickpea Tagine by Easy Peasy Foodie. I've not yet come across gluten free lamb sausages but that's not to say they don't exist, please drop a comment below if you've come across any and where you found them please. Otherwise, I'd be tempted to make Eb's recipe with some taste the difference beef sausages.
Another delicious recipe not to overlook is this Sausage Gnocchi Bake over on Fab Food 4 All, now of course normal gnocchi is not gluten free but there are free from versions on the market and we've personally had this one from Difatti before and can recommend it highly.
Too much sausage, had enough? Nah!
Save money and make this sausage casserole in a slow cooker
We can all agree that the cost of living is getting higher and we're all feeling the pinch. Therefore I've added the option to cook this gluten free sausage casserole with wine in the slow cooker rather than a conventional oven or even the hob.
Slow cookers are also an energy-efficient cooking appliance – they use just a little more energy than a traditional light bulb, and you can leave your food to cook slowly throughout the day while you're at work or when you need to get on with other things.

USwitch – Energy efficient cooking
How to keep Sausage Casserole leftovers
One last tip for this Gluten Free Sausage Casserole recipe or any of my family dinner recipes (such as my Mild Chilli Con Carne with hidden vegetables or Stew and Dumplings), I use Igluu Meal Prep storage containers to portion up leftovers and freeze…makes life a heck of a lot easier later down the line.
Other awesome sausage recipe ideas
Cheats Sausage Casserole
A super quick and simple sausage casserole using a tin of soup, tin of beans, a packet of sausages and a few other simple ingredients. This is a great recipe for the family as it's always a children's favourite too. Versatile in the fact that you can not only make this gluten free, but also dairy free and vegan too with the right safe ingredients.
Check out this recipe
Gluten Free Sausage Plait
This Gluten Free Sausage Plait is really simple to make, especially if, like me, you use ready made gluten free pastry! I've added apple for moisture and celery for a little crunch but this meal is so flexible so have fun with it and add your own twist. Perfect for picnics too, plus can be made vegetarian and vegan if using suitable plant based sausages.
Check out this recipe
Sausage Roll with Chutney and Mustard
This Sausage roll with chutney and mustard is everything comfort food should be, warming, rich in flavour and filling. I've used red onion chutney is this recipe and English mustard but other delicious variations are to use a pickle and Dijon mustard, the options are endless really so have fun with it.
Check out this recipe
Sausage Pasta Bake
A simple family friendly recipe that's equally satisfying and filling. This is both gluten and dairy free but can be made with dairy products if you're able to eat dairy.
Check out this recipe
Gluten Free Sausage Casserole Recipe
If you make it and like the recipe I would be eternally grateful if you popped back and commented leaving a star rating as this will tell search engines that this recipe is worth checking out and others will get to find it in searches.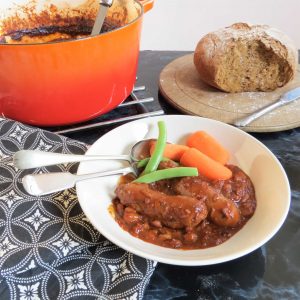 Gluten Free Sausage Casserole with Wine
This one-pot Sausage Casserole with wine is a simple comfort food favourite in our family. Using gluten free sausages it's perfect for our whole family to enjoy and with a lump of fresh gluten free bread to mop up the gravy it's pure bliss, comfort food at its best.
Ingredients
12

gluten free sausages

that's 2x packs of 6 sausages

8

bacon

I use smoked bacon rashers

1

Knorr beef stock pot

400

g

tin of baked beans

you could use beans in water such as cannellini or borlotti

500

ml

passata

3

tbsp

tomato puree

1

tsp

sage

200

ml

red wine
Instructions
Preheat oven to a low heat of 150°C | 130°C fan | 300°F | Gas 2

NOTE: for a slow cooker simply set the cooker to low and cook for 3hrs, leave the lid off for the last 20mins to help the gravy reduce and intensify in flavour.

Brown off the sausages first in the casserole dish (if using a cast iron dish) or in a separate frying pan (using a separate pan will also reduce fat content as you can drain it before adding to the casserole dish).

Add the bacon and gently brown this off too. Add this to the casserole pot if cooking separately.

Throw all the other ingredients into the pot; the passata, beans, tomato puree, sage and wine and lastly fill the baked bean can up with water and add that too.

Give the casserole a good stir and pop into the oven for approx. 3hrs

Remember to stir once in a while to prevent the casserole from sticking to the bottom or sides of the pot.

Once cooked serve with vegetables of your choice, mash or just a lump of crusty bread to mop up the rich tomato and wine gravy.
Nutrition
Nutrition Facts
Gluten Free Sausage Casserole with Wine
Amount per Serving
% Daily Value*
* Percent Daily Values are based on a 2000 calorie diet.
Have you tried this recipe?
Let me know how it was & I will be super grateful. Take a picture & tag me @glutarama on your social media posts – I love seeing your photos more than you will ever know x
I love to see your own photos of my bakes, dinners and treats head to your favourite social media account and don't forget to tag me in @glutarama
Subscribe to my email list so that you get NEW recipes straight in your mailbox every Friday PLUS a FREEBIE and access to some amazing gluten free DISCOUNTS
*disclaimer: I use affiliate codes on my website, the vast majority are to Amazon. If you click on any of the links or images in the post and make a purchase my family will benefit from a small % of that purchase at no extra cost to you, in fact, for full transparency, in 2020 I made my first £25, and recently in 2022 I reached my next £25 (Amazon don't transfer the money until you reach £25). As you can see, it won't make me a millionaire but it will treat me to a few coffees, Lord knows I need the caffeine!
Join my friendly Facebook Group
life's a drama, gluten free doesn't have to be….