Oh Cadbury's Creme Egg, how I have missed you've, not anymore though I've finally cracked it (pun intended). So I've not been able to tolerate dairy or eggs (and a few other things) for years now so a trip down the confectionery aisle in the supermarket can be pure torture, I managed to remake my favourite chocolate bar the Double Decker a while back and plan to make a dark chocolate Bounty too (although I have made this Aussie favourite the Cherry Ripe Chocolate Bar)but the one seasonal treat I've missed is the humble Creme Egg. While I think of it, is it just me or does it seem to be shrinking each year, carry on at this rate and it'll be the size of a mini egg before long.
My yearning for a Cadbury's Creme Egg had faded until recently, the flames were reignited for two reasons; first they're popping up all over the place in preparation for Easter and secondly I saw a recipe on Harriet's blog Toby & Roo. The recipe looked straight forward and, despite the method taking me way over my messiness comfort level, I thought I'd give it a go. I asked Harriet if she'd mind me tweaking her recipe to make it vegan and she kindly let me give it a go.
THAT is where the similarities end…I tried the recipe with dairy free and vegan alternatives and it just wasn't quite the real deal, the fat content was off and the texture not right…so back to the drawing board I went. I was going to make a Vegan Creme Egg come what may!
It took me a couple of attempts to get the method right but after checking the ingredients on a box of Creme Eggs I worked out where I was going wrong, it was the fat and sugar content. I had a Back to the Future bump on the head moment and hey-presto once I'd got the method in the right order to prevent crystallising the sugars, there it was; my first Creme Egg in years!
Can I make these Vegan Creme Eggs in different sizes?
The ones I've made are HUGE! I've added a link for the moulds I used below to make your life easier! This recipe makes 4 HUGE Creme Eggs but there are moulds of a similar price that are smaller so you could make 8 smaller eggs.
At this point I'd like to introduce the other Free From Gang members who have produced Easter recipes for our #FreeFromEaster collaboration, however, if you search the hashtag now you'll be able to see each year's recipes from 2017 onwards.
---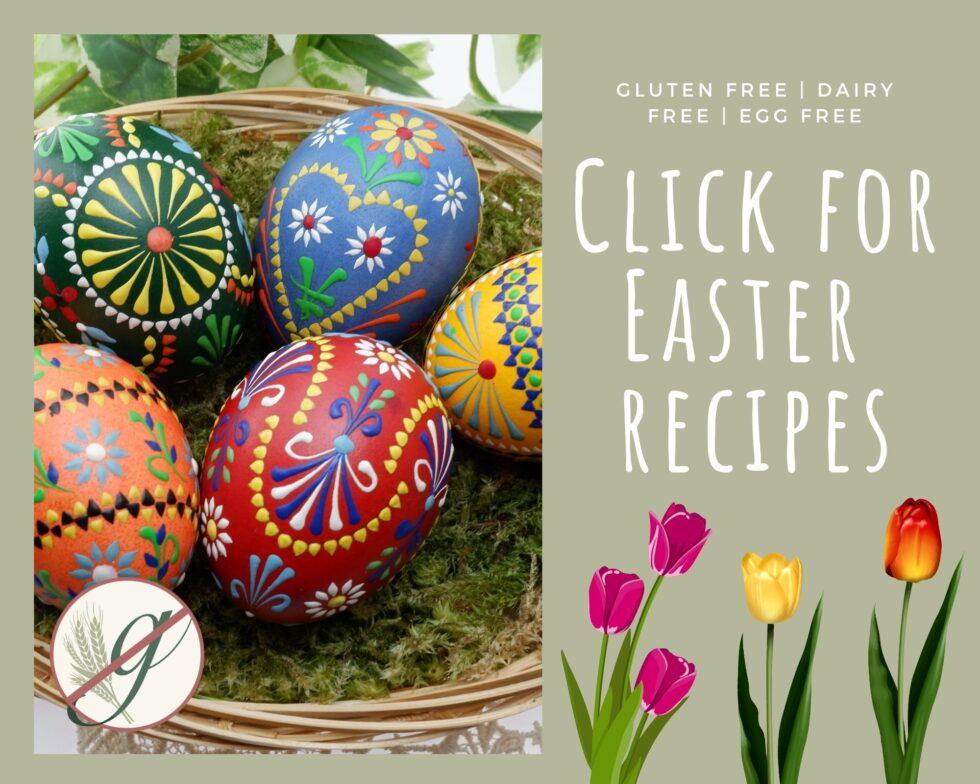 ---
Presenting the Free From Gang with #FreeFromEaster
Bliss Balls: The Hot Cross Bun Version by Vicki at The Free From Fairy (GF, DF, Ve)
Hot Cross Buns by Kate at Gluten Free Alchemist (GF)
Super Simple Easter Smoothie Pops by Carly at Facepaint & Flavour (GF, DF, EF, NF, Ve)
Easter Bunny Biscuits by Emma at Free From Farmhouse (DF, EF)
Easter Crispy Cakes by Nathalie at The Intolerant Gourmand (GF, DF, Ve)
Mini Egg cookies by Sarah at Gluten Free Blogger (GF)
20 Gluten Free Easter Cakes by Jenna at A Balanced Belly.
Healthier chocolate rice krispie nests by Mandy at Sneaky Veg (GF, DF, NF, EF, Ve)
Healthy Strawberry Puree with Coconut Yoghurt for Kids by Eva at The Healthy Tart (GF, Ve, DF)
Midge at Peachicks Bakery
Other Chocolate Bars and Biscuits made Gluten and Dairy Free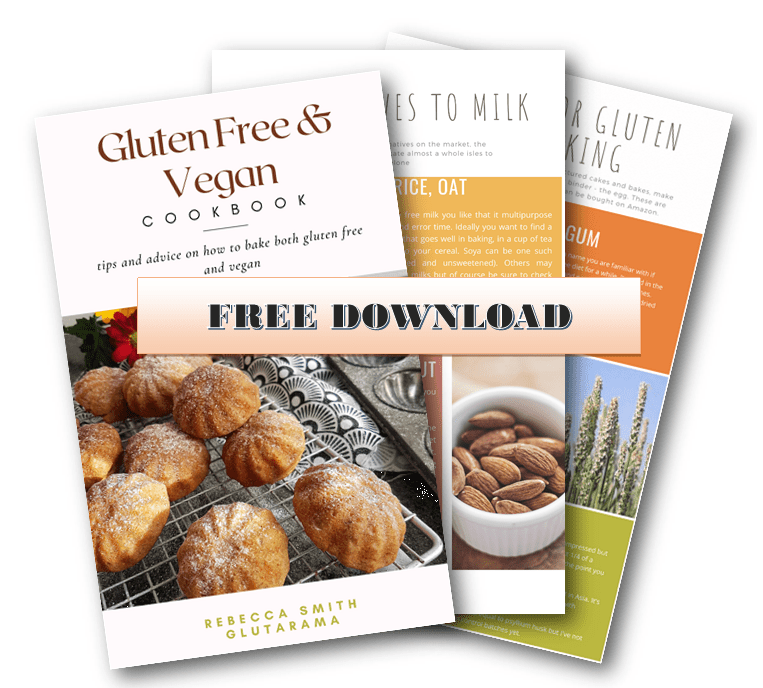 Never miss out again…
Sign up to my weekly Friday newsletter and not only get a FREE e-Book (currently my Gluten Free & Vegan Cookbook) but also get VIP subscriber discounts on free from goodies. Join me and learn to make anything gluten free.
Homemade Vegan Creme Egg how-to Video
Supersize Homemade Vegan Crème Egg Recipe
Supersize Homemade Vegan Crème Egg
No need to miss out on a Cream Egg anymore, now with this recipe you can make your own Cream Egg that's gluten, dairy free and vegan.
Ingredients
150

ml

dairy free milk

100

g

caster sugar

1

tsp

vanilla extract

800

g

icing/confectioners sugar

20

g

coconut oil

melted

300

g

dairy free 'milk' chocolate

I used moo free
Instructions
To make the cream filling
Add the milk and caster sugar to a saucepan and gently heat until the sugar crystals have melted.

Add the vanilla extract and remove from the heat.

Using a whisk to briskly mix in the icing sugar (do it in a couple of stages or else you'll end up with icing sugar clouds!)

Once the egg cream is smooth add the melted coconut oil and whisk quickly to combine.

Pour 150ml of the white cream into a jug and add yellow/orange food colouring to achieve the egg yolk colour you desire.
To make the chocolate egg shell
Gently melt the chocolate, and pour into 8 halves of your egg shell mounds.

Tip the moulds to tease the chocolate to the edges of each half shell, you may need to use a teaspoon to finish this process. Put the left over chocolate to one side, you'll need this to seal the two halves together.

Pop the moulds onto a baking sheet and put in the fridge for 15 mins

Remove from the fridge and pour the white cream into each half shell leaving 5mm gap before the top of the shell, then add the yellow to the centre of each shell, I used a small jug to do this, using teaspoons is just as effective.

Return to the fridge for 15 mins for the cream to set.

Pour the remaining melted chocolate into a piping bag (I use a sandwich bag and cut a tiny corner off) Remove the moulds from the fridge and gently tease the shells out of their casing, if you have any rough edges use a pair of kitchen scissors to cut these off.

Pipe the remaining melted chocolate around the edge of each shell and gently press each half together. Wipe away any excess chocolate that oozes from the egg join.

Pop into the fridge one last time to harden the seal.
Nutrition
Nutrition Facts
Supersize Homemade Vegan Crème Egg
Amount per Serving
% Daily Value*
* Percent Daily Values are based on a 2000 calorie diet.
Have you tried this recipe?
Let me know how it was & I will be super grateful. Take a picture & tag me @glutarama on your social media posts – I love seeing your photos more than you will ever know x
#FreeFromBBQ | #FreeFromPicnic | #FreeFromPancakes | #FreeFromEaster
FreeFromChristmas | #FreeFromHalloween | #FreeFromHarvest
*disclaimer: I use affiliate codes on my website, the vast majority are to Amazon. If you click on any of the links or images in the post and make a purchase my family will benefit from a small % of that purchase at no extra cost to you.

For full transparency, in 2020 I made my first £25, and in 2022 I reached my next £25 (Amazon don't transfer the money until you reach £25). I'm now up to £17.80 for 2023 so edging closer to the magical £25 mark!!

To date I have made £69.28 since I first started the scheme in 2017. It won't pay the bills, that's for sure but it does help to pay for ingredients or little treats to cheer me up!