These Cherry Ripe Chocolate bars have been a long time coming. A reader of mine requested I made his favourite chocolate treat from back home (Australia). But being the high achiever that I am and wanting that extra bit of a challenge I thought I'd make them so that I could eat them too…oh, and other dairy free people too (how rude!).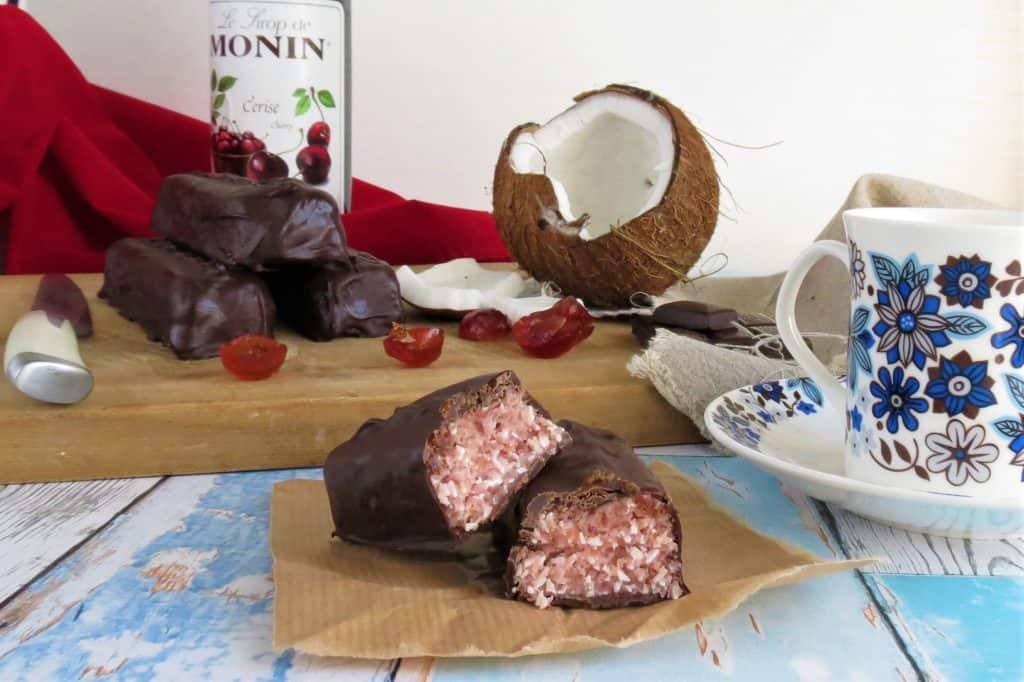 I ordered a Cherry Ripe Chocolate bar from Amazon in the name of research and it's hands down the longest a chocolate bar as delicious as this has lasted in my company! Now I'm not typically a chocolate lover, I'm more of a gummy sweets and jelly beans kinda girl but you combine coconut and cherries and I'm in heaven.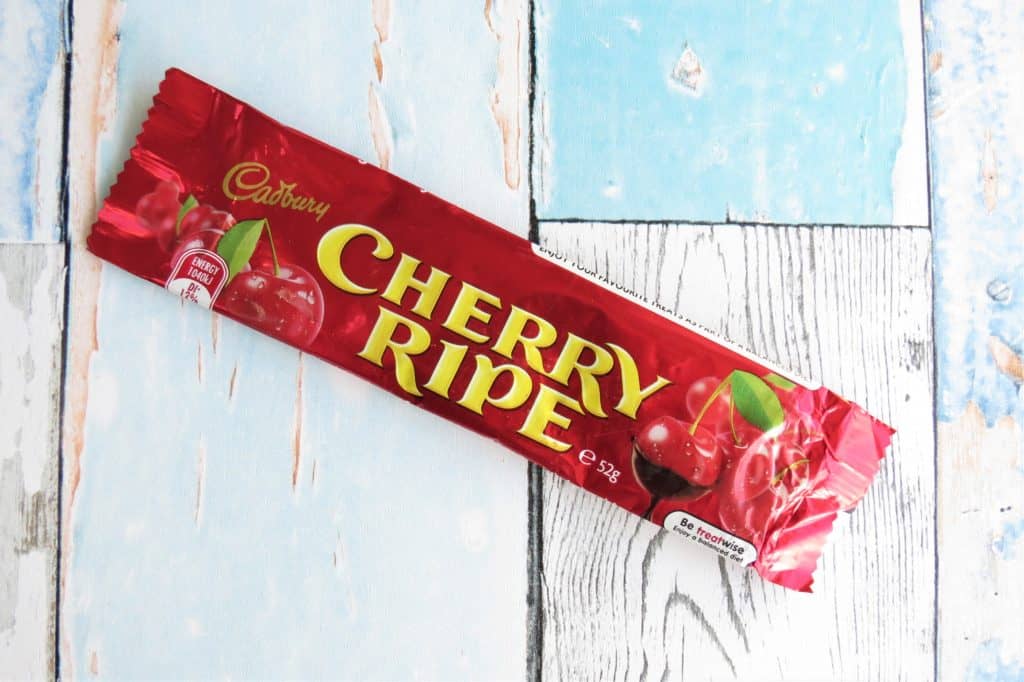 The downside was that these bars are not cheap to purchase over here in the UK so as I say, I only bought one. This meant cutting the bar into as many tiny pieces possible so I could keep tasting it to see how my recipe development progressed. That's right ladies and gents; I ate a chocolate bar with milk in it so that I got the perfect match for flavour.
Now that is dedication…dedication and a swollen tummy to boot!
There were a few attempts and fails along the way, I say fails they all tasted lovely, but not quite the real thing. I did make the previous bars with an added few drops of red food colouring. For this final version I've actually opted to go for the au natural look and not added colouring. The Cadbury's Cherry Ripe Chocolate Bar does in fact have added colour and we do eat with our eyes so if your familiar with the bar and want the whole chocolatey experience you'll probably want to consider adding the colour, or close your eyes and eat it, I'm not going to judge you!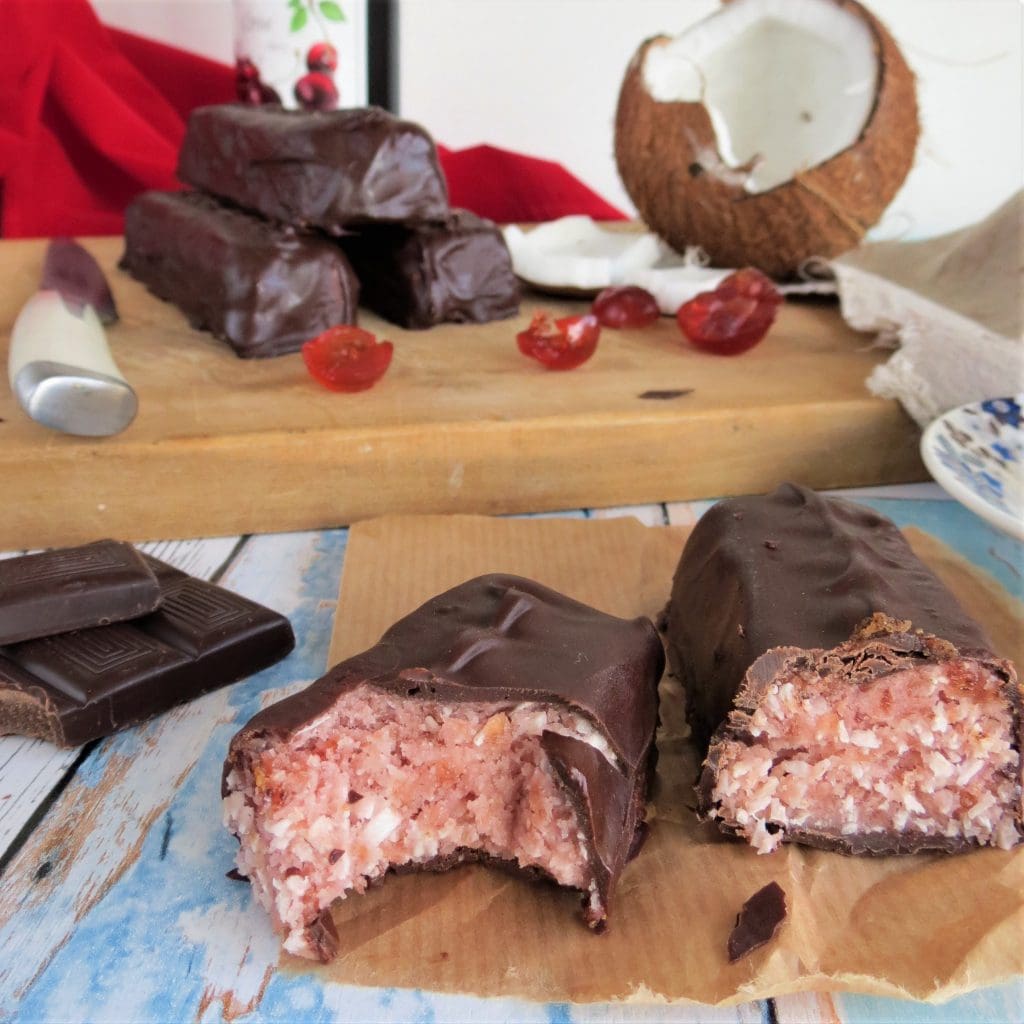 So here's the recipe, I hope I did the real thing justice Alexander?
Other Chocolate Treat Recipes you will love
I have a few chocolate treats on the website now so why not check out this recipe for Finest Cherry Brandy Truffles; gluten free and vegan, and then there's my Brandy & Chocolate Truffles and if you want a show stopper how about this Divine Gluten Free Salted Chocolate Tart
Oh and while I think of it, if anyone else has a favourite they'd love me to attempt to recreate then feel free to drop a comment below or email me [email protected] and I'll give it my best shot, for example, I've also managed to create a gluten and dairy free Double Decker chocolate bar too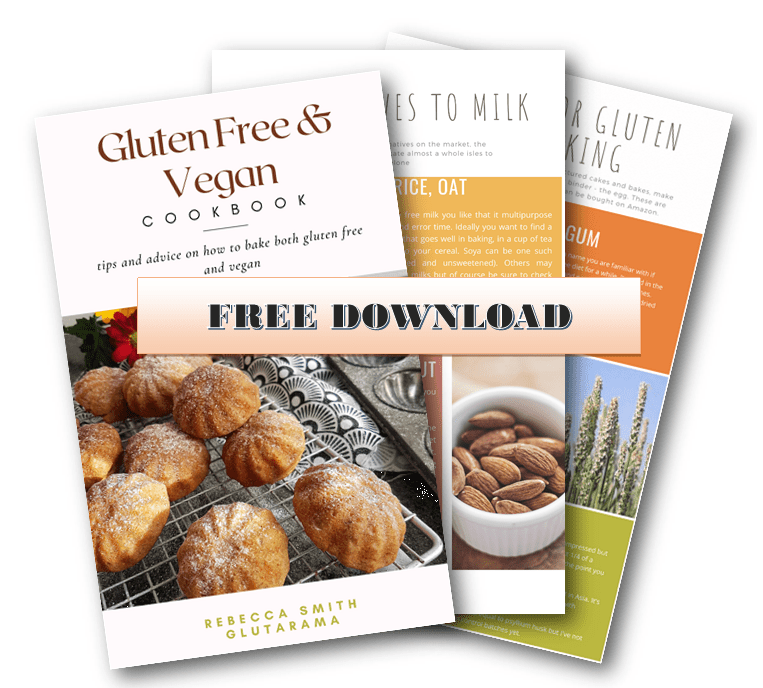 Never miss out again…
Sign up to my weekly Friday newsletter and not only get a FREE e-Book (currently my Gluten Free & Vegan Cookbook) but also get VIP subscriber discounts on free from goodies. Join me and learn to make anything gluten free.
Cherry Ripe Bar Recipe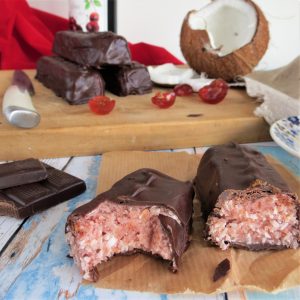 Cherry Ripe Chocolate Bars; gluten and dairy free
These Cherry Ripe Chocolate Bars are a real treat for the senses. A popular sweet treat in Australia and seldom found here in the UK, these dark chocolate bar filled with cherry and coconut are the perfect flavour combination.
Ingredients
180

g

glacé cherries

100

g

desiccated coconut

80

g

coconut flour

40

g

condensed milk

if making dairy free use natures charm or make your own – see notes

20

g

coconut oil

3-4

tsp

cherry flavouring

I use a coffee syrup – link at bottom of page

250

g

dark chocolate

1-2

drops of red food colouring (this is optional

the original bar has added colour, my version is naturally a mid-pink so a little lighter
Instructions
If making your own condensed milk [see notes] you need to add 30mins boiling time and cooling time to the overall recipe timings.

In a food processor add the glace cherries, coconut flour, condensed milk, coconut oil and cherry flavouring, blitz until combined.

Scrape the sides of the processor and add the desiccated coconut (you want to keep the bits so don't blitz to a smooth paste) blitz for a few seconds at a time until thoroughly incorporated.

Line a small baking tray or rectangular dish with grease proof paper (I use a 1/4 sized baking tray, perfect for making 5 chocolate bars).

Spoon the cherry and coconut mixture into the tray and smooth down into all the corners evenly with the back of a spoon, this can get a bit sticky so I keep my spoon dipped in water.

Melt just under half of your chocolate and pour over the flattened cherry and coconut mix – this will be the bottom side of your Cherry Bliss Chocolate Bars. Pop into the fridge for 30mins or until the chocolate has set.

Once set remove from fridge and gently run a knife around the edged to free the block, turn out onto a flat surface and carefully cut into fifths.

Leave the bars to warm a little to room temperate (this will make adding the last lay of chocolate easier).

In the meantime melt the remaining chocolate and pour over each bar (one at a time) and using the back of a spoon or smooth side of a knife tease the chocolate to the edge of the bar to cover all your cherry and coconut filling.

Decorate the top with a swirl of your spoon or use a fork to create lines…it's entirely up to you.

Return to the fridge and chill until completely set.

Store in fridge to keep for longer, these will last for a couple of weeks – yeah right, they'll last an hour!
Notes
Notes… To make your own dairy free condensed milk simple add a 400g tin of coconut milk to 200g caster sugar in a saucepan (make sure you get a high coconut milk percentage, 65% and above works best) Stir over a medium heat until all the coconut lumps have dissolved and then turn the heat up to create a rapid/rolling boil. Boil for 25 minutes, don't leave unattended, you could end up with the liquid escaping all over your cooker. Pour into a jug and leave to cool, the condensed milk with continue to thicken as it cools. Once you have your condensed milk you can use it for several of my recipes including my three flavoured Bailey's recipes; original Bailey's, Chocolate and Orange Bailey's and Pumpkin Spice Bailey's
Nutrition
Nutrition Facts
Cherry Ripe Chocolate Bars; gluten and dairy free
Amount per Serving
% Daily Value*
* Percent Daily Values are based on a 2000 calorie diet.
Have you tried this recipe?
Let me know how it was & I will be super grateful. Take a picture & tag me @glutarama on your social media posts – I love seeing your photos more than you will ever know x
I love to see your own photos of my bakes, dinners and treats head to your favourite social media account and don't forget to tag me in @glutarama
Subscribe to my email list so that you get NEW recipes straight in your mailbox every Friday PLUS a FREEBIE and access to some amazing gluten free DISCOUNTS
Click to save my Cherry Ripe Chocolate Bars

And one last thing! I've linked my Cherry Ripe Chocolate Bars with these other awesome bloggers pages, go check them out
disclaimer: I've started using affiliate codes on my website again (needs must). If you click on any of the links in the post and make a purchase my family will benefit from a small % of that purchase at no extra cost to you.