Hands up who couldn't resist a square of Rocky Road? Now hands up who has broken gluten free biscuits in their cupboard – I thought as much!
This is one of those recipes where you can basically go wild and throw pretty much anything sweet and delicious into the bowl stir it up with chocolate and hey-presto your the best mum ever! These really are that simple and my rocky roads are NEVER the same, it's a fabulous way to use up those straggling odds and ends of ingredients in tiny packets that leap out at you every time you open a cupboard door. Put the pesky little blighters to good use is what I say.
Can I use any gluten free biscuit for my Rocky Road Treats?
Yes, the good news is you can. At the end of the day, the biscuit is there to bulk out the tray mix and add a bit of crunch and texture. I've made this with ginger biscuits, sultana and oat biscuits, even broken custard creams and bourbons if you have them (all gluten free of course).
Can I make dairy free Rocky Road?
It is super simple to make this into a dairy free rocky road recipe. All you need to do is swap out the ingredients for your normal dairy and gluten free items; the digestives can be swapped for gluten and dairy free biscuits. The chocolate can be swapped for your favourite dairy free chocolate. Finally you swap the butter for your dairy free version, in fact I used Flora vegan block for this recipe as it's all I had – no muggle butter!
TOP: TIP As a little side note, if you've used dairy free chocolate before you'll know that this can melt differently to 'normal' chocolate. It tends to be thicker in consistency and cools quickly so if you do use dairy free chocolate make haste when you stir in the dry ingredients and get it all into the tin as soon as you can before it sets.
Can I make this recipe vegan?
Again, as with dairy free, you can make this Rocky Road vegan by swapping the ingredients for your normal vegan (and gluten free) brands. Remember if making this for someone else that marshmallows are not vegetarian nor vegan so you will need to go to some extra effort to get some vegan friendly marshmallows but I have added an affiliate link* to some to save you the time if you like.
What different ingredients can I use in a Rocky Road?
As I said at the beginning of this recipe post, this is a great recipe to use up odds and sods of ingredients hanging about in your cupboard taking up space. How about these other ingredient ideas to get your taste buds going?
Chopped hazelnuts
Raisins, sultanas or currants
Flaked almonds
Candied peel
Orange flavoured chocolate chunks
White chocolate chips
Freeze dried strawberries or raspberries
The difference between Rocky Road and Tiffin
So what is the difference between Rocky Road and Tiffin then? Both are no-bake sweet treats. Both consist of chocolate as the main ingredient and both have broken up biscuits in them.
Well that is sometime where the similarities end. Tiffin in general tends to have dried fruits in it, is cut into fingers and is well compacted and thinner.
Rocky Road will always have marshmallows in it, is less uniformed in its appearance and, well, looks like a dodgy and almost impassable rocky road! We'll come onto where it got it's name in a minute.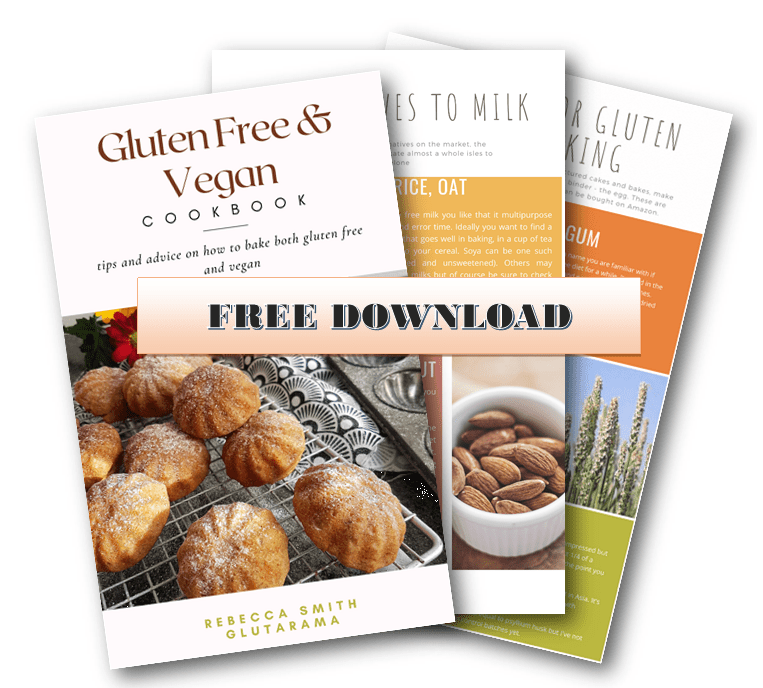 Never miss out again…
Sign up to my weekly Friday newsletter and not only get a FREE e-Book (currently my Gluten Free & Vegan Cookbook) but also get VIP subscriber discounts on free from goodies. Join me and learn to make anything gluten free.
Where does the word Tiffin come from?
I loved researching this, it came up with some wonderful word origins and colonial history (not that colonial history is all wonderful mind you!)
It would appear that 'Tiffin' is a transcendent of the work Tiffing or to Tiff. This mean to partake in a light mid-morning snack or tipple (alcoholic drink of some description). Because India is hot and Colonial British wished to continue to enjoy their routines what would have been a heavier brunch turned into a lighter snack to boost ones energy levels.
It also turns out that Tiffin also refers to the Indian lunch box that typically come in stacks of three tins to hold everything necessary for a traditional Indian lunch.
This may help to explain why Tiffin as we know it tends to be more carefully presented and uniformed in its character – or maybe I'm just over thinking it?
Main source: Tiffin History – The Indian Lunch Box
Where does the word Rocky Road come from?
Why do you think Rocky Road got it's name? This one really isn't rocket science. It's like Cobblers got their name because they look like the cobbled streets of London. While I'm on the subject I have a recipe for that here Deliciously Easy Peach Cobbler – gluten free and vegan.
The Rocky Road got it's name because it looks like a rocky road. But wait! There's more! It also possibly got it's name because what originally went into the sweet treat was broken up bits of confectionary and biscuits that didn't quite make the journey when being transported to their destinations. How awesome is that. It would appear that this treat then originated in Australia.
However, plot twist. It seems that marshmallow wasn't added until the 1930's in America when the rocky road ice cream was created purely on a whim. The rocky road ice cream and rocky road no bake treat merged and the rest, they say, is history.
Main source: 5 things you didn't know about Tiffin
Liked this teatime treat recipe then you'll love these
Easy Gluten Free Rocky Road Recipe
Easy Gluten Free Rocky Road
A super simple Rocky Road Recipe that you can knock up in no time at all. This Rocky Road is gluten free and can easily be adapted to be dairy free and vegan too.
Ingredients
For the Rocky Road
250

g

Chocolate

Dark, Milk, White – your choice

160

g

gluten free digestive biscuit(s)

or free from biscuit of your choice

50

g

Butter

or dairy free alternative

50

g

mini marshmallows

50

g

Glace Cherries

chopped in half
For the topping
50

g

chocolate

maybe use a different colour chocolate

handful of mini marshmallows

hazelnuts or toasted almonds are lovely too

80

g

Cadbury Mini Eggs

(not dairy free, see post for other options)
Instructions
Take a 8 inch square brownie tin and spray it with oil then line the bottom with greaseproof paper.

Using your hands crush the digestives, being gluten free these will crumble easily! Leave some pieces bigger to create larger bitesize chunks.

Melt the chocolate and butter in a large bowl in the microwave being careful not to burn.

Add the biscuit pieces, glace cherries and mini marshmallows to the melted chocolate mixing with a wooden spoon until all ingredients are coated in chocolate!

Scoop the rocky road mixture into the brownie tin and smooth the lumpy mixture down as much as possible but don't feel you need to have a perfect finish, this is after all a rocky road!
To Decorate
Melt the 50g chocolate and drizzle this over the rocky road

Press the Mini Eggs into the melted drizzled chocolate, repeat with the mini marshmallows

Pop into the fridge to cool for at least an hour.
Nutrition
Nutrition Facts
Easy Gluten Free Rocky Road
Amount per Serving
% Daily Value*
* Percent Daily Values are based on a 2000 calorie diet.
Have you tried this recipe?
Let me know how it was & I will be super grateful. Take a picture & tag me @glutarama on your social media posts – I love seeing your photos more than you will ever know x
I love to see your own photos of my bakes, dinners and treats head to your favourite social media account and don't forget to tag me in @glutarama
Subscribe to my email list so that you get NEW recipes straight in your mailbox every Friday PLUS a FREEBIE and access to some amazing gluten free DISCOUNTS
This post is linked to Lavender & Lovage CookBlogShare Linky
*disclaimer: I use affiliate codes on my website, the vast majority are to Amazon. If you click on any of the links or images in the post and make a purchase my family will benefit from a small % of that purchase at no extra cost to you.

For full transparency, in 2020 I made my first £25, and in 2022 I reached my next £25 (Amazon don't transfer the money until you reach £25). I'm now up to £17.80 for 2023 so edging closer to the magical £25 mark!!

To date I have made £69.28 since I first started the scheme in 2017. It won't pay the bills, that's for sure but it does help to pay for ingredients or little treats to cheer me up!