This Apple and Blueberry Bake was originally one of those unplanned spur of the moment bakes, they're the best! No pressure or expectations just have and go and see what happens.
Well it just so happens that it came out perfectly (little pat on the back for me) and I've been making this recipe ever since.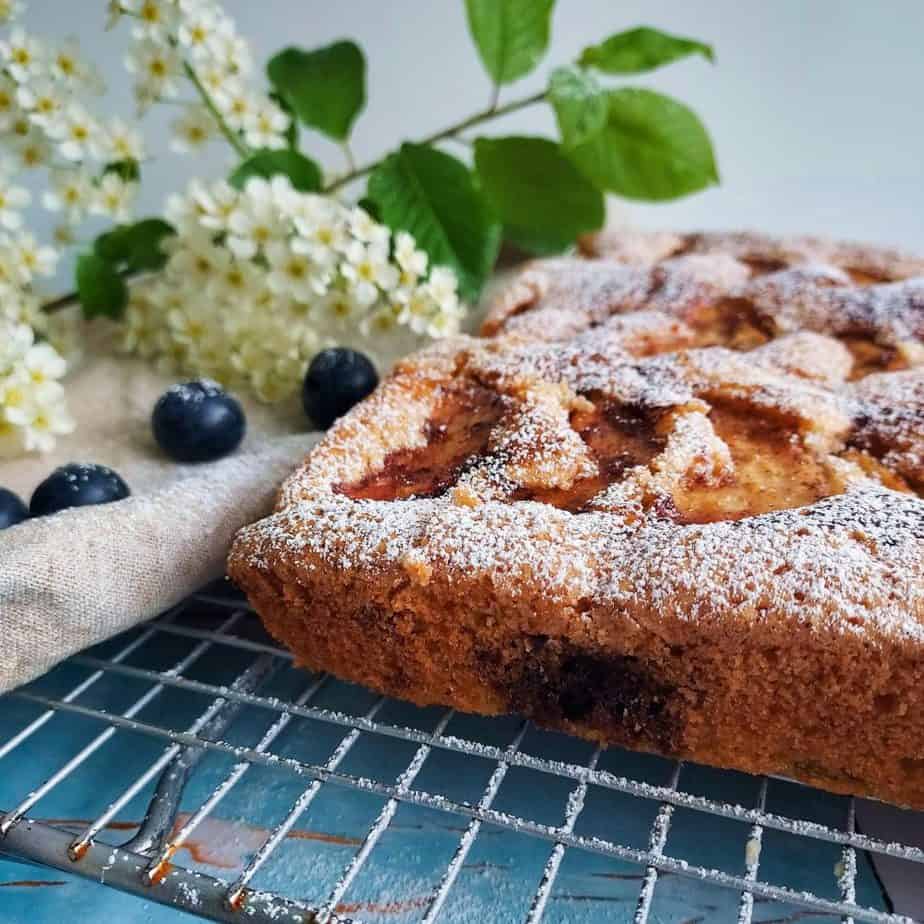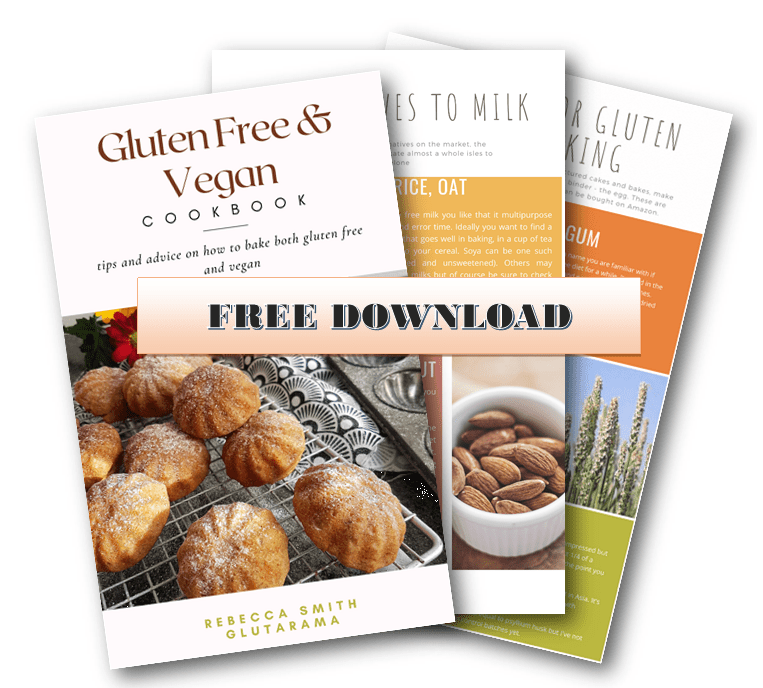 Never miss out again…
Sign up to my weekly Friday newsletter and not only get a FREE e-Book (currently my Gluten Free & Vegan Cookbook) but also get VIP subscriber discounts on free from goodies. Join me and learn to make anything gluten free.
The preparation in making this cake is very similar to a Dutch Apple Cake but this one uses sunflower oil instead of butter so it's also dairy free for those with Coeliac Disease who suffer with secondary lactose intolerance or lactose intolerance/allergy. While I'm on the subject I've written a blog on secondary lactose intolerance and another explaining in layman's term the difference between autoimmune, intolerance and allergy.
For other diary and gluten free recipe inspiration you might want to pop over to my Dairy Free Recipes collection.
What apples can I use in this cake recipe?
I had some eating apples that were getting old, this doesn't happen often in our house, my two get through between 14-24 apples a week! I also had some blueberries that were soon to be past their best and I thought 'what the heck, they'll make a good bake'! Fruit does wonders for GF baking, the moisture in the fruit increases and retains the moisture in the bake, in fact veggies do too which is why chocolate courgette cake is so yummy! Plus a splash of blueberry colour is always a welcome sight in baking.
As for what apples can be used? I recommend using eating apples as I have mentioned above. The reason for this is simply that you want to decorate your Apple and Blueberry Bake with slices of apple. Using a cooking apple could lead to the apple breaking up in the preparation stages.
While I think of it, stay clear of apples that have a fluffy texture, this would normally be a red apple. Again, this type of apple wouldn't always slice well and stay in perfect little slices. That said, I'm not here to make your life complicated. Far from it, my recipes always try to be as simple as possible so if you want to dice your apple, any apple then do this and simply scatter the diced apple over the poured cake batter. You will still end up with a delicious and beautifully presentable tray bake as an end result.
Can I make this Apple and Blueberry Bake vegan too?
Sadly on this very rare occasion I'm going to have to say no. The structure of the cake will not hold up without the eggs. However, if you would like me to try to make a vegan version then please leave me a comment below and I will gladly oblige.
If you are looking for vegan recipes in particular then please head over to my gluten free and vegan recipe collection Vegan Recipes.
Will this gluten free bake keep well?
As with all fruit loaded bakes this bake will go through three phases. The first day it will be lovely and light and with sweet crust (thanks to the ultra whipped eggs and sugar). The second day the sponge will stiffen a little but the fruit will keep the whole bake moist and delicious. On the third day you will probably find that the delicious crackly crust has softened and the fruit has made the sponge fairly moist.
Fruit is any bake will (for want of a better phrase) sweat and you run the risk of the bake spoiling. Therefore, I'm not keep this beyond three days and if, like me, your a custard and cake kinda gal then serve it warm on the third day with lashings of your favourite custard.
What size tin do I need for this Apple and Blueberry Bake?
The tin I always use for my tray bakes or square bakes is my trusty loose bottom 20 inch square tin. This way I find it cuts really well into 8 bars so that one cut half way through the bake and then 3 cuts the other way. You could cut this into 9 squares also for smaller portion control if you're counting the calories.
Want more apple filled gluten free recipe inspiration?
Gluten Free Apple and Blueberry Tray Bake Recipe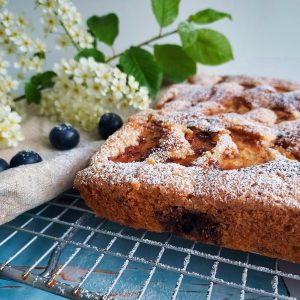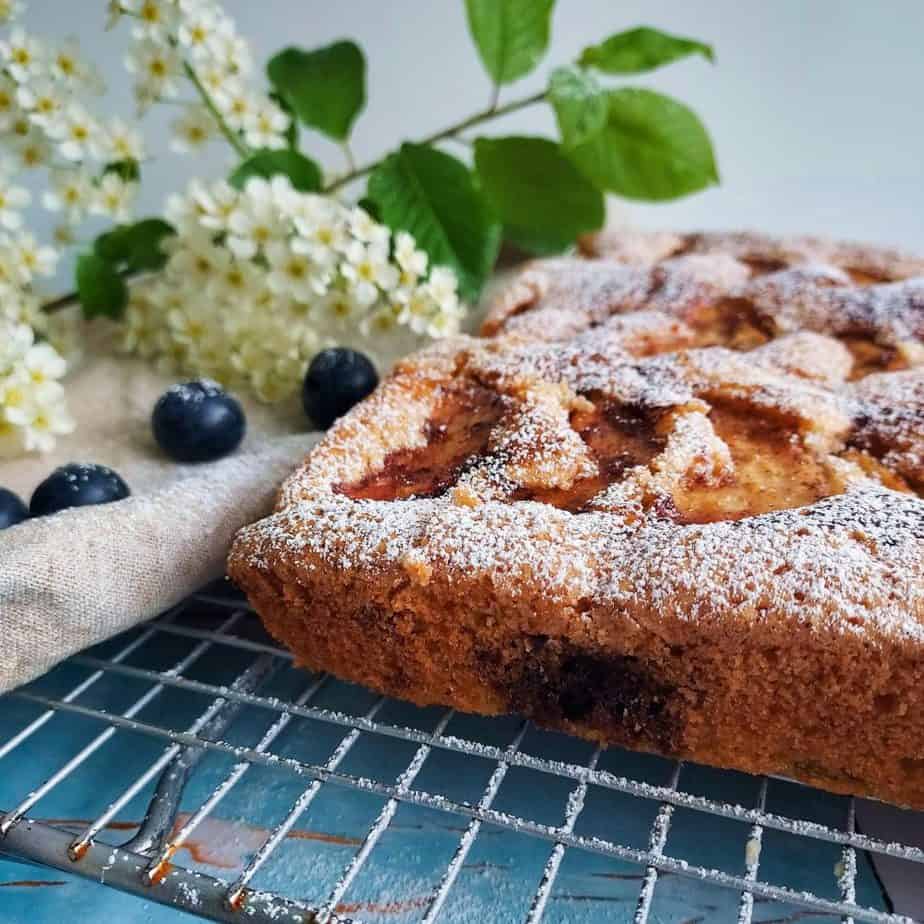 Gluten Free Apple and Blueberry Tray Bake
A simple and deliciously light Apple and Blueberry tray bake to make for afternoon tea, also a great way to use up apples that may be passing their best. This makes 8 bar size pieces or 9 squares and keeps well for up to three days.
Ingredients
2

dessert apples

2

tbsp

caster sugar

1

tsp

cinnamon

Juice of one Lemon

2

egg(s)

125

g

caster sugar

125

g

gluten free self raising flour

100

ml

sunflower oil

1

tsp

vanilla extract

100

g

blueberries
Instructions
Peel and slice the apples and toss them in a bowl with the sugar, cinnamon and lemon juice, gently mix to coat apple and set aside.

Beat the eggs and caster sugar either in a mixer or by hand until thick, pale and fluffy (by hand will take a good 5-10mins so better flex those muscles!) The mixture is ready when its gone a pale custard colour.

Next beat in the oil and vanilla extract, the mixture with thicken even more.

TOP TIP: you're looking for a homemade mayonnaise consistency.

Stir in the flour and fold.

Line and grease a square 20" baking tin, pour in the cake mixture and drop the blueberries evenly over the cake batter. It doesn't matter if they sink or stay on the surface.

Add a decorative layer using all the sliced apples, you will have some sweet cinnamon infused lemon juice left, I drizzle this over the cake batter liberally.

Bake at 180°C/ 160°C Fan/350°F/Gas 4 for 45 minutes. You want the bake to be a delicate golden brown with a crackle top to it if pressed with a finger.

Remove from the oven and allow to cool for 5 mins before removing from the tin completely to allow it to continue to cool.

Cut into 8 slices once cooled (or 9 squares) and enjoy on it's own or with cream or custard.
Nutrition
Nutrition Facts
Gluten Free Apple and Blueberry Tray Bake
Amount per Serving
% Daily Value*
* Percent Daily Values are based on a 2000 calorie diet.
Have you tried this recipe?
Let me know how it was & I will be super grateful. Take a picture & tag me @glutarama on your social media posts – I love seeing your photos more than you will ever know x
I love to see your own photos of my bakes, dinners and treats head to your favourite social media account and don't forget to tag me in @glutarama
Subscribe to my email list so that you get NEW recipes straight in your mailbox every Friday PLUS a FREEBIE and access to some amazing gluten free DISCOUNTS
also added to the #InSeasonRecipe linky over at Foodies 100
*disclaimer: I use affiliate codes on my website, the vast majority are to Amazon. If you click on any of the links or images in the post and make a purchase my family will benefit from a small % of that purchase at no extra cost to you.

For full transparency, in 2020 I made my first £25, and in 2022 I reached my next £25 (Amazon don't transfer the money until you reach £25). I'm now up to £17.80 for 2023 so edging closer to the magical £25 mark!!

To date I have made £69.28 since I first started the scheme in 2017. It won't pay the bills, that's for sure but it does help to pay for ingredients or little treats to cheer me up!