This recipe for my Mini Apple and Custard Pies was originally posted in 2017. Back then pastry was still not my friend, I'd had some disasters. I'm pleased to say that is no longer the case. I've even had another curve ball in the fact that I am intolerant to dairy and eggs (I blame my age!) so since that time I've had to relearn to make gluten free pastry that's also vegan too.
So why Apple and Custard Pies in the first place? You'll probably have seen something similar in the shops. I don't have to whisper his name now like a dirty word, because Mr Kipling has finally decided to include the Coeliac population in his joy for baking. You can now get Mr Kipling Gluten Free Brownies and Country Slices. There was also Bakewell Slices but a quick scan of Google and I can't seem to find them at the moment.
That said, you've got a long way to go Mr Kipling and your gluten free bakes are STUFFED with sugar so not good for my daughter who has to manage her blood sugar levels. You can read more about that here if you like Type 1 Diabetes and us: the full diagnosis story.
Incidentally, if you prefer your apple pies to be a bit more traditional then check out my Old Fashioned Apple Pie – free from dairy and gluten
Let's get onto the recipe shall we, I've listed some questions that I've pre-empted you may have and answered them for you below.
Do you cook apples before making an apple pie?
In this recipe the answer is yes. Reason? Because your adding a layer of custard. If you didn't lightly stew your fruit you'd end up with gaps in the apple and your custard layer would seep through the apple.
In general you don't have to cook apples when making pies. Take a large shortcrust apple pie, if you're using cooking apples, these breakdown anyway. So if you want to know Can I use cooking apples for these mini apple and custard pies then the answer is yes you can.
Do you add sugar to apple pie filling?
In this recipe I use eating apples. These tend to be lovely and sweet, therefore I personally don't feel the need to add sugar when I'm lightly stewing the fruit.
However, cooking apples are naturally very tart (sharp) in flavour. So you'll probably want to consider adding some sugar to the apple pie filling if you plan to use these instead.
Can I use a ready made gluten free pastry?
100% you can use ready made pastry, I always used to. In fact, while I mention it you can find some businesses in my Guide for Gluten Free small businesses that deliver across the UK that stock gluten free ready made pastry and pastry mixes.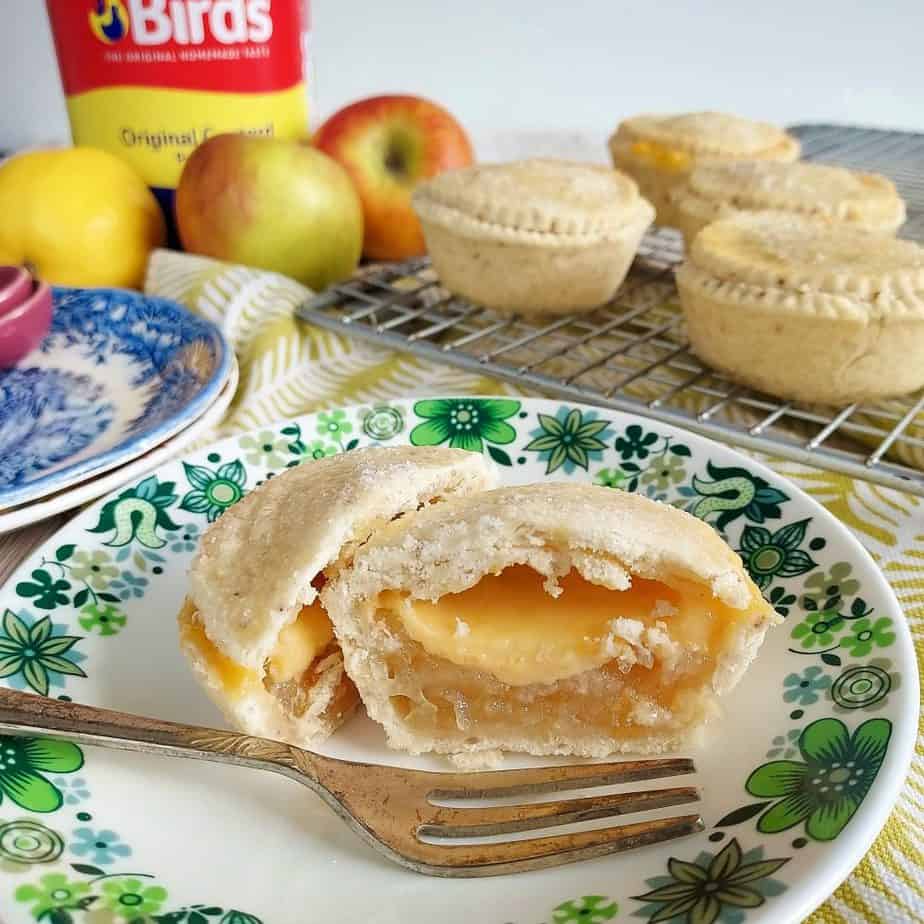 Can I make this apple pie vegan too?
Like I said back at the beginning. I am sadly now intolerant to eggs and dairy (plus a few other random things). So this recipe has been made egg free so is suitable for vegan too. Below is my no-fail vegan egg or flaxseed egg. The psyllium husk is optional and I tend not to use it in pastry as it can make the pastry chewy. Nobody like chewy pastry!
The addition of psyllium husk comes in handy when making a cake that you need a good firm structure (like a fruit loaf or cake) or when making bread.
How to make a flax egg

to make 1 flax egg you need the following ingredients:
– 1tbsp ground flax seed
– 3tbsp water
– 1tsp psyllium husk (optional but does add elasticity to baking)

Simply add all ingredients to a glass and stir before measuring out the other recipe ingredients, by the time you come to use your 'egg' mixture it will have thickened to a frog-spawn consistency (thicker if you added psyllium husk)

Then just add to your baking as you would an egg. For 2 eggs double the ingredients but note that recipes that require more than two eggs may fail due to lack of support in the structure.
Can I use ready made custard?
Good question, I've not personally done that yet. If I did I would use a soya custard like Alpro, but if dairy isn't an issue you could use a pot of ready made custard.
If you do decide to make this with a ready made custard I'd love to know how you get on. So please come back and comment below.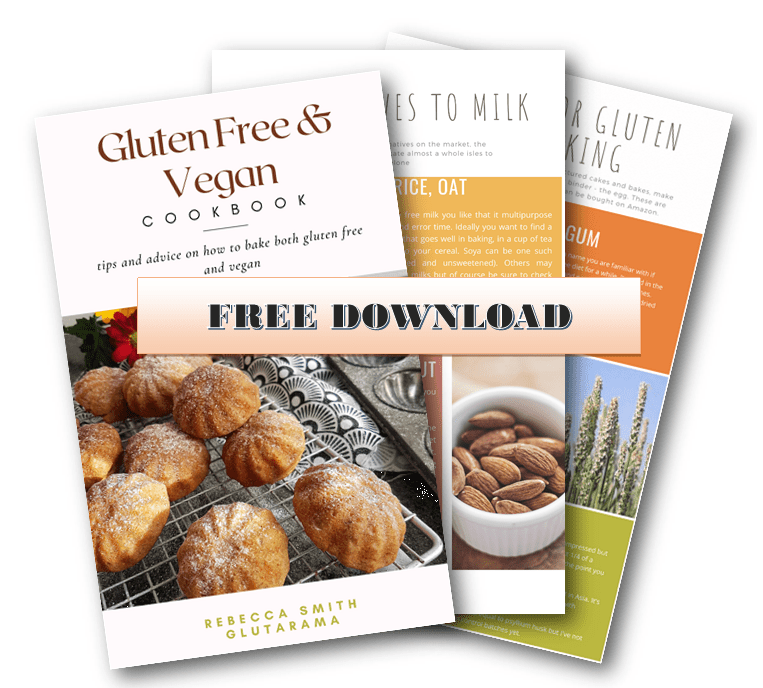 Never miss out again…
Sign up to my weekly Friday newsletter and not only get a FREE e-Book (currently my Gluten Free & Vegan Cookbook) but also get VIP subscriber discounts on free from goodies delivered to your door. Join me in my journey and learn to make anything gluten free.
How do I prevent custard seepage?
Very good question. As the custard layer is sitting just beneath the mini apple pie lid, you need to make sure you do two things.
Firstly, make sure you add a little slit or hole in the pie lid to allow steam to release. Otherwise it will find another means of escape and that's the edge of the pie lids, taking all your custard with it!
Secondly, set the timer to let you know when your pies have been in for 17-18mins. Go back and check on them. If the pie lids are lifting a little and custard looks like it planning an escape, turn the heat down for the last couple of minutes. Alternatively, if you think the pastry looks cooked remove them from the oven.
Other Free From Apple Inspired Recipes
Gluten Free Mini Apple and Custard Pies Recipe
Gluten Free Mini Apple and Custard Pies
These little apple and custard pies are super simple to make, not too sweet and a perfect afternoon treat with a cuppa or look cute as part of a teatime spread. They are also gluten free, dairy free and easily made egg free too so your vegan friends and family can enjoy then too.
Ingredients
For the gluten free pastry
200

g

gluten free plain flour

50

g

caster sugar

80

g

butter or butter alternative (I use Flora plant butter)

I use Flora blocks of plant butter

20

g

fat (I use Trex white vegetable fat)

I use Trex, but you can use Crisp n Dry or another 20g plant butter.

1

tbsp

ground flaxseed

this and the water is for your egg but you can use 1 egg if you like.

3

tbsp

water
For the apple pie filling
2

dessert apples

1

tsp

lemon juice

2

tbsp

water
For the custard filling
3

level tsp

Bird's original custard powder

2

tsp

caster sugar

90

ml

dairy free milk

I used soya milk
Instructions
To make the gluten free shortcrust pastry
To make your pastry, measure the flour, butter and fat into a bowl and using your fingertips or a pastry cutter to combine the ingredients until you get fine breadcrumbs.

Stir in the sugar and a pinch of salt

Now, if using one, make your flaxseed egg by simply mixing the flaxseed and water together.

Add the 'egg' (or real egg) to the pastry crumbs and mix with a table knife. The pastry will still be very crumbly.

Turn the crumble mixture out onto a kitchen surface (no need to flour the surface) and bring the crumble together with the heel of your hands until it comes together and forms pastry dough. This will take about 2 mins.

Now pop the pastry ball into the fridge while you set to work on your apple filling.
To make the apple filing
Peel, core and dice the eating apples into small pieces. Add to a saucepan along with 2tbsp water and 1tsp of lemon juice to prevent apple from browning. Heat for 10-15 mins, with the lid on, on a medium heat to soften the apple.

TIP: If the apples haven't broken down then just mush them up a bit with a fork or potato masher.

No need to sweeten to taste as these are eating apples.
To make the custard filling
Make up the custard by measuring the custard powder into a jug, adding 2tsp sugar and 1tbsp of the 'milk'. Mix to a paste (this prevents lumps) then add the remaining liquid.

Heat custard in microwave I heated mine for 60 seconds on 900w. The custard should be a thin consistency, you'll need to allow it to cool and it will thicken once cooled.

TIP: you can do this over the stove, just don't take your eyes off the custard and keep stirring.

Leave to cool along with the apples.
Making the pastry cases
Roll out the pastry and cut 6 large rounds (I used my largest fluted cutter, approx. 12cm) tease the pastry circles into a moderately deep cupcake/muffin tin. Cut out 6 more pastry circles with the remaining pastry. Ensure the circles are large enough to act as lids to your pies.

If you can bear to wait, pop the filled tin back into the fridge to let the pastry cases rest (I put the lids on a plate so they can go in the fridge too). This prevents pastry shrinkage.
Filling your mini apple and custard pies
Take the cooled apple and spoon into the 6 pastry cases, I press the apple down with a little dip in the middle.

Top each apple layer with a layer of your custard (it works out about 2tsp of custard in each pie) and pop on your lids. Then prick the lid so you have an air vent, this decreases the chance of custard seepage.

Now I use a pastry brush dipped into the custard jug to mop up any last bits of custard to brush the pie tops, this helps with colour and give a shiny glaze to each pie. Finally sprinkle sugar onto the tops of each mini pies.

Pop your pies into the oven 180°C/160°C fan/350°F/ Gas 4 for 20 minutes.

You can eat this straight from the oven or allow to cool and enjoy for teatime.
Nutrition
Nutrition Facts
Gluten Free Mini Apple and Custard Pies
Amount per Serving
% Daily Value*
* Percent Daily Values are based on a 2000 calorie diet.
Have you tried this recipe?
Let me know how it was & I will be super grateful. Take a picture & tag me @glutarama on your social media posts – I love seeing your photos more than you will ever know x
I love to see your own photos of my bakes, dinners and treats head to your favourite social media account and don't forget to tag me in @glutarama
Subscribe to my email list so that you get NEW recipes straight in your mailbox every Friday PLUS a FREEBIE and access to some amazing gluten free DISCOUNTS
*disclaimer: I use affiliate codes on my website, the vast majority are to Amazon. If you click on any of the links or images in the post and make a purchase my family will benefit from a small % of that purchase at no extra cost to you, in fact, for full transparency, in 2020 I made my first £25, and recently in 2022 I reached my next £25 (Amazon don't transfer the money until you reach £25). As you can see, it won't make me a millionaire but it will treat me to a few coffees, Lord knows I need the caffeine!