The idea for these healthy breakfast muffins was as a result of my change of diet. Not that I'd planned to change my diet, it was rather more thrust upon me!
Those of you who are regulars to my humble website will know that I have grown intolerant to dairy and eggs (among other things). I blame my age and years of antidepressants! I digress, the point is that not only have I become intolerant to certain foods, I've also found my appetite has decreased. Three square meals a day make me full to bursting point.
I was missing breakfast or lunch or both so that I could stomach eating a full meal with the family in the evenings. Something had to change. So I've found that by having a later breakfast, once the school run, dog walking and morning admin is done, is a far better option for me personally.
Some days I'll enjoy a porridge, like one of my Quick Porridge Oats | 7 Gluten Free Hot Porridge Ideas . Other days I'll opt for a bagel or two with dairy free cream cheese. Other days, I make these Healthy Breakfast Muffins, which last two to three days.
What makes these gluten free breakfast muffins healthy?
You should ask what doesn't make them healthy really. Okay, hands up they do have caster sugar in them, but I have made them with coconut sugar in the past when I have it in stock but I didn't want to assume every Tom, Dick and Harry had coconut sugar in their store cupboards so I've made this recipe with my caster sugar version. Feel free to change it for an unrefined sugar you prefer if you like.
These Breakfast Muffins are healthy because they are packed with dried fruit, vegetables, nut butters, nuts and no nasty fats. They are also dairy free and egg free as well as gluten free so many more people can enjoy them [see below to make them nut free too] I've added the nutrition label below to highlight the levels of carbs, vitamins and minerals packed into these muffins without even trying to be ultra healthy.
Nutrition Facts
Healthy Gluten Free Breakfast Muffins
Amount per Serving
% Daily Value*
* Percent Daily Values are based on a 2000 calorie diet.
---
Can I make these breakfast muffins nut free too?
Yes, you can make these breakfast muffins nut free too. I have made these in the past with my home made apple sauce in place of the peanut butter. The apple sauce version is slightly lighter and less fudgy in texture.
To replace the chopped roasted hazelnuts you can use any seeds that you are able to eat safely or swap them for additional gluten free oats.
If oats are an issue for you, then swap for nuts (if able to) or leave out altogether. The oats and nuts act as a texture enhancer, as well as adding nutritional value, so if you can find an alternative to give you muffins an extra bite then please be creative. As always, let me know and come back and comment on any successes you've had or thoughts on this recipe.
What other fillings could I use to make these healthy muffins
The options are endless really, as I mentioned above, I encourage you to be creative with your flavours and don't feel bullied into sticking to what I have used. I've added some suitable alternatives below to get those creative sparks flying.
Nut Butters
peanut butter
cashew butter
almond butter
(crunchy or smooth)
Dried Fruits
sultanas
raisins
cherries
goji berries
chopped dates
chopped prunes
Fresh Vegetables
carrot
courgette
beetroot
parsnip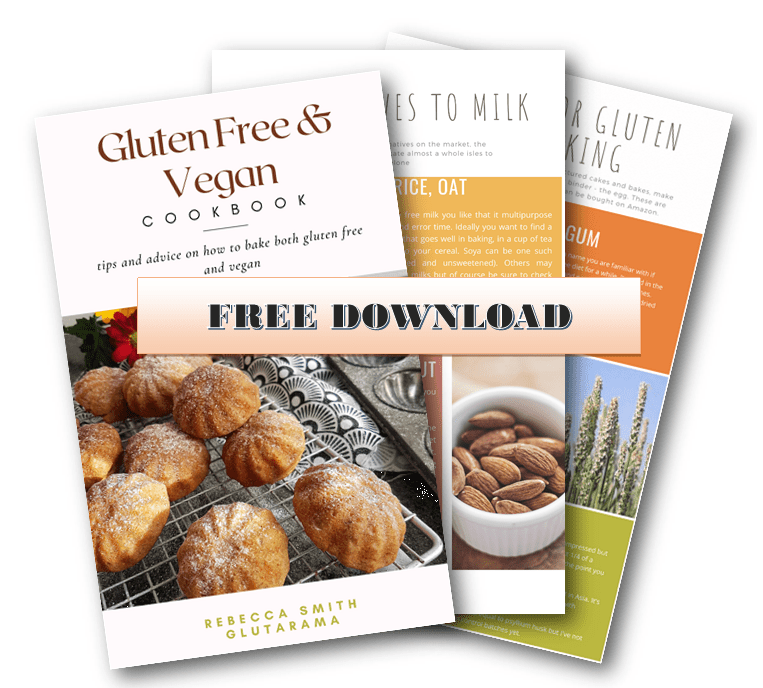 Never miss out again…
Sign up to my weekly Friday newsletter and not only get a FREE e-Book (currently my Gluten Free & Vegan Cookbook) but also get VIP subscriber discounts on free from goodies delivered to your door. Join me in my journey and learn to make anything gluten free.
Other delicious free from breakfast recipe inspiration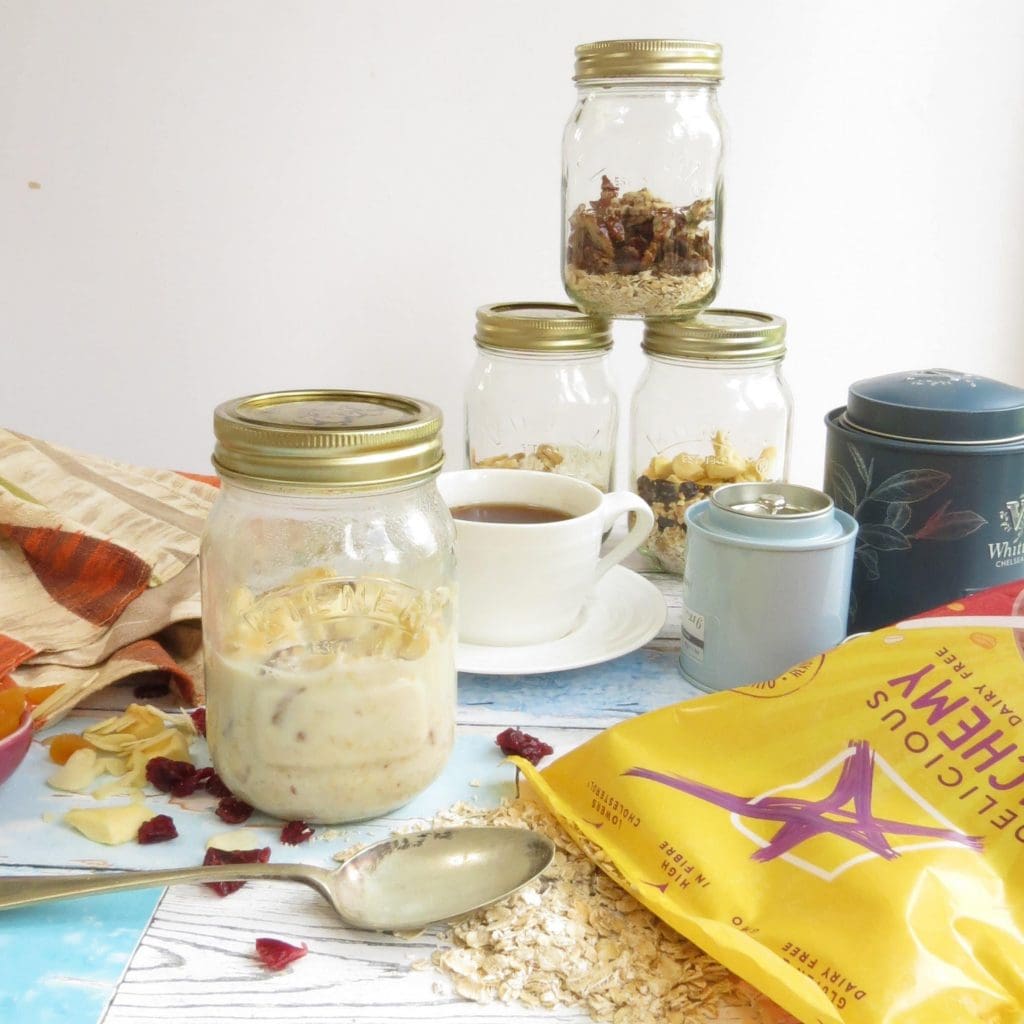 Gluten Free Chocolate Berry Granola
This gluten free granola is simply divine. Perfect served on top of your favourite natural yoghurts (I use a dairy free yoghurt). The chocolate clusters and chewy berries are a delicious variation in texture and this recipe makes enough for nearly 2 weeks worth of breakfasts, unless your forced to share!
Check out this recipe
Healthy Gluten Free Breakfast Muffins Recipe
Did you make this?
What did you think? I do so hope you love the recipe as much as were do in our family. I would be so grateful for a comment and STAR rating if you don't mind.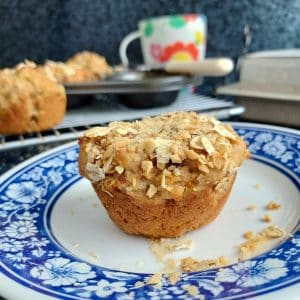 Healthy Gluten Free Breakfast Muffins
A simple yet nutritional recipe to make Healthy Breakfast Muffins that are gluten free and vegan (egg free and dairy free). These keep well for a couple of days and are so filling you'll be pushed to eat two with your morning cup of tea or coffee.
Ingredients
100

g

grated carrot

100

g

gluten free self raising flour

70

g

peanut butter

50

g

raisins

50

g

caster sugar

or a sweetener of your choice

50

ml

dairy free milk

I use soya milk

50

g

dairy free yogurt

or 50ml of extra milk

1

tbsp

sunflower oil

1

tbsp

ground flaxseed

or chia seed

1

tsp

ground cinnamon

1

tbsp

chopped roasted hazelnuts

1

tbsp

gluten free oats

½

tsp

white wine vinegar

pinch of salt
to top the muffins
1

tbsp

chopped roasted hazelnuts

1

tbsp

gluten free oats

1

tbsp

caster sugar

optional to add sweet top to muffin
Instructions
Preheat the oven to 220°C / 200°C fan / 425°F / Gas 7 and grease a 6 hole muffin tin (I use a coconut spray to grease my tins).

Take a large mixing bowl and simply measure all your ingredients into the one bowl (hold back the extra nuts and oats for your muffin toppings).

Give the mixture a good stir, it will be a medium to firm batter, if you're worried it's too firm, add a splash of milk to loosen.

Spoon large table spoons of mixture into each muffin hole, don't worry about filling the tins to the top.

sprinkle the nuts and oats that you set aside over each muffin and add a sprinkle of sugar to taste if you wish.

Pop into the preheated oven and bake for 12 minutes, they're ready when the muffins have gently risen and have a soft bounce to the touch.

These can be eaten still warm or once cooled and will keep for a couple of days. On the third day you might light to reheat them for 10 seconds in the oven to freshen them up (you could do that every day so you have lovely warm muffins for breakfast each day)
Nutrition
Nutrition Facts
Healthy Gluten Free Breakfast Muffins
Amount per Serving
% Daily Value*
* Percent Daily Values are based on a 2000 calorie diet.
Have you tried this recipe?
Let me know how it was & I will be super grateful. Take a picture & tag me @glutarama on your social media posts – I love seeing your photos more than you will ever know x
I love to see your own photos of my bakes, dinners and treats head to your favourite social media account and don't forget to tag me in @glutarama
Subscribe to my email list so that you get NEW recipes straight in your mailbox every Friday PLUS a FREEBIE and access to some amazing gluten free DISCOUNTS
*disclaimer: I use affiliate codes on my website, the vast majority are to Amazon. If you click on any of the links or images in the post and make a purchase my family will benefit from a small % of that purchase at no extra cost to you, in fact, for full transparency, in 2020 I made my first £25, and recently in 2022 I reached my next £25 (Amazon don't transfer the money until you reach £25). As you can see, it won't make me a millionaire but it will treat me to a few coffees, Lord knows I need the caffeine!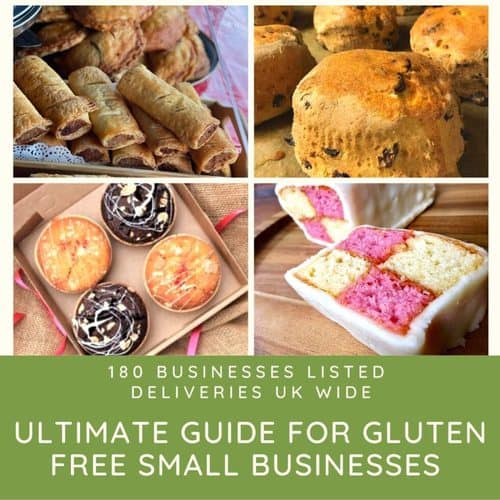 Fancy buying yourself a treat or a gift for a loved one this festive season, then go small…small businesses' that is!

Guide for Gluten Free small businesses that deliver across the UK

— Glutarama, supporting small businesses
---