I was pleased as punch when this Coffee and Walnut Cake came out as well as it did during recipe development, needless to say I've made it many, many times since and it's proven to be a very easy coffee cake recipe. I always thought I wasn't a fan of Coffee & Walnut Cake because I'm not a fan of the coffee chocolates you get in selection boxes – but I do like a good latte. Plus I had family members who loved coffee cake so to please the majority, bake I did, and how glad I am of it!
UPDATE: I am working on a gluten, dairy and egg free version of this cake so please sign up to my newsletter to be the first to find out when I'm 100% happy with the result and post the recipe here.
In the meantime, if you are interested in dairy free and vegan recipes check out the collections below.
How wrong could I be, this is definitely on my top 10 list now (don't ask me what the other 9 are…I'd probably have to use my fingers and toes to count! I've added a super tip at the bottom of this recipe, to be fair, this is an excellent tip to use in all your cake baking if you wish to achieve a light airy sponge.
As you'll notice throughout my blog, I refer to not cutting corners and ensuring you prep baking sheets/tins/trays adequately. I'm the first person to hold my hand up when it comes to cutting corners to save time but as my journey progresses I realise that this is false economy.
Gluten Free baking demands respect so chill, prep and enjoy baking … lets face it, if your cakes end up like this beauty, it is so worth it!
Did you know… interesting facts about coffee!
Did you know that coffee could actually be good for you? I kid you not apparently there are potential health benefits associated with drinking coffee include protecting against type 2 diabetes, Parkinson's disease, liver disease, liver cancer, and promoting a healthy heart [Medical News Today]
Did you know that coffee beans are the pits of the cherry-like berries found on the flowering shrubs, but we call them "beans" because of the resemblance to legumes.
Did you know that Espresso means "pressed out" in Italian. This refers to the way espresso is made — forcing boiling water through pressed coffee grounds. And although espresso has more caffeine per volume than coffee, it would take three shots to equal the amount in a regular cup of joe. I was recently introduced to Espresso in France, I'd ordered a small black coffee in french, clearly poor french and got this instead, it was however delicious and I've been drinking Espresso's ever since!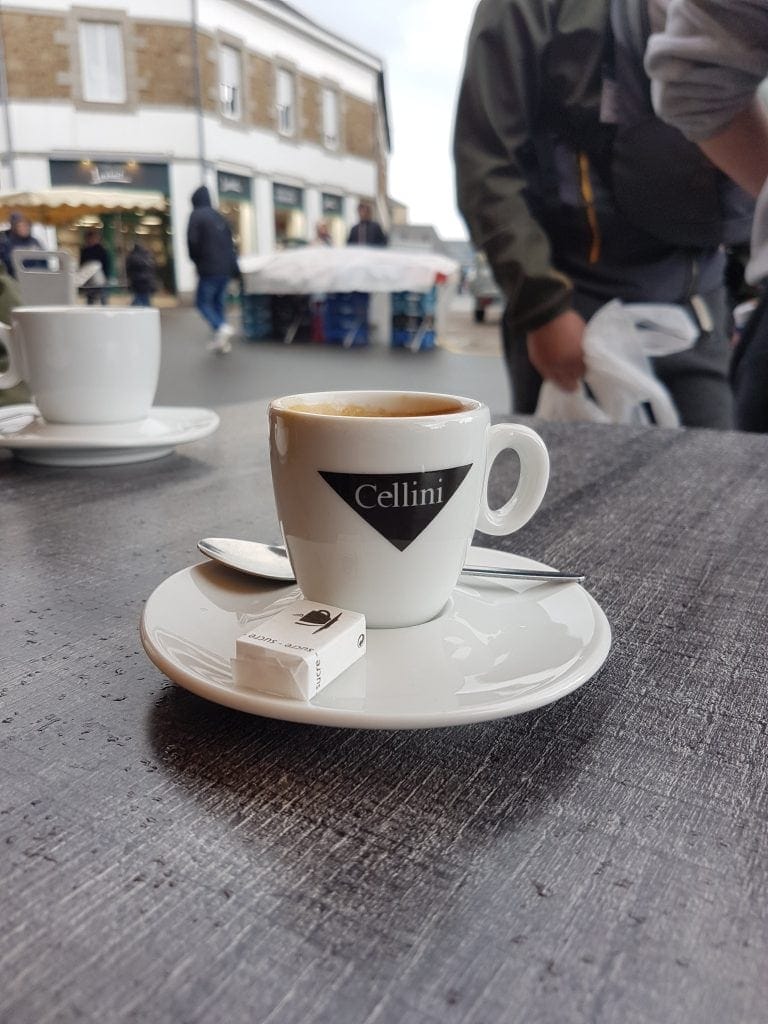 Other recipes that are similar to my Coffee and Walnut Cake
So you like coffee do you? Silly question really, so here are some other coffee inspired bakes to whet your whistle starting with my Mocha and Walnut Slice. Admittedly not your average bake and with a few 'not the norm' ingredients but this is a special treat so why not! Then you have my go-to recipe when I have friends over, this Mocha Cake is super simple, vegan and gluten free so nobody need miss out at cake and coffee time.
Other bakes that I urge you to look up are this Coffee Intense Mocha Roulade by The Gluten Free Alchemist, hold onto your socks when you click through, it's beautifully decadent. And finally if you'd love a dessert of the coffee kind than how about this Latté Panna Cotta by the Intolerant Gourmand, I know I'll be trying these for sure.
Never miss out again…
Sign up to my weekly Friday newsletter and not only get a FREE e-Book (currently my Gluten Free & Vegan Cookbook) but also get VIP subscriber discounts on free from goodies delivered to your door.
Gluten Free Coffee and Walnut Cake Recipe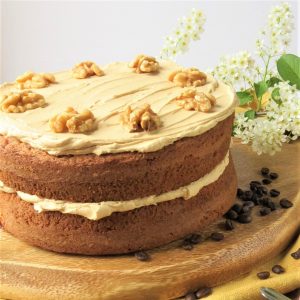 Coffee & Walnut Cake
Coffee and Walnut Cake, a firm favourite in the traditional bakes list surely. This is a simple to make bake which is gluten free but can also be made dairy free too by simply substituting the butter. Perfect for a family gathering, birthday cake or teatime treat.
Keyword:
Coffee, Gluten Free, Traditional Recipe, Walnut
Ingredients
65

g

Walnut pieces chopped to your liking

225

g

Gluten Free Self Raising Flour

225

g

Butter

225

g

Caster Sugar

4

Eggs

1

tsp

Baking Powder

2

tsp

strong black coffee

either make an espresso or add hot water to granules
For the icing
150

g

Unsalted Butter

300

g

Icing Sugar

4

tsp

strong black coffee

8-10

Walnut halves to decorate
Instructions
Cream the butter, and sugar together until paler in colour and light in texture.

Add the eggs and coffee and beat mixture well

Sift in the flour and baking powder and add the chopped walnuts, fold gently to combine – this will prevent knocking out to much air.

Add the mixture evenly between two well prepared cake tins (grease and dust two 20cm round cake tins with flour to enable to cake to rise evenly).

Pop into the oven on 190°C | 170°C fan | 375°F / Gas 5 for 25 mins.

Remove when golden in colour and a light bounce to the touch.

Allow the sponges to cool completely before adding the buttercream.
To make the icing
Simply cream the ingredients together to make a smooth spreadable buttercream.

Add half the mixture to the bottom cake sponge, place the top sponge onto and repeat.

Decorate with the walnut halves.

Invite friends and stick the kettle on!
Recipe Notes
Top Tip:
If you want to achieve the lightest sponge possible, and have the time and patience, try sieving the flour 3-4 times before adding it to the mixture. This process aerates the flour and encourages a lighter sponge with a better rise.
Nutrition Facts
Coffee & Walnut Cake
Amount Per Serving
Calories 617
Calories from Fat 342
% Daily Value*
Fat 38g58%
Cholesterol 146mg49%
Sodium 188mg8%
Potassium 119mg3%
Carbohydrates 68g23%
Protein 5g10%
Vitamin A 1030IU21%
Vitamin C 0.1mg0%
Calcium 62mg6%
Iron 1.3mg7%
* Percent Daily Values are based on a 2000 calorie diet.
I really love to read your comments and feedback and will always comment back. Do drop a line in the comment section if you liked this post I would love to hear your thoughts, if you share photos of your delicious creations, please do tag me or use the hashtag #Glutarama on Facebook, Twitter and Instagram.
Subscribe to my email list so that you get all my reviews and recipes straight in your mailbox PLUS a FREEBIE and access to some amazing gluten free DISCOUNTS
A post packed with 20 delicious Autumn/Winter inspired comfort foods made gluten free, dairy free and in most cases egg free too
---
And one last thing! I've linked my Coffee and Walnut Cake with these other awesome Foodies websites, go check them out
Cook Blog Share  | Fiesta Friday | Friday Favourites | Handmade Monday | Sundays on Silverado | Full Plate Thursday | Traffic Jam Weekend Linky | What's For Dinner?
disclaimer: I've started using affiliate codes on my website again (needs must). If you click on any of the links in the post and make a purchase my family will benefit from a small % of that purchase at no extra cost to you.