Would you agree that Carrot Cake is an all-time favourite, just the mention of it seems to make people weak at the knees! I also find Coffee and Walnut Cake has that same effect on people. How odd that cakes can illicit such reactions?
I have a theory, it's to do with childhood memories. Even if, as kids, people didn't eat cakes such as Carrot Cake or Coffee and Walnut cake, many still have memories of afternoon tea over Nans and the smells of fresh baking. Food can be the most powerful transporter into our memories and this is exactly why you need to make this recipe for your family so you can begin the process all over gain and create those nostalgic food memories.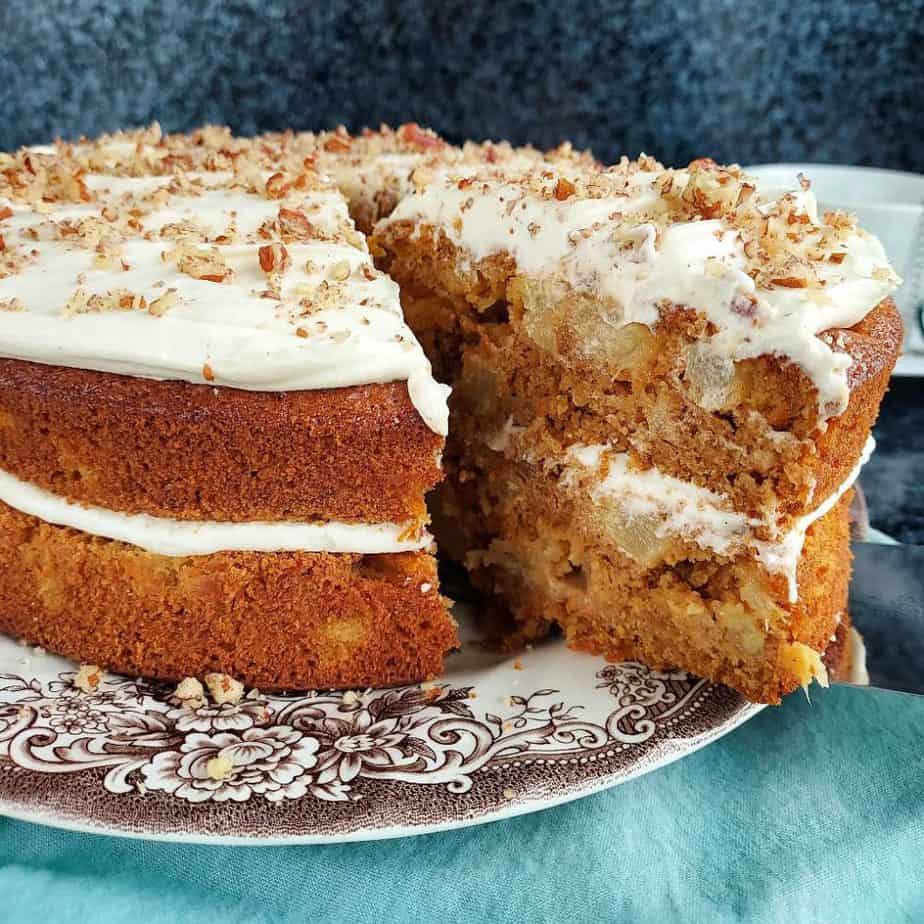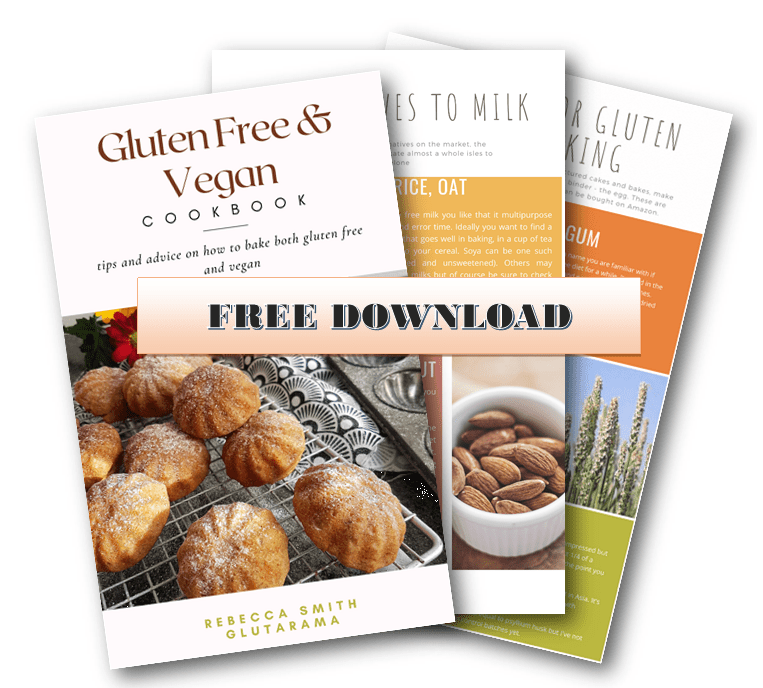 Never miss out again…
Sign up to my weekly Friday newsletter and not only get a FREE e-Book (currently my Gluten Free & Vegan Cookbook) but also get VIP subscriber discounts on free from goodies. Join me and learn to make anything gluten free.
Why do we put carrot in cakes?
There are two main reasons I could could find during the course of my research to answer the question; why do we put carrot in cakes?
The first dates back 500 and more years. During this long history sugar prices fluctuated exponentially and so the poorer bakers and families had to find alternative ways to sweeten their bakes. Carrots are the sweetest of root vegetables without an over powering flavour, such as parsnip.
The second reason is for the moisture in the carrot. Adding the root vegetable makes bakes much more dense but deliciously moist at the same time. Of course, in gluten free baking we could all do with adding a bit of moisture into our lives!
There is a third reason, but this is more of a Millennial issue. We need to be eating 5-8 pieces of fruit and veg a day so this is a great way of hiding veggies in baked goods.
How do I make a one-bowl cake?
I love cake mixtures that you shove in one bowl and stir, it's satisfying on many levels not to mention less washing up!
The simplest way to make a one-bowl cake is measure out all your dry ingredients first and mix with a whisk to combine. The add your measured wet ingredients and beat with a wooden spoon – that's it.
In the case of this Carrot Cake, you include the grated carrot and pineapple pieces as being wet ingredients and add therse last.
Does this Carrot Cake store well?
The other wonderful thing about this cake is it lasts longer, I can make this on Monday and it's still moist and fresh on Wednesday, if indeed it lasts that long, which it often doesn't.
Due to the high levels of moisture in this Carrot Cake you may find that it gets a bit 'sweaty' in a Tupperware container so I'd recommend a metal tin on this occasion or even on the worksurface with a cake net over it.

Can I make this Carrot Cake vegan too?
I have tried to make this cake egg and dairy free by swapping the dairy ingredients for non and dairy and using flaxseed eggs. It didn't work. So to save you the bother of experimenting and failing, I did the hard work for you and came up with a tried and tested Vegan Carrot Cake Recipe.
Of course you could make this just dairy free as the cake is naturally dairy free anyway and you could opt to make a dairy free buttercream or simply dust with icing sugar.
Gluten Free Carrot and Pineapple Cake
This Carrot and Pineapple Cake Recipe is one of those lusciously easy cakes where you literally just shove everything into a bowl and stir. Utterly satisfying and tastes divine too. Plus it's gluten free and the sponge alone is naturally dairy free too.
This recipe makes two 20cm sponges that you sandwich together. To make one sponge change the servings to 6 slices.
Check out this recipe
Do I have to add pineapple to carrot cake?
In a word, No! You do not have to add pineapple to a carrot cake, I happen to add it because my husband prefer the pineapple version. Again this is down to his experiences and childhood memories. Little side note, I was told that the pineapple in this bake was a bit too chunky for his liking! I used an own brand tin of pineapple chunks that came out as tiny chunks so I didn't feel the need to blitz them in the processor quickly. So if I use chunks again I'll cut them in half again to make them the size of my middle fingernail.
Typically you add crushed pineapple but this seems to be on the supermarket shelves less and less these days. I've heard of people referring to this cake as Hummingbird Cake when it has pineapple in it but that's not technically true. This is a hybrid between a Carrot Cake and a Hummingbird Cake.
Carrot Cakes can often be found with raisins in them instead of pineapple, whilst the Hummingbird Cake uses banana instead of carrot and pineapple.
Could you just leave the pineapple out? Yes but like the grated carrot it adds moisture so if you did take out the pineapple, consider replacing with sultanas or raisins and adding a splash of milk to the mixture to get a wet dropping consistency.
Other gluten free recipes to inspire you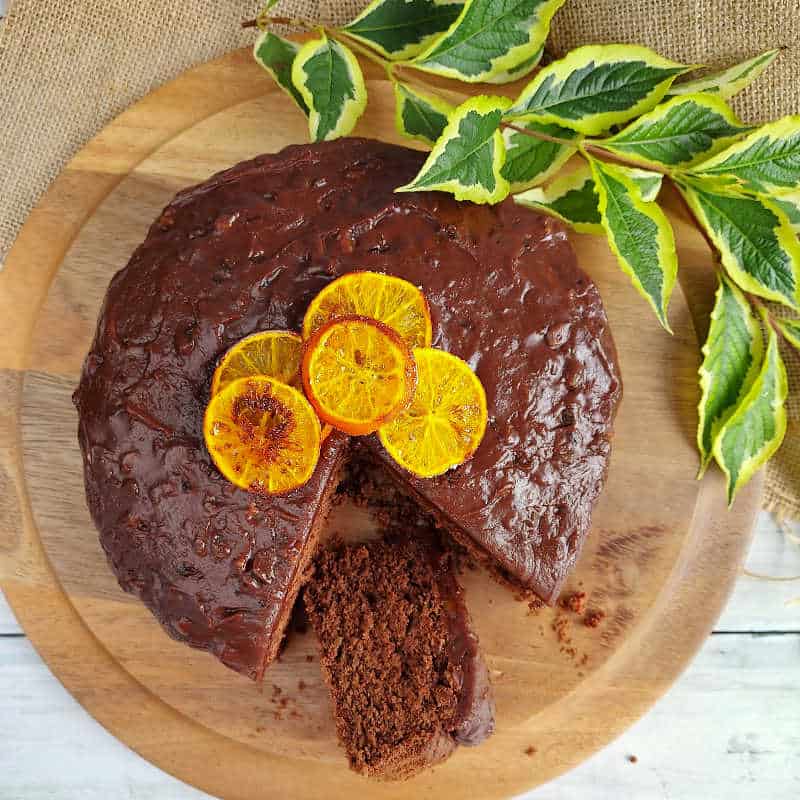 One Bowl Gluten Free Carrot Cake Recipe
If you make it and like the recipe I would be eternally grateful if you popped back and commented leaving a star rating as this will tell search engines that this recipe is worth checking out and others will get to find it in searches.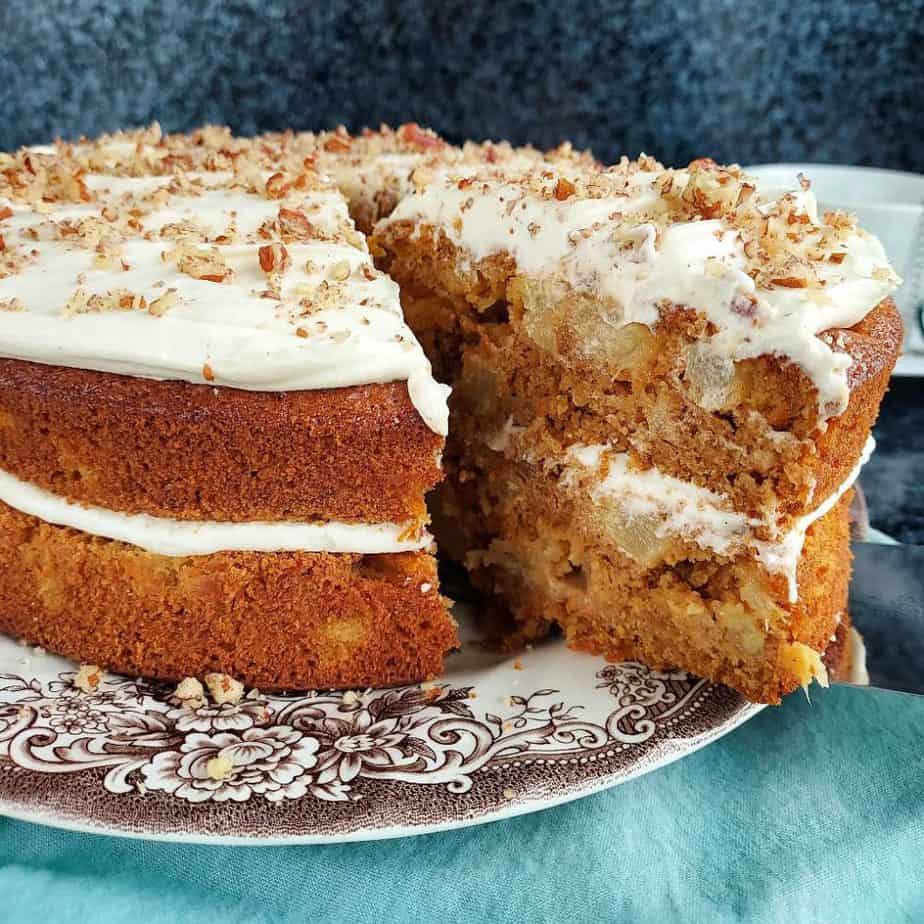 Gluten Free Carrot Cake
This Carrot Cake Recipe is one of those lusciously easy cakes where you literally just shove everything into a bowl and stir. Utterly satisfying and tastes divine too. Plus it's gluten free and the sponge alone is naturally dairy free too.
This recipe makes two 20cm sponges that you sandwich together. To make one sponge change the servings to 6 slices.
Ingredients
300

g

gluten free self raising flour

250

g

soft dark brown sugar

1

tsp

cinnamon

1

tsp

nutmeg

100

ml

oil (I use vegetable or sunflower)

4

egg(s)

250

g

finely grated carrots

approx. 2 large carrots

400

g

crushed pineapple

drained (keep the juice)
Frosting
60

g

butter

softened

60

g

cream cheese

200

g

icing/confectioners sugar

1

tsp

pineapple juice

1

tsp

vanilla extract
Instructions
Add all the dry ingredients to a large bowl and stir with a whisk to combine

Next add the wet ingredients; the oil, eggs, pineapple, carrots and get stuck in and stir with a big wooden spoon – that's it!

The mixture will be very wet and sloppy, don't fear, it's supposed to be like that.

Pour into two prepared round cake tins (it works out approx. 700g mixture per tin) and bake in an oven on 180°C | 160°C fan | 350°F | Gas 4 for 35mins.

Once the cake has a soft bounce to the touch and a wooden toothpick comes out clean you can remove from the oven. Wait for cake to completely cool.
To make the icing
To make icing add all the ingredients to a bowl and beat until smooth and creamy.

Using half the icing spread over one cake, then sandwich both sponges together and use the remaining icing to spread over the top of the cake.

On this occasion I decorated with some crushed pecans, it's entirely up to you what you decorate the top of the cake with.
Nutrition
Nutrition Facts
Gluten Free Carrot Cake
Amount per Serving
% Daily Value*
* Percent Daily Values are based on a 2000 calorie diet.
Have you tried this recipe?
Let me know how it was & I will be super grateful. Take a picture & tag me @glutarama on your social media posts – I love seeing your photos more than you will ever know x
I love to see your own photos of my bakes, dinners and treats head to your favourite social media account and don't forget to tag me in @glutarama
Subscribe to my email list so that you get NEW recipes straight in your mailbox every Friday PLUS a FREEBIE and access to some amazing gluten free DISCOUNTS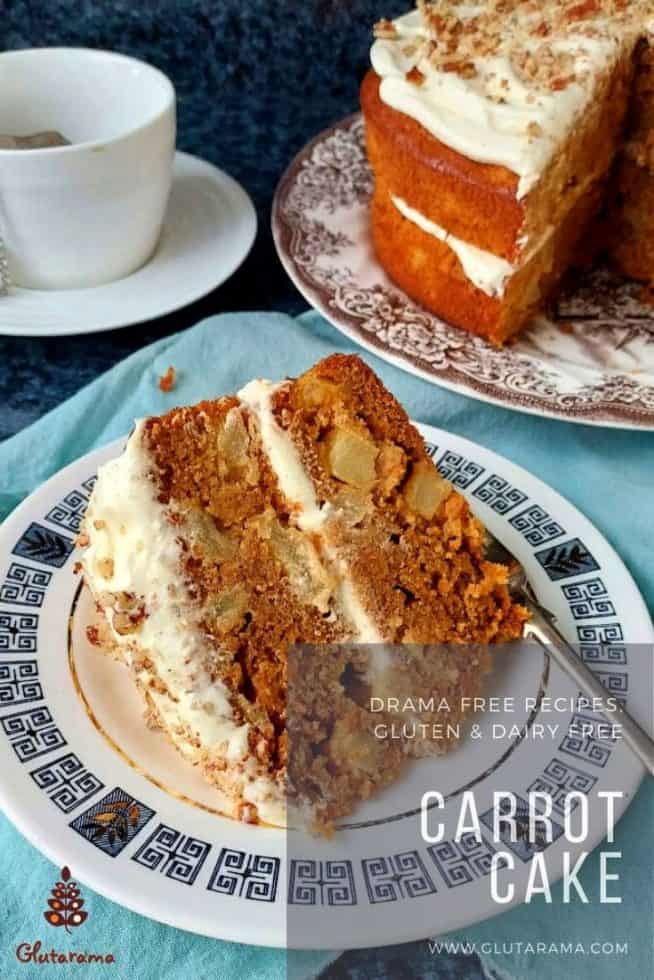 *disclaimer: I use affiliate codes on my website, the vast majority are to Amazon. If you click on any of the links or images in the post and make a purchase my family will benefit from a small % of that purchase at no extra cost to you.

For full transparency, in 2020 I made my first £25, and in 2022 I reached my next £25 (Amazon don't transfer the money until you reach £25). I'm now up to £17.80 for 2023 so edging closer to the magical £25 mark!!

To date I have made £69.28 since I first started the scheme in 2017. It won't pay the bills, that's for sure but it does help to pay for ingredients or little treats to cheer me up!