This page contain affiliate links. Please refer to my Disclosures Page for more details.
Presenting my Gluten Free and Vegan Beetroot American Pancakes inspired by a glut of fresh beetroot kindly given to me by a friend.
Anyone else love this root vegetable but never quite sure what to make with fresh beetroot? Good not just me then. I was given two lots of fresh beetroot recently by a friend who had received beetroot in her home delivery vegetable box. She knew I liked beetroot, I know I like beetroot, but what can you make with lots of beetroot!
Incidentally, on that note, here's my Beetroot Brownie Cake Recipe that came in handy following this latest delivery.
I could have Googled fresh beetroot recipes, but my clever little brain decided to create something instead. This recipe only took two batches to perfect the recipe and I'm pleased to say that I will never be left scratching my head again on what to do with the delicious ruby red veggie.
Do I need boil or roast beetroot to make these Beetroot American Pancakes?
Well you could my lovely, if you want to boil or roast beetroot before blitzing in a food processor then please be my guest. An educated guess will tell you that by boiling you will lose some of the natural sugars in the beetroot and some of the colour too. By roasting you will enhance the flavour and increase the sweetness of the beetroot. But both take time, and nobody has time to be faffing about with fresh beetroot right?
In this recipe I simply peel, chop, blitz. It's as easy as 1,2,3.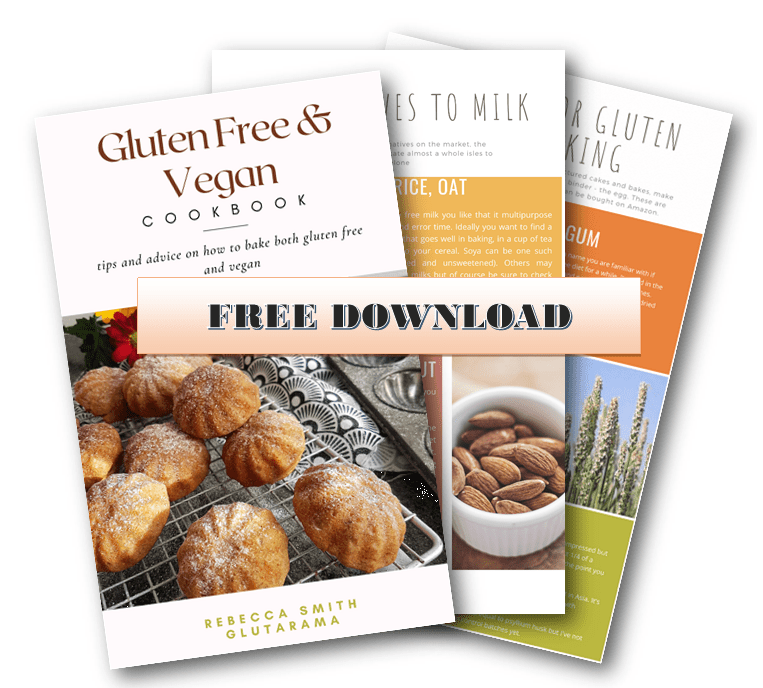 Never miss out again…
Sign up to my weekly Friday newsletter and not only get a FREE e-Book (currently my Gluten Free & Vegan Cookbook) but also get VIP subscriber discounts on free from goodies. Join me and learn to make anything gluten free.
Different fillings and toppings to have with you Beetroot American Pancakes
As you can see in the images I have gone for pink and red overload and served my Beetroot American Pancakes with sliced strawberries and a sneaky side of fresh raspberries. I've got a bit of a sweet tooth when it comes to pancakes. Personally, I believe these are a treat and so why not go all out on the toppings. Therefore, I've added dairy free white chocolate drops and an easy to make chocolate pouring sauce that's also dairy free and vegan.
Other topping suggestions are;
Fresh blueberries
Peach slices (tinned or fresh)
Apple sauce
Ice cream
Ice cream sauce toppings (the choices are endless)
Cream
Honey
Maple syrup
What are the health benefits of Beetroot?
The health benefits of eating fresh beetroot are as you'd expect with any fresh root vegetable. Low in fat, lots of Vitamin A and C (even more so if you eat their leaves). They are packed with fibre and Beetroot are in fact one of the Top 10 most potent antioxidant vegetables you can get. They are also known to lower blood pressure too. Need I say more, eat your beets people.
Can I make these Beetroot American Pancakes in advance?
These sit happily on a cooling rack while you make all the pancakes in the batch and then you can build your pancake stack immediately once you've use up all the batter. However, if you want them warmer you can pop them in the microwave for a couple of seconds or place a clean tea towel over them on the cooling rack. Ideally these are best eaten fresh.
I haven't tried to freeze this recipe yet but I'm positive it will freeze just fine. To bring the bake back to life you will need to defrost at room temperature for over 3hrs, and I would recommend popping it in a hot oven for 5mins to revive the pancakes back to their former glory. The alternative would be to microwave or slip them into a toaster pocket and pop them in the toaster.
Other delicious gluten free pancake recipes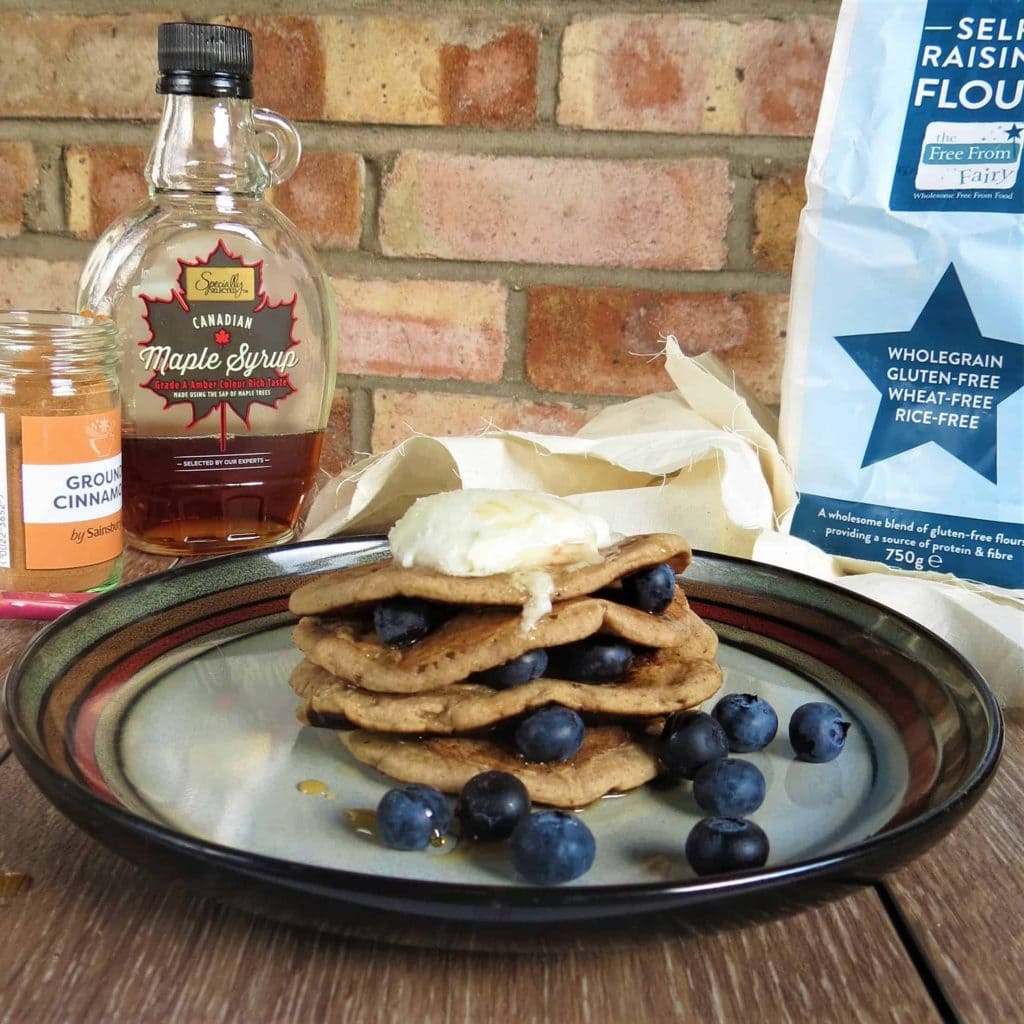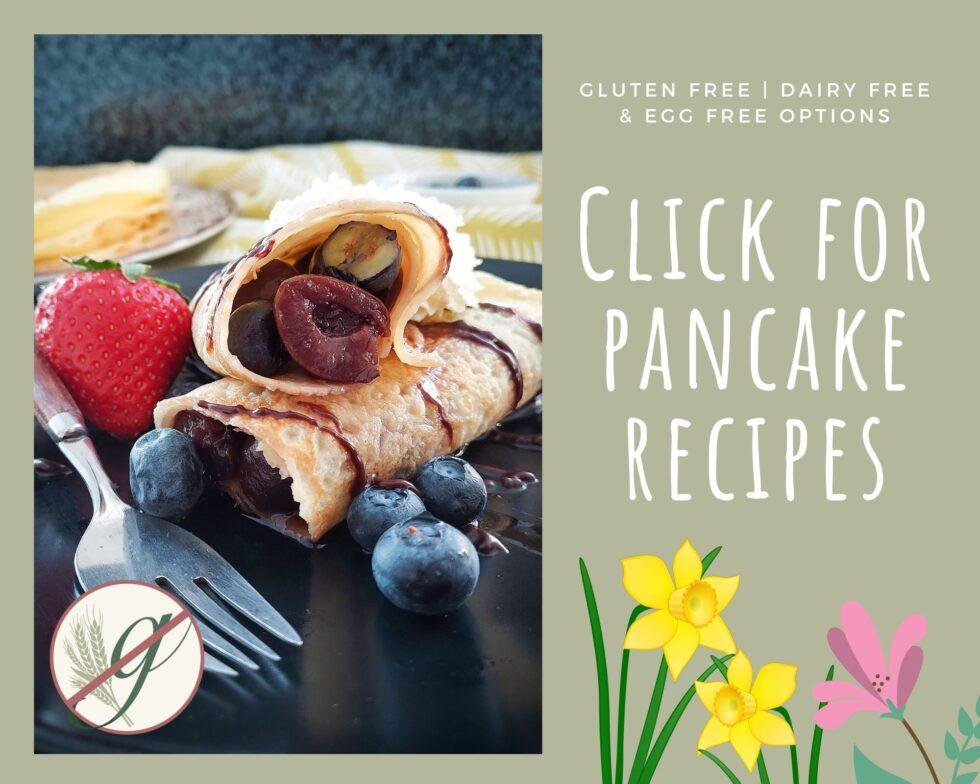 Vegan Beetroot American Pancakes Recipe
If you make it and like the recipe I would be eternally grateful if you popped back and commented leaving a star rating as this will tell search engines that this recipe is worth checking out and others will get to find it in searches.
Vegan Beetroot American Pancakes (GF)
These Beetroot American Pancakes are a great way to use up old beetroot that is past its best, or if you have a glut of homegrown beetroot. These are also gluten free, dairy free and vegan too so great for dietary needs AND hidden veggies for the little ones. Winners all round.
Ingredients
Pancake batter
200

g

gluten free self raising flour.

150

g

peeled and roughly chopped fresh beetroot.

50

g

caster sugar

200

ml

milk

or dairy free alternative. I used soya milk.

1

tsp

bicarbonate of soda
Option to make ½ into chocolate pancakes.
2

tbsp

cocoa powder

or cacao powder can be used instead.
Chocolate pouring sauce
50

g

dark chocolate roughly chopped

I use a dairy free plain chocolate.

20

g

unsalted butter or dairy free alternative (I use Flora plant butter)

I use a dairy free butter block.

2

tbsp

milk

I use soya milk.
Suggested toppings/fillings
6

strawberries

sliced leaving two to decorate your pancakes.

White chocolate drops

I used dairy free chocolate drops.
Instructions
To make your pancake batter
First, take your peeled and chopped fresh beetroot and add it to a food processor or blender (I use my smoothie maker for this job).

To the blender add the milk or dairy free alternative and caster sugar, blitz until all the beetroot has been pureed, you now have an awesome looking neon pink smoothie!

Pour the beetroot liquid into a mixing bowl and add the self raising flour and bicarb of soda. With a whisk mix thoroughly to incorporate the flour.

Now you have the choice to spilt the mixture as I have done and pour half (about 230g) into a separate bowl to have a lighter coloured pancake.

To the remaining mixture add 2tbsp of cocoa powder and whisk again quickly to beat out the cocoa lumps. I recommend adding an extra tablespoon of caster sugar to the chocolate mixture as the cocoa can make the batter a little bitter (try saying that really fast three times!)

Now leave both batters on the side to thicken while you clear away.
To cook the pancakes
To cook your pancakes heat a flat bottomed frying pan or crepe pan on a medium heat. These pancakes take a little patience to cook and a hot pan will burn them.

Dollop dessert spoonful's of mixture onto the pan, you may wish to spray your pan with oil if it's not non-stick. I measure about 1 ½ spoonful's of mixture for each pancake and tease the mixture (it's quite thick) into a coaster sized circle.

Now comes the patient bit, gently cook the pancakes until the top surface has lost its shine, (takes about 5mins) and holes appear with steam gently rising from them. Take care to flip them using a fish slice, palette knife or pancake slice and cook on the second side for about 30 seconds.

Remove and place on a cooling rack (piling them up on a plate will make them sweat) and continue until you've used all of the two batters – you should make about 4 pancakes of each so 8 in total.
To make the chocolate pouring sauce
The chocolate pouring sauce is very easy to make, simply add the butter and chocolate to a small jug and heat for 45s in the microwave (or melt on the stove).

Remove from the heat/microwave and add the milk or dairy free alternative and stir quickly to combine, you'll end up with a glossy pourable chocolate sauce.

This can be left to harden and be reheated again in a microwave for just 10s.
To build your pancake stack
When you are ready to build your pancake stack (and if you've opted for the two flavours) simply alternate the pancakes and add slices of strawberry and sprinkle some white chocolate drops before adding another pancake. Four pancakes each is quite a feast so this will fill up two people or provide a lighter treat for 4 people.

Finally drizzle the chocolate pouring sauce over you pancakes and enjoy.
Nutrition
Nutrition Facts
Vegan Beetroot American Pancakes (GF)
Amount per Serving
% Daily Value*
* Percent Daily Values are based on a 2000 calorie diet.
Have you tried this recipe?
Let me know how it was & I will be super grateful. Take a picture & tag me @glutarama on your social media posts – I love seeing your photos more than you will ever know x
I love to see your own photos of my bakes, dinners and treats head to your favourite social media account and don't forget to tag me in @glutarama
Subscribe to my email list so that you get NEW recipes straight in your mailbox every Friday PLUS a FREEBIE and access to some amazing gluten free DISCOUNTS
Don't lose this delicious Beetroot American Pancakes recipe – pin it for later.
*disclaimer: I use affiliate codes on my website, the vast majority are to Amazon. If you click on any of the links or images in the post and make a purchase my family will benefit from a small % of that purchase at no extra cost to you.

For full transparency, in 2020 I made my first £25, and in 2022 I reached my next £25 (Amazon don't transfer the money until you reach £25). I'm now up to £17.80 for 2023 so edging closer to the magical £25 mark!!

To date I have made £69.28 since I first started the scheme in 2017. It won't pay the bills, that's for sure but it does help to pay for ingredients or little treats to cheer me up!