You may well look at this Victoria Sponge Gateau and think this is beyond your baking skills, but if you can sieve and you can whisk egg whites, you can make this sponge.
I discovered this type of sponge when I made my first gluten free birthday cake for my husband back in 2016), he loves Victoria Sponge so I decided to make a sponge we could all eat and used fresh cream, jam and strawberries for the filling and we were all bowled over at how light and fluffy it was.
Since 2016 I've grown intolerant to eggs and dairy so while I can make this gateau dairy free, I've yet to make it egg free too. Let me know in the comments if you'd like me to try, I need someone to make it for other than myself to be bothered!!
This recipe uses a Genoise Sponge technique, which aims to incorporate as much air into the sponge as possible. I've since used this recipe to make almost all of the family birthday cakes…Bob the Minion being my greatest creation to date!
Oh and if you were wondering how do I pronounce GENOISE it's 'jen-waase' Imagine Hermione saying Leviosaa and you'll get it!
Never miss out again…
Sign up to my Friday newsletter and receive not one, but THREE FREEBIES.
GF and Vegan e-Book
conversion charts
3 simple guides to allergies, intolerances & autoimmune.
Join me and learn to make anything gluten free.
Can I use this Genoise Sponge for other desserts?
The recipe below makes enough mixture for three deep 8″ /20cm round sponges, however, you can adjust the amount needed by changing the servings in the recipe card below
Example
4 servings = 1 sponge
8 servings = 2 sponges
12 servings = 3 sponges and so on…
As this recipe is so versatile it's perfect for making and turning into Ladyfingers for trifles, tiramisu and other gateaux. You could make three sponges and only use two keeping one sponge back for another day (these freeze really well).
What is the difference between a genoise and sponge cake?
Some would say that Genoise is the trickiest of the two, but in the world of gluten free, I find a Genoise sponge rises to the occasion every time.
So what is a Genoise sponge then? A Genoise is made by separating the eggs and whipping the whites, then adding the yolks and folding in a surprisingly little amount of flour. You literally end up with a cake foam rather than the cake batter you're probably used to.
Of course if you've made sponge cakes you'll know there's a lot more to it in terms of ingredients. For example, you have to beat the sugar with butter first (no butter in a Genoise) then add the eggs whole. Then add the dry ingredients and flavours and beat the whole lot to within an inch of its life to incorporate some air into the cake batter and make it light and fluffy. Can you tell I'm a Genoise fan?
Is Victoria sponge made with Genoise?
Ah, you've got me there. Technically no it's not, so this isn't a traditional Victoria Sponge recipe. However the idea is the same, a white light sponge, sweet cream filling and strawberry jam. This is why I entitled this recipe Victoria Sponge Gateau though because it takes the idea of the traditional and makes it into a GBBO style Showstopper of a dessert.
Is it Gateau or Gateaux?
That all depends on how many you plan to make! The delicious dessert in the photos is a Gateau, so called because it is a light sponge dessert made with fresh cream. Therefore needing to be eaten on the same day really or at least within 48hrs.
If you made two of these gorgeous desserts using my Victoria Sponge Gateau Recipe then you would have two gateaux, so basically Gateaux is plural for Gateau in French.
Can I make this into a Chocolate Genoise?
If you wish to make a chocolate sponge, I'd recommend using chocolate essence. If you don't have this you can use cocoa powder. I would use this ratio;
For one sponge:
remove 2 tbsp plain GF flour and replace with 1 tbsp cocoa powder

For two sponges:
remove 4 tbsp plain GF flour and replace with 2 tsp cocoa powder … and so on.
How do you store this dairy free cream gateau?
The image below is a slice of this Victoria Sponge Gateau the day after I made it. As you can see the cream has set now and slicing is much easier. If you slice and eat on the day it's worth keeping the gateau in the fridge until you want to serve it as the cream will soften, especially on a warm day.
This gateau will keep for up to three days in the fridge, it's best to keep it covered as the cream will absorb your fridge smells and nobody likes salami flavoured cream cakes!!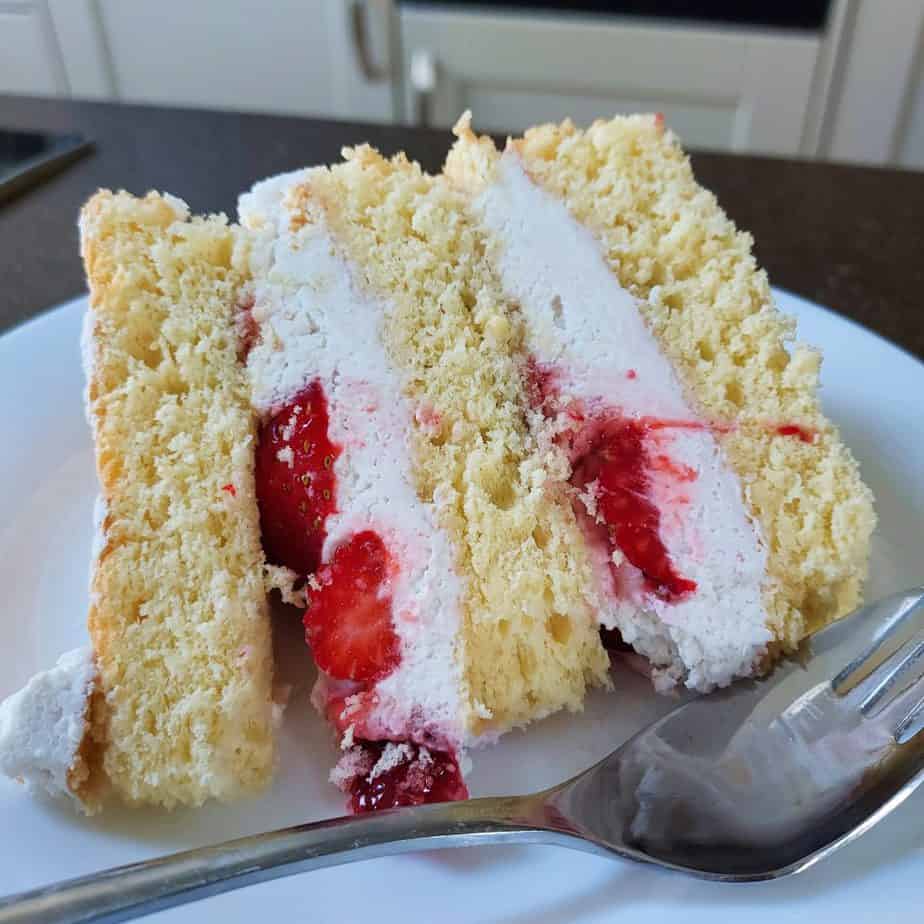 If you love the idea of this Victoria Sponge Gateau then you'll love these desserts
Celebration Gluten Free Victoria Sponge Gateau Recipe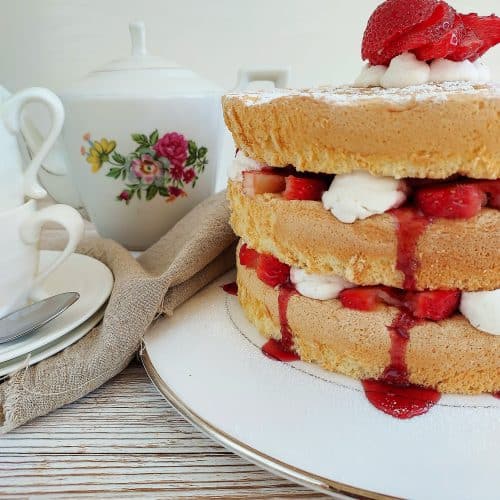 Celebration Gluten Free Victoria Sponge Gateau
I refer to this sponge in a lot of my recipes, it's the perfect base sponge for trifle, tiramisu, birthday cakes, swiss rolls, gateau. It NEVER fails and is so light and fluffy, no one will suspect it's free from. This recipe makes three 20cm round sponges perfect for a gateau or set the servings to 8 portions to only make a two tier cake.
Ingredients
For the Genoise Sponge
90

g

gluten free plain flour

90

g

gluten free self raising flour

195

g

caster sugar

6

egg(s)

seperated
To make it a Victoria Sponge Gateau
450

g

tin coconut milk needs to be 60% or over in coconut extract

I use a tinned milk with 75% fat

300

g

strawberries

cut into slices (about 3 slices each if big enough)

5

tbsp

strawberry ice cream topping

2

tbsp

icing/confectioners sugar

to dust the gateau
Instructions
First things first…sieve both the flours together….4x! I've tried making this sponge with and without the sieving process and believe me it does make a difference.

Add the egg whites to a mixer and using the whisk attachment beat into firm peaks.

Add the caster sugar a spoonful at a time and continue to beat until the whites become stiff and have a beautiful glossy sheen to them.

TOP TIP: You know it's ready if you take a pinch and rub your fingers together, if you can feel the sugar grains between your fingers you need to continue beating.

Replace the whisk attachment with the cake paddle and add the egg yolks, mix quickly to combine.

Fold in the sifted flours quickly but gently to prevent knocking too much air out of the mixture. You can do this using the same cake paddle or by hand with a silicone spatula. I prefer the hand method as this way I can 'feel' when the flour is folded in.

Add to your well oiled and lined tin(s) this recipe works out as about 220g of mixture per tin for three tins.

Bake on 180°C | 160°C fan | 350°F | Gas 4 for 20 minutes – keep a close eye to make sure the sponge does not catch (burn), you know they are ready when you get a perfect spongy bounce to the touch….the cooked smell is unmistakable!
Turn your sponges into a Victoria Sponge
To make the dairy free cream open your can of coconut milk and pour away the coconut water. Tip the white fat into the mixing bowl and whip, you can add 2-3tbsp icing sugar to sweeten if you like.

Once you've whipped your cream to a thick enough consistency to pipe. Add to a piping bag and pop into the fridge to thicken for at least 30mins (an hour is best).

To get the best results I add sliced strawberries equal distances apart and then pipe a dollop of cream between each strawberry. Then I fill the gap in the middle with cream and strawberries.

Finally, drizzle strawberry sauce over the creamed sponges and allow some of the sauce to dribble down the sides of the sponge.

Carefully layer all three sponges and either dust the top sponge with icing sugar or use up any extra cream and strawberries you might have.
Use your sponges for Ladyfingers / Trifle Sponges
If using these Genoise sponges for trifles, tiramisu or other desserts. Then remove from the tins, cut into shapes you desire and place on a baking tray and return to the switched off oven with the door ajar until the oven goes cool.

This will dry out your sponges to imitate the dry sweet ladyfingers sponges, perfect for soaking up alcohol and sweet juices.
Nutrition
Nutrition Facts
Celebration Gluten Free Victoria Sponge Gateau
Amount per Serving
% Daily Value*
* Percent Daily Values are based on a 2000 calorie diet.
Have you tried this recipe?
Let me know how it was & I will be super grateful. Take a picture & tag me @glutarama on your social media posts – I love seeing your photos more than you will ever know x
I love to see your own photos of my bakes, dinners and treats head to your favourite social media account and don't forget to tag me in @glutarama
Subscribe to my email list so that you get NEW recipes straight in your mailbox every Friday PLUS a FREEBIE and access to some amazing gluten free DISCOUNTS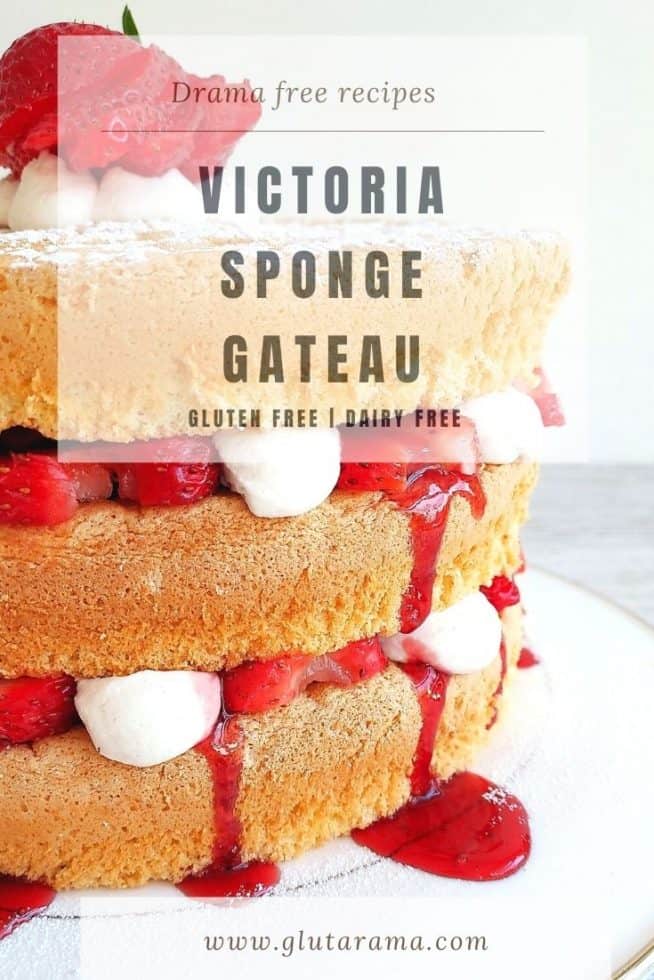 *disclaimer: I use affiliate codes on my website, the vast majority are to Amazon. If you click on any of the links or images in the post and make a purchase my family will benefit from a small % of that purchase at no extra cost to you.

For full transparency, in 2020 I made my first £25, and in 2022 I reached my next £25 (Amazon don't transfer the money until you reach £25). Recently I got paid a whopping £27.10 for 2023.

So to date I have made £78.58 since I first started the scheme in 2017. It won't pay the bills, that's for sure but it does help to pay for ingredients or little treats to cheer me up!