This page contain affiliate links. Please refer to my Disclosures Page for more details.
This dairy and gluten free Black Forest Trifle Dessert has been an absolute blast to make for you my lovely reader. It's been an idea in my head for quite some time now. I knew each layer I wanted to do, how I was going to make it. What I hadn't planned was how I was going to layer it.
This was the most fun. The teenage Rebecca emerged and I went bonkers with the layers. I've done a little research into Black Forest Trifles on the interweb and most are pretty much Black Forest Gateau's in a pretty glass trifle bowl or individual glasses.
All very beautiful and very grown up. Not really trifles though. I wanted to merge the world of Black Forest Gateau and the good old English Trifle. What do you think? have I nailed it?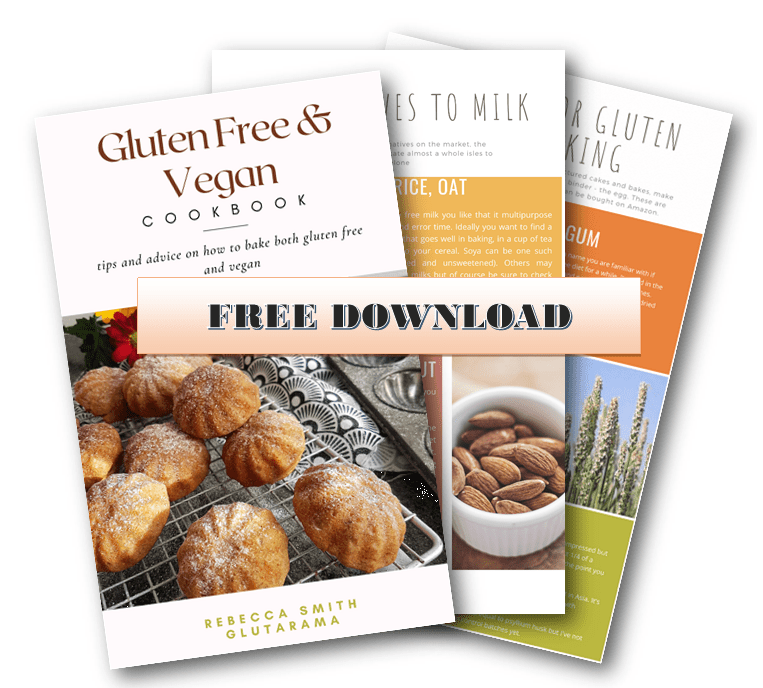 Never miss out again…
Sign up to my weekly Friday newsletter and not only get a FREE e-Book (currently my Gluten Free & Vegan Cookbook) but also get VIP subscriber discounts on free from goodies. Join me and learn to make anything gluten free.
What goes into a Black Forest Trifle Dessert?
Maybe that heading should what goes into my Black Forest Trifle? There are six layers – yes six and I'm making no apologies because each layer is super simple to make.
Chocolate Cake – this is a chocolate cake recipe that our family go to every time. It's fool proof and made by Emma at Free From Farmhouse. I've adapted it ever so slightly to use flaxseed and psyllium husk. This helps bind the sponge and there's an extra splash of dairy free milk. For this recipe I've made the cake into 12 muffins to use in my trifle.
Cherry Jelly – a simple black cherry flavour jelly by Hartley's here in the UK.
Blancmange – another block of black cherry jelly but mixed with 50/50 water and dairy free milk.
Cherry Pie Filling – a tin of cherry pie filling, that's it!
Chocolate Custard – Birds custard made with dairy free milk, sugar and a tablespoon of cocoa powder. (NOTE: Birds is a may contain for milk so use a safe custard powder* if allergic)
Whipped Cream – plant based dairy free cream and vegan butter with a touch of icing sugar to sweeten.
Can I make this Black Forest Trifle vegan too?
The only reason this recipe is not vegan is due to the jelly I use. If you wish to make this trifle vegan you will need to source a vegan jelly. I have had a quick look for you and found a vegan strawberry jelly* and a raspberry jelly*
If you really wanted to have the extra cherry flavour you could source a cherry flavouring* to add a couple of drops to the jelly.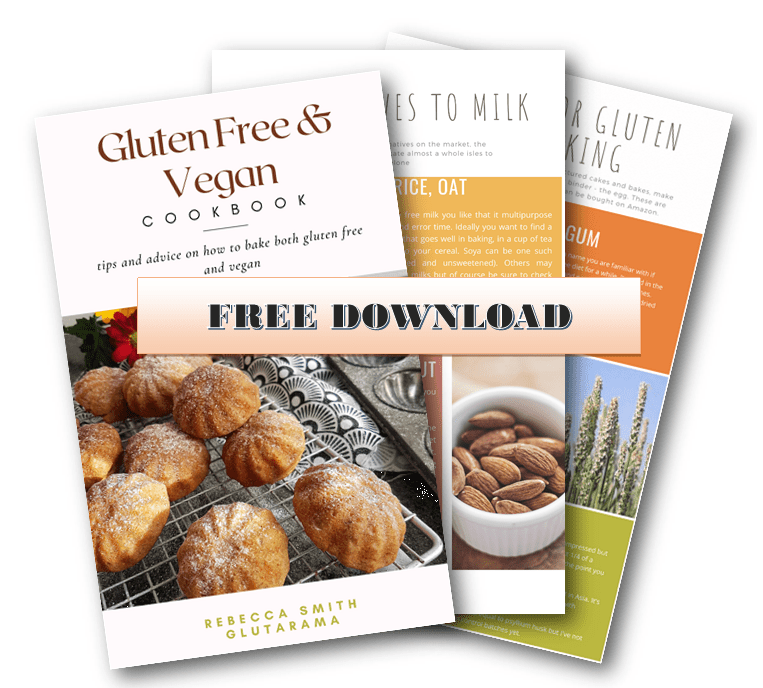 Never miss out again…
Sign up to my weekly Friday newsletter and not only get a FREE e-Book (currently my Gluten Free & Vegan Cookbook) but also get VIP subscriber discounts on free from goodies. Join me and learn to make anything gluten free.
Can I use pre-made chocolate cake?
100% you can use a pre-made gluten free chocolate cake. There are a few options you have here. You could buy some gluten free chocolate brownies or mini chocolate muffins. If you're happy to splash some cash, you could use a gluten free chocolate celebration cake.
You will need to check for dairy and gluten free if this is an issue for you like it is in my household. If you need a vegan and gluten free chocolate shop bought cake your options are limited hence the reason I make my own.
How about another idea, hear me out, Vegan Chocolate Cherry Amaretti instead of chocolate sponge? I used this method in my Dairy Free Jubilee Trifle where you add Vegan Amaretti Biscuits. But, since then I've created a Chocolate and Cherry version ideal for this trifle if you want to step up the challenge and add a little more luxury.
Vegan Chocolate Cherry Amaretti
Delicious little Italian inspired Amaretti biscuits but made vegan with aquafaba, with dark chocolate folded into the ground almonds, a hidden liqueur cherry and rolled in icing sugar. You'll never know these are egg free. Naturally gluten free and dairy free too. Perfect for teatime, festive celebration tables and homemade gifts.
Check out this recipe
What alcohol can I use in this Black Forest Trifle?
I have use brandy in my trifle. Sherry is an option but as this is a black forest gateau style trifle packed with cherry flavours I felt that choosing a brandy would work better.
You could use a cherry brandy but my daughter said she thought it would be too much cherry – fair point. Another option is to use Kirsch* which is a cherry liqueur.
Cider, wine, sherry, spirits, port and liqueurs are gluten free.
Experts agree that there is no physical way that pure distilled alcohol can contain gluten – this is because the gluten protein cannot travel through to the vapour produced by the prolonged heating in the distillation process and become part of the final alcohol product.
Distilled spirits only contain gluten if gluten containing ingredients are added after the distillation process and in this case, there is labelling legislation that ensures the product states CONTAINS wheat, barley, rye or oats on the label.
Source – Coeliac UK FAQ page for more answers to top gluten free questions follow the link Coeliac UK FAQ's
Please note: some people are also intolerant to certain grains such as barley, rye and oats so even with the gluten removed this can cause digestive issues. If concerned please consult your doctor.
Can I make my trifle alcohol free?
This black forest trifle can be made alcohol free of course. Simply omit the brandy or liqueur. If you wanted a punch of flavour in the sponge layer, consider adding a few drops of cherry flavouring to a sugar and water solution. Just add to a couple of tablespoons of water and a sprinkle of sugar. This can then be spooned over the sponge before adding the next layer.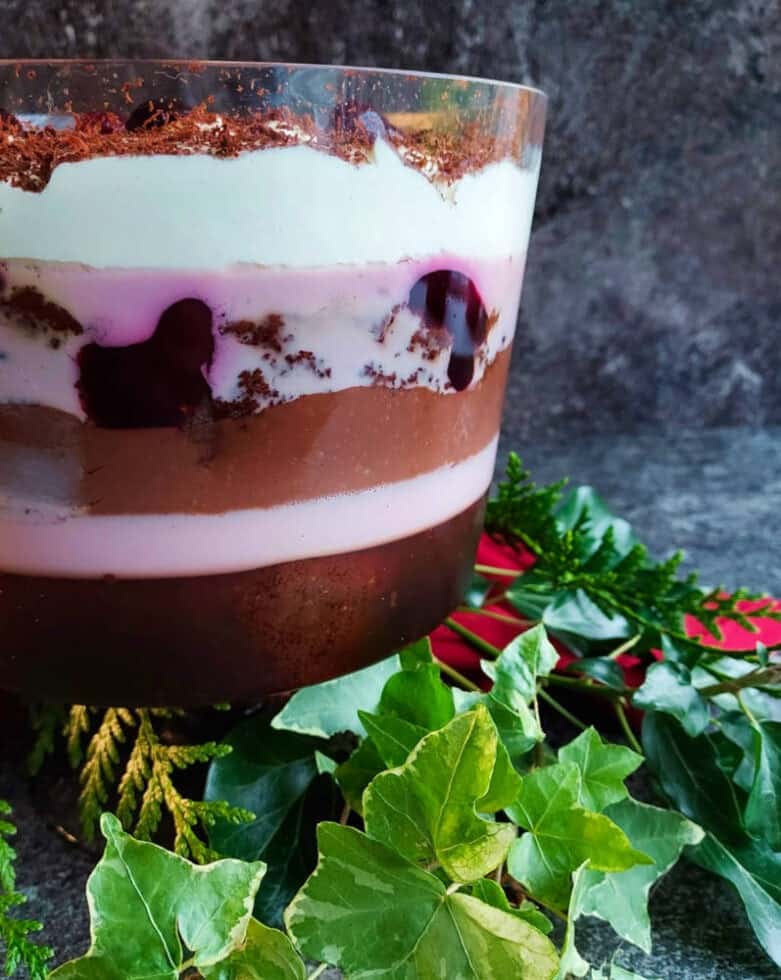 Can I make this trifle with normal cream and milk?
As with all my recipe I want this to accessible to as many diets as possible. This recipe can easy be made with dairy-filled products if dairy free is not an issue for you.
Blancmange – use normal milk instead of a dairy free substitute (go for a full fat for an even creamier blancmange).
Chocolate Custard – use the same milk to make your Birds custard. Alternatively, make things even simpler and get a ready made carton of chocolate custard. Be aware that a shop bought ready made custard will not set in the same way as a Birds home made custard.
Whipped Cream – just use your normal whipping cream. No need to add butter and icing sugar is a personal preference as dairy cream is naturally sweetened with lactose.
How did Black Forest Gateau get its name?
I've loved researching this recipe. It's got everything, original ingredients, regional variations and even traditional costumes all linked to the famous dessert.
The name actually comes not from Der Schwarzwald region (Black Forest), but from the region's classic liquor, known as Schwarzwälder Kirsch (wasser).
What I loved to learn was the fact that the dessert we recognise today is styled on the traditional costume worn by women in the Black Forest region. They wear puffy sleeved blouses (the cream) and awesome hats with the biggest red pom-poms I've ever seen (the cherries).
The modern Black Forest Gateau was created in 1915 by Josef Keller a pastry chef in Germany. Originally the dessert was only enjoyed by the wealthy, but now it's widely available across the globe and enjoyed by many.
– source: History of Black Forest Cake, Pondan
More delicious gluten free dessert ideas
For more dessert ideas check out the links below to my dairy free and vegan recipes. As I am myself dairy and egg free, I make sure there are plenty of puddings and desserts to go round!
Dairy Free Black Forest Trifle Dessert Recipe
If you make it and like the recipe I would be eternally grateful if you popped back and commented leaving a star rating as this will tell search engines that this recipe is worth checking out and others will get to find it in searches.
Dairy Free Black Forest Trifle Dessert
A delicious twist on the traditional trifle and the Black Forest Gateau. This Black Forest Trifle is the best of both worlds. Layers of rich chocolate sponge, cherry jelly, blancmange and chocolate custard. Finally topped with lashings of cream. And all the while being a gluten, dairy and egg free dessert!
Ingredients
For the chocolate sponge
100

g

golden syrup (corn syrup)

100

g

soft dark brown sugar

100

g

'butter'

– I use Flora Plant Butter blocks

150

ml

'milk'

– I use my soya milk

150

g

gluten free plain flour

(all purpose)

75

g

cocoa powder

1.5

tsp

bicarbonate of soda

1

tbsp

ground flaxseed

1

tsp

psyllium husk powder (optional)

(optional but does aid cake structure)
For the cherry jelly
135

g

cherry jelly block

(I use Hartley's – UK)

285

ml

boiled water

285

ml

cold water
For the cherry blancmange
135

g

cherry jelly block

285

ml

boiled water

285

ml

'milk'

– I used soya milk
For the chocolate custard
2

tbsp

Bird's original custard powder

– or your usual safe custard powder

1

tbsp

cocoa powder

3

tbsp

caster sugar

– or sweeten to your taste

300

ml

'milk'

– I used soya milk
Also..
410

g

can of black cherry pie filling

4

tbsp

brandy

– or Kirsch (optional)
For the cream topping
250

ml

double cream

– I used Elmlea Plant Cream

40

g

softened 'butter'

– I used Flora Plant Butter block

1

tbsp

icing/confectioners sugar

(confectioners sugar)
for the decoration
50

g

grated dark chocolate
Instructions
To make the chocolate sponge
Preheat oven to 180°C | 160°C fan | 350°F | Gas 4

In a bowl add the golden syrup, brown sugar and 'butter'. Pop into the microwave and heat in 30s blasts until melted (alternatively heat in a saucepan whilst continuously stirring)

In a large mixing bowl measure the gluten free flour, cocoa powder, flaxseed, psyllium husk (if using) and bicarbonate of soda. Use a whisk to combine the dry ingredients.

Add the 'milk' to the dry ingredients and whisk.

Next add the melted chocolate and butter mixture and mix thoroughly to combine. The cake mixture will be quite wet so don't worry, this is fine.

Spoon the mixture evenly into 12 muffin tins and bake for 14-15mins a cocktail stick coming out clean will tell you if they're done. These will feel super spongy but they will be cooked – trust me.

Allow to cool before going onto the next stage (approx. 30mins)
To make the jelly
Whilst the muffins bake set to work on your jelly. Cut the jelly into cubes a pop into a bowl large enough to hold a pint of liquid.

Pour over boiled water (285ml) and stir until the jelly has dissolved.

Add the same amount in cold water and set aside to cool to room temperature.
To build the first layer
Place 6 chocolate muffins in the bottom of your trifle bowl and (if using) drizzle 2tbsp of brandy over the sponges.

Pour the cherry jelly over the sponges. TOP TIP: try to pour in the gaps between the muffins, this will avoid sponge dissolving and making the jelly cloudy.

Pop into the fridge to set, the setting time will vary but my jelly set enough after 30mins.
To make the blancmange
Repeat the steps for making the cherry jelly, but instead of a cold water top up, use 'milk' instead. Set aside to cool to room temperature and until your jelly has set in the fridge.

To add the blancmange layer simply pour *half the mixture* over the chilled and set jelly and sponge layer. Take care to pour slowly to prevent layers merging.

Return to the fridge to set. I always find that blancmange sets faster than a jelly.
To make the chocolate custard
Whilst your trifle is in the fridge chilling, set to work on the chocolate custard. In a jug mix the custard powder, cocoa and sugar together with a splash of the measured 'milk' to make a paste (this avoids lumps).

Next pour in the rest of the 'milk' and using a whisk mix to combine. Pop the jug into the microwave for 1min, remove stir and repeat. You should end up with a delicious dark chocolate custard.

This can be done in a saucepan on the hob if you prefer not to use a microwave.

Set aside a allow to cool to room temperature. Don't worry if a skin forms, just give it a good whisk. You could cover with clingfilm if you have the stuff in your house – I don't!
To build the chocolate custard layer
This is a fun layer to build. Pour the chocolate custard over the blancmange and smooth gently with the back of a spoon.

Next arrange the remaining 6 muffins in the trifle dish, push them down gently to sink into the custard. If you make sure they touch the edge you'll get a better layering effect. Drizzle with 2 more tablespoons of brandy if using.
To add the pie filling
Now with a dessert spoon dollop the cherry pie mixture in between the chocolate muffins. leave no gaps and make sure you have pie filling touching the glass – it looks really good!

Return to the fridge for about 10mins to let the custard set – don't do what I did and go straight to the next step or else the layers will bleed into each other!
Final blancmange layer
Once the custard has set pour the remaining blancmange over the custard, pie filling and chocolate sponges to cover. Return to fridge to set.
To make the whipped cream
In a large bowl whip the 'cream' and softened dairy free butter together along with the icing sugar to taste. This will take a good 5 mins to get to the right whipped consistency.

Spoon the cream over the trifle and smooth with the back of a spoon.
To decorate
Grate the dark chocolate over the trifle and if you wish decorate with a few cherries held back from the pie filling. Alternatively you could use maraschino cherries (cocktail cherries) for an extra punch of colour and authentic flavour.

Return to the fridge until ready to serve.
Nutrition
Nutrition Facts
Dairy Free Black Forest Trifle Dessert
Amount per Serving
% Daily Value*
* Percent Daily Values are based on a 2000 calorie diet.
Have you tried this recipe?
Let me know how it was & I will be super grateful. Take a picture & tag me @glutarama on your social media posts – I love seeing your photos more than you will ever know x
I love to see your own photos of my bakes, dinners and treats head to your favourite social media account and don't forget to tag me in @glutarama
Subscribe to my email list so that you get NEW recipes straight in your mailbox every Friday PLUS a FREEBIE and access to some amazing gluten free DISCOUNTS
Join my friendly Facebook Group
life's a drama, gluten free doesn't have to be….
*disclaimer: I use affiliate codes on my website, the vast majority are to Amazon. If you click on any of the links or images in the post and make a purchase my family will benefit from a small % of that purchase at no extra cost to you.

For full transparency, in 2020 I made my first £25, and in 2022 I reached my next £25 (Amazon don't transfer the money until you reach £25). I'm now up to £17.80 for 2023 so edging closer to the magical £25 mark!!

To date I have made £69.28 since I first started the scheme in 2017. It won't pay the bills, that's for sure but it does help to pay for ingredients or little treats to cheer me up!