This page contain affiliate links. Please refer to my Disclosures Page for more details.
This recipe for Dairy Free Blancmange is one of many recipes in my Back to Basics series of recipes. It dawned on me that some people who come across my website may have never baked, cooked or made chilled desserts before.
When you are thrown into a whole different world of a specialist diet, convenience foods are often no longer an option, ready made custards, one portion desserts in the chiller cabinets, a simple jar of white sauce. Things we all took for granted before, are no longer on the menu or the shopping list.
This recipe is so quick and simple you'll be surprised and with this know-how just think of the other desserts you can move on to make such as my Dairy Free Black Forest Trifle Dessert or this Best Ever Gluten Free Trifle!
Are jelly blocks dairy free?
The main jelly producer here in the UK is Hartley's. They make both jelly cubes and jelly powders. The latter is a sugar free option. The ingredients of the blocks are all the same as below with variations in flavouring and colourings.
There are currently eight different flavours on the market but the most common to be found in the supermarkets are orange, strawberry and raspberry in my experience.


Can I use jelly powder to make blancmange?
In all honesty, I've not tried yet. We tend to steer clear of foods with sweetener in this household. Nothing to do with my daughters Type 1 Diabetes, more to do with the fact my family hate the flavour of sweeteners. I will have a go with the powders and update this recipe soon but if anyone beats me to it I encourage you to come back and leave a comment below on how you got on.
What jelly's are vegan?
To make this blancmange vegan as well as dairy free, you will need to source a vegan jelly powder. I am yet to see a vegan jelly cube block but am happy to be proven wrong. As you can see in the paragraph above, the jelly cubes are made with pork gelatine. Below is the ingredients for Hartley's jelly powders (in this instance strawberry flavour). Therefore the powders are not vegan either. But, you can get vegan jelly powders on The Vegan Kind Supermarket. To save you time here's the link for the Wholefoods Vegan Jelly it is an affiliate link so if you do go on to make a purchase I get commission at no extra cost to you.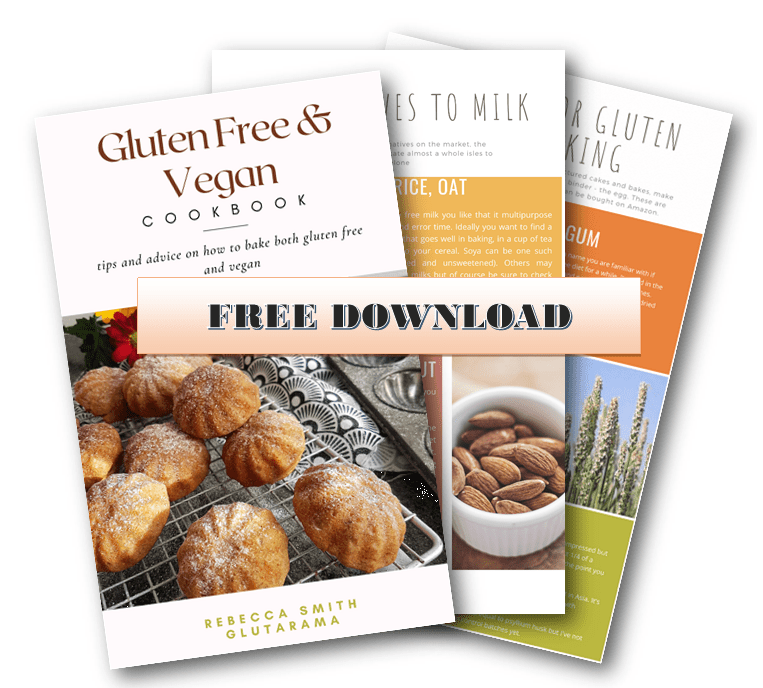 Never miss out again…
Sign up to my weekly Friday newsletter and not only get a FREE e-Book (currently my Gluten Free & Vegan Cookbook) but also get VIP subscriber discounts on free from goodies delivered to your door. Join me in my journey and learn to make anything gluten free.
What Dairy Free Milk can I use for Blancmange
I've use coconut milk and soya milk in the past for my dairy free blancmanges but I'm confident that all dairy free milks will have very similar results, albeit a slight variation in flavours. How about trying nut milks if this is an option to you? I can imagine almond or cashew milks would taste incredibly rich and creamy.
Types of jelly mould
There are many types of jelly mould that you can buy these days; plastic, silicone or aluminium. They come in many shapes and sizes ranging from traditional dome shapes, rabbit and cat shaped moulds and more elaborate floral shapes.
My advice, if this is your first time, is to get a jelly mould that is less elaborate in shape and size. This recipe makes an approximate pint size blancmange (that's about 560mls) to give you an idea of size. Most jelly moulds will give you an indication on the volume of liquid the mould will hold.
I am super lucky to have inherited a glass mould from my Gran but I do have a plastic rabbit mould as well from my childhood back in t he 70's!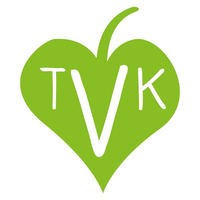 I have an account with The Vegan Kind and do most of my dairy free and vegan shopping when it comes to stocking up for ingredients. Buying in bulk is cheaper and you get points for purchases too. If you use the link I get a few pennies as I am now an affiliate for TVK. They also have heaps of gluten free products too so well worth a look if you and your family have complex dietary needs.
How to use a Jelly Mould for Blancmange
No matter what type of jelly mould you use, the same tips apply. Jellies and blancmanges are suction masters! They don't want to come out of their moulds. So anything you can do to prepare the mould in advance is useful.
With a solid mould i.e. hard plastic, glass or metallic, you need to make sure the mould is clean so wash with soapy water. Next you can, if you like, add a drop or two of oil and rub the oil into all the nooks and crannies (that's all the lumps and bumps). This will create a barrier to the jelly mould.
Finally, when your jelly or blancmange is fully set, you need to lower the mould into a large bowl of hot (not boiling) water. This will melt the edges of the jelly and allow the shape to slip out of the mould freely.
Do not leave the mould in the water for more than 10 seconds.
When you're ready to turn your dessert out, take the plate you wish to present the jelly on, place the plate over the top of the mould and, holding on tight to the plate and the mould, quickly tip the plate over so it's the right way up and place on the worksurface.
Gently lift the mould away, you'll likely get that familiar suction sound as the dessert releases. You may also have a few blancmange juices run down the side onto the plate. Simply get a piece of kitchen roll and dab the plate to soak up the excess juices. Then decorate as you wish.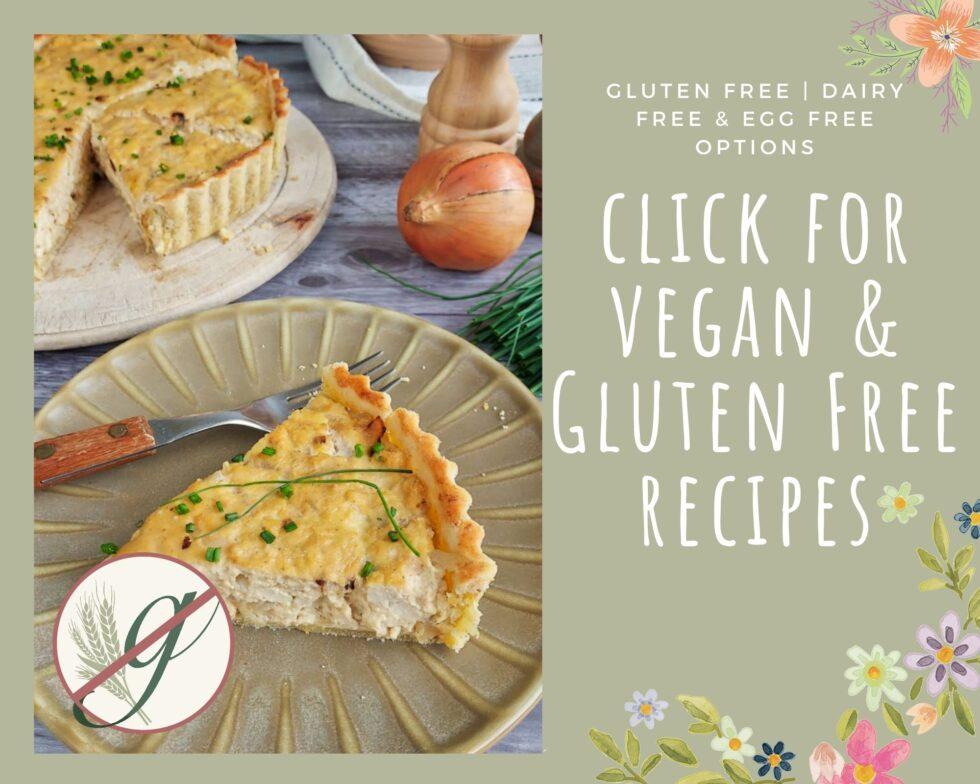 How to create a layered blancmange
To create a layer blancmange you need the patience of a saint! Patience and a lot of different jelly flavours. To create the layers, make up the blancmanges as directed below and pour a little of each flavour into the mould, then chill and keep repeating until you've used up all your mixtures.
This process can take up to 3 hours depending on how adventurous you're feeling. It's advisable that you try this in a sundae glass rather than a jelly mould as I have found that some layers don't stick together so you can end up with half your blancmange left in the mould when you turn it out.
Different serving suggestions for dairy free blancmange
As indicated by the images, you can make your dairy free blancmanges in jelly moulds or dessert bowls. I've gone for individual dessert moulds but you could create a layered masterpiece in a trifle bowl.
I've whipped some dairy free cream with a tiny bit of icing sugar and piped the mini desserts and added piped cream around the edge of the mould version. Other delicious decorations would be adding fresh or tinned fruits around the plate. or go old school and simple top with sprinkles and a glace cherry.
Other desserts I think you'll love
Quick and Easy Dairy Free Blancmange Recipe
If you make it and like the recipe I would be eternally grateful if you popped back and commented leaving a star rating as this will tell search engines that this recipe is worth checking out and others will get to find it in searches.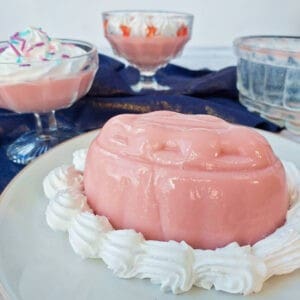 Dairy Free Blancmange
A quick and easy dairy free Blancmange dessert made with jelly and dairy free milk. Super simple and yet so much fun and a real childhood favourite. Once you've mastered this, you'll have fun with all sorts of flavours and shapes.
Ingredients
135

g

block of jelly (jello)

I use Hartleys

250

ml

boiled water

250

ml

dairy free milk

I use soya milk
Instructions
To start, make sure your jelly mould is clean. If you like you can add a little oil to the mould to aid the removal of the blancmange.

Whilst waiting for the kettle to boil, cut your block of jelly with a pair of scissors into cubes, the smaller the cubes, the quicker the jelly will dissolve. Add the cubed jelly to a jug.

Pour 250ml of boiling water into the jug and stir continuously until all the jelly has dissolved.

Add 250ml of dairy free milk and stir to combine.

Pour blancmange mixture into your mould (or equally among the dessert bowls). Pop any air bubbles with a cocktail stick.

Put in the fridge to chill for approximately 30 minutes. Individual desserts will take less time to set.

Remove from fridge – if using a mould, submerge the mould into hot (not boiling) water for no more than 10 seconds. Don't let the water go over the edges into the blancmange.

Take the plate you wish to present your blancmange on and place it onto of the mould, then invert the mould and plate quickly. Gently lift the mould and your dessert should release easily.

Decorate as you like with dairy free cream, syrups, fresh or tinned fruit. Serve immediately.
Notes
This dessert will keep for 3 days in the fridge, if you do make ahead of a party, I would recommend decorating it at the last minute.
Nutrition
Nutrition Facts
Dairy Free Blancmange
Amount per Serving
% Daily Value*
* Percent Daily Values are based on a 2000 calorie diet.
Have you tried this recipe?
Let me know how it was & I will be super grateful. Take a picture & tag me @glutarama on your social media posts – I love seeing your photos more than you will ever know x
I love to see your own photos of my bakes, dinners and treats head to your favourite social media account and don't forget to tag me in @glutarama
Subscribe to my email list so that you get NEW recipes straight in your mailbox every Friday PLUS a FREEBIE and access to some amazing gluten free DISCOUNTS
*disclaimer: I use affiliate codes on my website, the vast majority are to Amazon. If you click on any of the links or images in the post and make a purchase my family will benefit from a small % of that purchase at no extra cost to you, in fact, for full transparency, in 2020 I made my first £25, and recently in 2022 I reached my next £25 (Amazon don't transfer the money until you reach £25). As you can see, it won't make me a millionaire but it will treat me to a few coffees, Lord knows I need the caffeine!