My kids adore these Candy Cane Rice Krispy Treats in fact when I made these recently my son told his cousins that I'd made some and like magic they appeared at the front door within the hour! I feel like the Pied Piper of the town when I have these on a plate on the side in the kitchen. The wonderful thing is that they are so ridiculously easy to make and once you get the knack of it (i.e. work out how to defeat the stickiness on the mixture) you can literally have a batch of these ready within the hour.
Krispy or Krispie or Crispy or Crispie?
Well no matter how you write it they all sound the same no matter what side of the world you're from! What you need to remember here is that this is a gluten free recipe, therefore Mr Kellogg's is a no-no so the Snap, Crackle and Pop variety are out of bounds. You can get own brand gluten free Rice Crispies here in the UK is Sainsbury, Tesco, Asda, Morrisons. You have to be quick mind; they seem to throw themselves off the shelves when restocked!
For this recipe I was not able to source any rice crispies, so I used Kallo puffed rice. I thought it was useful to know that you can use these too although the result is a more chewy, less crispy Marshmallow Square Treat. Personally, I thought it was lovely, but the kids were used to the crispy version. With their sensory needs due to their autism I guess it was a bit unfair to alter their favourite treat…that said, they still woofed them down in no time!
Can you make these Candy Cane Rice Crispy Treats Dairy Free too?
Yes, you can but you will need to swap the butter for a dairy free or vegan version. My go-to dairy free butter alternative now in Flora Plant Based blocks of fat, you can get them in salted and unsalted (quite a rarity). This is not an advert by the way, I genuinely by this product and easily have 3-4 blocks of it in the fridge at any time.
The other swap you will need to make is the M&M's which obviously are not made with dairy free chocolate. If you wanted to leave this ingredient out it will make no difference to quality of the end product but if you fancy some chocolate bits dotted around in your crispy treats then why not add some dairy free chocolate drops or coloured glace cherries and just use the green and red ones?
How do you make Candy Cane Rice Krispy Treats from scratch?
Once you understand the quantities necessary for marshmallow crispies the possibilities are endless. You may have seen marshmallow crispy structures used in British Bake Off to decorate Showstoppers or act as the edible base of large structures. The simple ratios are 100g marshmallows to 50g puffed rice to 10g butter. This is the most basic of ratios, but you get the idea. Once you're confident with this mixture you can really have fun with it and may wish to add food colourings or other hidden treats
Different ways to decorate Candy Cane Rice Krispy Treats
As you can see here, I've opted to a traditional take on the Christmas Candy Cane stripes. Other ways to decorate are entirely up to you and limited by your imagination. You can get some super Christmas themed sprinkles in the shops or online these days. Just be mindful to check the ingredients and that they have no may contains.
How do you keep these Rice Krispy Treats from sticking to your hands?
Well to be fair, this particular recipe doesn't need you to use your hands, it can all be done with a silicone spatula. My TOP TIP is to always have a glass of cold water on standby. By dipping the spatula in the cold water, you can smooth the rice crispies out in the brownie tin with minimal stickiness. Don't be worried if the top gets a little wet, this will dry out and not affect your squares.
How to store Candy Cane Rice Krispy Treats?
I have stored these Marshmallow Crispy Squares very well in both Tupperware containers and old biscuit tins. So I know that these will last for up to 3 days before going softer, even a week if kept in the fridge. However, bear in mind if you do store in the fridge your puffed rice will almost certainly go softer, not that this impairs the taste of the treat. That is of course if this bake lasts that long!
I haven't tried to freeze this bake and frankly I'm not sure you'd want to. Trust me, these don't hang about long enough to be frozen!
If you like these Candy Cane Rice Krispy Treats, you'll love these other pastries and bakes
I have some chocolate rice crispy treats that you may wish to try like my Festive Edible Crispy Christmas Wreaths – gluten and dairy free. My Rice Crispy Treats | delicious chocolate coated doughnuts. If you're a sweetie lover, then you'll probably like a peak at these Easy Gluten and Dairy free Chocolate Truffles with Brandy. How about these adorable Easy Christmas Truffle Cake Pops Homemade and Gluten Free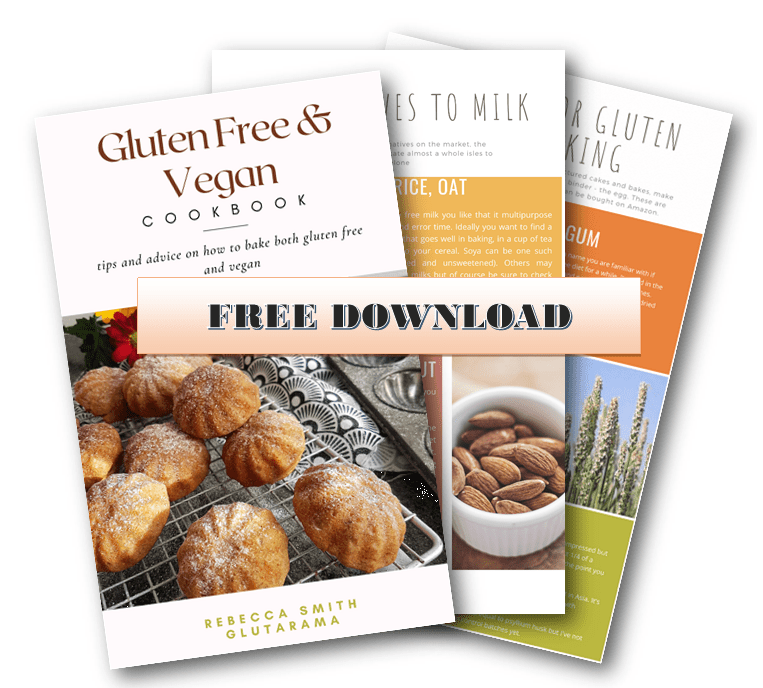 Never miss out again…
Sign up to my weekly Friday newsletter and not only get a FREE e-Book (currently my Gluten Free & Vegan Cookbook) but also get VIP subscriber discounts on free from goodies delivered to your door. Join me in my journey and learn to make anything gluten free.
Gluten Free Candy Cane Rice Krispy Treats Recipe
If you make it and like the recipe I would be eternally grateful if you popped back and commented leaving a star rating as this will tell search engines that this recipe is worth checking out and others will get to find it in searches.
Gluten Free Candy Cane Rice Krispy Treats
These Candy Cane Rice Crispy Treats are a simple, fun recipe to make with the kids or for them! Easy to make gluten free, dairy free and vegan if you buy vegan marshmallows. Have fun decorating with festive decorations, why not make them as gifts for loved ones?
Ingredients
400

g

Marshmallows

225

g

gluten free puffed rice

or gluten free rice crispies

50

g

butter

I use a Flora Vegan block

2

bags of M&M's

pick out the green and red ones for this recipe!
To decorate
3

tbsp

icing/confectioners sugar

1

tsp

water

Red food colouring

3

tbsp

icing/confectioners sugar

1

tsp

water

green food colouring
Instructions
Begin by prepping your 8 inch square loose bottomed brownie tin. I do this by adding a square of greaseproof paper to the bottom and covering the side with oil using an oil spray (so much simpler than greasing by hand.

In a large non-stick saucepan gently heat the marshmallows and butter. I use a silicone spatula to stir as this is less likely to get mixture stuck to it.

The marshmallow will balloon up in size and become light and fluffy, do not leave unattended as this mixture can burn.

Once the last of the marshmallows have melted, remove from the heat and pour in your puffed rice, you need to work quickly now to incorporate all the puffed rice so it is covered evenly in melted mallow.

Finally tip your reg and green M&M's into the mix and quickly them through but not too much or else the colours will start to bleed into the puffed rice mixture.

Tip your mallow mix into your prepped square tin and using the silicone spatula press down firmly into the corners preventing any gaps or holes in the mixture.

TOP TIP: I have a glass of water handy for this stage and dip the spatula into the water and press the mixture, dipping each time if needs be to prevent the mixture (which gets stickier as it cools) sticking to the spatula

Once you have a lovely even top, pop the tin in the fridge for 30mins to set.

One set, remove from the tin, you may need to run a wet knife around the sides to loosen.
To decorate
Whilst waiting you can make your red and green icing for decoration. Don't be shy and add loads of food colouring so you get the impressive colours necessary to imitate candy cane stripes.

I have little bottles I use for small icing jobs, but you can spoon your icing into a sandwich bag and snip the tiniest of holes in one corner to use as a little piping bag.

I decorate by drawing diagonal stripes across the mallow block from corner to corner.

Finally cut into 16 squares, trust me, this portion size is ample!

Parcel up as gifts or present on a plate to your family and guests.
Nutrition
Nutrition Facts
Gluten Free Candy Cane Rice Krispy Treats
Amount per Serving
% Daily Value*
* Percent Daily Values are based on a 2000 calorie diet.
Have you tried this recipe?
Let me know how it was & I will be super grateful. Take a picture & tag me @glutarama on your social media posts – I love seeing your photos more than you will ever know x
I love to see your own photos of my bakes, dinners and treats head to your favourite social media account and don't forget to tag me in @glutarama
Subscribe to my email list so that you get NEW recipes straight in your mailbox every Friday PLUS a FREEBIE and access to some amazing gluten free DISCOUNTS
Don't lose this delicious Candy Cane Rice Krispy Treats recipe – pin it for later.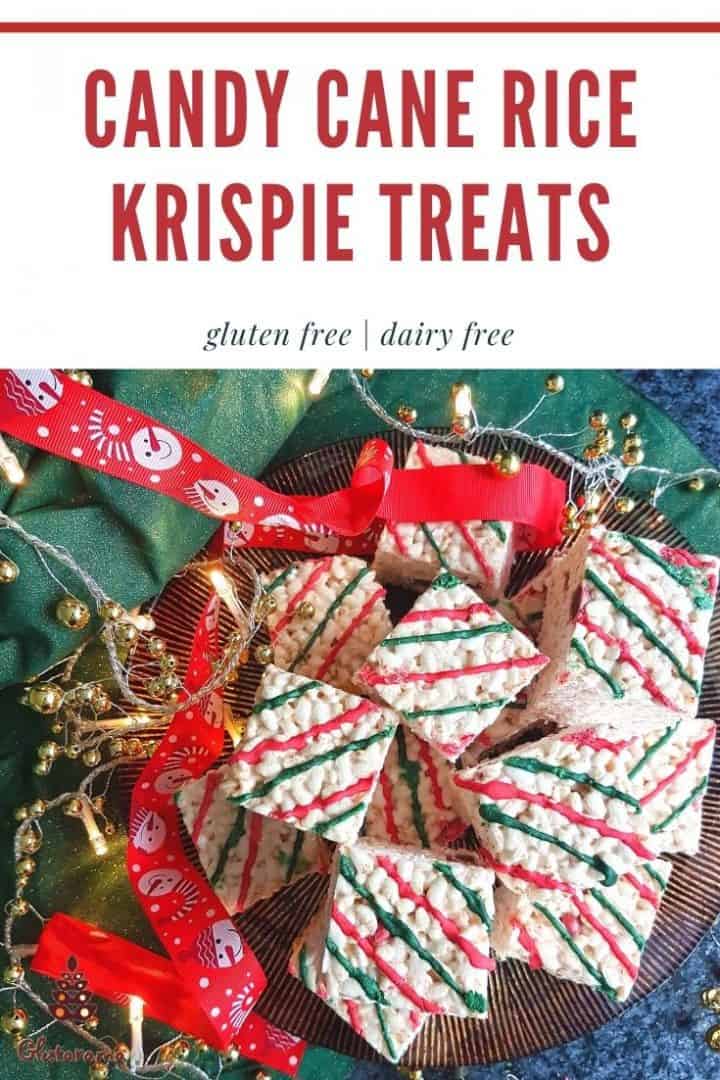 And one last thing! I've linked my Candy Cane Rice Krispy Treats with these other awesome Foodies websites, go check them out
Cook Blog Share | Fiesta Friday | Friday Favourites | Over the Moon | Handmade Monday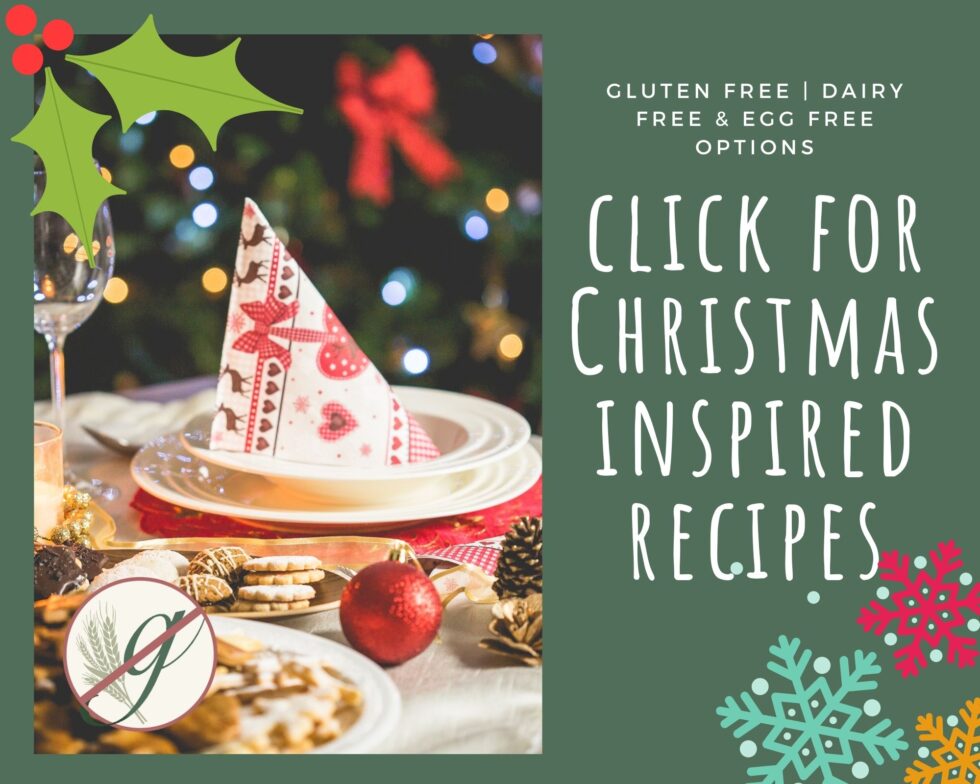 *disclaimer: I use affiliate codes on my website, the vast majority are to Amazon. If you click on any of the links or images in the post and make a purchase my family will benefit from a small % of that purchase at no extra cost to you, in fact, for full transparency, in 2020 I made my first £25, and recently in 2022 I reached my next £25 (Amazon don't transfer the money until you reach £25). As you can see, it won't make me a millionaire but it will treat me to a few coffees, Lord knows I need the caffeine!