This page contain affiliate links. Please refer to my Disclosures Page for more details.
Hands up who thinks my Festive Dairy Free Crispy Christmas Wreaths are adorable? Okay, you can all put your hands down now (people will think you're bonkers).
Back in the autumn, or late summer – I can't remember, I made these Cripsy Chocolate Doughnuts inspired by Costa's non-dairy version (you really missed a trick there Costa). At the time I knew I wanted to make them again with a festive feel to them but wasn't quite sure what the twist would be.
For some reason, I seem to get my recipe ideas while I'm lying in bed trying to get to sleep. An idea will dash past my mind and if I'm quick I can grab it and mould it into some do-able. These crispy Christmas wreaths didn't take long to imagine and design in my head and you'll be thrilled to hear they don't take long to make either.
NOTE: This recipe makes 4 larger doughnuts and 6 smaller if you use the silicone moulds I've added below in the recipe card as an optional smaller portion size. I am struggling to find the larger individual moulds to show you these days, my moulds came from Lakeland a couple of years ago so if you have a set then PERFECT.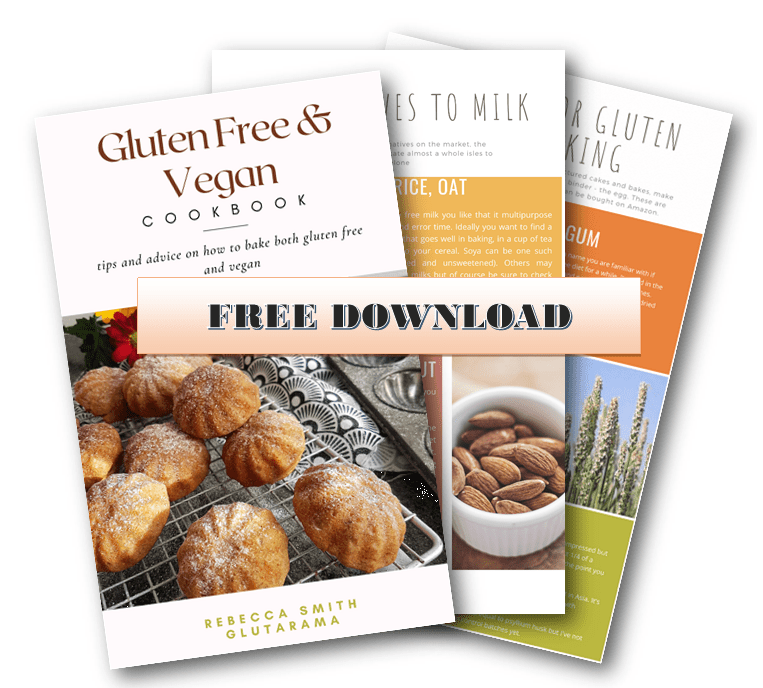 Never miss out again…
Sign up to my weekly Friday newsletter and not only get a FREE e-Book (currently my Gluten Free & Vegan Cookbook) but also get VIP subscriber discounts on free from goodies. Join me and learn to make anything gluten free.
Different ways to decorate your Christmas wreaths
If the thought of faffing about with making your own holly leaves and berries gets you screwing your nose up…fear not, unscrew that nose.
There are lots of festive cupcake toppers and glittery sugar shapes you can decorate your wreaths with. Just remember to ALWAYS check the labels. many sprinkles can be made in a factory that also handles gluten (WHEAT in most cases) and other allergens. A top tip is also to never assume that safe festive products from last year will still be safe this year. Recipes change all the time.
Alternatively, you could colour your white chocolate red or green and then drizzle them with white chocolate, almost like candy canes.
Different flavour ideas for the Christmas wreath middles
How about spicing things up inside? Why not add multicoloured glace cherries or raisins to add a bit of chewiness, much like a rocky road or tiffin.
For the adults, why no add a glug of brandy to the crispy mixture – now you're talking! personally I love chocolate and orange together so you could always add a few drops of a good quality orange extract to the 'milk' chocolate centre before you coat in white chocolate.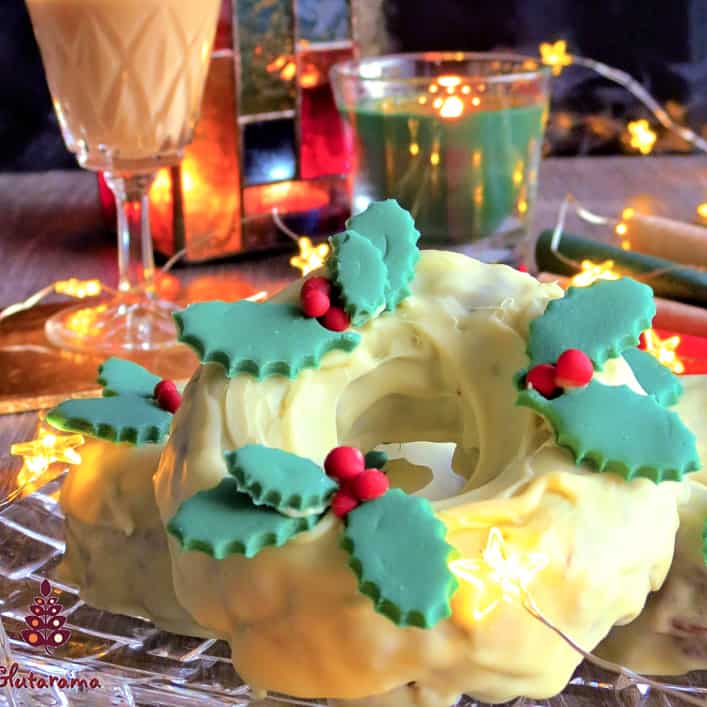 Why do we have Christmas Wreaths?
I can't help it, if you follow me, you'll realise by now that I love to add a bit of trivia to my posts and recipes. Maybe it's the historian in me?
Well this thought crossed my mind while I was cutting out the holly shapes ready to decorate so off to Google I did go.
Basically, the shape of the wreath symbolises eternity and the circle of life. Whilst the evergreen represents everlasting life and growth. The traditional spiky holly and blood red berries are a bit morbid and a nod towards what Easter is all about so let's keep this light-hearted for now shall we!
Christians have adorned their doors with them for centuries to welcome Christ into their homes. However, I've also read that Romans used them to celebrate a victory in battle, that's a new one on me.
But wait, lets thrown in the curve ball that is the Advent Wreath. This seems to have originated in Germany and is placed on a table and is fitted with candles that you light at significant points in Advent, each of the four candles represent something different; hope, love, joy and peace.
If my memory serves me well, didn't they have a hanging advent wreath on Blue Peter a billion years ago? Comment below if you remember that or am I going mad?
Other gluten free festive recipe inspiration
First off let me tell you about the drink that you can see in some of these Dairy Free Crispy Christmas Wreath photos, good news – it's my Homemade Dairy Free Baileys, that's right ladies and gentlemen, I made a dairy free Baileys recipe for you to enjoy too!
How about little Gluten Free Stollen Bites, another great idea for the Christmas tea table, parties or gift ideas. Then you've got these gorgeous German Gingerbread Cookies by Kate over at The Gluten Free Alchemist.
Gluten Free Puff Pastry Snowflake
A wonderfully fun gluten free bake to make over the festive period. This Gluten Free Puff Pastry Snowflake is also dairy and egg free if you source the right pastry and chocolate spread. Can be nut free too. Simple to make despite looking masterclass quality. A treat you and your guests will love this Christmas.
Check out this recipe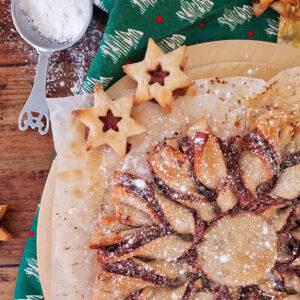 Easy Gluten Free Christmas Truffle Cake Pops
Adorable little raw truffle cake pops made to look like mini Christmas Puddings. These are no-bake treats made using mincemeat and spices to get an authentic Christmas Cake taste in one easy bite. Gluten free, dairy free and vegan too
Check out this recipe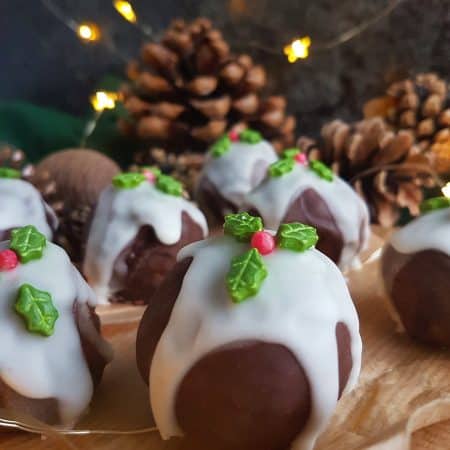 Homemade Dairy Free Baileys
This Homemade Dairy Free and Vegan Baileys Recipe is simple to follow showing you how to make (in my opinion) the most delicious creamy liqueur there ever was! This recipe will keep for up to 2 weeks in the fridge. But, honestly who's going to keep it for that long?
Check out this recipe
---
Gluten Free Christmas Gift Guide
Every Year I update this post on Glutarama's website to give you the latest gluten free gifts perfect for a loved one or to gift yourself. The guide is broken into advent calendars, gifts for the Christmas Day, hampers for gifts or to cater for a gluten free Christmas and finally I try to find something a bit special to treat yourself in the new year.
Festive Dairy Free Crispy Christmas Wreaths Recipe
If you make it and like the recipe I would be eternally grateful if you popped back and commented leaving a star rating as this will tell search engines that this recipe is worth checking out and others will get to find it in searches.
Festive Dairy Free Crispy Christmas Wreaths
You'll love to see the reactions on peoples faces this festive season when you present them with these Mini Edible Crispy Christmas Wreaths made gluten free and dairy free, they're a treat everyone can enjoy. Even better get the children or grandchildren to help out and make them with you.
Ingredients
40

g

Rice crispy cereal

not Kelloggs as not gluten free

100

g

dairy free milk chocolate

200

g

dairy free white chocolate

green and red fondant icing to decorate
Instructions
Measure out the rice crispies into a large bowl

In a separate bowl or jug measure out the free from milk chocolate and melt in a microwave for ease or over a pan of hot water.

Add the milk chocolate to your bowl of crispies and stir thoroughly to combine ensuring all the cereal is coated in chocolate.

Spoon the chocolate crispie mixture evenly across your 4 silicone moulds and press down firmly with your fingers or the back of a spoon.

Pop into the fridge to chill for 10 mins

Meanwhile melt your free from white chocolate in another bowl or jug as before, once melted divide into two separate bowls and add food colouring of your choice (you could go crazy and divide into four bowl and have four different colour doughnuts if you have the patience!)

Remove the chilled doughnuts from the fridge and with haste dip and roll your crispie doughnut into the whitechocolate to thoroughly coat (you need to do this bit quickly before the doughnut melts in your hands)

Place on a non stick tray, preferably with a silicone baking sheet and decorate each crispie doughnut with the holly and berries you've cut and prepared

Finally pop back into the fridge for a final chill.
Nutrition
Nutrition Facts
Festive Dairy Free Crispy Christmas Wreaths
Amount per Serving
% Daily Value*
* Percent Daily Values are based on a 2000 calorie diet.
Have you tried this recipe?
Let me know how it was & I will be super grateful. Take a picture & tag me @glutarama on your social media posts – I love seeing your photos more than you will ever know x
I love to see your own photos of my bakes, dinners and treats head to your favourite social media account and don't forget to tag me in @glutarama
Subscribe to my email list so that you get NEW recipes straight in your mailbox every Friday PLUS a FREEBIE and access to some amazing gluten free DISCOUNTS
---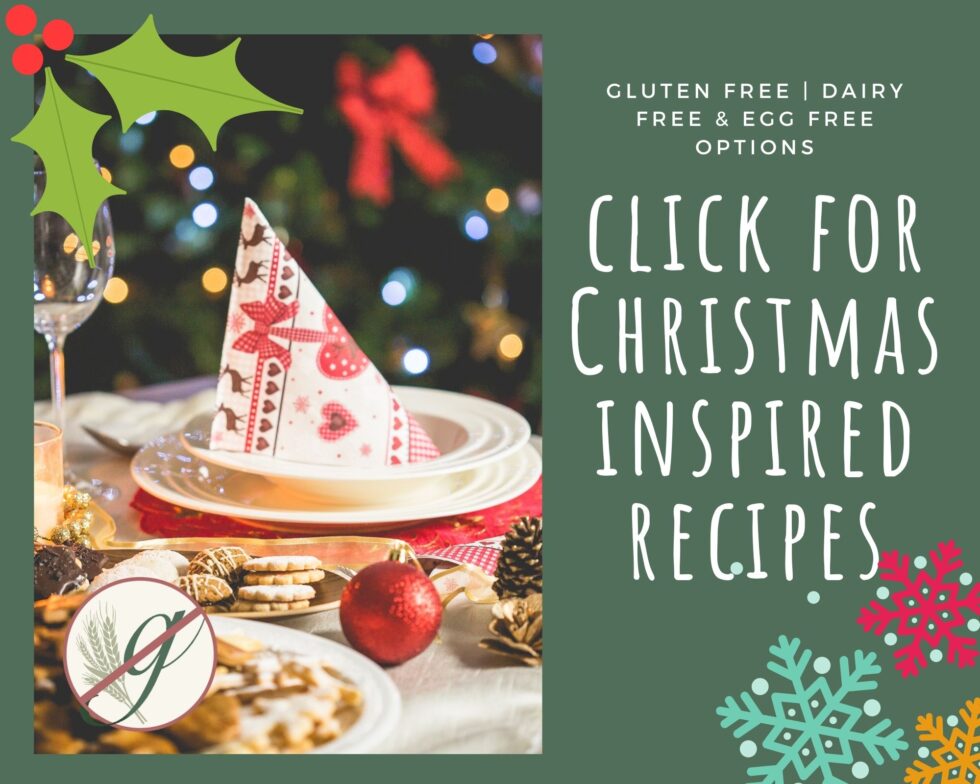 *disclaimer: I use affiliate codes on my website, the vast majority are to Amazon. If you click on any of the links or images in the post and make a purchase my family will benefit from a small % of that purchase at no extra cost to you.

For full transparency, in 2020 I made my first £25, and in 2022 I reached my next £25 (Amazon don't transfer the money until you reach £25). I'm now up to £17.80 for 2023 so edging closer to the magical £25 mark!!

To date I have made £69.28 since I first started the scheme in 2017. It won't pay the bills, that's for sure but it does help to pay for ingredients or little treats to cheer me up!