This page contain affiliate links. Please refer to my Disclosures Page for more details.
Grab yourself a well-earned cuppa tea and enjoy this Gluten Free Christmas Gifts Guide for 2020. This year is obviously focused on the best gifts to get delivered by post due to the current climate so you can give wisely and safely.
Disclaimer: I did not get paid or bribed or kidnapped and held ransom to write any of this, these are all gifts I genuinely would like for myself and, where mentioned, I've purchased in the past anyway therefore in many cases I'm speaking from experience and am confident these will make excellent Festive Gifts this year! If a product has been gifted to me, I mention it in the description for full transparency (heads up, it's the Beerhunter Calendar and the Ombar Chocolate) but neither brands asked for a post or social media coverage.
To make things simpler I've added quick links below if you have a particular gift idea in mind already. Just click on the gift guide subcategories and zoom straight to that section in this, my Top Christmas Gift Guide for Gluten Free Inspiration.
Gift Baskets | Homemade Gifts | Advent Calendars | Baking Gift Sets | Savoury Gifts | Ready Baked Gifts | Beer | Chocolate Gifts | Hampers | Christmas Day Dinner | Subscription Boxes | Gluten Free Experiences | Gift Cards
Who would benefit from these Gluten Free Christmas Gift Ideas 2021?
If you and not gluten free yourself and are asking the question: What do you buy for a gluten free person? Then this will hopefully go a long way towards answering that question. As you can see from the subcategories mentioned above, I have tried to cover all tastes and personalities. Whether the gift receiver likes to bake for themselves or not, whether they have additional dietary needs (many gluten free people are also intolerant to dairy for example) and hopefully I have included something to suit everyone's budget. I have also stuck to gifts that can be ordered online for home delivery as the obvious trend this year will be home delivered Christmas Gifts.
What can I put in a gluten free gift basket?
These next ideas are ideal as a single gift if your budget is quite tight or great to add to a 'make your own' gluten free gift basket or hamper;
Gluten Free Gift Basket examples (check all labels for gluten free certification)
Dried Pastas
Crackers
Bottles of Beer
Handmade Crisps
Biscuits
Cakes
Baking mixes (e.g. Betty Crocker GF Mixes)
Energy bars/balls
Dried Fruits
Bags of Nuts
Oranges
Mini bottles of booze
I would recommend shopping via Ocado, Yumbles, Real Foods, Plant Organic, Goodness Direct or this Gluten Free Gift search on Amazon* – just remember to filter for gluten free foods first.
Of course, you could make your own gluten free gifts and this next section holds lots of delicious gluten free recipe inspiration for gifts.
Homemade Gluten Free Christmas Gift Ideas for 2021
I have built a collection of delicious Christmas recipes on Glutarama since it first established in 2015, and what better way to let someone know you care than to make your gift. If you follow these simple steps to ensure your gift is safe for a Coeliac then the gift recipient will forever be grateful for your kind gesture and you will have made the best edible gift for Christmas Day. This is the link to all my Gluten Free Christmas Recipes, and I've added a few photos to tickle your taste buds.
Baking Safe for a gluten free loved one
Buy gluten free ingredients – this is obviously gluten free flours, but if you are new to this check the labels on EVERYTHING, you'll be surprised what wheat, barley, rye and oats can sneak into.
Ensure all store cupboard ingredients are gluten free – the best thing to do would be to get everything fresh i.e. new baking powder or bicarb or spices to risk sneaky gluten that has snuck into your open jars and tubs.
Clean the equipment and utensils thoroughly before use – wipe down that cake mixer too!
Clean down kitchen work surfaces
To store your baked good's make sure you use a thoroughly cleaned tin or Tupperware container.
Finally – pat yourself on the back, you are an amazingly caring and thoughtful person for doing this.
Gluten Free Advent Calendars
Beerhunter, Gluten Free Craft Beer Advent Calendar (from £69.95)
As mentioned in the disclaimer at the beginning, this gluten free advent calendar was brought to my attention after the brand emailed me offering me a calendar for free – so naturally I decided to give it away!
Nono, Vegan Advent Calendar (from £28.00)
I am very fond of Alessandra, her son Ethan and the whole story behind Nono Chocolates. These beautiful works of mini art are free from 14 allergens which includes gluten and by supporting Nono you support not only a lovely family but also their extended family of young people with autism whom Nono employ every year to give valuable work experience and life skills.
Weddell & Turner Advent Calendar – Chocolate Liqueur Truffles (from £35.00)
Treat yourself every day on the run up to Christmas with a Luxury Alcoholic Truffles Advent Calendar. These truffles are hand made by Helen and Dan in Norfolk and each box contains 8 Cointreau, 8 Disarrono and 8 Wildcraft Brewery Cherry Liqueur Truffles.
Lakrids by Bülow via Liquorice Heaven – Luxury Liquorice Sweets (from £45.00)
A wonderfully unique Advent Calendar, with 24 of our cute gingerbread mini men. Once the Gingerbread has been eaten you are left with a simple fireplace decoration.
Weddell & Turner Advent Calendar – Gingerbread Men (from £25.00)
24 days of unique tastes. If you love liquorice, it doesn't get any better than this – this is the ultimate liquorice advent calendar.
Bak'd Cake Advent Calendar – Chocolate Bonbons (from £38.00)
24 Days of gorgeous nut, peanut and gluten free bonbons!
An advent calendar like no other! Don't sit on the sidelines while your mates all wax lyrical about this years calendar treats… Treat yourself to a truly decadent count down!
Filled with favourites from the Lytham Chocolate range, as well as some festive flavours.
Gluten Free Baking Gift Sets
The Gluten Free Bakery – artisan bread mixes (from £15.50)
A selection of gluten free artisan bread mixes available to buy as a gift set, perfect for the wannabe home bread maker. The set includes 4 different bread mixes with original flavours difficult to find elsewhere.
Bak'dcake – brownie, cake and pudding bake at home kits (from £15.00)
Sell delicious baking kits that come with their own disposable baking tray too so perfect for those who don't bake often as well as the seasoned baker. Other kits are available including some beautifully presented muffin kits, you could also gift someone a cheeky 'Gluten Sucks' wooden spoon or chopping board.
Gluten Free Savoury Gifts
Difatti – Pasta 'Try' Box (from £25.99)
A great way to have a taste of many of the delicious goods that Difatti has to offer, imagine a newly diagnosed Coeliac despairing they'll not have delicious pasta again and then they get this for Christmas!
Yumbles – Gluten Free Meal Kits (from £14.49)
A selection of artisan meals kits from Indian, Caribbean to Roast Dinner Flavouring Boxes.
Ready-baked Gluten Free Gifts
Bak'dcake – Bronuts, Brownies and more (from £7.00)
I've mentioned Bak'd Cake above in the baking kits category, but Lisa and her team also have ready-made gluten free bakes waiting for you to order and spread some festive cheer.
Weddell & Turner – Luxury Mince Pies (from £4.50)
Not just mince pies, but a host of gluten free and in many cases vegan bakes that you can gift to a loved one or add to a Homemade Gluten Free Gift Box
Honeybuns – Festive Gift Tins (from £21.00)
A selection of eight gorgeously gluten free cake slices evoking the traditional flavours of Christmas. Comes beautifully presented in our charming new keepsake gift tin. Add your own gift message and gift stamp at the checkout for no extra charge. Or why not make your gift that extra bit special with gift wrap for only £4.50, available at the checkout.
Incredible Bakery – Festive Box (from £16.50)
A delicious gift box packed with festive scones, brownies, sauXage rolls, jams, preserves, butter and whipped cream and all vegan and gluten free – yep, everything!
Gluten Free Beer
Beerhunter – Gluten Free Beer gift set (from £35.95)
12 brilliant Gluten Free & Vegan craft beers from across the globe to introduce you to the diverse world of Gluten Free & Vegan craft beer.
Brass Castle – Gluten Free Beer Collection (from £35.00)
This box is a 12-can variety selection pack of beers from York 'Locale' breweries. York CAMRA's annual festival could not go ahead this year, so the celebration has moved to pubs and online. Pubs and breweries need support at this challenging time. This box gives you a 'drink-at-home' celebration selection, while showcasing the best of what those local breweries can do.
Jump Ship – Case of Non-Alcoholic Gluten Free Lager (from £12.99)
We brew our beers in small batches to be naturally low in alcohol, no more than 0.5% ABV. By carefully managing each stage of the process, we're able to keep more flavour in. Yardarm is also vegan and gluten-free, so even more people can enjoy a great beer (Flying Colours is not GF)
Eats, Drinks No Wheats – Gluten Free Beer & Snack Boxes (from £24.99)
Started up by a Coeliac, this small business provides gluten and oat free (for those who react to GF Oats) subscription and one-off boxes. No longer will you need to read the back of items several times and overanalyse the ingredients, you can enjoy a whole new range of gluten free beer and snacks and it'll land on your doorstep too!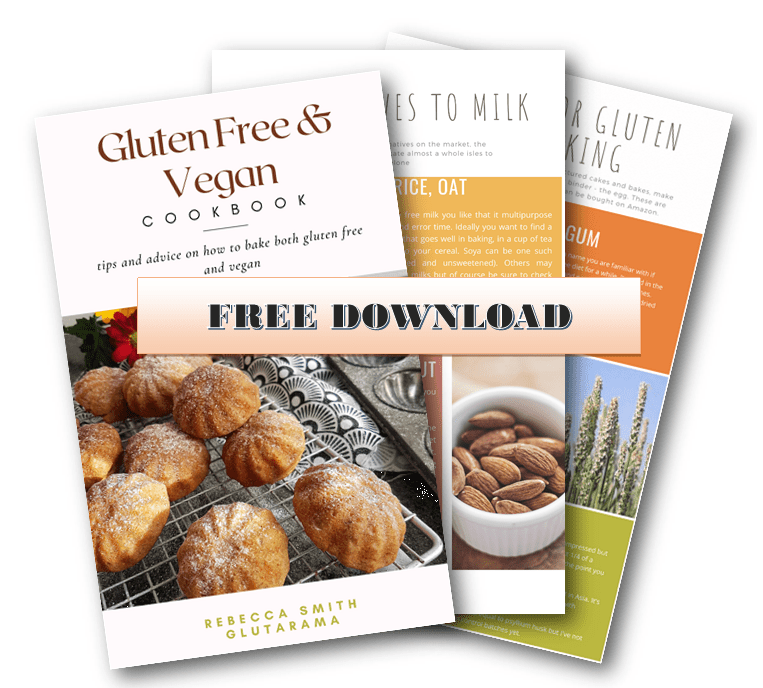 Never miss out again…
Sign up to my weekly Friday newsletter and not only get a FREE e-Book (currently my Gluten Free & Vegan Cookbook) but also get VIP subscriber discounts on free from goodies delivered to your door. Join me in my journey and learn to make anything gluten free.
Gluten Free Chocolate Gift Boxes and Sets
Weddell & Turner – Liqueur Chocolates, Fudge and Truffles (from £2.50)
A selection of delicious sweets free from many allergens, there's even vegan Turkish Delight!
Nono – Award winning vegan and gluten free Chocolates (from £14.50)
As mentioned above, Alessandra's Beautifully crafted chocolates are free from 14 allergens and almost too beautiful to eat – almost! I treat myself to Nono chocolates through out the year and keep going back for more.
The Famous 1657 Chocolate House – hand crafted gluten free chocolates (from £9.99)
Run by a Coeliac, this historical shop delivers across the UK and has 20 beautifully crafted gluten free options to pack into gift boxes of your choice.
Yumbles – chocolate gifts galore (from £3.38)
54 gluten free chocolate products perfect for gifts this Christmas, a great stocking filler idea or to add to your own Gluten Free gift basket.
PACARI – organic gluten free chocolate gifts (from £20.00)
Organic and ethical, these luxury chocolate bars come in almost every flavour imaginable, the link takes you to the gift set range but bars can be bought individually and are priced from £3.90, I can speak from experience that these are beautifully crafted chocolates.
Ombre – Chocolate Box Bundles (from £15.92)
Delicious organic, vegan and fair trade choc sent in the perfect gift box bundle. Choose any 8 35g bars and GET FREE UK SHIPPING. Convenient, letterbox-sized boxes. I was gifted an Ombar Centres sample box so if you're interested on stocking fillers I can recommend the Hazelnut Truffle bar that can be bought separately along with other 'Centres' flavours.
Bak'dcake – Chocolate Christmas Tree (from £20.00) LIMITED STOCK
Build your own centrepiece this Christmas! Make a new family tradition by building your own chocolate tree. Simple to assemble and delicious to eat! Perfect as a gift or Christmas Eve box filler – enjoy a wonderful family Christmas
Gluten Free Hampers
Yumbles Christmas Hamper Collection – Gluten Free Hampers (from £17.95)
Well over 20 Hampers to choose from, each with a theme in mind meaning there is bound to be one that suits your loved ones tastes.
Weddell & Turner – Christmas Hamper (from £90.00)
Packed with all the delicious treats you can imagine for a special free from Christmas, many products are also egg and dairy free too.
Gluten Free Hampers – 9 Christmas themed hampers (from £11.95)
These hampers are brought to you by the company aptly named 'Gluten Free Hampers' no confusing as to what they sell then! Also offering International Delivery to EU, USA, Canada, New Zealand, and Australia.
Difatti – Gluten Free Italian Hamper (from £55.00)
Bring a little taste of Italy into your home this festive period. Included is the Difatti popular gluten free gnocchi, handmade egg pasta, luxury gluten free tortelloni and finest artisan bronze die durum wheat pastas and some small batch pasta sauces from southern Italy.
Gluten Free Christmas Dinner – all sorted!
The Pie Life – Hampers (from £32.00)
These hampers are designed for 2 and 6 people, everything you can possibly need for a truly luxurious Christmas Day, Tom and his team at The Pie Life have it covered including a 4-course meal and Boxing Day goodies too. For more info on The Pie life you can read my review; Gluten Free Pies Galore – Living the Pie Life
Subscription Boxes
The Incredible Bakery – Monthly subscription boxes (from £30.00)
A monthly subscription for a breakfast or all purpose box to include fresh baked loaves, cakes, bagels, scones, pies and much more.
Love Free From – Monthly Free From Snacks & Treats (from £23.00)
Love Free From create boxes so that from the comfort of your own home you can discover a whole new world of gluten free brands providing different snacks, sweets, condiments, cooking and baking ingredients, and drinks from all over the world. Each month you will be able to dive into a box full of new surprise treats, having peace of mind, knowing that they are safe to eat!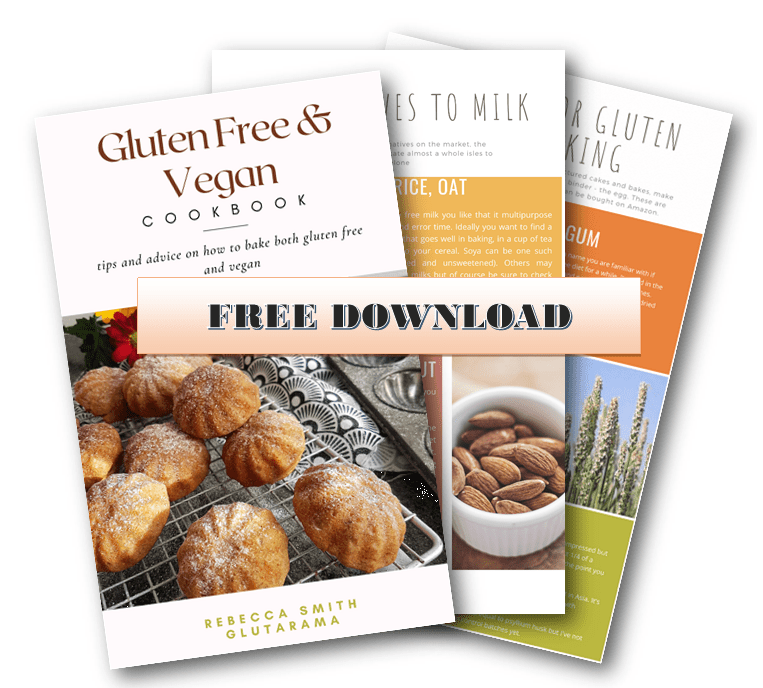 Never miss out again…
Sign up to my weekly Friday newsletter and not only get a FREE e-Book (currently my Gluten Free & Vegan Cookbook) but also get VIP subscriber discounts on free from goodies delivered to your door. Join me in my journey and learn to make anything gluten free.
Gluten Free Experiences
Pignloulet French Retreat – (from £130pppn)
I have been to Pignoulet twice myself (a third trip was planned this October, but that didn't happen). Susie and James cater perfectly and beautifully for gluten and dairy free. Pilates / yoga retreats are offered all year round. Pignoulet is also available as an exclusive venue for your special birthday, family event or group venue – sporty / arty / literary groups welcome. Please note that all allergies and dietary requirement catered for to a high standard on request.
Gluten Free Afternoon Tea – (from £20.00pp)
I've been recommended a few venues across the country with the help from Glutarama readers that offer delicious Gluten Free Afternoon Teas. There's something to suit most budgets and gift vouchers that you can buy in advance so the experience can take place at a time when it suits and is safe to do so.
The website AfternoonTea.co.uk is an awesome resource for finding Afternoon Teas and each region has a gluten free and vegan filter so if you are dairy and egg free too this will come in handy. Venues include the top London hotels such as The Ritz and The Savoy and smaller venues both in London and across the UK. (Please feel free to add venues you are aware of in the comments section, no matter how big or small).
Indigo at the One Aldwich has come highly recommended and is awarded with Coeliac UK's Gluten Free Accreditation.
The Assembly House in Norwich also came highly recommended for it's gluten free afternoon teas. They are also offering a Cakeaway Service at the moment given the current circumstances which is a fantastic idea for locals to the area – personally I'd be happy to drive a distance for this!
The final tea I'll mention is Tynley Hall Hotel who also got mentioned a couple of times when I asked for recommendations, once again gluten free and dietary requirements are catered for with no fuss.
Gluten Free Online Gift Cards
Gift cards are the perfect gift idea if you have someone who is difficult to buy for, but you want to go that little bit further in terms of thinking about their likes and wishes. In addition to the Afternoon Tea Gift Cards mentioned above, these brands also offer Gluten Free Gift Cards to use in their online stores. In most cases, you can determine how much you load the gift card up by. Prices commonly start at a minimum of £10.
Bak'dcake | GF Bakery | Yumbles | PACARI | Nono | Brass Castle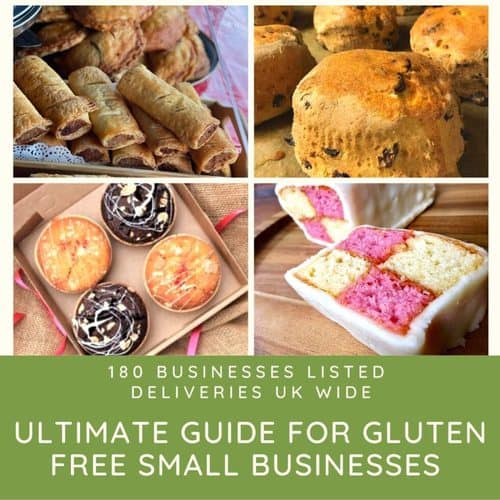 Fancy buying yourself a treat or a gift for a loved one this festive season, then go small…small businesses' that is!

Guide for Gluten Free small businesses that deliver across the UK

— Glutarama, supporting small businesses
---
If you liked this review for Gluten Free Christmas Gifts, then pin it for later
I value every comment, more than you could know. Don't be shy and leave a comment. If you share photos of your delicious creations, please do tag me or use the hashtag #Glutarama on Facebook, Twitter and Instagram.
Subscribe to my email list so that you get NEW recipes straight in your mailbox PLUS a FREEBIE and access to some amazing gluten free DISCOUNTS
One last thing! I've linked my Gluten Free Christmas Gifts Guide 2020 with these other awesome pages
If you've only just happened across my blog Glutarama, then you may also be interested to know this is not the main topic I write about, the majority of my posts relate to free from recipes and food reviews, as our family are affected by Coeliac Disease, egg, dairy other intolerances it keeps me busy in the kitchen, but boy do I have fun experimenting for my family and followers.