This page contain affiliate links. Please refer to my Disclosures Page for more details.
Also, before you hit 'Jump to Recipe' just check my contents section 'Skip to the Good Bit' below. I may answer a query you have about this recipe straight away in the post.
Presenting my Gluten Free Christmas Pudding Recipe. The original recipe I had on the website used a gluten free rich fruit cake mix that is no longer on the market. After bit of research into Christmas Puddings and the history, I came up with a recipe that keeps things relatively simple, my mantra is to keep things simple.
I know this is the best ever gluten free Christmas Pudding, why? Because my brother-in-law ate seconds. I cannot stress how much of a testimonial this is. he said it was the best he'd ever had!
What day is Stir Up Sunday this year?
This year Stir Up Sunday falls on the 20th November 2022. But why is there even such a thing as Stir Up Sunday? The linked article in National Today is excellent at explaining it in full but here's the gist of why it's a thing here in the UK.
As it's a Sunday leading up to Christmas, it's religiously important to Christians, who mark the day with specific Bible readings. However, since the Victorian era, it has been a day of family celebration and cooking! Traditionally, family members would stir pudding and make wishes for the new year on this day.

National today – Stir up sunday
Is Figgy Pudding the same as Christmas pudding?
If you look back far enough, many of our Christmas traditions actually began as savoury dishes. The word pudding in the the medieval period referred to a meat dish with spices, stale bread crumbs and sometimes dried fruit to pack it out and add a touch of sweetness. As the years went by sugar became plentiful and over years and years puddings became the sweet, rich versions we are familiar with today.
In one of my Mince Pie recipes, I explain the origins of mincemeat and how it originally was minced meat in pies. These were studded with dried fruits such as cherries which were more than plentiful in England. The word 'plum' is actually taken from the Victorian word for raisins therefore no actual plums are used in the making of a Plum Pudding. The term Figgy Pudding is a little more of a grey area, but it is possibly because many medieval puddings included figs as an ingredient.
There is a recipe for Fig pudding in Mrs Beetons Book of Household Cookery and Management. At half the cost of the Plum Pudding at 2 shillings, it's made with figs, flour, suet and 2 eggs. However, Mrs Beeton refers to the Christmas Plum Pudding later in the book. This is a far more rich and extravagant dish;
1 1/2 lb of raisins, 1/2 lb of currants, 1/2 lb of mixed peel, 3/4 lb of breadcrumbs, 3/4 lb of suet, 8 eggs, 1 glass of wine or brandy

Five or six of these pudding should be made at one time as they will keep good for many weeks, and in cases where unexpected guests arrive, will be found an acceptable [and] quickly prepared dish

– Mrs Isabella Beeton
Can a Coeliac have Brandy or other spirits?
Cider, wine, sherry, spirits, port and liqueurs are gluten free.
Experts agree that there is no physical way that pure distilled alcohol can contain gluten – this is because the gluten protein cannot travel through to the vapour produced by the prolonged heating in the distillation process and become part of the final alcohol product.
Distilled spirits only contain gluten if gluten containing ingredients are added after the distillation process and in this case, there is labelling legislation that ensures the product states CONTAINS wheat, barley, rye or oats on the label.
Source – Coeliac UK FAQ page for more answers to top gluten free questions follow the link Coeliac UK FAQ's
Please note: some people are also intolerant to certain grains such as barley, rye and oats so even with the gluten removed this can cause digestive issues. If concerned please consult your doctor.
How far in advance do you make Christmas pudding?
As mentioned at the beginning of this post. Stir up Sunday takes place one month before Christmas Day. Therefore you can sue this as a guide to when to make your gluten free Christmas Pudding.
I've been known to make mine even earlier so I can sneak a few more glugs of brandy into it (hic)!
Do I need to soak the fruit in advance?
This is me here, you know I'm always up for the most simple recipe option so in this recipe I don't bother with the overnight soaking. The results are still delicious. However, if I have time and life's little drama's don't distract me I try to remember to soak the fruit the night before.
This year I planned to do exactly that but a marathon Harry Potter film session with my son took precedent so here I am soaking the fruit before my morning cup of tea ready to add the rest of the ingredients later. The point is don't beat yourself up if you have a day planned to make you pudding and you forgot to soak the fruit for hours and hours. This pudding will forgive you.
What size pudding bowl do I need to use?
I use a medium sized pudding basin. It fits 600ml of liquid easily and measures 16cm wide. You can get smaller pint sized pudding bowls and if you have one of them you could still make this recipe and have a little left over for a tiny individual Christmas pudding if you have a ramekin handy.
Ideally we need to bring the pudding bowl measurements into the 21st Century because it can be so confusing with all the different sizes in pints, pounds and litres. Why not just have them small, medium and large. Or is it just me who thinks this?
While we're on the subject of large, if you want to double this recipe and make a large family size Christmas pudding then you'll need this 2.5 litre pudding bowl.
How do I cover my pudding ready to steam?
To put your pudding to bed, aka get it ready for steaming. You'll need greaseproof paper and foil. Make a pleat in both paper and foil (this allows for expansion when the pudding steams) secure the layers over the pudding bowl and wrap tightly around the edges. You don't want the stream to sneak into your pudding as it will make it soggy.
I've used an elastic band to secure the paper and foil in place in the past but this year I used a clean bit of cotton cloth to tie round the pudding bowl. The second method needs to be tied loosely to allow the pudding to expand. To be fair, Christmas pudding do not rise but the fruit will swell a little.
Is Christmas pudding the same as fruit cake?
Yes, but no. A rich fruit cake is less likely to have suet as an ingredient. Christmas Cake is baked for a couple of hours on a very low heat, often as low as your oven can go. Whilst a Plum or Christmas Pudding is boiled or steamed. Speaking of boiling, I have a delicious recipe for a Scottish recipe on the website. My Free From Clootie Dumpling: a traditional pudding is a highland version of the pudding that is enjoyed for Christmas and Hogmanay.
How do I get a Christmas Pudding out of the Pudding Bowl?
The trick to getting your Christmas Pudding out of the pudding basin is to let it cool completely. A Christmas Pudding is not meant to be made on the day. This is a recipe you can take comfort in making way in advance and not have to worry about again until you sit down for dinner. That is when you put your pudding on to steam quietly in the background. In the meantime, you sit with your family and guests on Christmas Day and enjoy the festivities.
The best method is to let your pudding cool completely. Next, gently run a flat edged knife around the pudding freeing it from the sides of the bowl and turn out onto a plate. You can now re-grease the sides of the pudding bowl, and if you wish line with a little circle of greaseproof paper. Pop the pudding back in the bowl and wrap securely in two layers of foil. Store in the fridge or a cool cupboard until Christmas Day.
Can I add more to make this a luxury Christmas Pudding?
Absolutely, you can add more in the way of ingredients to make this a luxury Christmas pudding. The idea is that this pudding is still as delicious and traditional tasting without all the frills. No need for gluten, dairy, egg or nuts.
However, if you can have nuts then add some flaked almonds and a few tablespoons of ground almond. If you have some oranges and lemons in the fruit bowl, add the zest of each. If you have more than 100g of glace cherries in the cupboard, throw in a few more.
I encourage you to have fun with this recipe and add your personal touch and as always, please do let me know how you get on and share your photos with me on social media. I do a little happy dance every time I see someone's baking success.
Additional Luxury Ingredients;
extra glace cherries
zest of an orange/lemon or both
almond flakes
ground almonds
chopped dates
chopped prunes
high quality brandy such as Rémy Martin XO
orange liqueur such as Cointreau
What can I serve with my Christmas Pudding?
There is a long list of delicious sauces and accompaniments to go with your Christmas Pudding. I have tried and tested recipes to make three delicious accompaniments to go perfectly with Christmas Pudding, mince pies and other festive desserts. Presenting my Luxury Homemade Brandy Butter made dairy free and vegan. Simple Homemade Brandy Sauce recipe made dairy free and vegan, and my Homemade Clotted Cream made dairy free and vegan
Never miss out again…
Sign up to my Friday newsletter and receive not one, but THREE FREEBIES.
GF and Vegan e-Book
conversion charts
3 simple guides to allergies, intolerances & autoimmune.
Join me and learn to make anything gluten free.
Delicious Gluten Free Christmas Pudding Recipe
If you make it and like the recipe I would be eternally grateful if you popped back and commented leaving a star rating as this will tell search engines that this recipe is worth checking out and others will get to find it in searches.
Gluten Free Christmas Pudding
A simple gluten free Christmas Pudding (or Plum Pudding) recipe. also made dairy and egg free with my own homemade gluten free suet. The perfect traditional centre piece for Christmas Day dinner. Makes a 1ltr pudding.
Ingredients
150

g

raisins

150

g

currants

100

g

glace cherries

cut into halves

50

g

candied mixed peel

100

g

gluten free plain flour

50

g

gluten free vegetable suet

see notes

4

tbsp

brandy

or you can use rum or whisky

2

tbsp

ground flaxseed

or chia seeds

100

g

black treacle

molasses

½

tsp

ground ginger

½

tsp

cinnamon

½

tsp

ground nutmeg

¼

tsp

ground clove
Instructions
Add the dried fruit, mixed peel and cherries to a large bowl.

Mix thoroughly to combine.

Drizzle the black treacle into the bowl along with the spices and flax seed (no need to make a flaxseed egg separately in this recipe)

Mix again to incorporate, this is going to be a stiff mixture so you're going to get a good workout!

Add the gluten free plain flour and keep mixing.

Finally, fold in your gluten free suet. Adding this last will keep much of the suet intact.

Set the mixture aside and prepare your pudding basin (I use a 600ml pudding bowl – 16cm wide) by greasing well with butter or oil. I always use a handy oil spray for this purpose.

Spoon the Christmas Pudding mixture into the pudding basin. If you're going to add a traditional trinket you poke this into the pudding mixture now.

To put your pudding to bed, you'll need greaseproof paper and foil. Make a pleat in both paper and foil (this allows for expansion when the pudding steams) secure the layers over the pudding bowl and wrap tightly around the edges. You don't want the stream to sneak into your pudding as it will make it soggy.

Some people secure their paper and foil with string and make and clever handle to lift the pudding out at the end. I have a big fat elastic band that I use – less faff!

Steam for 3 hours – MAKE SURE YOU KEEP TOPPING UP THE WATER! … unlike me who always gets side-tracked allowing it to almost boil dry! I tend to set the alarm for 6omins and top up twice with a kettles worth of water each time.

You know if your pudding is ready if its tough to the touch with no bounce, if you have a food thermometer it ready when the pudding is over 75°C inside.

Once the pudding has steamed for 3hrs carefully lift out of the steamer and leave too cool for an hour or more until room temperature

Once the pudding is cool you can remove if from the pudding basin without damaging the pudding shape.

To reheat, simply steam for 30mins.
Nutrition
Nutrition Facts
Gluten Free Christmas Pudding
Amount per Serving
% Daily Value*
* Percent Daily Values are based on a 2000 calorie diet.
Have you tried this recipe?
Let me know how it was & I will be super grateful. Take a picture & tag me @glutarama on your social media posts – I love seeing your photos more than you will ever know x
I love to see your own photos of my bakes, dinners and treats head to your favourite social media account and don't forget to tag me in @glutarama
Subscribe to my email list so that you get NEW recipes straight in your mailbox every Friday PLUS a FREEBIE and access to some amazing gluten free DISCOUNTS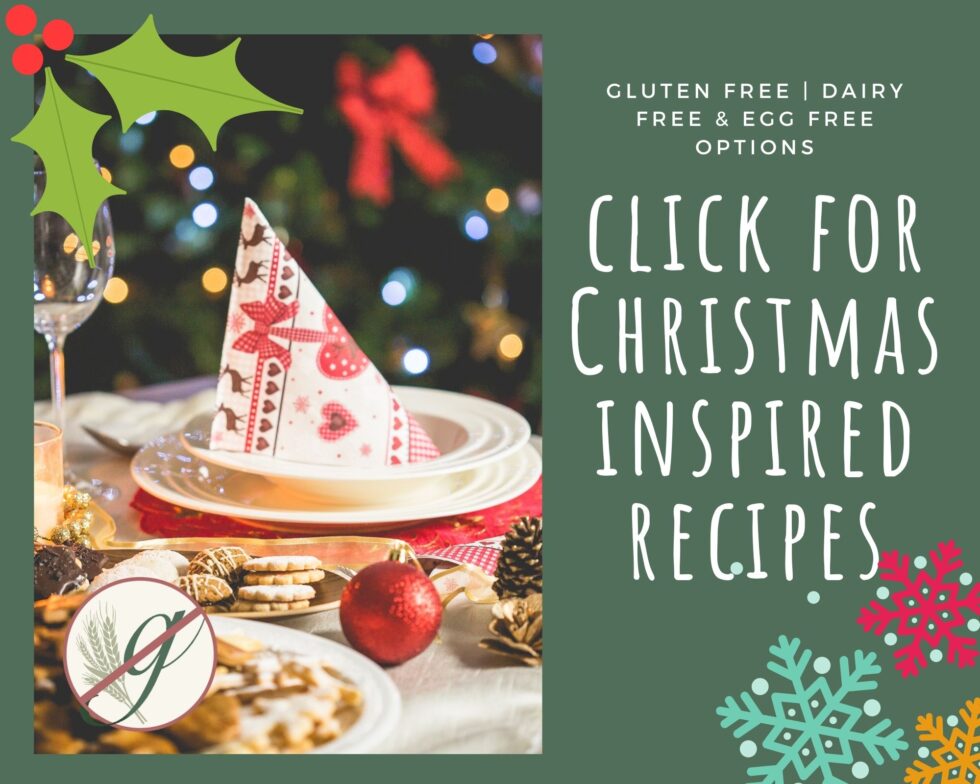 Gluten Free Christmas Gift Guide
Updated every year to give you the latest gluten free gifts perfect for a loved one or to gift yourself. The guide includes; Advent Calendars, gifts for Christmas Day, Hampers for a gluten free Christmas and much more.
*disclaimer: I use affiliate codes on my website, the vast majority are to Amazon. If you click on any of the links or images in the post and make a purchase my family will benefit from a small % of that purchase at no extra cost to you.

For full transparency, in 2020 I made my first £25, and in 2022 I reached my next £25 (Amazon don't transfer the money until you reach £25). Recently I got paid a whopping £27.10 for 2023.

So to date I have made £78.58 since I first started the scheme in 2017. It won't pay the bills, that's for sure but it does help to pay for ingredients or little treats to cheer me up!