This post may contain affiliate codes, none of which will cost you a penny extra but may send a penny or two my way*
This is a recipe for Danish Treacle Tarts I made up as I went along, as with lots of my bakes I see an ingredient and it develops into something new. This one began its life as a loaf of unsliced Newburn bread (please note this has egg whites in it, you'll need an egg free version to make this vegan), I'd bought two as they were reduced in Sainsbury's and the second had gone in the freezer. You may have already worked this out but gluten free unsliced loaves do not freeze well and when you defrost them they tend to disintegrate. It didn't bother me, I had a few okay slices with marmalade for breakfast and then wondered what I could turn the rest of the loaf into.
Never miss out again…
Sign up to my weekly Friday newsletter and not only get a FREE e-Book (currently my Gluten Free & Vegan Cookbook) but also get VIP subscriber discounts on free from goodies delivered to your door. Join me in my journey and learn to make anything gluten free.
What's the best gluten free puff pastry for this recipe?
I had a roll of Jus-Rol Gluten Free Puff Pastry in the fridge that I'd not decide what I was going to do with it yet and then somehow I came to the conclusion; Danish Treacle Tarts. I was a bit worried about how this would turn out, I am….was….a huge fan of Danish pastries but gluten free pastry has a bad reputation. This recipe had a lot to live up to. I'm pleased to report that it was a great success and I've been making them ever since.
The trouble is, Jus-Rol seem to be dominating the market in terms of gluten free ready rolled puff pastry here in the UK. There is a block of frozen puff pastry you can get from Genius. I'll be honest here and say I've not tried this for a gluten free Danish Pastry recipe – yet. if you do attempt this recipe with a block of puff then by all means come back and let me know how you got on by commenting below. I love to hear your thoughts and feedback.
How do you make a Danish Pastry into different shapes?
Now I don't normally do step-by-step instructions. I feel you either love them or hate them…I'm in the hate camp, well 'hate' is a strong word, maybe they irritate me more than help me I just find they look unhelpful or untidy on a webpage, or in a book (I know, I know, I'm totally nuts!) Anyhoo, this is one of those occasions where is would be far more easier to show you how to fold the pastry rather than try to describe it, so here your go, a photographic demonstration (you're welcome!)
Oh and as if I needed to say but gluten free pastry is back on the menu in this house, these danish treacle tarts are divine, heavenly, bloody good. Okay I cheated and used a shop bought ready roll gluten free puff pastry but it's what you do with it that counts right?
Other delicious breakfast style recipe inspiration
For all our gluten free & vegan recipes, head to the vegan section on Glutarama, because why should we miss out on deliciousness!
– Vegan Recipes

Love Rebecca
Danish Treacle Tart Recipe
If you try and like the recipe I would be eternally grateful if you popped back and commented leaving a star rating as this will tell search engines that this recipe is worth checking out and others will get to find it in searches.
Danish Treacle Tarts
A quick and simple way to make gluten free, vegan danish pastries using Jus Roll puff pastry, perfect for a teatime treat or for breakfast with a strong coffee.
Course:
Breakfast, Tea Time
Cuisine:
Free From – gluten and vegan
Keyword:
Dairy Free, Danish, Danish Pastry, Egg Free, Gluten Free, Vegan
Ingredients
1

packet

Jus-Rol Gluten Free Puff

100

g

gluten free bread crumbs

to be vegan make sure you use an egg free bread e.g. B Free

150

g

golden syrup

1

tbsp

lemon zest
First glaze (to help pastry brown)
1

tsp

golden caster sugar

2

tsp

dairy free milk
Second glaze (to make pastry shine)
1

tsp

golden syrup

1

tsp

boiled water
Icing drizzle
3

tbsp

icing sugar

1.5

tsp

soya milk (or other dairy alternative)
Instructions
Take your puff pastry and cut into 4 equal size squares (you could ave trimmings for another bake, maybe make jam tarts at the same time and add a lattice top to them) Set the squares aside until needed.

In a saucepan heat the golden syrup and lemon juice and add your bread crumbs. Take off heat and set aside to cool slightly.

Cut your puff pastry squares as shown below and add the golden syrup and crumb mixture, fold the two corners over to create the criss-cross effect.

Mix the milk alternative and sugar together and brush over the tops of the puff, this will aid the pastry to brown a little.

Pop in a preheated oven set at 220C/200C fan/Gas 5 for 15mins

Remove fro, the oven once beautifully browned, whilst still hot, using the pastry brush add your second glaze to create a deliciously beautiful shine, allow to cool completely

Make the icing drizzle to decorate your danish pastries…eat the same day (as if I needed to say that!)
Nutrition Facts
Danish Treacle Tarts
Amount Per Serving
Calories 167
% Daily Value*
Sodium 1mg0%
Carbohydrates 38g13%
Protein 1g2%
Vitamin C 1.3mg2%
Calcium 2mg0%
* Percent Daily Values are based on a 2000 calorie diet.
Don't forget it, pin it!
Click to save my Danish Treacle Tarts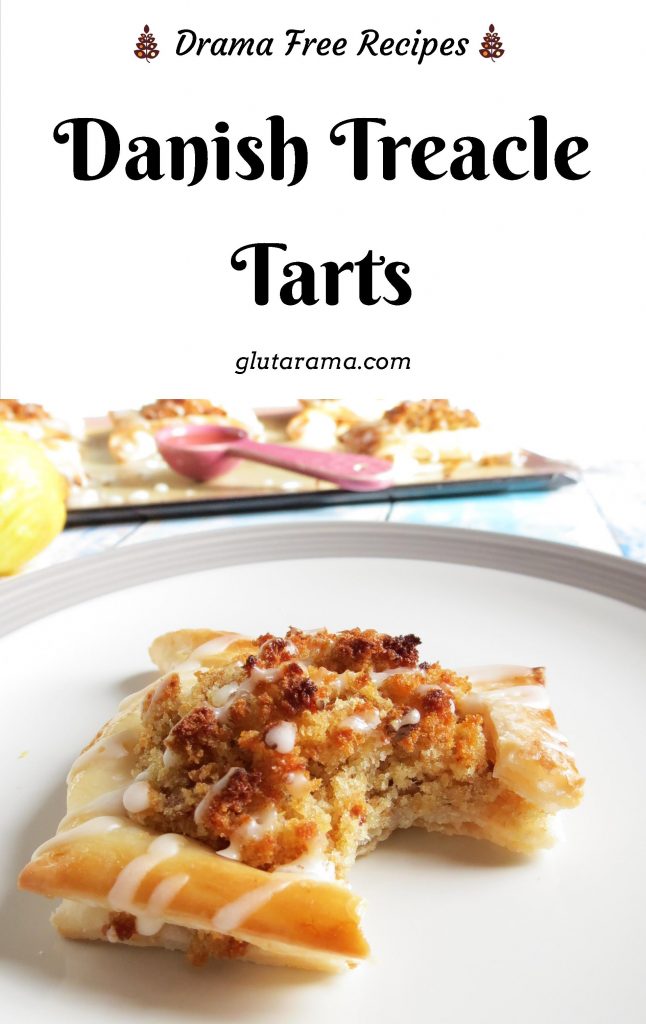 And one last thing! I've linked my Danish Treacle Tarts with these other awesome bloggers pages, go check them out
Cook Blog Share  | Fiesta Friday | Friday Favourites | Handmade Monday | Sundays on Silverado | Full Plate Thursday | Traffic Jam Weekend Linky | What's For Dinner?
*disclaimer: I use affiliate codes on my website, the vast majority are to Amazon. If you click on any of the links or images in the post and make a purchase my family will benefit from a small % of that purchase at no extra cost to you, in fact, for full transparency, in 2020 I made my first £25, and in 2021 I clocked up £16.05 – so it won't make me a millionaire but it will treat me to a few coffees, Lord knows I need the caffeine!