This page contain affiliate links. Please refer to my Disclosures Page for more details.
This Self Saucing Chocolate Pudding has to be one of the ultimate comfort puddings on a cold winters day, served with lashings of hot custard and so simple to be made gluten free and vegan too. One of the most popular recipes on my website, it's not hard to see why.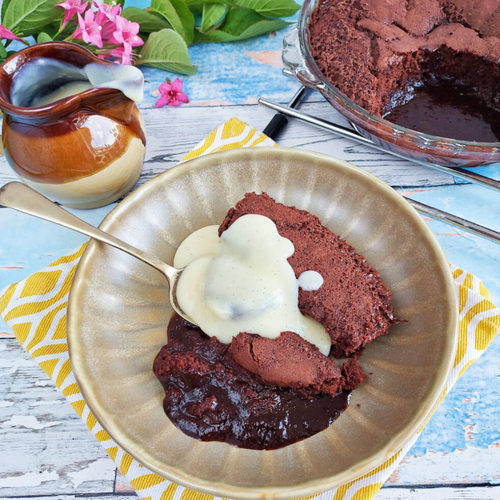 What is a self saucing pudding?
For those unfamiliar with self saucing puddings, have faith with the method, it seems completely daft to make a sponge batter and then drown it in a runny chocolate liquid but believe me, this works. The chemistry of baking means the sauce sinks and thickens at the bottom and a super soft moist sponge appears on top by magic. The best bit of all…that first dip into the pudding to see the hidden treasure beneath, it never fails to make me smile. Incidentally, this is why this pudding can also be known as the Magic Pudding or Magic Sauce Pudding.
I've loved making this magic self saucing recipe again more recently, I had a hankering for chocolate and this pudding hits the spot, my two offspring aren't actually too keen on this flavour…the chocolate is too 'dark' apparently but who is complaining, not I, more for me. Joking aside this keeps really well under foil in the fridge and I've treated myself three evenings in a row as long as my husband doesn't fancy some too!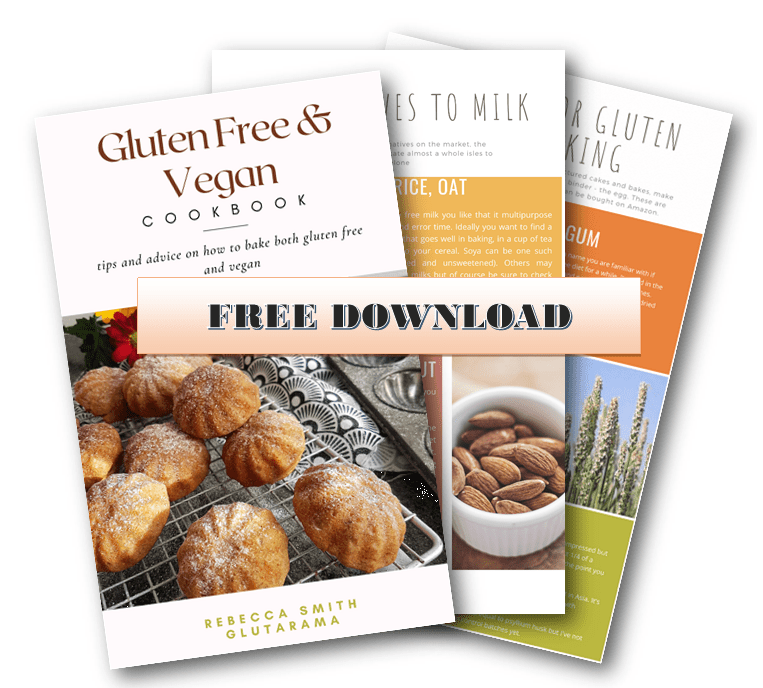 Never miss out again…
Sign up to my weekly Friday newsletter and not only get a FREE e-Book (currently my Gluten Free & Vegan Cookbook) but also get VIP subscriber discounts on free from goodies delivered to your door. Join me in my journey and learn to make anything gluten free.
How does a self saucing pudding work?
Well that my dear reader is the magical bit, and I'll confess to being a bit bemused by the science but basically, your make a seemingly normal cake batter with the flavour combination of your choice; lemon, chocolate, coffee (ooh coffee, think I'll give that a go soon). Then you add the batter to your pudding dish. The next thing seems a bit odd but you make a sweet runny liquid with the same flavour notes and then drown you cake or pudding batter – bonkers!
The magic happens when you bake this pudding, as the raising agents start to work and the batter starts to rise, the liquid oozes and weaves its way through the emerging pudding sponge until they've change position, the liquid is now on the bottom and the sponge is on the top.
But that's not it! Oh no, as the two elements passed each other, the liquid takes with it some of the pudding batter and bubbles away until the liquid becomes a thick gooey sauce. If that's not a magically perfect pudding, then I don't know what is.
How do you make a vegan self saucing pudding?
This self saucing pudding can be made vegan or egg free simply by swapping the egg for a flaxseed egg. For those wishing to use the flax seed method I've added a note here as well as in the recipe to understand how to make a vegan egg for baking. The pudding you see pictured is the vegan version just to prove it does work!
How to make a flax egg

to make 1 flax egg you need the following ingredients:
– 1tbsp ground flax seed
– 3tbsp water
– 1tsp psyllium husk (optional but does add elasticity to baking)

Simply add all ingredients to a glass and stir before measuring out the other recipe ingredients, by the time you come to use your 'egg' mixture it will have thickened to a frog-spawn consistency (thicker if you added psyllium husk)

Then just add to your baking as you would an egg. For 2 eggs double the ingredients but note that recipes that require more than two eggs may fail due to lack of support in the structure.
Can I make this Magic Saucing Pudding with egg?
Absolutely, in the recipe I have added the option to use a large egg instead of the flax seed version, I have also pointed out that normal milk can be used too.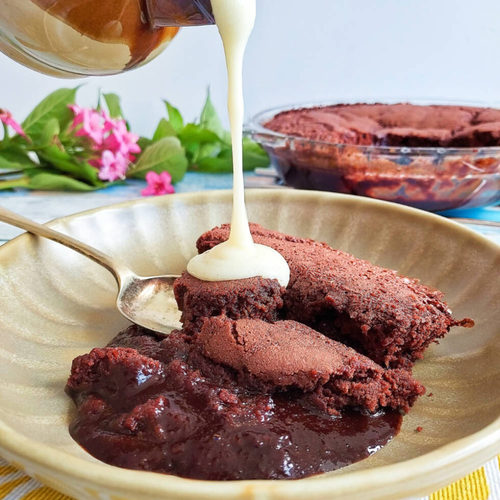 Other delicious gluten free pudding ideas for the cold months
I'd be barmy not to mention my other self saucing pudding on this website; Gluten Free Self Saucing Lemon Pudding is a winner both in the cold months for comfort food and a surprisingly light option for pudding in the spring/summer months. There's also my Chocolate Goo Puddings, Divine Gluten Free Salted Chocolate Tart and I happen to love these Rich Dark Chocolate Mousse Puddings by the wonderful Gluten Free Alchemist. Finally, how about this breathtaking Vegan Apple Meringue made by Fab Food 4 All – I am going to be making this next weekend.
Gluten Free Self Saucing Chocolate Pudding (Magic Pudding) Recipe
If you make it and like the recipe I would be eternally grateful if you popped back and commented leaving a star rating as this will tell search engines that this recipe is worth checking out and others will get to find it in searches.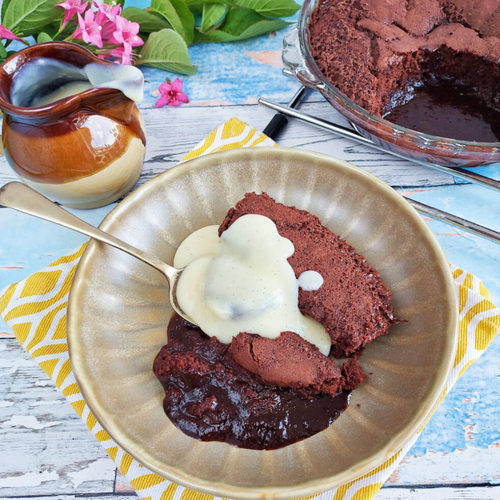 Gluten Free Self Saucing Chocolate Pudding
A superbly rich and comforting gluten free self saucing chocolate pudding that's so easy to make and a real showstopper at the dinner table. This will serve 4-6 people or just me! No really! I don't normally 'do' chocolate puddings but this one I make an exception! This can also be made dairy and egg free so safe for vegans.
Ingredients
60

g

butter or butter alternative (I use Flora plant butter)

I use Pure or Vitalite

135

g

caster sugar

1

large egg(s)

or 1tbsp flax, 3 tbsp water

150

g

gluten free self raising flour

1

tsp

baking powder

2

tbsp

cocoa powder

200

ml

dairy free milk

I use soya for it's creamy taste
For the liquid
250

ml

water

200

g

soft light brown sugar

1

tbsp

cocoa powder
Instructions
In a large bowl cream the butter (or dairy free spread) and caster sugar until light.

Add beaten egg (or flax egg) and milk (or milk alternative) combine

Sift in flour, baking powder and cocoa

TOP TIP: I always sift from a greater height, this allows air particles to attach to the flour grains, thus encouraging a more impressive rise in the bake.

Fold in dry sifted ingredients quickly

Pour into an oven proof dish (big enough to hold a litre of water) and put to one side.

to make the sauce mix a little of the water with the cocoa to make a paste to reduce chance of lumps

Add the rest of the water and sugar and pour over the cake mixture.

Bake in a preheated oven at 180°C | 160°C fan | 350°F | Gas 4 for 30-35mins

Serve with custard and revel in your genius!
Nutrition
Nutrition Facts
Gluten Free Self Saucing Chocolate Pudding
Amount per Serving
% Daily Value*
* Percent Daily Values are based on a 2000 calorie diet.
Have you tried this recipe?
Let me know how it was & I will be super grateful. Take a picture & tag me @glutarama on your social media posts – I love seeing your photos more than you will ever know x
---
I love to see your own photos of my bakes, dinners and treats head to your favourite social media account and don't forget to tag me in @glutarama
Subscribe to my email list so that you get NEW recipes straight in your mailbox every Friday PLUS a FREEBIE and access to some amazing gluten free DISCOUNTS
*disclaimer: I use affiliate codes on my website, the vast majority are to Amazon. If you click on any of the links or images in the post and make a purchase my family will benefit from a small % of that purchase at no extra cost to you, in fact, for full transparency, in 2020 I made my first £25, and recently in 2022 I reached my next £25 (Amazon don't transfer the money until you reach £25). As you can see, it won't make me a millionaire but it will treat me to a few coffees, Lord knows I need the caffeine!
Join my friendly Facebook Group
life's a drama, gluten free doesn't have to be….