This page contain affiliate links. Please refer to my Disclosures Page for more details.
This recipe for Easy Halloween Rice Crispy Treats feels a bit like I'm cheating really. Cheating because it's so simple and I've been making these for years. They're quick and easy to make, they're easily gluten free and dairy free too. I told a porky; when I say I've been making these for years – the Gruffalo wart idea came to me (as with all my whacky ideas) as I melted the marshmallow. Normally I'd make these into squares and maybe drizzle with icing sugar or chocolate.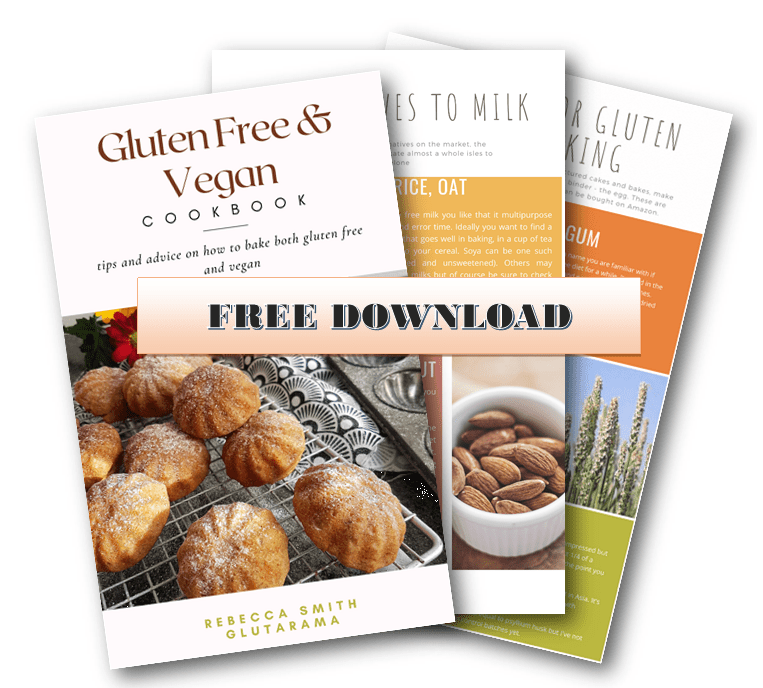 Never miss out again…
Sign up to my weekly Friday newsletter and not only get a FREE e-Book (currently my Gluten Free & Vegan Cookbook) but also get VIP subscriber discounts on free from goodies delivered to your door. Join me in my journey and learn to make anything gluten free.
I knew I wanted to make something for kiddies and I knew I wanted to use my baked doughnut moulds. That's where my forward planning ended. I just love being able to be creative in the kitchen and it's been a while – it's been a bloody long while and it felt gooooood. Fingers crossed Rebecca's got her baking mojo back.
As I mentioned above these rice crispy treats are both gluten and dairy free. You can also make them vegan depending on the marshmallows you buy.
Feeling creative? More ideas for Easy Halloween Rice Crispy Treats
While I was making these I was thinking of all the other shapes and forms you could mould the marshmallow rice crispy mixture into. Really you could let your imagination run wild I've had a look for some additional inspiration for you and here are a couple I think would work brilliantly with this recipe and a few tweaks to food colourings and decorations.
Other recipes that you may want to try this Halloween.
I have a few other Halloween and autumn harvest inspired recipes on my blog. Take my pumpkin pie recipe. I find that pumpkin pie can be a bit like Marmite, you either love it or hate it. My family love it and it never lasts long at all. My sister and her boys would run for the hills if I presented them with a slice!
I've trusted this recipe since I was a teenager (about 10 years ago). It's a Mrs Beeton recipe and all I did was tweak it a little to make it gluten free for Bethany. More recently I worked hard to make an identical tasting Vegan Pumpkin Pie – spoiler alert, I succeeded.
I've also got my gooey Wagon Wheels, perfect for kiddies Halloween Parties and for the adults, why not make your own dairy free Pumpkin Spice Bailey's.
Gruffalo Rice Crispy Treats Recipe
If you make it and like the recipe I would be eternally grateful if you popped back and commented leaving a star rating as this will tell search engines that this recipe is worth checking out and others will get to find it in searches.
Easy Halloween Rice Crispy Treats
These Easy Halloween Rice Crispy Treats are quick and simple to make with only three ingredients plus decoration. No body needs miss out this Halloween as they are also gluten free and dairy free. Plus, you can make them vegan too.
Ingredients
150

g

Marshmallows

60

g

Rice Krispies not Kelloggs as not gluten free

40

g

butter or butter alternative (I use Flora plant butter)

I use Pure
To decorate
100

g

milk chocolate

dairy free

4

tsp

icing/confectioners sugar

1

tsp

water
Instructions
Heat the marshmallows and spread in a saucepan on a very gentle heat, stir occasionally with a silicone spatula and don't leave unwatched.

While you're waiting for the mallows to melt lightly grease your doughnut moulds.

Once the mallows have completely melted (the mixture will go all fluffy) you can add the green food colouring. Turn off the heat but keep on the hob and add the rice crispies stirring quickly.

Using a couple of spoons scoop the mixture into the moulds and press down with your fingers. I find having a cup of cold water on standby a great way to stop the mixture sticking to my fingers, just dip your fingers in the cup while you shape and press down the mixture.

Once the moulds are full pop into the fridge for 30 mins to harden.

In the meantime melt the white chocolate and add a little food colouring for the oozing goo (delicious!)

Remove the 'warts' from their moulds and place on a tray. Spoon a little of the green chocolate into the centre of the mould and let a bit dribble down the side.

Add a raisin to the dribble and return to the fridge to set.

Make a little icing sugar using 4 parts icing sugar to 1 part cold water and using a piping bag or bottle you can add your wings and eyes to your little flies!

For the pupils I used sugar sprinkles, but a tiny ball of fondant would work too.
Nutrition
Nutrition Facts
Easy Halloween Rice Crispy Treats
Amount per Serving
% Daily Value*
* Percent Daily Values are based on a 2000 calorie diet.
Have you tried this recipe?
Let me know how it was & I will be super grateful. Take a picture & tag me @glutarama on your social media posts – I love seeing your photos more than you will ever know x
I love to see your own photos of my bakes, dinners and treats head to your favourite social media account and don't forget to tag me in @glutarama
Subscribe to my email list so that you get NEW recipes straight in your mailbox every Friday PLUS a FREEBIE and access to some amazing gluten free DISCOUNTS

*disclaimer: I use affiliate codes on my website, the vast majority are to Amazon. If you click on any of the links or images in the post and make a purchase my family will benefit from a small % of that purchase at no extra cost to you, in fact, for full transparency, in 2020 I made my first £25, and recently in 2022 I reached my next £25 (Amazon don't transfer the money until you reach £25). As you can see, it won't make me a millionaire but it will treat me to a few coffees, Lord knows I need the caffeine!
Gluten Free Christmas Gift Guide
Every Year I update this post on Glutarama's website to give you the latest gluten free gifts perfect for a loved one or to gift yourself. The guide is broken into advent calendars, gifts for the Christmas Day, hampers for gifts or to cater for a gluten free Christmas and finally I try to find something a bit special to treat yourself in the new year.