This page contain affiliate links. Please refer to my Disclosures Page for more details.
Also, before you hit 'Jump to Recipe' just check my contents section 'Skip to the Good Bit' below. I may answer a query you have about this recipe straight away in the post.
I've wanted to make this Date Free Sticky Toffee Pudding for a long (looong) time. I think back to last Christmas when I made my Gluten Free Sticky Date and Toffee Pudding for family and had the 'pleasure' of watching their faces when they realised they were eating a traditional sticky toffee with dates – they were not fans of the dates!
Fast forward nearly 12 months and I've finally pulled my finger out and created a date free sticky toffee pudding. It still has all the delicious caramel undertones in the sponge, with a delicious dairy free sticky toffee sauce.
This pudding is also super moist too with the addition of my secret ingredient – apple. Okay, not so secret now!
Never miss out again…
Sign up to my Friday newsletter and receive not one, but THREE FREEBIES.
GF and Vegan e-Book
conversion charts
3 simple guides to allergies, intolerances & autoimmune.
Join me and learn to make anything gluten free.
How do you make dairy free sticky toffee sauce?
The method to make a dairy free toffee sauce is the same as a normal dairy-filled sauce. The only difference is that the dairy free version can split, but don't worry, I'll talk you through that in a minute if that does happen.
STEP ONE: The process is simple enough; measure out all your toffee sauce ingredients into a non stick saucepan and heat until melted.
STEP TWO: Now leave the temperature at a steady high heat allowing the sweet liquid to gently boil. Do not leave unattended as you don't want it to burn. Give the sauce a stir every so often.
After about 10 minutes the sauce will have thickened and turned a golden brown [see image below]. This is the point where your toffee sauce can split. By spitting, I mean the butter and sugar separates and you're left with an oily liquid that gathers at the edges of the saucepan.
STEP THREE: Remove the sauce from the heat and with a wooden spoon, beat the sauce rapidly as it begins to cool. If any separation has occurred, the beating action will reverse this. You will see your sauce lighten in shade to the colour of peanut butter and thicken slightly. This is your toffee sauce.
Can you make this sticky toffee pudding egg free too?
Surprise! This Date Free Sticky Toffee Pudding is also egg free too. At least the version in the images is. As I am intolerant to dairy and eggs I make a lot of my baking 'vegan' so that both myself and my daughter Bethany can enjoy them.
I always use a flaxseed egg alternative in my baking. I find it's the most stable for bakes, has a better nutritional value to other egg substitutes and is inexpensive too. Sometimes I make my 'egg' in advance [see below] other times I simply add the ground flaxseed to the batter or dough. In the case of this sticky toffee pudding, it's the latter.
How to make a flax egg

to make 1 flax egg you need the following ingredients:
– 1tbsp ground flax seed
– 3tbsp water
– 1tsp psyllium husk (optional but does add elasticity to baking)

Simply add all ingredients to a glass and stir before measuring out the other recipe ingredients, by the time you come to use your 'egg' mixture it will have thickened to a frog-spawn consistency (thicker if you added psyllium husk)

Then just add to your baking as you would an egg. For 2 eggs double the ingredients but note that recipes that require more than two eggs may fail due to lack of support in the structure.
I want a sticky toffee with egg and dairy!
Want a Sticky Toffee Pudding that's made with eggs and dairy? Not a problem. Simply swap the following ingredients below from the original recipe and your wish is my command. No need to change the amounts for the butter(s) or cream.
Plant butter – normal butter (I use unsalted)
1 tbsp flaxseed – 1 egg (probably no need to add the 2 tbsp cold water)
Plant cream – single dairy cream
Prepping your basin for a sticky toffee pudding
Normally I use one of my original traditional pudding basins, trouble is, when I came to make this and photograph it they were all in use. I made my Delicious Gluten Free Christmas Pudding a while ago and have been feeding them (yes I made two) with brandy ever since so on this occasion I used my Pyrex 1.6L Pudding Bowl.
To prep your bowl all you need to do is make sure you grease it well. I use an oil spray and then give the bowl a wipe around with some kitchen roll. Alternatively, if you have any melted butter left you could use that.
What to serve with your sticky toffee pudding?
Homemade Vegan Custard Recipe
A quick guide to making dairy free, egg free vanilla custard using just three ingredients to make a vegan custard powder. Simply add your favourite dairy free alternative milk and you're ready to enjoy with a delicious gluten free and vegan pudding (Self Saucing Chocolate Pudding used as serving suggestion) This recipe makes enough custard for two people.
Check out this recipe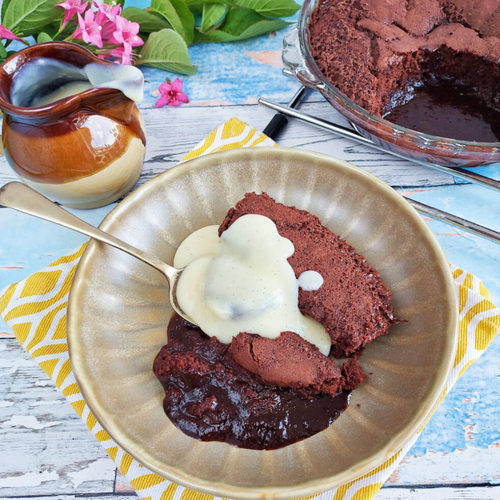 Quick and Easy Dairy Free Custard
A quick guide to making dairy free vanilla custard using safe instant custard powders. There is also guidance on how to make your very own instant custard powder for the store cupboard.
Check out this recipe
Homemade Vegan Clotted Cream
Make your own homemade thick clotted cream but dairy free and vegan. A simple recipe to make 125ml of imitation clotted cream with a tell-tale thick crust on top. Perfect for scones for a cream tea or to accompany puddings and desserts
Check out this recipe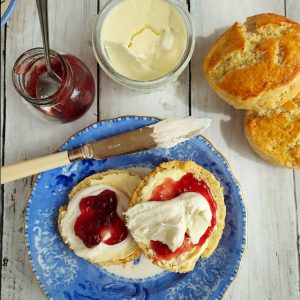 Want the date sticky toffee version?
Gluten Free Sticky Date and Toffee Pudding
A family favourite, this Sticky Date and Toffee Pudding is sticky (obviously), moist, naughty but totally gluten free, dairy free and vegan if you choose. With the option to make one large Sticky Toffee Pudding in a traditional pudding basin or 4 mini puddings.
Check out this recipe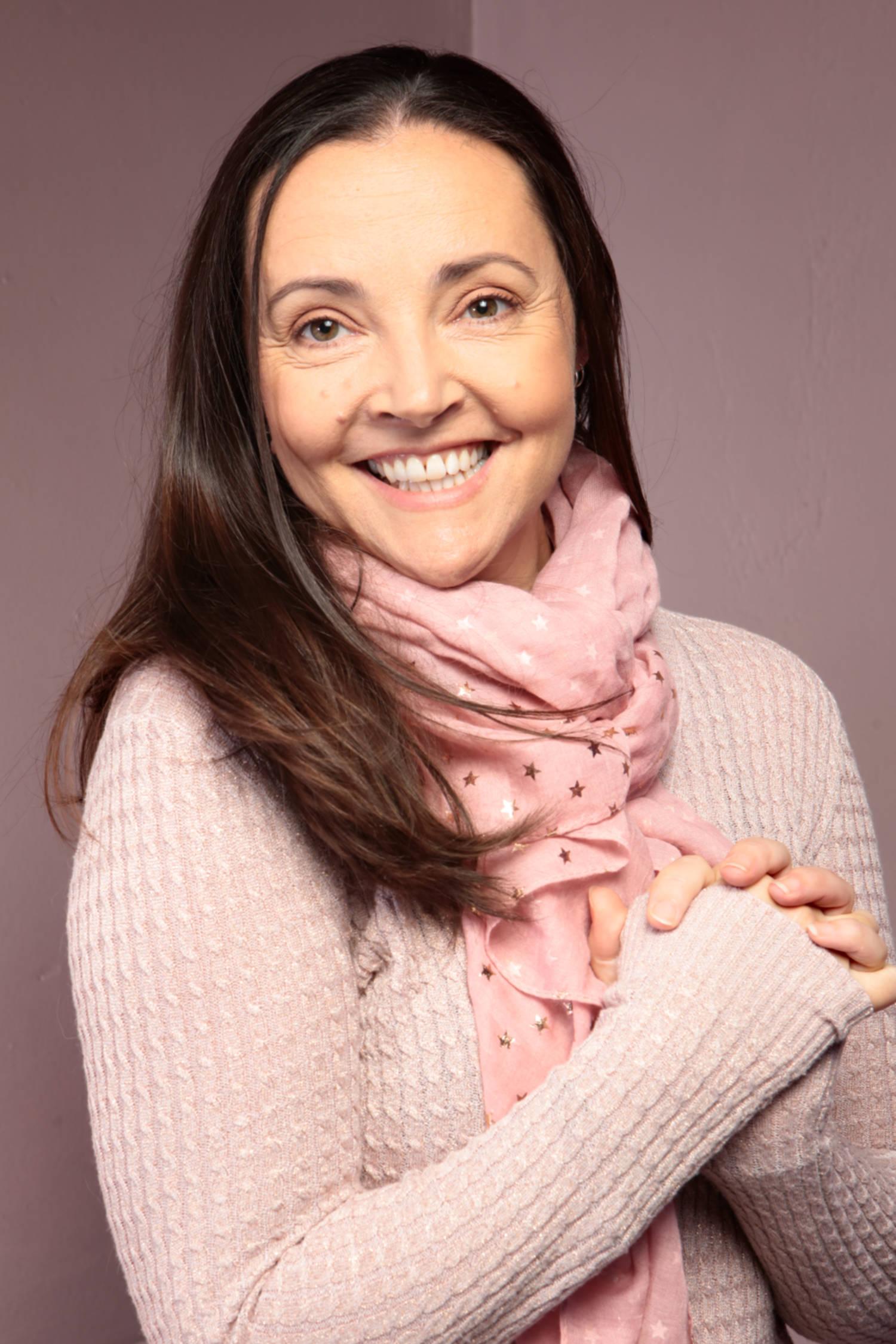 NEVER MISS A RECIPE!
Subscribe for the latest updates from Glutarama! But wait! you also get a FREE e-book + discounts + latest news and so much more…
Date Free Sticky Toffee Pudding Recipe
If you make it and like the recipe I would be eternally grateful if you popped back and commented leaving a star rating as this will tell search engines that this recipe is worth checking out and others will get to find it in searches.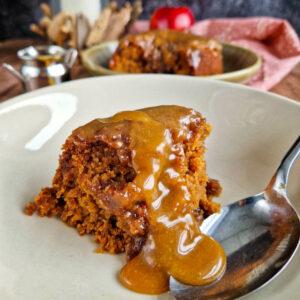 Date Free Sticky Toffee Pudding
A twist on the traditional Sticky Date & Toffee Pudding, this pudding is date-free but still packed with caramel flavours and super moist with the addition of grated apple. Delicious with custard, cream or more toffee sauce! This is gluten free, dairy free, egg free but an egg and dairy filled option is available too.
Ingredients
For the sponge pudding
125

g

grated apple

approx. 2 dessert apples

80

g

dark brown sugar

1

tbsp

ground flaxseed

or 1 egg if not vegan/egg free

1

tsp

psyllium husk powder

optional but helps with structure

50

g

butter or butter alternative (I use Flora plant butter)

melted

100

g

gluten free self raising flour

½

tsp

bicarbonate of soda

¼

tsp

salt

1-2

tbsp

cold water

may be needed to loosen batter
For the toffee sauce
125

ml

soya cream or usual dairy free alternative

80

g

light brown sugar

30

g

butter or butter alternative (I use Flora plant butter)

¼

tsp

salt
Instructions
Preheat the oven to 200°C | 180°C Fan | 400°F | Gas 6 and grease your 4 mini pudding bowls or pudding basin.

In a mixing bowl, grate the peeled apple(s) with a fine grater.

Add the sugar, flaxseed (or egg), psyllium husk, melted butter and leave to soak whilst setting to work on your toffee sauce.
To make the toffee sauce
In a small pan add the soya cream, brown sugar and dairy free butter and stir over a medium to high heat until the 'butter' had melted and it reaches boiling point.

Set a timer for 15 mins and let the liquid reduce to a thick toffee sauce. Don't leave unattended, you'll need to give it a stir once in a while and ensure it doesn't boil over.

TOP TIP: you may not need all 15 minutes, you want your toffee sauce to thicken and go a lovely caramel colour when beaten hard.

Liberally grease the pudding bowl or small pudding tins with some oil or leftover melted 'butter'.

Remove the toffee sauce from the heat and pour into your pudding basin or equally divide across your four mini pudding bowl. The sauce will continue to thicken as it cools.

TOP TIP: hold some toffee sauce back to pour over the pudding if you plan to turn it out onto a serving plate – this looks extra special when you present it at the table.
To make the pudding sponge
Return to your bowl of sweet apple. Add the gluten free self raising flour and bicarbonate of soda and beat until combined. Now you may need to add 1-2 tablespoons of water to loosen the batter to a soft dropping consistency.

Spoon into you chosen pudding bowl(s) cover loosely with kitchen foil and place onto a baking tray.

Pop into the oven – 20 mins for individual mini puddings or 50 mins for one larger pudding.

For the larger pudding, you may wish to remove the foil for the last 5 minutes to brown the top (bottom) of the toffee sponge.

To test if the larger pudding is ready, remove the foil and insert a skewer, if it's ready it will come out clean, the smaller puddings will be ready if bouncy to the touch.

Remove from the oven and run a knife around the edge of the pudding to free it from the sides of the bowl.

Place a serving plate over the bowl and carefully turn over. You may find some of the toffee sauce stays in the bowl, simply spoon it out and add to the top of the sponge pudding.

Serve immediately with lashings of lovely dairy free custard or cream and any spare toffee sauce you kept back.
Notes
If you do plan to hold back some of the toffee sauce, decant it into a microwave safe jug and simply reheat for a few seconds. It will solidify while your pudding bakes.
Then you can pour the hot toffee sauce over the pudding once you've turn it out onto a serving plate.
Nutrition
Nutrition Facts
Date Free Sticky Toffee Pudding
Amount per Serving
% Daily Value*
* Percent Daily Values are based on a 2000 calorie diet.
Have you tried this recipe?
Let me know how it was & I will be super grateful. Take a picture & tag me @glutarama on your social media posts – I love seeing your photos more than you will ever know x
I love to see your own photos of my bakes, dinners and treats head to your favourite social media account and don't forget to tag me in @glutarama
Subscribe to my email list so that you get NEW recipes straight in your mailbox every Friday PLUS a FREEBIE and access to some amazing gluten free DISCOUNTS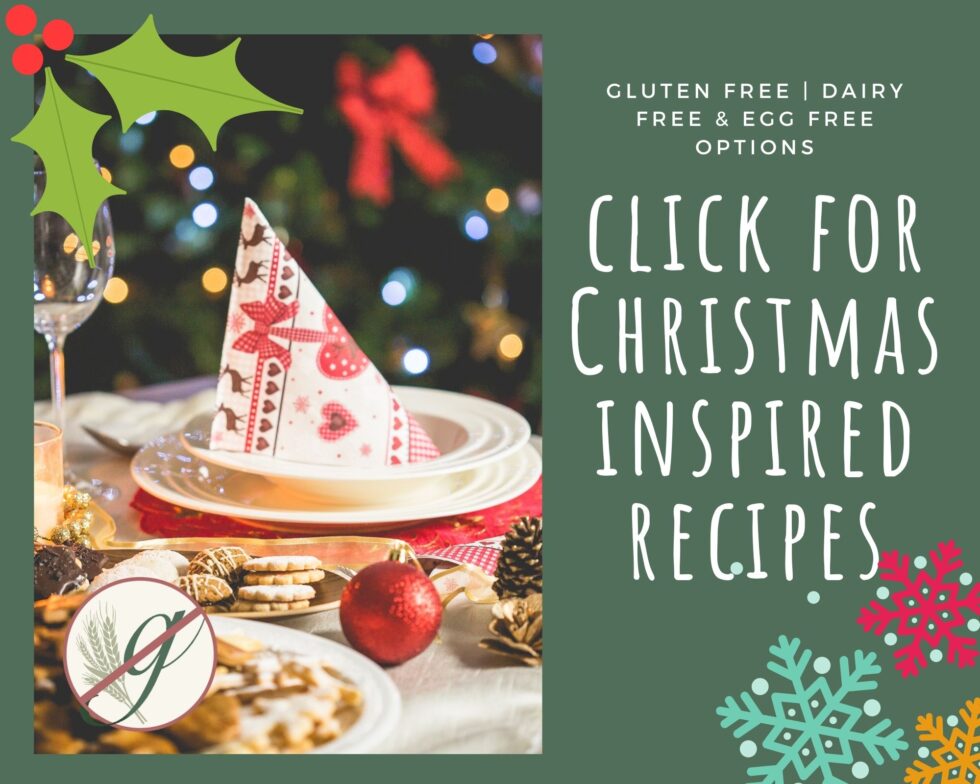 Join my friendly Facebook Group
life's a drama, gluten free doesn't have to be….
*disclaimer: I use affiliate codes on my website, the vast majority are to Amazon. If you click on any of the links or images in the post and make a purchase my family will benefit from a small % of that purchase at no extra cost to you.

For full transparency, in 2020 I made my first £25, and in 2022 I reached my next £25 (Amazon don't transfer the money until you reach £25). Recently I got paid a whopping £27.10 for 2023.

So to date I have made £78.58 since I first started the scheme in 2017. It won't pay the bills, that's for sure but it does help to pay for ingredients or little treats to cheer me up!