This page contain affiliate links. Please refer to my Disclosures Page for more details.
I owe thanks to my darling friend Katharine for this dairy free Homemade Baileys Pumpkin Spice liqueur. It was after she Whatsapped me a photo of her original version and (after I rolled my tongue back in and closed my mouth) I decided that I too must have access to this delicious sounding tipple. I've since realised that we can actually get it here in the UK for a limited time only but that still doesn't solve the dairy issue.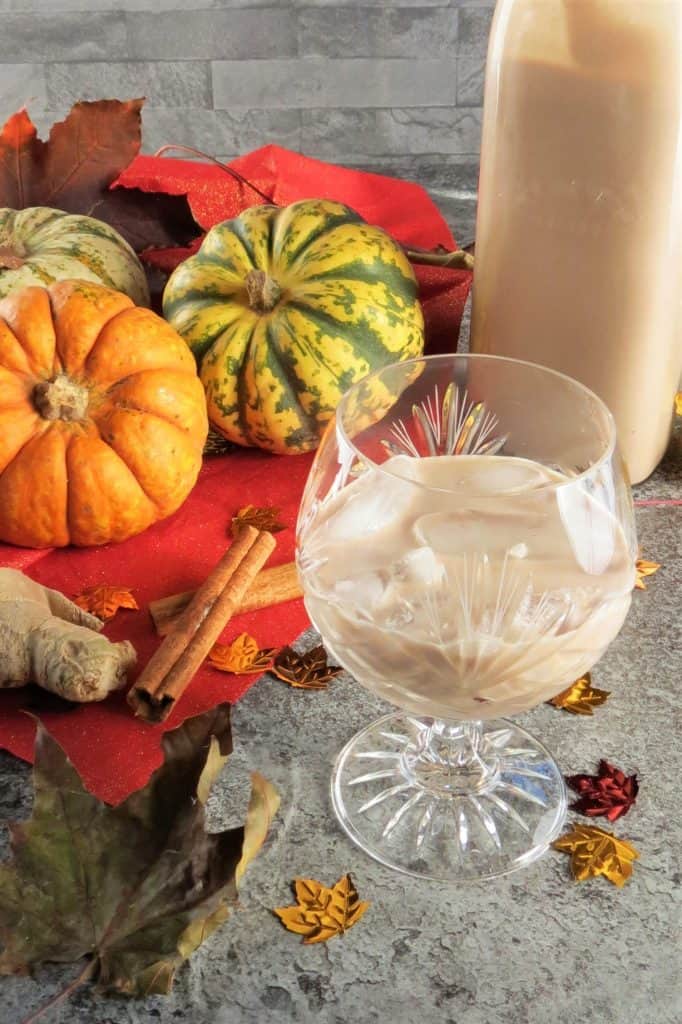 Can you make Baileys dairy free?
Yes is the short answer. I've made dairy free Homemade Baileys original before with much success and it's proven to be a rather popular post. In fact the post went live at the beginning of December last year. Quite simply, I couldn't go another Christmas without my favourite cream liqueur and once I'd tried the Baileys Almande™ drink (adding to my disappointment) I knew I had to make my own version and stop relying on someone else to do it for me.
Please note that I really like the Almande™ drink, it's a lovely light cream liqueur but for me it's more on par with a Pina Colada, not a thick luxurious creamy liqueur like Baileys original. The taste isn't the same either, it's really a different drink altogether but made by the trademark Baileys.
How to make vegan condensed milk for this Baileys recipe
Dairy Free and Vegan Condensed Milk Recipe
Empty a 400ml tin of coconut milk into a medium saucepan, add 150g caster sugar and stir to combine. Place on a high heat and stir until bubbling. Turn heat down to a gentle rolling boil and leave for 15 minutes. Don't leave unattended and stir occasionally, the condensed milk will halve in volume and go a wallpaper paste colour! Remove from the heat, pour into a glass heatproof jug and cool to room temperature, this will take about an hour.
For the full recipe, method and top tips head to my Easy Dairy Free Condensed Milk recipe.
Oh and while I think of it, you will probably love my Chocolate Orange Baileys; homemade and dairy free recipe too!
---
Anyhoo, now that I've made this I've got plans for more flavours and (hic) really don't mind doing all the recipe development necessary (hic) until I get it absolutely perfect (hic).
Is whiskey gluten free?
Cider, wine, sherry, spirits, port and liqueurs are gluten free.
Experts agree that there is no physical way that pure distilled alcohol can contain gluten – this is because the gluten protein cannot travel through to the vapour produced by the prolonged heating in the distillation process and become part of the final alcohol product.
Distilled spirits only contain gluten if gluten containing ingredients are added after the distillation process and in this case, there is labelling legislation that ensures the product states CONTAINS wheat, barley, rye or oats on the label.
Source – Coeliac UK FAQ page for more answers to top gluten free questions follow the link Coeliac UK FAQ's
Please note: some people are also intolerant to certain grains such as barley, rye and oats so even with the gluten removed this can cause digestive issues. If concerned please consult your doctor.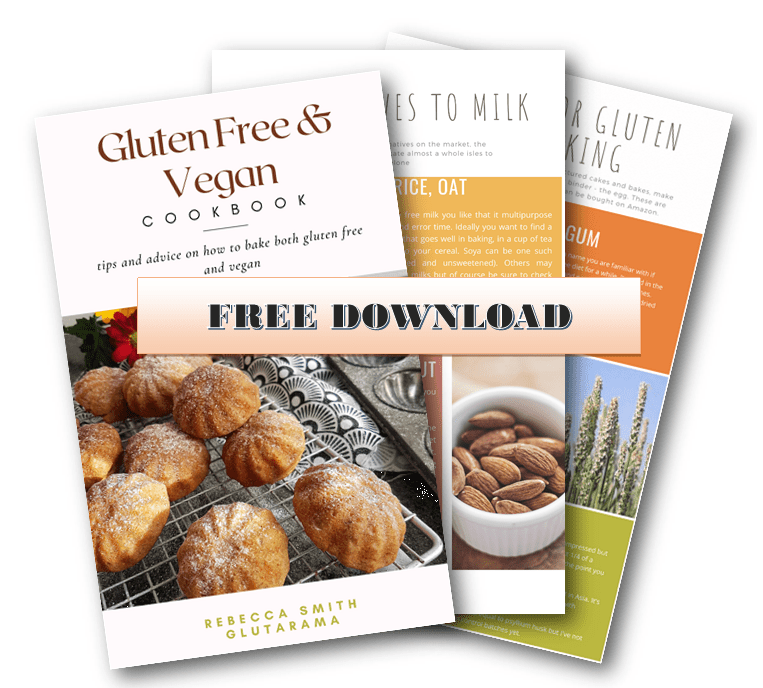 Never miss out again…
Sign up to my weekly Friday newsletter and not only get a FREE e-Book (currently my Gluten Free & Vegan Cookbook) but also get VIP subscriber discounts on free from goodies delivered to your door. Join me in my journey and learn to make anything gluten free.
Can I use this homemade dairy free Baileys for other recipes?
Once you've made your own Bailey's the choices are endless, pour over dairy free ice cream as a treat or use to make my Gluten Free Bailey's Baked Cheesecake, simply swap the ricotta cheese for a dairy free cream cheese. I also happen to know that any of my Bailey's recipes are fantastic in a coffee!
Actually, as another idea, why not make this Pumpkin Spice Baileys and give it to someone as a gift either to celebrate Autumn, Fall, Christmas or Thanksgiving depending on what part of the world you are in.
How to make you own pumpkin spice
You can of course make your very own spice mix for this Pumpkin Spice Fool Recipe. Due to the intensity of ground clove I opt for a less intense spice experience so I use equal quantities of cinnamon, ginger and nutmeg with just a pinch of clove
3 tsp ground cinnamon
3 tsp ground ginger
3 tsp ground nutmeg
½ tsp ground cloves
Below is the printable version with some interesting facts about the origins of pumpkin spice and when it shot to fame!
Homemade Pumpkin Spice
Save time when baking and instead of reaching for 4 spices, reach for one. This spice mix balances the perfect amount of cinnamon, ginger, clove and nutmeg for all your pumpkin spice needs.
Check out this recipe
Dairy Free Pumpkin Spice Baileys Recipe
If you make it and like the recipe I would be eternally grateful if you popped back and commented leaving a star rating as this will tell search engines that this recipe is worth checking out and others will get to find it in searches.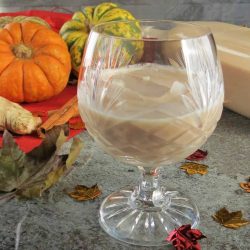 Dairy Free Homemade Baileys Pumpkin Spice
Not only have I now cracked a recipe for the best tasting dairy free Baileys but I've also developed a pumpkin spice version to coincide with the current limited edition in the supermarkets. This is a luxurious creamy drink with a warm spicy undertone and yes, it tastes like pumpkin pie! You'll be thrilled to hear this recipe is also gluten free and vegan too.
Ingredients
400

ml

tin coconut milk needs to be 60% or over in coconut extract

200

g

Caster Sugar

250

ml

Whisky

250

ml

dairy free milk

250

ml

soya cream or usual dairy free alternative

2

tbsp

Choc Shot

¼

tsp

ground nutmeg

or swap all 4 spices for 1 tsp of pumpkin spice

¼

tsp

cinnamon

¼

tsp

ground clove

¼

tsp

ginger
Instructions
To make the condensed 'milk'
Tip the contents of the tinned coconut milk into a large saucepan.

Add the 200g caster sugar and stir to combine, the liquid may appear lumpy unless you buy the creamed milk version, don't worry if it is lumpy.

Turn the hob onto full heat and stir until all the coconut lumps have melted, then leave to boil for 20 minutes.

Stir occasionally as the liquid reduces. You want to keep the liquid at a rapid/rolling boil stage (bubbles rolling into the centre of the pan from the edges)

Remove the pan from the heat after 20 minutes, pour into a jug and set on a window sill to cool.

This makes roughly 250ml of condensed 'milk' once it's reduced.
To make the Pumpkin Spice Cream
Simply add all other ingredients to a blender.

Add the cooled condensed 'milk' and blend.

Pour into a 1ltr container, it should just fit perfectly to the top of the bottle, if not I top it up with soya milk or whisky (it depends on how naughty I'm feeling) Pop in the fridge and serve over ice when cooled.
Notes
This will keep in the fridge for well over a week…Hahaha, as if it will last that long!
Nutrition
Nutrition Facts
Dairy Free Homemade Baileys Pumpkin Spice
Amount per Serving
% Daily Value*
* Percent Daily Values are based on a 2000 calorie diet.
Have you tried this recipe?
Let me know how it was & I will be super grateful. Take a picture & tag me @glutarama on your social media posts – I love seeing your photos more than you will ever know x
*disclaimer: I use affiliate codes on my website, the vast majority are to Amazon. If you click on any of the links or images in the post and make a purchase my family will benefit from a small % of that purchase at no extra cost to you, in fact, for full transparency, in 2020 I made my first £25, and recently in 2022 I reached my next £25 (Amazon don't transfer the money until you reach £25). As you can see, it won't make me a millionaire but it will treat me to a few coffees, Lord knows I need the caffeine!
Join my friendly Facebook Group
life's a drama, gluten free doesn't have to be….