This page contain affiliate links. Please refer to my Disclosures Page for more details.
This recipe for my Easy Dairy Free Pumpkin Spice Latte was borne out of a trip to Camden Market in London. I visited with my daughter, one of my sisters and my mum.
Before we headed off on the London Underground, we treated ourselves to a cheeky coffee in Starbucks and I tried the famous Pumpkin Spiced Latte. But wait! I am dairy free whilst Bethany is Coeliac. So having a proper Pumpkin Spiced Latte was not something I thought I could have.
I noticed that the screens above the tills said you could build your own latte including vegan cream so I was like whaaaa? Suffice to say I had the full works and enjoyed a latte with cream.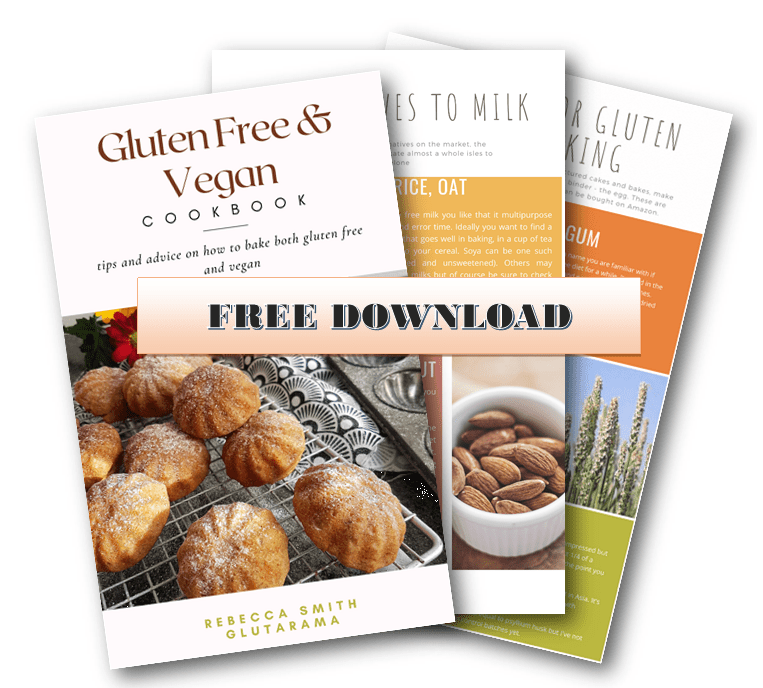 Never miss out again…
Sign up to my weekly Friday newsletter and not only get a FREE e-Book (currently my Gluten Free & Vegan Cookbook) but also get VIP subscriber discounts on free from goodies. Join me and learn to make anything gluten free.
Where does pumpkin spice latte come from?
Why is Pumpkin Spice so popular now? That's all thanks to Starbucks! That's right, a Pumpkin Spiced Latte threw the spice into the stratosphere of popularity in 2003 – the worlds bonkers isn't it. According to Food and Wine;
Since 2003, Starbucks has sold more than 424 million PSLs in the U.S. alone.

FOOD & WINE – THE SURPRISING HISTORY OF PUMPKIN SPICE
Is there actually pumpkin in a pumpkin spice latte?
I love, love, love researching where foods come from and this topic has been wonderful to find out about. Okay, it's rather contemporary in comparison to some of my research on other recipes that I've developed to be gluten free but it's still lovely to know these fun facts.
In the case of whether Pumpkin Spice Latte actually contains real pumpkin, the answer takes us right back to, you guessed it, Starbucks!
In the course of developing the PSL, the Starbucks research and development team poured espresso shots on top of pumpkin pies, tasting different combinations to determine the best ratio of cinnamon and nutmeg to coffee and steamed milk. But it wasn't until 2015 that Starbucks started including real pumpkin in the drink.

FOOD & WINE – THE SURPRISING HISTORY OF PUMPKIN SPICE
So there you have it. Yes, there is real pumpkin in spice latte's but not until recent years was it added.
Why add real pumpkin to a PSL?
I've tried making a pumpkin spice latte with and without real pumpkin. Without pumpkin the latte is just fine, you've got the sweetness, you've got the spice and you have the cream. However, with real pumpkin you reach a different level of PSL. With pumpkin puree, the latte is that little bit thicker, it's got the true pumpkin flavour and you get a gentle orange tinge to the latte too.
What's better? Well in my opinion dear reader, if you're going to make a pumpkin spice latte then go all in and add the real thing.
How do you make pumpkin spice?
Homemade Pumpkin Spice
Save time when baking and instead of reaching for 4 spices, reach for one. This spice mix balances the perfect amount of cinnamon, ginger, clove and nutmeg for all your pumpkin spice needs.
Check out this recipe
Canned or fresh pumpkin?
In this Dairy Free Pumpkin Spiced Latte recipe, I've opted for tinned or canned pumpkin puree. The reason being that I wanted to get the best colour achievable without adding colourings and I had no leftover pumpkin at the time.
I don't know about you but I'm never convinced that these vibrant orange pumpkin recipes are purely natural, I always think there's a bit of food colouring at play, maybe I'm wrong?
I've added pumpkin preparation guidelines below for anyone wanting to make their own pumpkin puree for this and many other recipes that require puree.
Ways to prepare a pumpkin for baking
Roast pumpkin; cut pumpkin into ¼ and de-seed, place in a roasting tray and cover with foil, bake at 200°C/180°C Fan for at least 60 mins (depending on size of pumpkin). Remove and cool, once cooled scoop out the cooked soft flesh and use of freeze for later.
Boiled pumpkin; peel and cut pumpkin removing all seeds. Chop and add to a big pan of water, boil until tender. Drain pumpkin and leave over the sink to ensure all excess liquids run away. Pop into a blender and puree, as above use or freeze.
Steamed pumpkin; as above really but you steam it!
Microwaved pumpkin; Not tried this but I have it on good authority that you can peel and cut the pumpkin and microwave in a glass bowl with a drop of water.
Perfect Pumpkin Puree
The base for so many Thanksgiving, Halloween and harvest time recipes. This perfect pumpkin puree is, in my humble opinion, the best way to make puree with the richest colour, flavour and texture. Ideal mixed with my homemade pumpkin spice to turn into pumpkin pies, breads, biscuits and more.
Check out this recipe
How do I sweeten my pumpkin spice latte?
This recipe uses two type of sweetener. The first is in the form of a good quality vanilla extract but if pennies are tight and you only have vanilla flavouring then that's fine too.
The second thing I use to sweeten my pumpkin spice latte is good old sugar. I add demerara sugar as it has a slight caramel flavour to it but white/granulated sugar is just a good.
How to add dairy free cream to your latte
You have two options here but in the images I've gone the less quick and easy route. The quick option would be to get your hands on a dairy free squirty cream. These can now be bought in supermarkets in the UK. Heavenly Squirty Cream is one such brand.
The second option is to make your own cream topping. It's simple just a bit more fuss than squirty cream.
I simply whip a small amount of dairy free cream (usually plant based Elmlea or Heavenly) and add a little sugar to sweeten.
Then all that's left to do, once your latte is poured, is to spoon the whisked cream on top of the latte a little at a time to prevent the cream from sinking.
Useful equipment to make this latte
The adult pumpkin spice latte version!
My Simple Gluten Free Pumpkin Pie and Simple Vegan Pumpkin Pie recipes both have a good glug of brandy in them like the traditional versions in Mrs Beeton's recipe books. So why not add a glug of brandy to these pumpkin spice latte's too on a cold winters evening?
What can I do with any leftover pumpkin?
Dairy Free Pumpkin Spice Fool
This simple Dairy Free Pumpkin Spice Fool combine the familiar fool dessert of thick whipped cream folded with a pumpkin puree and the quintessential autumn flavouring pumpkin spice. What better way to celebrate the pumpkin harvest than with a free from dessert suitable for those on a gluten free, dairy free and vegan diet.
Check out this recipe
Gluten Free Pumpkin Biscuit Delights
A delicious gluten free version of the Little Debbie Pumpkin Delights. These Gluten Free Pumpkin Biscuits are simple to make, adorable to display and are the perfect treat this Halloween
Check out this recipe
Easy Gluten Free Spiced Pumpkin Roll
This deliciously simple pumpkin roll is filled with sweet pumpkin puree and pumpkin spices. So easy to make and only 4 main ingredients this is a quick bake you can make for unexpected guests and last minute get togethers at Halloween. Otherwise, it's a gorgeous sweet pastry to enjoy any cold autumn or winters teatime or evening.
Check out this recipe
Vegan Smoked Cheese and Pumpkin Scones
The perfect recipe for using up that pumpkin flesh around Halloween, or, if you're like me and freeze your pumpkin you can enjoy these all year round! These Cheese and Pumpkin Scones are gluten free, dairy free and egg free so they are vegan too.
Check out this recipe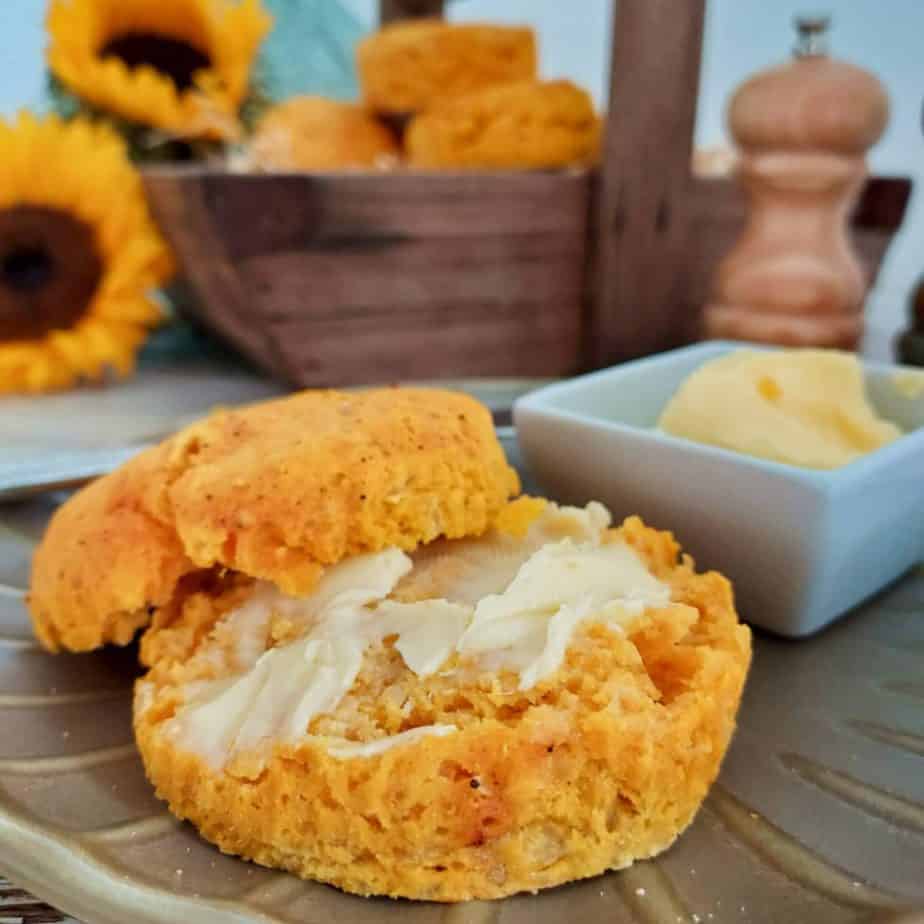 Easy Dairy Free Pumpkin Spice Latte Recipe
If you make it and like the recipe I would be eternally grateful if you popped back and commented leaving a star rating as this will tell search engines that this recipe is worth checking out and others will get to find it in searches.
Dairy Free Pumpkin Spice Latte
A deliciously simple homemade Pumpkin Spice Latte that's dairy free but just like the Starbucks famous PSL we've grown to know and love. This recipe is naturally gluten free and vegan using plant based non dairy ingredients perfect for two hot cups to enjoy with a friend at Halloween or over the festive period.
Ingredients
For the pumpkin spice latte
400

ml

dairy free milk

I use soya milk

3

tbsp

pumpkin puree

1

tbsp

demerara sugar

1

tsp

pumpkin spice

1

tsp

vanilla extract

2

shots

espresso

[see notes for alternative options]
For the vegan cream
100

ml

soya cream or usual dairy free alternative

1

tsp

granulated sugar
For decoration
1

tsp

demerara sugar

pinch

pumpkin spice
Instructions
To make the pumpkin spice latte [coffee machine version]
In the larger of two jugs, measure out the milk alternative, tablespoons of pumpkin puree, sugar and spice. Give a good stir (I use my rechargeable mini milk frother whisk).

Add the jug to the microwave (or heat gentle on a stove) until hot enough to drink.

Make a double espresso in your coffee machine and add this to the pumpkin latte. Give it anther whisk.

TOP TIP: the frothy pumpkin latte helps the vegan cream to stay afloat.

Pour the latte equally into your serving glasses.
To make the pumpkin spice latte [kettle version]
Repeat all the points above but instead of using a coffee machine in method no.3, make a strong black coffee. (1tbsp instant coffee per person then 1tbsp boiled water per person – so for two servings that 2tbsp coffee | 2tbsp water).
To make the vegan cream
Add your plant cream to the smaller jug, sweeten to taste and using a whisk (I use my mini electric whisk again) whip the cream so it forms soft peaks.

Carefully spoon the sweetened 'cream' over each pumpkin spice latte taking care as you go so that it floats on top.

Finally sprinkle with a little sugar, I like to use demerara and add a pinch of pumpkin spice.
Nutrition
Nutrition Facts
Dairy Free Pumpkin Spice Latte
Amount per Serving
% Daily Value*
* Percent Daily Values are based on a 2000 calorie diet.
Have you tried this recipe?
Let me know how it was & I will be super grateful. Take a picture & tag me @glutarama on your social media posts – I love seeing your photos more than you will ever know x
I love to see your own photos of my bakes, dinners and treats head to your favourite social media account and don't forget to tag me in @glutarama
Subscribe to my email list so that you get NEW recipes straight in your mailbox every Friday PLUS a FREEBIE and access to some amazing gluten free DISCOUNTS
Join my friendly Facebook Group
life's a drama, gluten free doesn't have to be….
*disclaimer: I use affiliate codes on my website, the vast majority are to Amazon. If you click on any of the links or images in the post and make a purchase my family will benefit from a small % of that purchase at no extra cost to you.

For full transparency, in 2020 I made my first £25, and in 2022 I reached my next £25 (Amazon don't transfer the money until you reach £25). I'm now up to £17.80 for 2023 so edging closer to the magical £25 mark!!

To date I have made £69.28 since I first started the scheme in 2017. It won't pay the bills, that's for sure but it does help to pay for ingredients or little treats to cheer me up!