This page contain affiliate links. Please refer to my Disclosures Page for more details.
This Pumpkin Pie recipe is 154 years old! It was originally in Mrs Beeton's Book of Household Management and I love the fact that my family still use it now. I've adapted it slightly of course to make it gluten free and added a twist of Jack Daniels (shhh, don't tell hubby!) instead of the cooking brandy I used to use. However, in essence it's still true to the simplicity of a Victorian Household Recipe.
The reason I baked Pumpkin Pie today of all days (it wasn't Autumn when I first posted this) is because I had defrosted the freezer! It had gotten to the point where I needed a crowbar to move the drawers and I also needed to keep busy today [that's another story] and since I'd already scrubbed the floors and dusted it was naturally next on my frantic cleaning to-do-list! Why the pumpkin pie though Rebecca I hear you ask? Oh yes, I digress. I found two portions of sieved pumpkin.
You see, the key to having this bake all year round is preparation and forward planning (NO! I hear you cry, that's not fun!) Trust me, do this little bit of legwork beforehand, make up loads of pureed pumpkin, freeze and you can be sitting there watching Sunday afternoon TV and fancy a slice of pie and behold, 90mins later you have it!
….failing that use tinned pumpkin, I'll not judge, I've done the same!
So to summarise so far; Can you make pumpkin pie with frozen pumpkin? the answer is yes, you can. Can you use tinned pumpkin to make pumpkin pie? yes, you can do that too! Can you only eat pumpkin pie during autumn or fall? mostly certainly NO!!!
How to pick the perfect Pumpkin for Pumpkin Pie
There is no exact science to this, you never really know what your pumpkin will look like until you get it home and cut it in half. But basically you need to follow these simple key points for choosing the best pumpkin for pumpkin puree;
Avoid huge carving pumpkins, these have been grown specifically for their size and carving quality, not excellent pumpkin flesh and lots of it! (this said, I never waste carved pumpkin shavings)
Remember that pumpkins are a member of the vast squash/gourd family and therefore you can get similar if not identical outcomes with squashes that seem hard as bullets and the size of a bowling ball or smaller.
Butternut squash can also be used if, like some, you find pumpkin too over-powering in flavour. You may find the creamy buttery flavour of a butternut more appealing with the traditional pumpkin spices.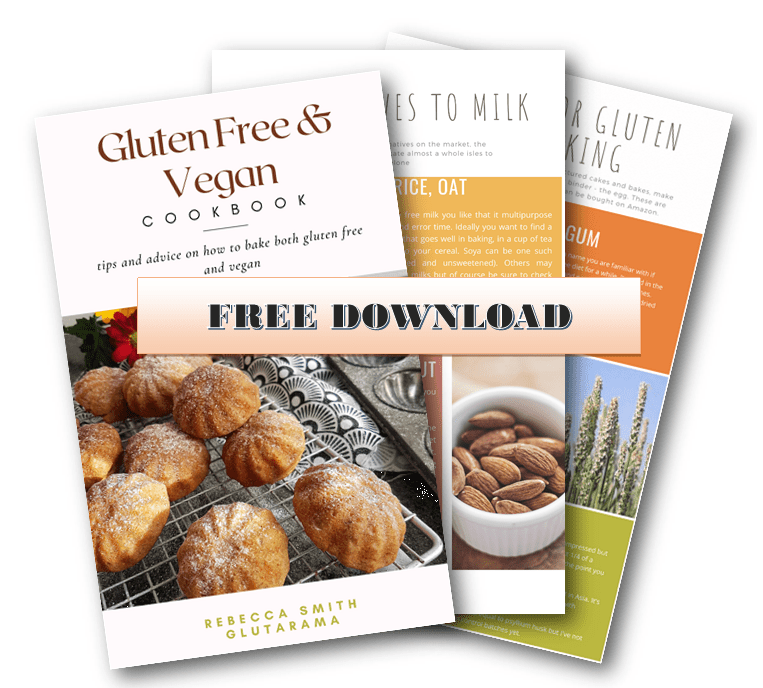 Never miss out again…
Sign up to my weekly Friday newsletter and not only get a FREE e-Book (currently my Gluten Free & Vegan Cookbook) but also get VIP subscriber discounts on free from goodies delivered to your door. Join me in my journey and learn to make anything gluten free.
How do I prepare a pumpkin for eating?
Ways to prepare a pumpkin for baking
Roast pumpkin; cut pumpkin into ¼ and de-seed, place in a roasting tray and cover with foil, bake at 200°C/180°C Fan for at least 60 mins (depending on size of pumpkin). Remove and cool, once cooled scoop out the cooked soft flesh and use of freeze for later.
Boiled pumpkin; peel and cut pumpkin removing all seeds. Chop and add to a big pan of water, boil until tender. Drain pumpkin and leave over the sink to ensure all excess liquids run away. Pop into a blender and puree, as above use or freeze.
Steamed pumpkin; as above really but you steam it!
Microwaved pumpkin; Not tried this but I have it on good authority that you can peel and cut the pumpkin and microwave in a glass bowl with a drop of water.
Perfect Pumpkin Puree
The base for so many Thanksgiving, Halloween and harvest time recipes. This perfect pumpkin puree is, in my humble opinion, the best way to make puree with the richest colour, flavour and texture. Ideal mixed with my homemade pumpkin spice to turn into pumpkin pies, breads, biscuits and more.
Check out this recipe
Should I blind bake my Pumpkin Pie pastry case?
You can bake blind if you are concerned that you will have a soggy bottom (Great British Bake Off reference for you there). The downside to doing this is that you run the risk of burning the sides of the pie crust when you come to bake the whole pie. One way around this is to allow the pastry case to hang over the edges of the pie dish and blind bake (for 10mins with baking beans/rice or dried pulses to weigh the pastry down). After 10mins add your custard mix and bake until just set in the middle and then once your pie has cooled for 5mins take a very sharp knife and trim the edges so your crust is level with the top of the pie dish. This method will give you a more rustic looking pie.
The way I tend to do it it to pour the custard mixture straight into the prepared pastry case that stops at the top of the pie dish.
TOP TIP: if you have chilled your pastry before rolling you will find your pastry shrinks less in the oven. So cutting the pastry level with the top of the pie dish should not be an issue once baked.
Remember that gluten free pastry has an attitude; mistreat it and it will fall apart if you as much as look at it funny! I find that if you cover the tin with foil and bake it for the first 20mins like this you'll get better results … you'll notice that I cheat in this recipe and use a ready made pastry. This is purely to keep things as simple for you (and me) as possible, however, here is a pastry recipe if you fancy making your own.
Gluten Free Pastry Recipe (with vegan option)
INGREDIENTS
80 g butter I use Flora plant butter
20 g fat I use Trex vegetable fat solids
200 g plain gluten free flour all purpose flour
50 g caster sugar
1 egg
vegan option:
1 tbsp ground flax seed
3 tbsp water
1 tsp psyllium husk powder (optional but does prevent crumbling)
INSTRUCTIONS
To make the pastry add the flour and butter/fat to a bowl and combine to make bread crumbs with your fingers.
Stir in the flour, salt and your egg (or flaxseed egg), start to mix the crumble mixture with a knife to help bring the dough together.
Turn out the crumb mixture onto the kitchen surface and begin to work together into a soft dough. Wrap and pop into the fridge for 30mins to rest.
How to make you own pumpkin spice
You can of course make your very own spice mix for this Pumpkin Spice Fool Recipe. Due to the intensity of ground clove I opt for a less intense spice experience so I use equal quantities of cinnamon, ginger and nutmeg with just a pinch of clove
3 tsp ground cinnamon
3 tsp ground ginger
3 tsp ground nutmeg
½ tsp ground cloves
Below is the printable version with some interesting facts about the origins of pumpkin spice and when it shot to fame!
Homemade Pumpkin Spice
Save time when baking and instead of reaching for 4 spices, reach for one. This spice mix balances the perfect amount of cinnamon, ginger, clove and nutmeg for all your pumpkin spice needs.
Check out this recipe
Due to the intensity of ground clove I opt for a less intense spice experience so I use equal quantities of cinnamon, ginger and nutmeg. If you decide to go for the full Pumpkin Spice experience then you could make your own by following these guidelines by Charlotte over on Charlotte's Lively Kitchen – Homemade Pumpkin Spice
Other pumpkin inspired recipes you might like to try
I have a few pumpkin inspired recipes here on Glutarama but thought you might be interested in these ones. You have my delicately spiced and moist Pumpkin Bread, my vegan version of this pumpkin pie Vegan Pumpkin Pie; with warm spices and gluten free too and finally the creme de la creme my Homemade Bailey's Pumpkin Spice; gluten and dairy free.
Gluten Free Pumpkin Pie Recipe
If you make it and like the recipe I would be eternally grateful if you popped back and commented leaving a star rating as this will tell search engines that this recipe is worth checking out and others will get to find it in searches.
Simple Gluten Free Pumpkin Pie
You can't get more traditional than this. This Pumpkin Pie recipe is well over 150 years old! A firm favourite for our family, this traditional Autumn pumpkin spiced pie is enjoyed every year without fail.
Ingredients
For the pastry
80

g

butter

I use Flora plant butter

20

g

fat (I use Trex white vegetable fat)

I use Trex vegetable fat solids

200

g

gluten free plain flour

all purpose flour

50

g

caster sugar

1

egg(s)
For the pumpkin filling
350

g

pureed pumpkin

125

g

caster sugar

3

egg(s)

2

tbsp

Jack Daniels

or any whisky/brandy/rum in the cabinet!

1

tsp

cinnamon

1

tsp

ginger

1

tsp

ground nutmeg
Instructions
To make the pastry case, rub together the fat and flour to make a crumble mixture.

Stir in the sugar and crack the egg into the middle of the crumble mixture.

Using a rounded knife cut through the crumble mixture incorporating the egg. Once it starts to form a dough turn out onto a lightly floured surface and work into a pastry ball. Pop into the fridge while you set to work on the filling.

TOP TIP: chilling the dough will reduce shrinkage when you bake.

Add the sieved pumpkin, eggs, whisky, spices and sugar into a jug and mix to combine. Set aside and get your pastry from the fridge.

Roll the pastry out to 5-10mm thick depending on how thick you like your pastry.

Using the rolling pin, carefully roll the pastry sheet around the pin and transfer the pastry to an 8 inch pie dish. Unroll the pastry over the pie tin and gently tease the pastry into the bottom and sides of the tin (GF pastry can be tricky, don't panic if you get cracks simply get a piece of over-hanging pastry to cover these).

Pour the pumpkin pie filling into pastry case.

Bake in preheated oven on 190°C | 170°C fan | 375°F | Gas 5 for 45mins

Check for last 10mins to see if you need to place foil gently over the pie to prevent burnt edges.

At 45 mins check to see that the pie has a slight wobble in the centre, this is fine, the pie custard will continue to set as it cools. Remove from the oven and place on a cooling rack.

Allow to totally cool before removing from tin, slice and serve with squirty cream
Nutrition
Nutrition Facts
Simple Gluten Free Pumpkin Pie
Amount per Serving
% Daily Value*
* Percent Daily Values are based on a 2000 calorie diet.
Have you tried this recipe?
Let me know how it was & I will be super grateful. Take a picture & tag me @glutarama on your social media posts – I love seeing your photos more than you will ever know x
I love to see your own photos of my bakes, dinners and treats head to your favourite social media account and don't forget to tag me in @glutarama
Subscribe to my email list so that you get NEW recipes straight in your mailbox every Friday PLUS a FREEBIE and access to some amazing gluten free DISCOUNTS
---
*disclaimer: I use affiliate codes on my website, the vast majority are to Amazon. If you click on any of the links or images in the post and make a purchase my family will benefit from a small % of that purchase at no extra cost to you, in fact, for full transparency, in 2020 I made my first £25, and recently in 2022 I reached my next £25 (Amazon don't transfer the money until you reach £25). As you can see, it won't make me a millionaire but it will treat me to a few coffees, Lord knows I need the caffeine!