This page contain affiliate links. Please refer to my Disclosures Page for more details.
Also, before you hit 'Jump to Recipe' just check my contents section 'Skip to the Good Bit' below. I may answer a query you have about this recipe straight away in the post.
In this Easy Luxury Gluten Free Stuffing recipe I show you how you can transform a pre-made stuffing mix into luxury trimmings for a special celebration. Ideal for Christmas Day, Easter Sunday Roasts and just whenever you feel the need to pimp your stuffing!
This idea actually came to me as I judged the Free From Christmas Awards dinner category. The judges agreed that some people like their stuffing to be made to their liking and not packed with the familiar luxury ingredients. On the flipside of that, I realised that many may not appreciate how easy it is to add your own twist on an every day packet of gluten free stuffing, so here we are!
Never miss out again…
Sign up to my Friday newsletter and receive not one, but THREE FREEBIES.
GF and Vegan e-Book
conversion charts
3 simple guides to allergies, intolerances & autoimmune.
Join me and learn to make anything gluten free.
Different gluten free stuffings you can buy
There are so many readymade gluten free stuffing mixes on the market now. I've listed a few below to give you an idea of stores near you for gluten free stuffing (UK only). However, you can also buy them online for smaller businesses such as this collection of Luxury Gluten Free Stuffing Mixes by Shropshire Spice. There is also a Free From Christmas Awards winning collection by Gordon Rhodes that includes bread sauce.
As you can see, the market is awash with gluten free stuffing mixes. Every year in the lead up to Christmas I also see new limited edition luxury mixes. In these recipes I show how you can turn your humble everyday gluten free stuffing into an easy Luxury Gluten Free Stuffing.
Can I make my own stuffing from scratch?
Want to go all out, skip the pre-made stuffing mix, and make your own gluten free stuffing from scratch? Well you can here with my homemade gluten free stuffing recipe.
Luxury Cranberry Stuffing made gluten free
The perfect accompaniment to your Christmas dinner. This simple to make gluten free cranberry stuffing can be made in advance of the big day and cook or reheated whilst you rest the turkey. It's also vegetarian and dairy free.
Check out this recipe
How to make an easy Cranberry Stuffing
For this recipe I used an Aunt Bessie's gluten free stuffing mix. I simply followed the packet instructions and added the required amount of boiled water to the mix along with a knob (approx. 25g) of plant based butter.
Many pre-made stuffing mixes are sage and onion flavour. Therefore I do not recommend adding more fresh sage, here's why.
Sage is a robust flavoured herb and fresh sage even more so. To add fresh sage to dried sage you are going to end up with a bitter aftertaste which some may like but many won't be keen.
In my opinion, luxury-anything means it's dotted with fresh ingredients and pops of colour. So to remedy the lack of fresh sage I have added chopped chives from the garden. You may like to add parsley.
How to make an easy Apricot and Chestnut Stuffing
For this recipe I had a gluten free Paxo stuffing mix in the cupboard. For the record, this stuffing mix looks and behaves more authentically to is glutenous counterpart. However, it does have gram flour in the ingredients and I am really sensitive to the taste of gram flour so just a heads up.
I wanted to go all out luxury on this gluten free stuffing so I added diced soft eating apricots, fried red onion and chopped sweet chestnuts. Merchant Gourmet Sweet Chestnuts are ideal as they are guaranteed gluten free.
Once again I made the stuffing according to the packet but if it ever recommends using oil I would suggest you use butter or a plant based alternative as this makes a far better stuffing in my opinion.
Top tip – how to make stuffing balls
The key to making stuffing balls is portion size, lining the baking tray and not giving yourself third degree burns whilst moulding the shapes!
TIP ONE: once you've made your stuffing mix, WAIT at least 5 minutes before diving in to roll your stuffing balls. These mixes are like insulation and they hold their heat. ALSO, the stuffing needs to swell. If you roll your balls too quickly they continue to swell and the structure is compromised.
TIP TWO: prepare a baking tray with a sheet of baking paper so your balls do not get stuck, there's nothing more disheartening than lifting a stuffing ball off the tray only to leave half of it behind!
TIP THREE: think golf balls. I use a dessert spoon to portion my stuffing balls, most stuffing mixes say they have a yield of 12-14 stuffing balls. Aim for 12 so you get decent sized golf ball portions.
TIP FOUR: when you remove from the oven, allow to cool a little if serving immediately as a hot stuffing ball is still fragile. Ideally use a palette knife to free the ball if it has gotten stuck.
Simple Stuffing Parcels
These stuffing parcels are my new favourite Christmas Dinner Trimming. They are like a cross between a pig in blanket and a stuffing ball. Incidentally, these also make excellent party pieces for buffet tables as they are delicious both warm and cold.
I use thin slices of Prosciutto for a touch of luxury. This meat is easier to parcel up than bacon and keeps it shape amazingly well.
To make these parcels I simply make the Luxury Gluten Free Stuffing, then place a slightly larger than the golf ball size portion in the centre of the slice and then gently roll the Prosciutto up.
Be sure to place the sealed side down onto the prepared baking tray and then bake in the oven for 20-25 minutes on a medium-high heat.
Want to be even more luxurious, why not brush each parcel with honey or maple syrup?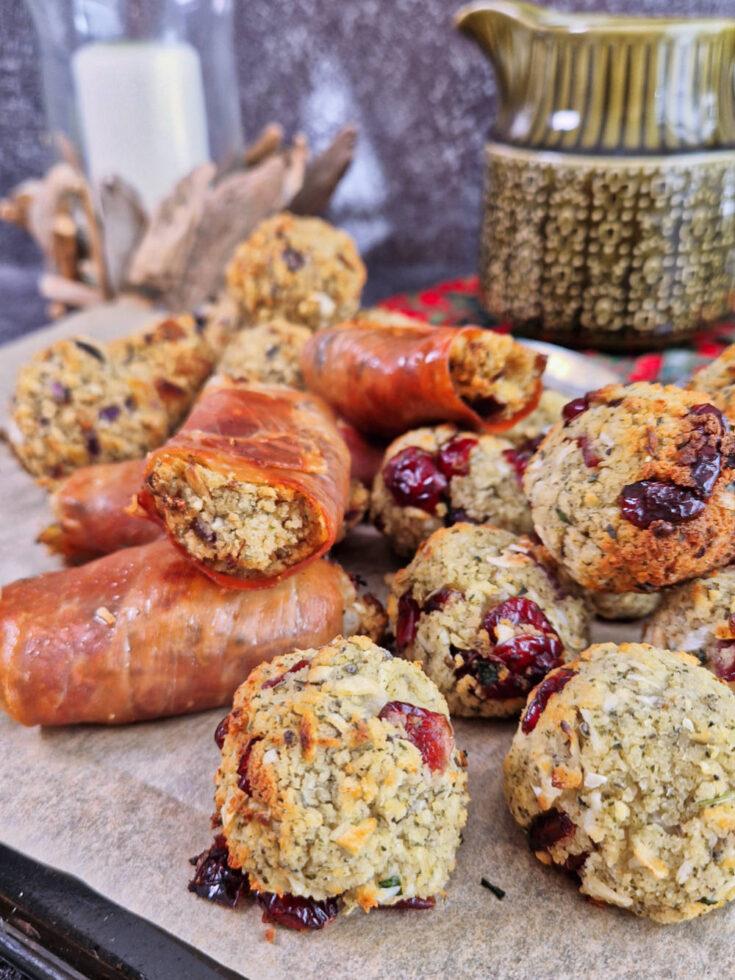 Can I make this Luxury Gluten Free Stuffing in advance?
You can make these stuffing balls in advance, you can also make the parcels in advance too. I'm not sure if the parcels will freeze well, I've not tried but do hop back and comment if you try this and it works.
Normally I make extra stuffing balls and freeze the other half for next time. These freeze well in Tupperware containers. You can simply dive into the freeze and take a few stuffing balls out to go with your dinner. Just cook them for 15-20 minutes from frozen.
Easy Luxury Gluten Free Stuffing Recipe
If you make it and like the recipe I would be eternally grateful if you popped back and commented leaving a star rating as this will tell search engines that this recipe is worth checking out and others will get to find it in searches.
Easy Luxury Gluten Free Stuffing Recipe
A super simple way to 'pimp' your gluten free stuffing to the next level. Ideal for Christmas Day Dinner and other special occasions, this recipe is quick and easy with an added touch of luxury.
Ingredients
150

g

gluten free stuffing mix

fine to use 140g-170g as packet sizes may vary
For the cranberry stuffing
50

g

dried cranberries

25

g

butter or butter alternative
For the apricot and chestnut stuffing
50

g

apricots

ideally soft snacking apricots

50

g

sweet chestnuts

½

medium

red onion
Instructions
To prepare the stuffing mix
Add your ready made stuffing mix to a bowl, add butter (if packet suggests oil, replace this with 25g of butter/butter alternative, assuming you are making 1x portion)
To make the cranberry stuffing
To the bowl, add the weighed out cranberries and fresh herbs along with the stuffing mix and butter (I used chives, you could use parsley if you wish).

Now add the required amount of boiled water. I do this by placing my bowl onto the scales, setting to zero and pouring straight from the kettle to get the right amount to water.

Leave the mix to swell for AT LEAST 5 minutes, this also makes it cooler to handle for next stage.
To make the apricot and chestnut stuffing
You will need to finely chop and fry the red onion before adding to the stuffing mix. I do this on a high heat in a little frying pan with a little oil until the onion starts to go translucent. You want it to retain as much of its lovely red colour.

Chop the soft apricots and sweet chestnuts into little fingernail-sized pieces, too large and the stuffing balls will be difficult to roll.

Next add the apricots, chestnuts and onion to your bowl of stuffing mix and butter and use the step above to ensure you measure out the correct recommended amount of boiled water.
To roll the stuffing balls
I use a dessert spoon to measure each portion size. You are aiming to get 12 golf sized balls of stuffing.

Place each stuffing ball onto a lined baking tray and cook at the recommended temperature on the packet for 20-25 minutes. As general rule of thumb the oven needs to be about 220°C | 200°C fan | 425°F | Gas 7.
To make the parcels
NOTE: this makes about 6 large parcels rather than 12 balls.

Carefully place your slice of Prosciutto onto a kitchen board and place a handful of your chosen luxury stuffing into the centre.

Gently roll the meat into a sausage shape and place the sealed side down onto a prepared baking sheet.

Cook for 20-25 minutes. As general rule of thumb the oven needs to be about 220°C | 200°C fan | 425°F | Gas 7.
Nutrition
Nutrition Facts
Easy Luxury Gluten Free Stuffing Recipe
Amount per Serving
% Daily Value*
* Percent Daily Values are based on a 2000 calorie diet.
Have you tried this recipe?
Let me know how it was & I will be super grateful. Take a picture & tag me @glutarama on your social media posts – I love seeing your photos more than you will ever know x
I love to see your own photos of my bakes, dinners and treats head to your favourite social media account and don't forget to tag me in @glutarama
Subscribe to my email list so that you get NEW recipes straight in your mailbox every Friday PLUS a FREEBIE and access to some amazing gluten free DISCOUNTS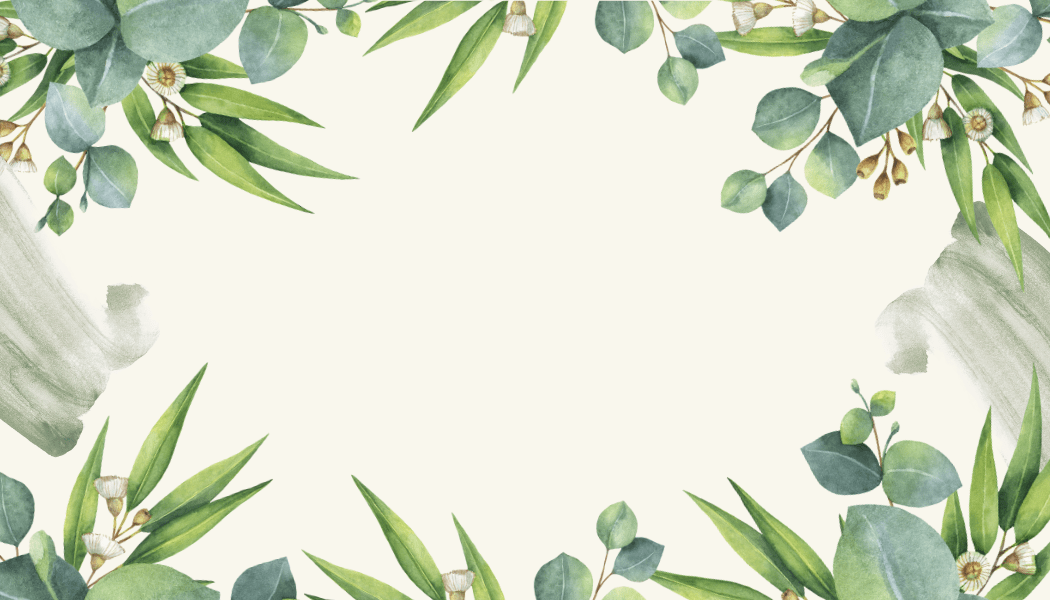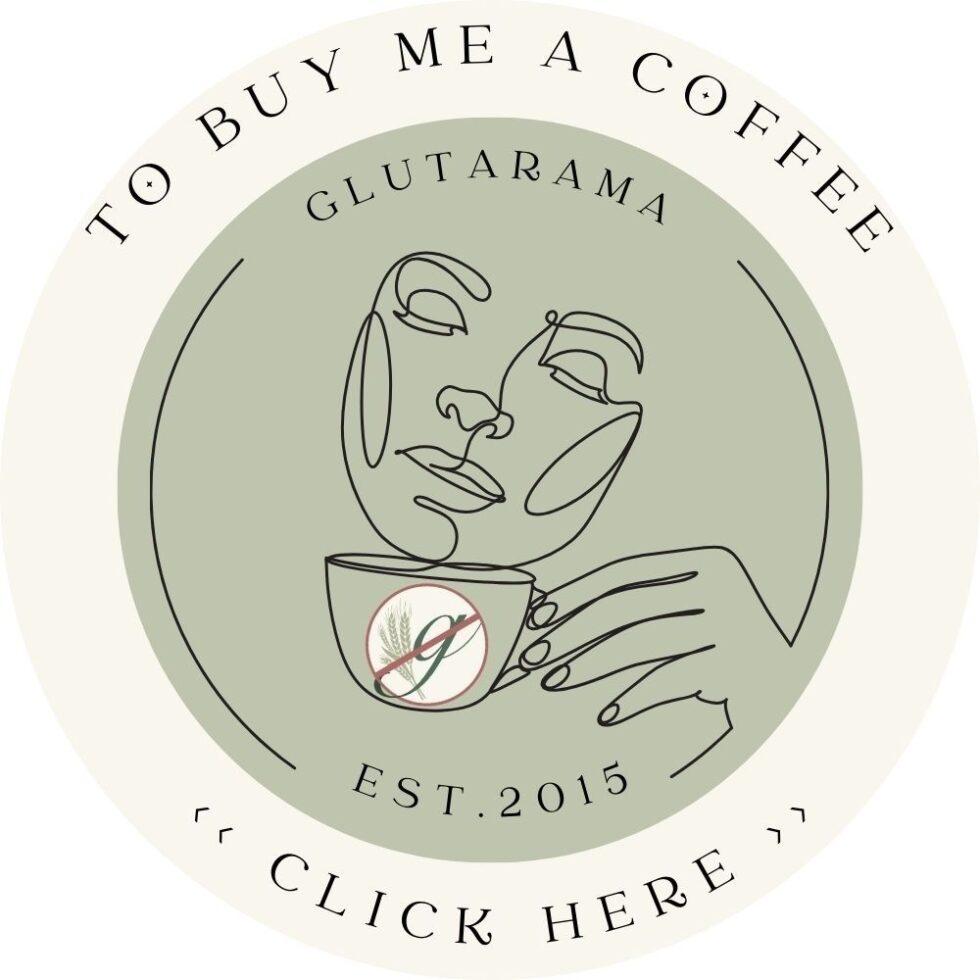 Keep Glutarama AD-Free
I have decided not to have AD's on my website. But this means I need to find other ways to pay for the upkeep.

If you like my work and want to support me you can here via Ko-fi and 'buy me a coffee'
*disclaimer: I use affiliate codes on my website, the vast majority are to Amazon. If you click on any of the links or images in the post and make a purchase my family will benefit from a small % of that purchase at no extra cost to you.

For full transparency, in 2020 I made my first £25, and in 2022 I reached my next £25 (Amazon don't transfer the money until you reach £25). Recently I got paid a whopping £27.10 for 2023.

So to date I have made £78.58 since I first started the scheme in 2017. It won't pay the bills, that's for sure but it does help to pay for ingredients or little treats to cheer me up!