This page contain affiliate links. Please refer to my Disclosures Page for more details.
Also, before you hit 'Jump to Recipe' just check my contents section 'Skip to the Good Bit' below. I may answer a query you have about this recipe straight away in the post.
my Gluten Free Fig Custard Pudding recipe was an idea that I've been pondering over for about a year now. In fact it was after last years fig harvest that the idea started to form. I have the teeniest fig tree in my garden and last year it bore about 6 fruits.
This year I got over 12, who knows next year I may get 24! The point being that I needed to find recipes that my whole family could eat and enjoy. I had originally planned to make a pudding similar to my Gluten Free Eve's Pudding with the figs on the bottom. But figs are too pretty and vibrant to hide in a pudding so I wanted to make a statement out of them.
Lots of ideas and deliberation later and I came up with the idea to have a pudding that incorporated light sponge, fresh figs, dried figs and a figgy custard giving the pudding a comforting caramel flavoured topping.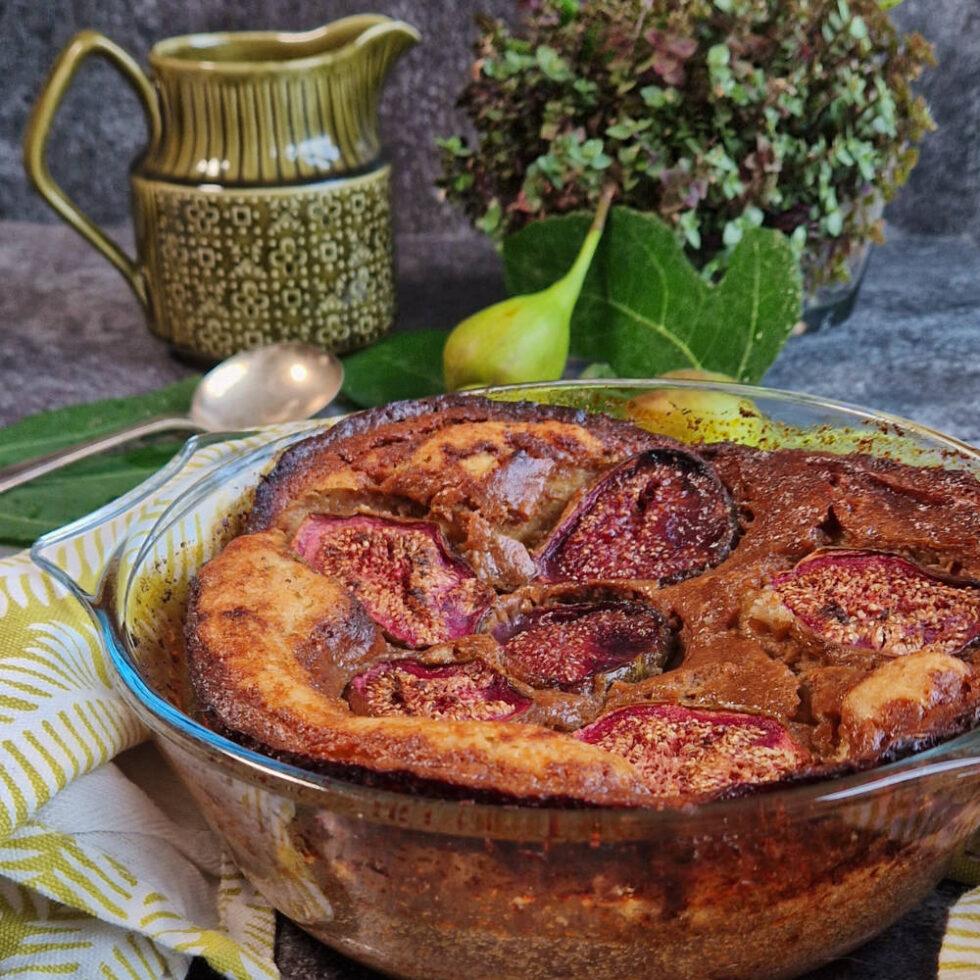 Never miss out again…
Sign up to my Friday newsletter and receive not one, but THREE FREEBIES.
GF and Vegan e-Book
conversion charts
3 simple guides to allergies, intolerances & autoimmune.
Join me and learn to make anything gluten free.
When is the best time to buy figs?
Technically fig harvest season is September here in the UK but I have a dear friend in the South of France who has her fig trees ready for harvest from July. Unlike tomato's, figs do not continue to ripen after you pick them so you need to make sure you pick them at the right time. When they droop heavily and are soft to the gentle squeeze is when I choose to pick mine. I don't let the colour of the skin determine when I should pick them.
As most supermarkets will import fresh figs you can find them in store all summer and into the autumn.
Are there dead wasp in figs?
Sorry of this puts you off your pudding but this is a question I've always want to know the answer to so I thought I would share here. Are you sure you want to know the answer to this? Okay, you asked for it!
Certain types of fig are male and female and so require a special breed of wasp to pollinate the females.

If the wasp climbs into a female fig, she pollinates it, but cannot lay her eggs.

Luckily for us, the female fig produces an enzyme that digests this wasp completely. The crunchy bits are seeds, not wasp parts.

Science focus – Is it true there are dead wasps in figs?
So, are you still with me or did you run for the hills screaming no figs for me ever again! At least we know now and can understand why some vegans chose not to eat figs. I personally think it's best just not to think about it!
Can I make this with dairy and egg (not vegan)?
I have added tips on how to make this Gluten Free Fig Custard Pudding with egg and dairy for those who are not in need of a 'vegan' recipe. Instead of add the ground flaxseed, simply add an egg. Instead of adding plant based 'butter' add your favourite butter, slated or unsalted, it's up to you but salted will result in a better tasting pudding.
How to prepare figs for this Fig Custard Pudding
Do I need to pre-cook the figs? Nope this recipe is super simple and all you need to do is wash your figs, cut off the inedible stalk and cut them in half.
How to make the gluten free sponge?
This is a simple one bowl sponge so I make mine in a big mixing bowl with an electric whisk. Simply cream together the 'butter' and sugar (adding the flax if necessary) and to that add the 'milk' and finally the gluten free flour. You end up with a crema coloured light sponge batter ready to spoon into the greased pudding dish.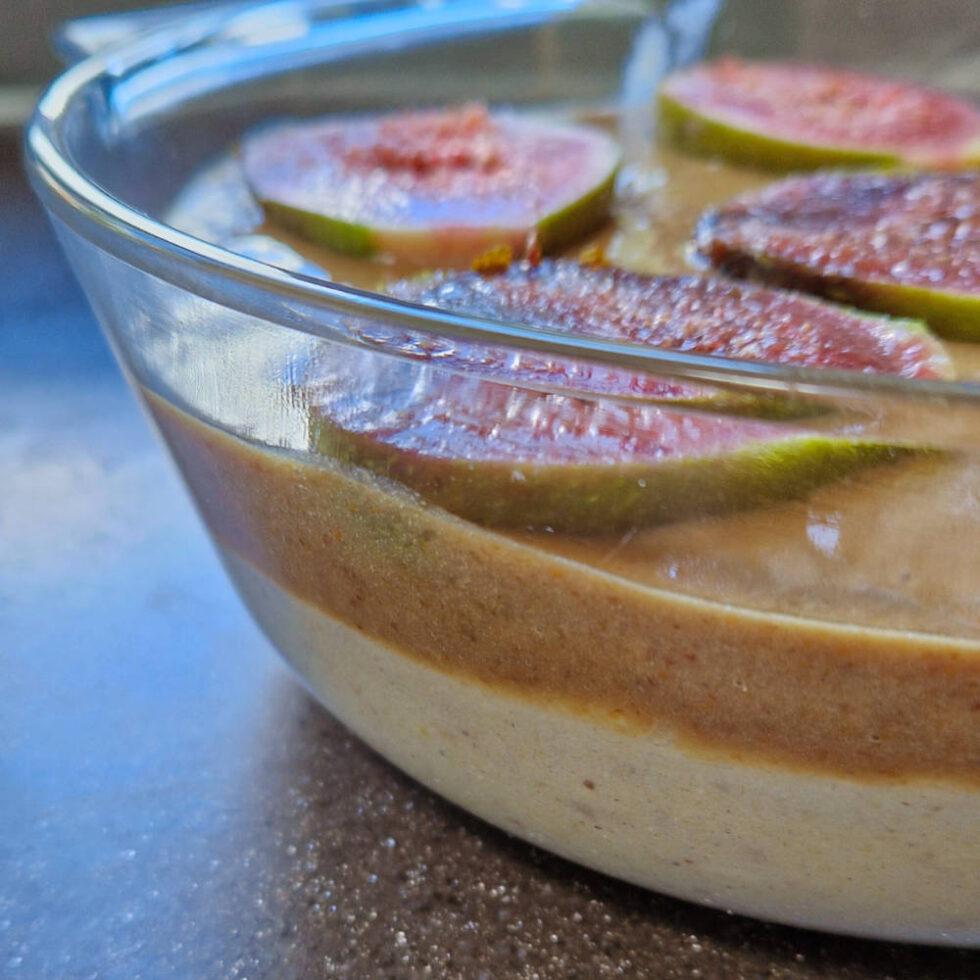 How to make the fig custard topping?
You're really going to need a blender for this bit, a hand blender would work too. I simply add the dried figs, sugar, 'milk' and water to the blender and whizz until smooth. if you find your fig custard is too thick to pour add a little more water to loosen it.
Great ways to serve this Fig Pudding
Homemade Vegan Clotted Cream
Make your own homemade thick clotted cream but dairy free and vegan. A simple recipe to make 125ml of imitation clotted cream with a tell-tale thick crust on top. Perfect for scones for a cream tea or to accompany puddings and desserts
Check out this recipe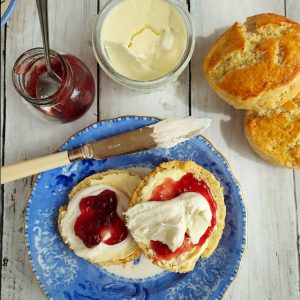 Homemade Vegan Custard Recipe
A quick guide to making dairy free, egg free vanilla custard using just three ingredients to make a vegan custard powder. Simply add your favourite dairy free alternative milk and you're ready to enjoy with a delicious gluten free and vegan pudding (Self Saucing Chocolate Pudding used as serving suggestion) This recipe makes enough custard for two people.
Check out this recipe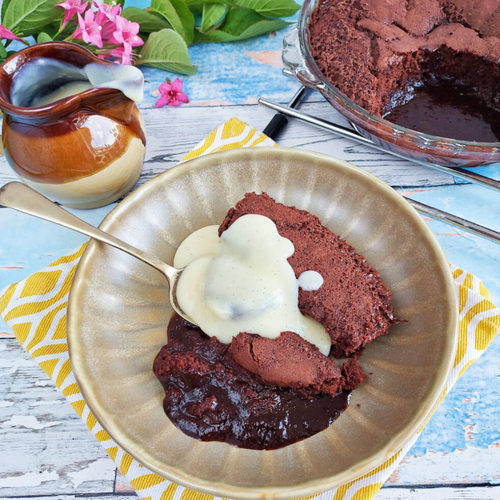 Quick and Easy Dairy Free Custard
A quick guide to making dairy free vanilla custard using safe instant custard powders. There is also guidance on how to make your very own instant custard powder for the store cupboard.
Check out this recipe
Other fig inspired recipes for you to try
Delicious Gluten Free Fig Frangipane Tart
This easy to make Fig Frangipane Tart is a celebration of fig season, so if you're not sure what to do with fresh figs then this is the gluten free bake for you. This is also vegan so dairy and egg free too.
Check out this recipe
Gluten Free Fig and Almond Danish Pastries
A simple and easy to make Danish Pastry using simple ingredients. Quick to make for a treat or breakfast and impressive to look at too despite not needing a masterclass in pastry skills! Gluten free, dairy free and egg free these are a winner in our family!
Check out this recipe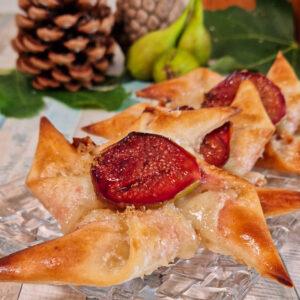 Will this pudding freeze well?
I have not tried, we eat this pudding as soon as it is out of the oven and the fig custard is deliciously gooey with a caramel taste to it. If you do make this in smaller individual sized portions and freeze it I'd love to know who you get on.
Gluten Free Fig Custard Pudding
If you make it and like the recipe I would be eternally grateful if you popped back and commented leaving a star rating as this will tell search engines that this recipe is worth checking out and others will get to find it in searches.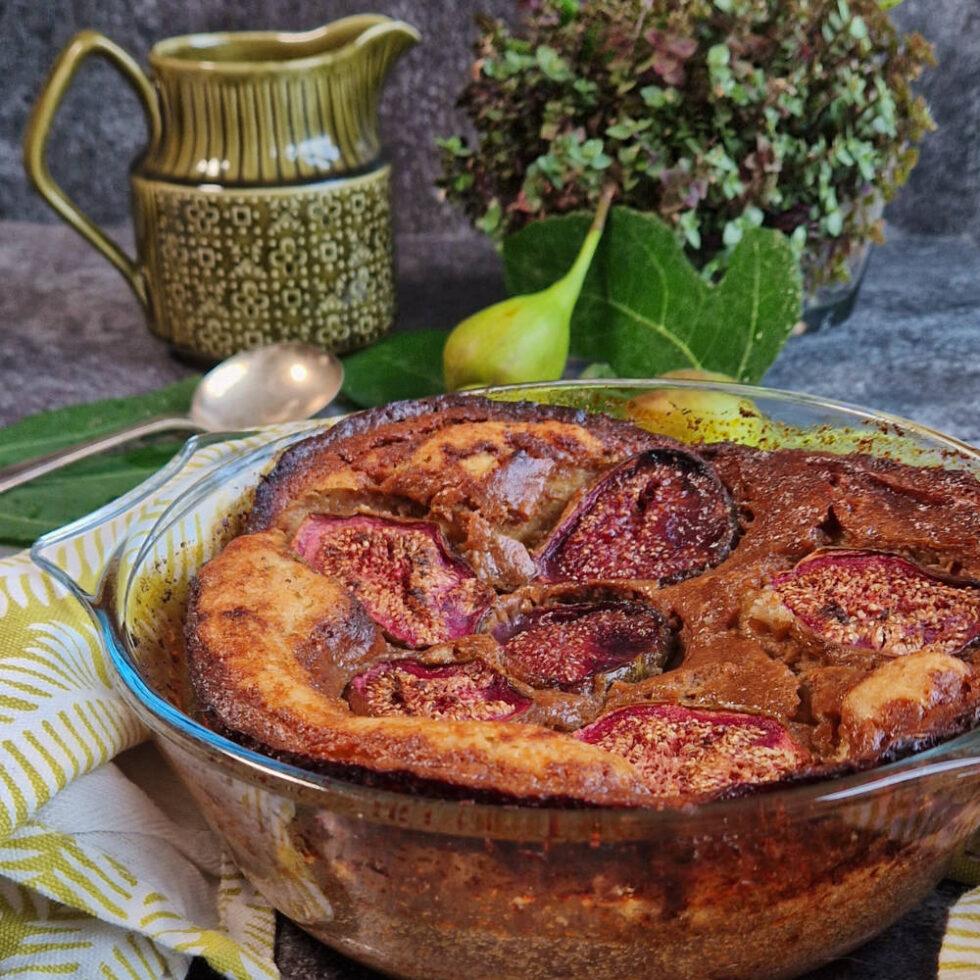 Gluten Free Fig Custard Pudding
A delicious combination of light sponge pudding topped with a fig infused custard that's baked together in the oven to create a sticky caramel fig custard topping. So simple to make and delicious for pudding and suppertime.
Ingredients
For the sponge
50

g

butter or butter alternative

I use Flora plant butter blocks

150

g

caster sugar

1

tbsp

ground flaxseed

or you could use an egg

150

ml

dairy free milk

I use soya milk, but you can use normal milk

150

g

gluten free self raising flour

1

tsp

baking powder
For the fig custard
5

dried figs

50

g

dark brown sugar

150

ml

dairy free milk

I use soya milk, but you can use normal milk

50

ml

cold water
Instructions
How to make the sponge
In a mixer or large bowl cream together the dairy free spread or butter with the caster sugar and ground flaxseed until light a fluffy.

NOTE: if adding egg, instead of flaxseed, do this now before adding the milk/milk alternative.

Pour in the milk or milk alternative and beat rapidly, the sponge batter will probably appear curdled at this point, don't worry, this is normal.

Add the gluten free self raising flour and baking powder and beat to a smooth batter.

Pour the batter into a well greased pudding dish, you'll need a 2pt pudding dish for this recipe.
To make the fig custard
In a blender, add the dried figs, brown sugar, milk/milk alternative and water and blend to a thick caramel coloured consistency. If the custard is too thick to pour, add a little more water to loosen.

Pour the fig custard over the sponge batter in the oven dish, no need to be neat here, just pour it in.

Now place your halved fresh figs onto arranging them in a circle as I have done in the photos.

Pop into a preheated oven at 180°C | 160°C fan | 350°F | Gas Mark 4 for 45-50 minutes, the pudding will be ready, when the fig custard has turned a delicious toffee colour and the sponge has well risen.
Nutrition
Nutrition Facts
Gluten Free Fig Custard Pudding
Amount per Serving
% Daily Value*
* Percent Daily Values are based on a 2000 calorie diet.
Have you tried this recipe?
Let me know how it was & I will be super grateful. Take a picture & tag me @glutarama on your social media posts – I love seeing your photos more than you will ever know x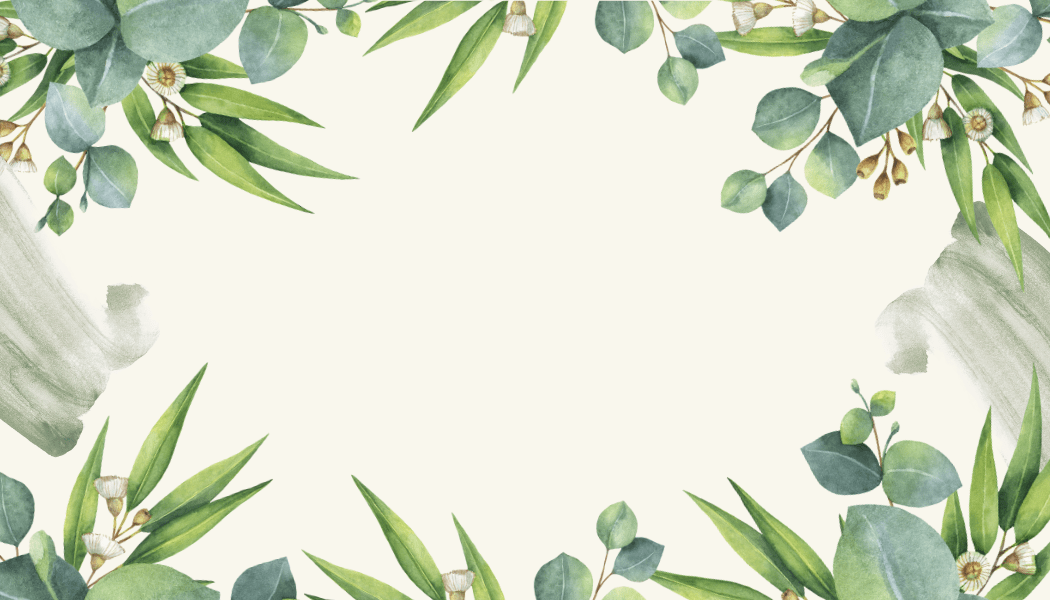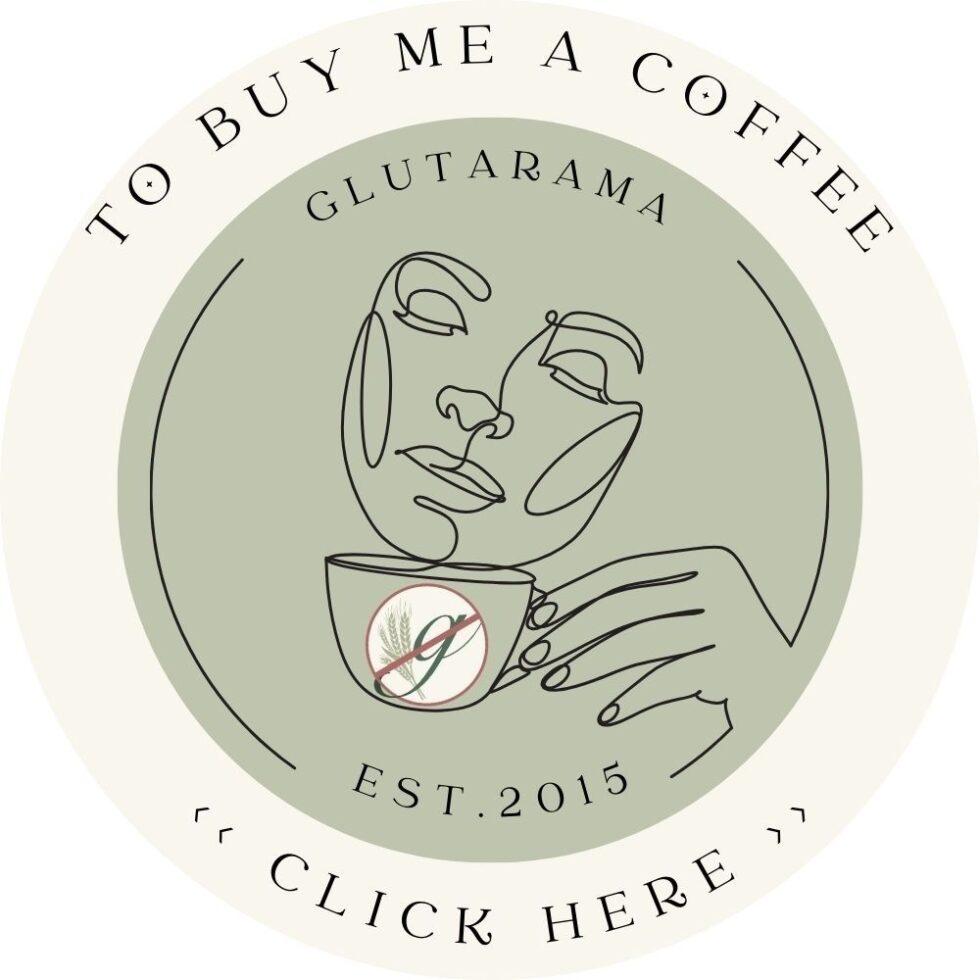 Keep Glutarama AD-Free
I have decided not to have AD's on my website. But this means I need to find other ways to pay for the upkeep.

If you like my work and want to support me you can here via Ko-fi and 'buy me a coffee'
I love to see your own photos of my bakes, dinners and treats head to your favourite social media account and don't forget to tag me in @glutarama
Subscribe to my email list so that you get NEW recipes straight in your mailbox every Friday PLUS a FREEBIE and access to some amazing gluten free DISCOUNTS
---
---
Join my friendly Facebook Group
life's a drama, gluten free doesn't have to be….
*disclaimer: I use affiliate codes on my website, the vast majority are to Amazon. If you click on any of the links or images in the post and make a purchase my family will benefit from a small % of that purchase at no extra cost to you.

For full transparency, in 2020 I made my first £25, and in 2022 I reached my next £25 (Amazon don't transfer the money until you reach £25). Recently I got paid a whopping £27.10 for 2023.

So to date I have made £78.58 since I first started the scheme in 2017. It won't pay the bills, that's for sure but it does help to pay for ingredients or little treats to cheer me up!