This page contain affiliate links. Please refer to my Disclosures Page for more details.
A luxurious dairy free Festive Rice Pudding recipe with all the spice and warmth of the Christmas holidays. This recipe was developed as a result of me wanting to make rice pudding in the slow cooker. I'd not done it before and decided to test it out in comparison to the traditional oven baked rice pudding.
Because of the time of year, I had some seasonal ingredients handy and in my usual style of recipe development I threw different ingredients in to see what different flavoured rice puddings I could come up with.
This Festive Rice Pudding recipe was the result of building on simple ingredients that complimented one another. Then I added a few luxury twists to make this a next level rice pudding to impress guests as a delicious dessert or indulge yourself on those cold wet winter evenings.
Is Pudding Rice Gluten Free?
Good question. Not all pudding rice is gluten free. 'Have you lost the plot Rebecca' you may ask? It's down to the way the rice is manufactured, where it's manufactured and where it's packaged.
If the environment also packages other cereal grains, then there is the risk of cross contamination.
I saw an excellent non-scientific experience a few years back on Twitter. The account it originates from evades my memory but this person took a bag of rice with may contain gluten on it and diligently went through each rice grain.
They found about five fragments of other cereals in that rice! It was the perfect demonstration as to why may contains are added to packaging. The answer – always read the labels. For information, I got my pudding rice from Aldi, this has no may contains on the packaging.
Is Mincemeat Gluten Free?
Another excellent question. Not all mincemeats are gluten free but you'll be pleased to know that gluten containing mincemeat is prevalent far less these days.
Things to watch out for are mincemeats that are not your average jar. We seem to have a trend of salted caramel mincemeat this year and some luxury mincemeats still contain gluten.
Why does mincemeat contain gluten you may ask? It's down to the type of suet used in the making of the mincemeat. Suet is a traditional ingredient in mincemeat. It's a nod to the fact mincemeat was originally made with meat and fruit (more about that below). Not all suet's are gluten free as they often use wheat flour. However, it's becoming more common for suet to be made with rice flour or other non gluten starches. Incidentally, I have a suet recipe here so you can make your own homemade suet Gluten Free Dumplings using Homemade Suet.
The History of Mincemeat
Mincemeat was originally a seemingly unpalatable combination of meat and sweet fruits such as dates and figs. This sounds odd to us now but was very common to the Tudors. The humble mince pie wasn't even round.
In the Tudor period they were rectangular, shaped like a manger and often had a pastry baby Jesus on the lid. They were made from 13 ingredients to represent Jesus and his disciples and were all symbolic to the Christmas story.

As well as dried fruit such as raisins, prunes and figs, they included lamb or mutton to represent the shepherds and spices (cinnamon, cloves and nutmeg) for the Wise Men.

It was only later, post Reformation, that the mince pie adopted a round shape.

Historic UK – History of Mince Pies
It was the Victorians who gradually took the meat out of the mincemeat and we were then left with the familiar sweet fruity mincemeat we all know today.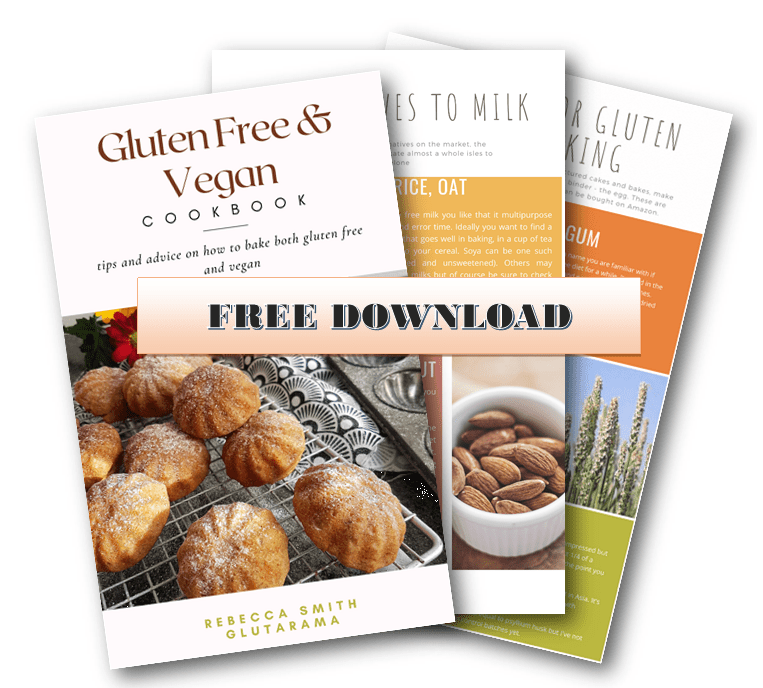 Never miss out again…
Sign up to my weekly Friday newsletter and not only get a FREE e-Book (currently my Gluten Free & Vegan Cookbook) but also get VIP subscriber discounts on free from goodies. Join me and learn to make anything gluten free.
What Dairy Free Milk can I use to make Rice Pudding?
In this photo for my Festive Rice Pudding I used soya milk. On other occasions I used gluten free oat milk. Both work perfectly. You could use also use coconut milks, nut milks and rice milks too. The thing to consider is that this will be baked or slow cooked for a long time and if you normally use a dairy free milk that has a tendency to split in hot drinks then I'd avoid that milk as it will split in this rice pudding.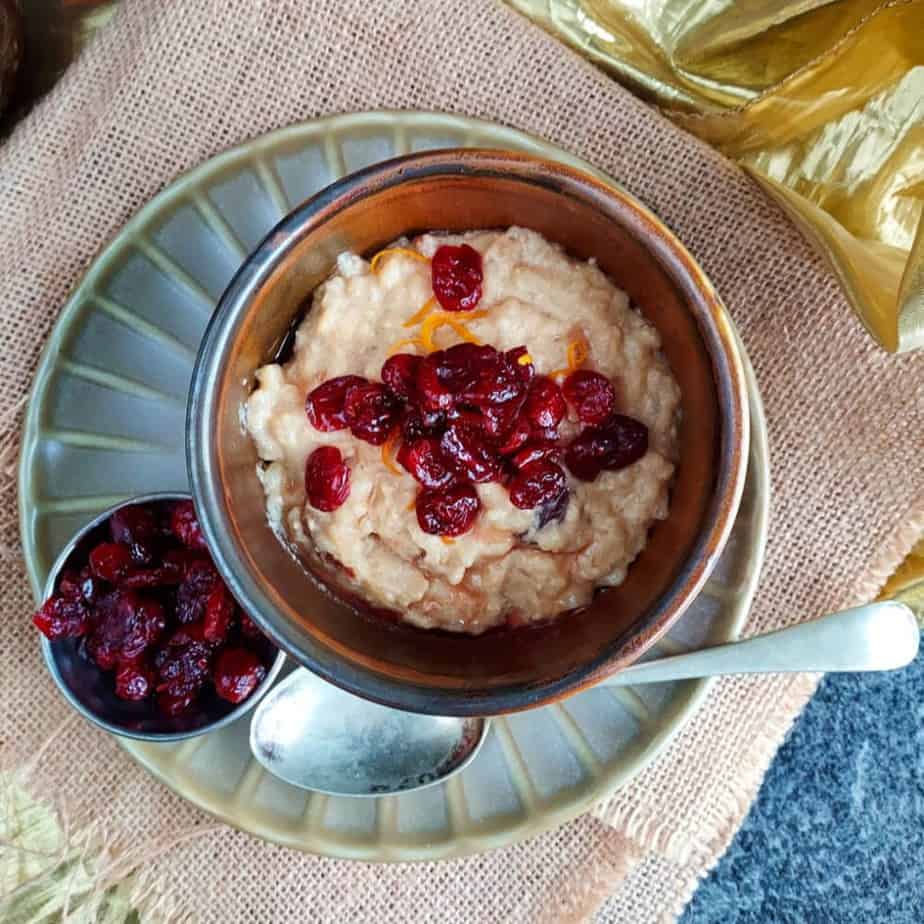 Can I make this Rice Pudding Vegan?
This rice pudding is vegan because I use plant based butter, plant based milk and cream and all the other ingredients are naturally vegan and gluten free.
WHAT IS THE BEST DAIRY FREE CREAM?
Getting vegan bakes and desserts right takes time. You need to ensure that where dairy fat is removed, you replace it with something similar. Likewise, eggs are like the mortar of baking. Without these important building blocks you find that cakes are either solid or crumble. Desserts are too soft and unstable and generally success in the kitchen is a game of chance.
Here's where I step in, I've done all the hard work, failed all the many fails so that you don't have to. If you ever have any questions regarding gluten free, dairy free and vegan baking please do not hesitate to ask in the comment below or email me direct [email protected].
If you're keen to find out more, head over to my post Ingredients and Simple Recipes for a Gluten Free Veganuary even if it's not Veganuary when you read this, the post is packed with tips and tricks to help you to understand the ingredients I use in my baking and more importantly why. Once you understand what each element does, you'll be far more confident to head off and make your own new baking discoveries
Making Rice Pudding in a Slow Cooker
To make a rice pudding in slow cooker you use the same preparation you would with an oven baked rice pudding. It's always good practice to oil the pot or oven dish so this is what I do first. Simply rub the sides of the slow cooker pot with your normal butter or spray with oil.
The wonderful thing about a rice pudding is the fact you tip all the ingredients into the dish, give it a stir and then cook for over an hour maybe giving it the odd stir along the way.
This goes for slow cooker rice pudding too. The main difference between slow cooker and oven baked rice pudding is that you don't get the thick sweet skin on a slow cooked rice pudding. You can leave the lid off the slow cooker towards the end and a skin will form but not the traditional baked pudding kind.
Cooking a rice pudding in a slow cooker takes between 60 and 90 minutes depending on how you like your rice. This is quicker than the baked version due to the fact that more moisture is retained during the cooking process.
If you have temperature settings on your slow cooker then select high for this rice pudding – and remember to set a timer!
Making Rice Pudding in the Oven
As mentioned above with the slow cooked rice pudding, you need to prepare the oven dish by rubbing with butter. This is to reduce the pudding sticking to the edges (some sticking is inevitable).
All the ingredients go into the oven dish and you give it a gentle stir then pop on a lid (I use Pyrex oven casserole dishes*) The pudding rice absorbs the liquid and bubbles away, then you remove the lid and continue to bake for a little time to achieve the traditional baked rice pudding skin.
Baking in the oven takes approximately 2 hours and is a slower process to slow cooking a rice pudding.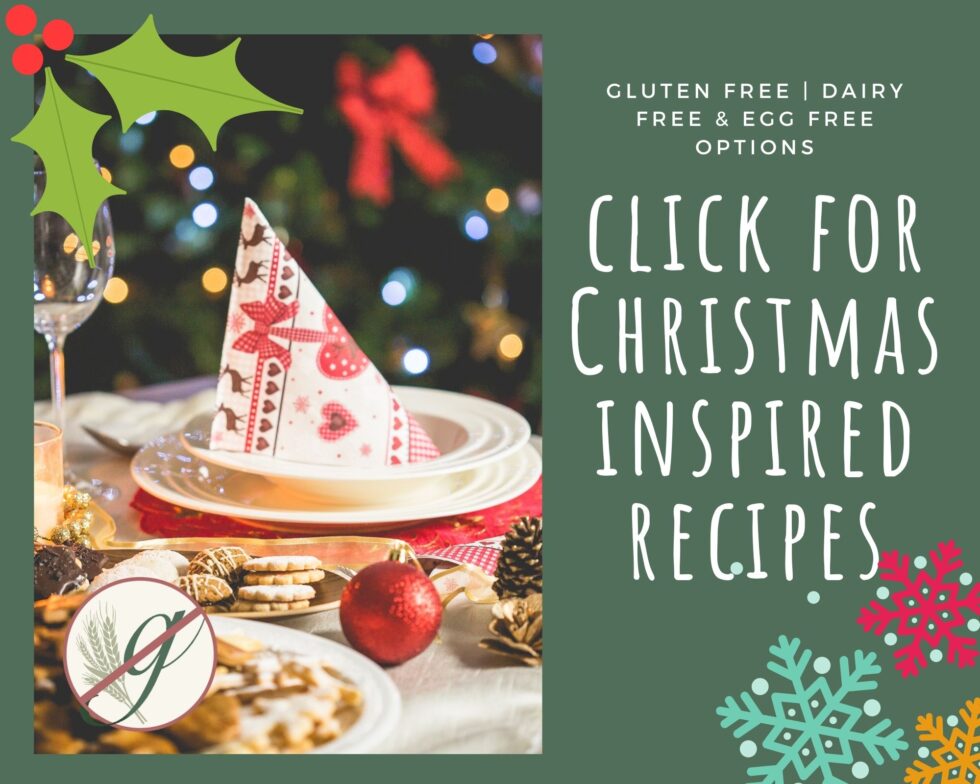 Adding a festive twist to Rice Pudding
This recipe has the added mincemeat to give you all the delicious spiced flavours you'd associate with Christmas. Then I add a bit of orange peel, there's something comforting about the smell of orange at Christmas.
To finish the Festive Rice Pudding with an additional festive finale I add brandy soaked cranberries. These add another flavour dimension, a flash of colour and give the rice pudding that extra touch of luxury.
You don't have to use cranberries if you are unable to eat them or simply don't like them. You could add dried cherries soaked in brandy or kirsch. Another alternative is soaked currents in brandy or spiced rum or how about dried apricots in an apricot liqueur. The possibilities are endless, use your imagination or what you have handy, and please do come back and let me know what you did and how you got on.
Other delicious gluten free pudding recipes
Festive Rice Pudding Recipe
If you make it and like the recipe I would be eternally grateful if you popped back and commented leaving a star rating as this will tell search engines that this recipe is worth checking out and others will get to find it in searches.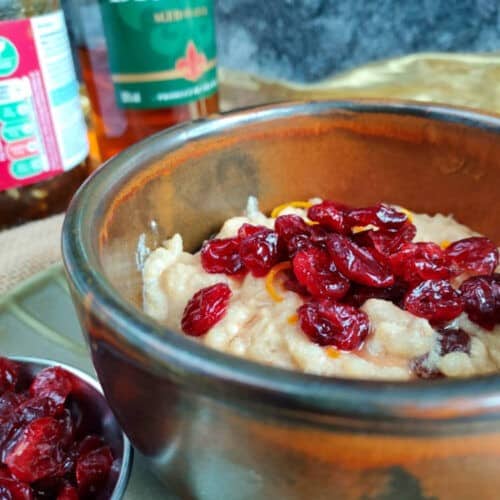 Dairy Free Festive Rice Pudding
A delicious twist on the traditional Rice Pudding recipe. This Festive Rice Pudding is made the sweet mincemeat, orange and topped with luxurious brandy soaked cranberries. It's all gluten free and made dairy free and vegan too so more people can enjoy this comfort food pudding.
Ingredients
700

ml

dairy free milk

I used soya milk

100

g

pudding rice

25

g

dark brown sugar

75

g

mincemeat

1

tbsp

orange zest

1

tbsp

butter

I use Flora plant butter blocks

50

ml

dairy free cream

I use soya cream
For the Cranberry Topping
50

g

dried cranberries

2

tsp

caster sugar

1

tbsp

brandy
Instructions
To make in a slow cooker
Rub the sides of the dish with your usual butter (or DF alternative).

Into the dish add the milk (or milk alternative), the pudding rice, mincemeat, sugar and the zest of ½ an orange

Mix the ingredients together gently and turn the slow cooker on to high, add the lid and leave for approximately 90 minutes

TOP TIP: check the rice pudding every 30 mins and give it a gentle stir to prevent any lumps forming.

Once the rice is cooked through, add the tablespoon of 'butter' and the cream and stir to combine. This adds a lovely glossy shine to the pudding and remedies any splitting of the milk during the cooking process.
To bake in the oven
Preheat the oven to 150°C | 130°C fan | 300°F | Gas 2

Follow all the same steps, butter the dish (I use a 2.5L Pyrex Glass Dish), place a lid on the pudding and bake for 2-2.5hrs

As before, check the pudding every 30mins.

If you like the baked skin that forms on a traditional rice pudding then take off the lid for the last 30mins of cooking time.
To make the cranberry topping
Simply add the dried cranberries to a bowl and soak in the sugar and brandy. This can be done while the rice pudding cooks or soak the night before. The longer you soak the cranberries the plumper they get.
Nutrition
Nutrition Facts
Dairy Free Festive Rice Pudding
Amount per Serving
% Daily Value*
* Percent Daily Values are based on a 2000 calorie diet.
Have you tried this recipe?
Let me know how it was & I will be super grateful. Take a picture & tag me @glutarama on your social media posts – I love seeing your photos more than you will ever know x
I love to see your own photos of my bakes, dinners and treats head to your favourite social media account and don't forget to tag me in @glutarama
Subscribe to my email list so that you get NEW recipes straight in your mailbox every Friday PLUS a FREEBIE and access to some amazing gluten free DISCOUNTS
*disclaimer: I use affiliate codes on my website, the vast majority are to Amazon. If you click on any of the links or images in the post and make a purchase my family will benefit from a small % of that purchase at no extra cost to you.

For full transparency, in 2020 I made my first £25, and in 2022 I reached my next £25 (Amazon don't transfer the money until you reach £25). I'm now up to £17.80 for 2023 so edging closer to the magical £25 mark!!

To date I have made £69.28 since I first started the scheme in 2017. It won't pay the bills, that's for sure but it does help to pay for ingredients or little treats to cheer me up!
Join my friendly Facebook Group
life's a drama, gluten free doesn't have to be….