For anyone wishing to embark on a Gluten Free Veganuary I thought it might be useful to share a few tips with you about how I bake things gluten free and vegan.
Lots of people (myself included) dip their toe into veganism for health reasons as well, or instead, of ethical reasons but those starting out on the journey automatically think of the meat products and dairy and eggs in their raw form. For example, no more dippy eggs on a Saturday with soldiers covered in butter and no fish with your chips on a Friday or roast beef on a Sunday.
But what about those biscuits you like to dunk in your tea? (which incidentally needs to be black or have a milk alternative). What about that cake you want to bake for the family.
WAIT! This cake can't have eggs or butter and on top of that we're gluten free! (insert image of family running around in blind panic at thought of no-more-cake)
Cool it imaginary family running around in a blind panic. I might be able to help you out.
When did Veganuary start?
Veganuary started in 2014. Incidentally you pronounce 'Veganuary' as Vegaan-u-airy just in case you were wondering? Here is the Veganuary's Team Vision.
Our vision is simple; we want a vegan world.
A world without animal farms and slaughterhouses. A world where food production does not decimate forests, pollute rivers and oceans, exacerbate climate change and drive wild animal populations to extinction.
Our mission is to inspire and support people to try vegan, drive corporate change, and create a global mass movement championing compassionate food choices with the aim of ending animal farming, protecting the planet, and improving human health. Veganuary.com
Do I have to be vegan all year?
No, you do not have to swap the lifestyle you have now for a fully vegan lifestyle for the rest of your days, this is a personal journey to you and you alone, it's not a test, nobody should be judging you, least of all yourself. Think of is as an opportunity to try before you buy. If you don't like the make and model, then no worries.
You may ask "are you going to go vegan for Veganuary Rebecca"? The answer is no.
I know that I am going to have enough on my plate this January with my daughters GCSE Mocks, hospital appointments, my personal issues with seasonal affective disorder (SAD). As a family we also juggle many dietary issues already with my daughters Coeliac Disease, Type 1 Diabetes and both Bethany and Lewis' autism many foods are off the menu.
I do keep away from dairy and egg myself as I am intolerant to these and a few other naturally vegan foods so to answer that again; Nope, I'm not going to do Veganuary, but I admire anyone who gives it their best shot.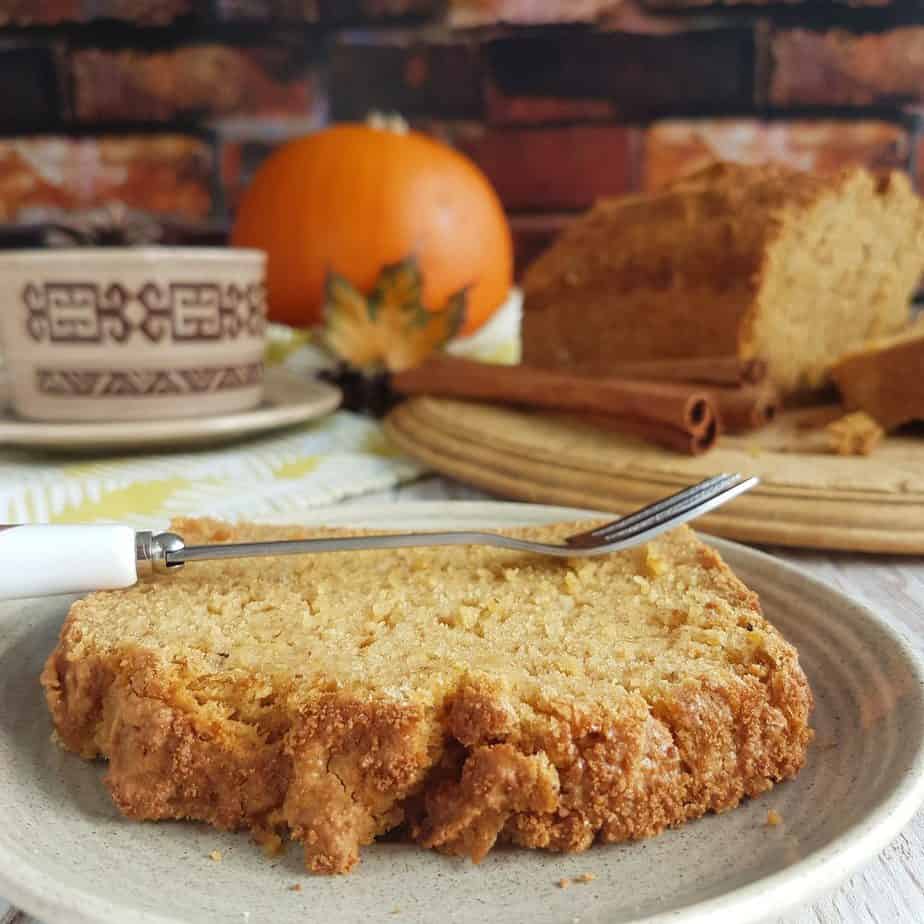 Gluten Free Veganuary – what can I use for an egg replacement?
Ground Chia Seed – personally, I use a mix of both chia and flax seeds, why? Because I had a glut of both in my cupboard, so I blitzed them together in a blender and now have a tub of both. Chia seed has a different consistency when added to liquid. You end up with a frog-spawn texture as the seed plumps. The source for this glue-like swelling is soluble fibre and mucilage which together slow down digestion and help to prevent sugar spikes. This in turn makes you feel fuller for longer. They are also high in fibre, protein, Omega-3 and antioxidants. In fact 60% of the oil in chia seeds in Omega-3. [source https://www.hsph.harvard.edu/nutritionsource/food-features/chia-seeds/ ]
Ground Flax Seed (Linseed) – Fun fact here, did you know they are the same? Well technically they're a big plant and a little plant but effectively the same thing. For those of you who are gardeners it's a bit like a tulip and a dwarf tulip. One (flaxseed) is taller and spindlier and the plant is mainly used to make material and ropes. The other (linseed) is the shorter plant and only used for its flower heads packed with tiny seeds.
Like the chia, the flax seed is high in fibre but also substantially high in Lignan. Flaxseed appears to have less mucilage in its structure, this would explain the fact that a flax and water solution does not produce the glue-like texture as a 'chia egg' would. Which is why I've taken to add another ingredient to my bakes to create the binding agent necessary to replace egg and gluten. [read on for Xanthan, Psyllium and Glucomannan]
Orgran Egg Replacer – this is a supermarket bought egg replacer that I used to use before I discovered the chia and flax egg replacements. It costs around £3 for 200g. The instructions are straight forward, and one box contains the equivalent to 66 eggs but with the following ingredients does not add a great deal of nutritional value;
Potato Starch, Tapioca Starch, Raising Agent: Calcium Carbonate. Acidity Regulator: Citric Acid. Vegetable Gum (Stabiliser): Methylcellulose.
Free and Easy Egg Replacer – like the Orgran, this is easily prepared and can be bought in store for around £2.50 for 135g. It boasts 45 eggs worth of replacer in one tub and has less ingredients than Orgran;
Potato Flour, Tapioca Flour, Cream of Tartar, Xanthan Gum, Methylcellulose
Banana –due to its naturally sticky flesh, the banana makes an excellent binder for vegan baking. The flavour can be recognised in the final bake so this often puts people off using it as an egg replacement. However, gluten free bakes can often look quite pale in contrast to their glutenous counterparts so by adding banana you get a warmer golden finish to bakes due to the hight levels of naturally occurring sugars.
Gluten Free Veganuary – what can I use to replace butter and milk?
Dairy Free Milks – the choice of milk alternative you use can be quite a personal preference. If you like to think ethically and want to be kinder to the environment, then Almond Milk would be your best bet as its proven to have the smallest carbon footprint. Otherwise, simply choose the milk alternative according to your dietary needs and taste buds. I prefer soya as it's cheap and creamier.
Almond
Soya
Rice
Coconut
Cashew
Oat (check label)
Dairy Free Butter – I have to be honest here and say that I only use Flora vegan butter blocks now. I'm so impressed with them. Prior to that I used Pure who produce olive, sunflower and baking tubs. I do have a tub of Vitalite to butter my bagels though. It's also worth mentioning that my pastry recipes (initially inspired by the Free From Fairy recipe) have both 'butter' and white fat in them. On those occasions I use TREX but you can use Crisp n Dry too as both are vegan.
Flora
Pure
Vitalite
Stork
Trex – white fat
Crisp n Dry – white fat
Dairy Free Cream – There are a couple of main contenders for vegan creams on the market. I used to get Alpro all the time but I've been impressed with Elmlea lately with their choice of single or double cream and Food Heaven for their creams versatility.
Is Vegan and Dairy Free the same?
NO! sorry to shout but many of you found my website due to dairy allergies and intolerances. Vegan does not mean it is 100% dairy free unless the labelling clearly states it is. Many vegan products have guidance to say that they are 'made in a factory that handles dairy' therefore you cannot trust the vegan marketing when it comes to special diets for CMPA or cow milk protein allergy or intolerances.
As you no doubt already do always check the labels for gluten and dairy, and not just during Veganuary. If it hasn't already, and your new to a gluten free diet, this will become a second nature to you.
What vegan ingredients do I need on my shopping list?
I've created a simple shopping list here for my favourite vegan baking essentials. In the two previous sections I've explained in a little detail what I use and why so after reading what I've said above you may decide not to go for all the ingredients, you can just tick one from each list and have this become a new regular item on your shopping list.
As you're here because you are following a gluten free diet too I've added gluten free flours that I personally use and binders that go a long way to helping with the structure of baking gluten free and vegan.
A Gluten Free & Vegan Freebie
If you like you can request the PDF version of the list. This includes 15 vegan bakes to get you started. Details on binders and how they work and more information on where to purchase everything in my FREE eBook which I will email to you. Simply add your email below, if you wish you can stay on the email list and get my weekly newsletter with my latest recipes, giveaways and free from finds.
Tips on dairy free alternatives
Tips on egg replacers
Xanthan gum & Psyllium explained
15 Gluten Free & Vegan Recipes
What vegan and gluten free recipes can I make?
Here are a couple of examples of vegan bakes you can make and if you head to the Glutarama Home Page you'll see my latest vegan recipes there too. I've also slipped in a link to my popular Clotted Cream recipe that's unbelievably vegan too.
Homemade Vegan Clotted Cream
Make your own homemade thick clotted cream but dairy free and vegan. A simple recipe to make 125ml of imitation clotted cream with a tell-tale thick crust on top. Perfect for scones for a cream tea or to accompany puddings and desserts
Check out this recipe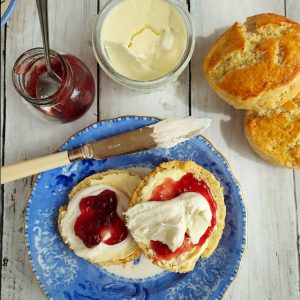 Easy Gluten Free Roast Banana Cake Buns
Quick and simple mini Roast Banana Cake Buns made with whole roasted bananas in a pretty bun tin or if you don't have one a Madeleine tin will work equally as well. These are gluten free, dairy free and vegan
Check out this recipe
Gluten Free Self Saucing Chocolate Pudding
A superbly rich and comforting gluten free self saucing chocolate pudding that's so easy to make and a real showstopper at the dinner table. This will serve 4-6 people or just me! No really! I don't normally 'do' chocolate puddings but this one I make an exception! This can also be made dairy and egg free so safe for vegans.
Check out this recipe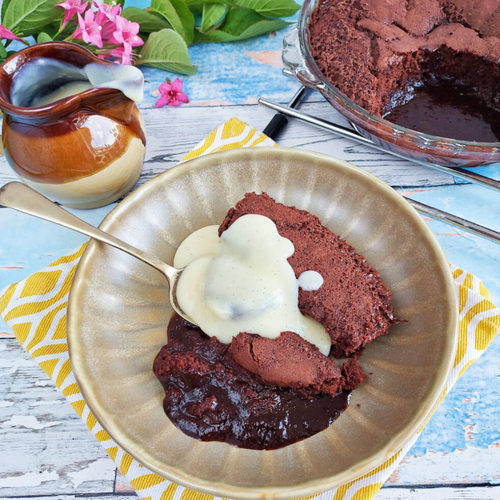 Easy Mini Gluten Free Chocolate Goo Puddings
Easily the most gooey, delicious, chocolatey Chocolate Goo Pudding you'll ever make, this pudding is super simple to create, requires very few ingredients and is not only gluten free but can easily be made dairy free and vegan too.
Check out this recipe
Vegan Lemon Curd Genoise Slice
A gluten free and vegan triple layer Genoise sponge, sandwiched with homemade vegan lemon curd and dusted with icing sugar. A beautiful addition to any afternoon tea table or to have on its own with a cup of tea.
Check out this recipe
Easy Vegan Lemon Meringue Pie
This is a surprisingly simple Vegan and Gluten Free Lemon Meringue Pie. It can be made in parts so still possible for a busy baker juggling various jobs. Using my homemade eggless lemon curd and a delicious aquafaba meringue you'll be surprised how much this reminds you of the 70/80's classic Lemon Meringue Pie.
Check out this recipe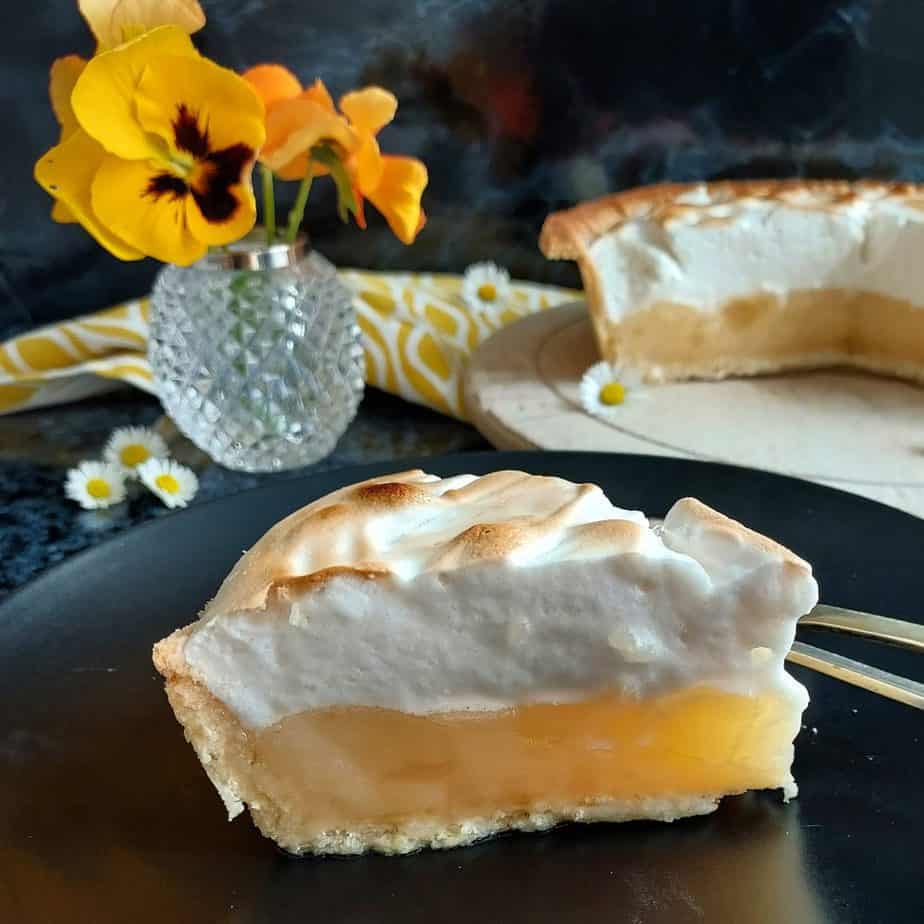 *disclaimer: I use affiliate codes on my website, the vast majority are to Amazon. If you click on any of the links or images in the post and make a purchase my family will benefit from a small % of that purchase at no extra cost to you.

For full transparency, in 2020 I made my first £25, and in 2022 I reached my next £25 (Amazon don't transfer the money until you reach £25). Recently I got paid a whopping £27.10 for 2023.

So to date I have made £78.58 since I first started the scheme in 2017. It won't pay the bills, that's for sure but it does help to pay for ingredients or little treats to cheer me up!