My recipe for this vegan and gluten free Mocha Walnut Mousse Slice has been in the making for a considerable time, both in my head and in practice. This recipe was originally developed in conjunction with a company that sell various flours, nut flours and cocoa goods. It was a lovely recipe but not at all in keeping with my principles that
Life's a drama, gluten free doesn't have to be

– Glutarama, me!
Whilst the ingredients were lovely, they were not the cheapest and not the easiest to source in any supermarket. Besides, I knew I could make my original recipe better than great. I could make it amazing.
What is my Mocha Walnut Mousse Slice?
Good question. Did you know the most difficult challenge isn't always the recipe development. The hardest part can be naming the blooming thing! I've searched the interweb and can't find anything similar so struggled to work out how to describe this dessert in one neat title.
Is it a mocha walnut mousse? Technically no. It's not a mousse because there are no eggs in it so no whipped egg white to add the tell tale bubble texture. Yet this dessert has a distinct mousse texture to it.
It is a walnut and mocha cheesecake? Again no. There's no cheese in this, dairy free or not, but it is a luxurious creamy layer smoothed over a delicious biscuit base.
Is this a walnut biscuit? Not really. Not a biscuit as you would expect, as it's mainly ground walnuts with a bit of rice flour, sugar and dairy free butter.
Maybe this dessert is best categorised as something you'd expect to see in a patisserie. Something a bit different, a bit special. All this decadence but still really simple to make with easily sourced ingredients.
Size matters?
In the accompanying photos I have portioned this Mocha Walnut Mousse Slice into 9 squares. Now I may be getting a bit too old for these sized portions but that was a rather large slice to deal with in one go. The family all agreed that these would still hit the spot if you cut each 9th into two. This would give you 18 finger slices and given the richness I think you may agree. Besides, you can always go back for another slice right?
How to make the Walnut Biscuit Base
The walnut biscuit base is made with 4 ingredients; ground walnut, rice flour, caster sugar, butter (I use dairy free Flora Butter blocks). I also add a bit of psyllium husk to help with the binding.
Another ingredient that helps with the binding is the rice flour. Rice is a very glue-like ingredient when it absorbs liquid. This is why I decided to use rice flour instead of plain gluten free flour.
The ingredients are all blitzed together in a blender and smoothed flat in an 8 inch square tin to create the biscuit base.
Then I bake the base for 20 minutes. This cooks the rice and walnuts and takes away the bitter taste you can sometimes get from walnuts. Then the base is left to cool ready for its Mocha Walnut Mousse topping.
How to make the Walnut Mousse Topping
To make the Mocha Walnut Mousse topping I use more ground walnuts, a little caster sugar, instant coffee dissolved in boiled water, butter (again I use Flora), soya cream, dark chocolate and cocoa powder.
All the ingredients are easily sourced, you probably have quite a few in your store cupboard already anyway.
The ingredients are all gradually added and whipped together to create a thick creamy pourable dessert topping.
How can a Mousse be vegan and have no egg?
This is the magical element of this recipe. Somehow, don't ask me how, the walnuts aid the thickening process of the cream, chocolate and butter and activate in the creamy mixture to create a light fluffy texture – crazy right?
It may have something to do with the extremely high levels of fibre in walnuts?
This may be why so many vegan recipe developers use cashew nuts in their cheesecakes. To create a creamy flavour but add a lightness to the whipped topping?
Who knows…do you? If you understand the science behind this nutty behaviour then feel free to enlighten us in the comments. I'll even add your sciency knowledge to the post.
Do I have to prebake the Walnut biscuit base?
Making this Mocha slice without baking the biscuit base is possible. However, the walnuts are very fatty and ideally need to be cooked off a bit. As mentioned , the nuts also have a slightly bitter taste and baking them softens the flavour making it less over powering. The flavour in the mousse isn't a problem as it offsets perfectly against the coffee and chocolate.
Can I make this Mocha Mousse Slice with different nuts?
You can make this Mocha Walnut Mousse Slice with different nuts, of course then it won't be a walnut slice any more (Obviously – you have to say that in the style of Severus Snape).
If you do plan to swap out the walnuts might I suggest you use equally fatty and creamy nuts such as pecans, hazelnuts or cashews.
The pecans will add a delicious caramel-like sweetness. Hazelnuts will add a warm Nutella style twist. Alternatively, the cashews will be super creamy but understated in flavour making the mocha flavours shine through even stronger.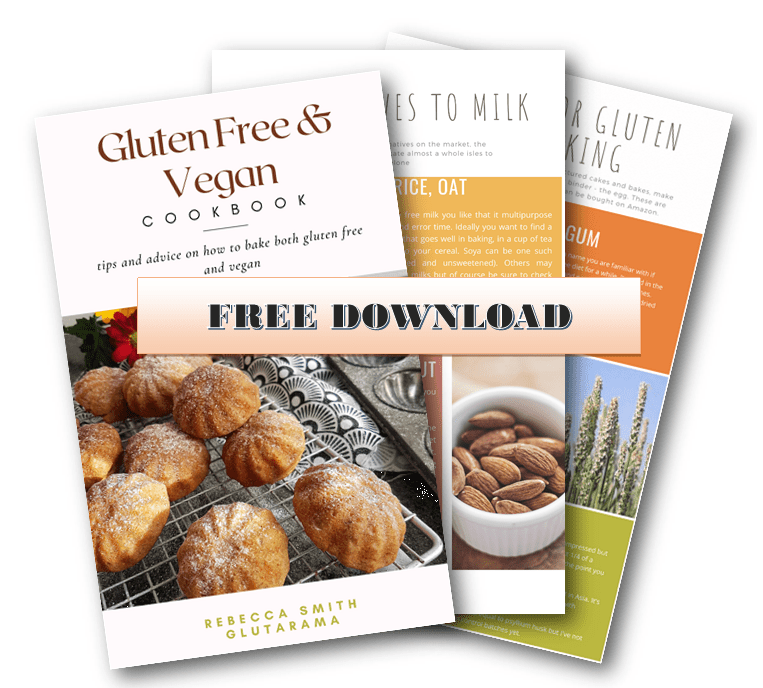 Never miss out again…
Sign up to my weekly Friday newsletter and not only get a FREE e-Book (currently my Gluten Free & Vegan Cookbook) but also get VIP subscriber discounts on free from goodies delivered to your door. Join me in my journey and learn to make anything gluten free.
WHAT IS THE BEST DAIRY FREE CREAM?
Getting vegan bakes and desserts right takes time. You need to ensure that where dairy fat is removed, you replace it with something similar. Likewise, eggs are like the mortar of baking. Without these important building blocks you find that cakes are either solid or crumble. Desserts are too soft and unstable and generally success in the kitchen is a game of chance.
Here's where I step in, I've done all the hard work, failed all the many fails so that you don't have to. If you ever have any questions regarding gluten free, dairy free and vegan baking please do not hesitate to ask in the comment below or email me direct [email protected].
If you're keen to find out more, head over to my post Ingredients and Simple Recipes for a Gluten Free Veganuary even if it's not Veganuary when you read this, the post is packed with tips and tricks to help you to understand the ingredients I use in my baking and more importantly why. Once you understand what each element does, you'll be far more confident to head off and make your own new baking discoveries
Dairy Free / Vegan Creams
I get asked 'what is the best dairy free cream to use' a lot, so I've added some advice here.
Baked recipes
If using cream alternatives in baked recipes the type of cream matters less but care needs to be taken when cooking it as dairy free cream can still split like dairy cream. Therefore you are free to use any of the following brands; Elmlea (single or double), Alpro (single), Food Heaven – Heavenly (Sweetened or Unsweetened)*, Coconut Cream (any % or coconut extract)
No Bake recipes
Usually in a no bake recipe the cream you add is part of the building block to add structure. For example whipped cream in a Victoria Sponge Gateau. For this reason you need to use a dairy free cream that has the highest fat content so a double cream (Elmlea produce double plant cream) or a Coconut Cream that has 60+ of coconut extract. However, Heavenly also behaves well when whipped.
Ice Creams
I have made my ice creams with all the dairy free creams mentioned above, single, double, high fat, low fat and all work because I always add a little dairy free butter to stabilise the structure so you can use all types of plant/soya/coconut dairy free creams.
How should I store this Mocha Walnut Slice?
I store my mocha slices in a Tupperware container in the fridge. This dessert is best if made a day in advance to give the mousse time to thicken and mature in flavour.
The dessert actually gets better with age and the coffee, chocolate and walnut flavours build in strength and create a more delicious flavour sensation. I've still had a slice or two remain perfectly edible after 5-6 days.
More delicious gluten free dessert recipe inspiration
Vegan Mocha Walnut Mousse Slice Recipe
If you make it and like the recipe I would be eternally grateful if you popped back and commented leaving a star rating as this will tell search engines that this recipe is worth checking out and others will get to find it in searches.
Vegan Mocha Walnut Mousse Slice
Rich and decedent mocha cream on a walnut biscuit base and topped with dark chocolate and dusted with cocoa, this is not your everyday teatime treat. Not only is it delicious but it's also gluten free, dairy free and vegan too.
Ingredients
Walnut Biscuit base
150

g

walnuts

ground

150

g

rice flour

100

g

caster sugar

80

g

melted butter

I use Flora plant butter blocks

½

tbsp

psyllium husk powder (optional)

Optional but aids with binding
Mocha Walnut Mousse topping
350

ml

soya cream or usual dairy free alternative

100

g

walnuts

ground

50

g

caster sugar

100

g

softened butter

1

tbsp

instant coffee

1

tbsp

boiled water

100

g

dark chocolate

I used Bournville (has a may contain for milk)

2

tbsp

cocoa powder
Chocolate decoration
2

tbsp

cocoa powder

to dust the walnut mousse slice

9

chocolate coated walnuts

optional
Instructions
To make the walnut biscuit base
Add the flour, ground walnuts, sugar and psyllium husk (if using) to a large mixing bowl, I used my Kenwood with a dough hook.

Next add the melted butter and mix until the mixture starts to come together. it will form a crumbly dough.

The squeeze test will indicate if the dough is the right consistency. Just squeeze a teaspoon of the mixture in your fist if it holds its shape it's good to go.

TOP TIP: if the mixture is too crumbly add a table spoon or two of hot water and remix.

There's no need to rest this dough in a fridge you can press it into your 8" square tin straight away. Use the back of a spoon to tease the walnut biscuit dough into the corners and smooth the surface flat.

Place the biscuit base in the oven on 180°C | 160°C fan | 350°F | Gas 4 for 20 mins making sure the edges do not burn.

Allow to cool completely. Whilst this cools set to work on your mocha mousse topping.
Making the mocha mousse layer
Dissolve the coffee granules in the boiling water and leave to cool a little.

In a mixer add the cream, coffee, sugar and softened butter and whisk on a high setting until thick. Let the mocha mixture stand for 10 mins to thicken a little more.

Next fold in the ground walnuts.

Pour the mocha mixture over the cooled biscuit base and pop into the fridge for at least 30 mins to harden.

Remove from the fridge and dust with cocoa powder. Return to the fridge and leave for an hour or two before serving.

TOP TIP: this dessert is best served 12-24hrs later.
Notes
The photos show a portion cut into 9ths, this is a rather rich dessert and would be equally as satisfying if cut into 18ths so cut the square 4x into nine and then divide each square into two rectangular finger slices.
Nutrition
Nutrition Facts
Vegan Mocha Walnut Mousse Slice
Amount per Serving
% Daily Value*
* Percent Daily Values are based on a 2000 calorie diet.
Have you tried this recipe?
Let me know how it was & I will be super grateful. Take a picture & tag me @glutarama on your social media posts – I love seeing your photos more than you will ever know x
I love to see your own photos of my bakes, dinners and treats head to your favourite social media account and don't forget to tag me in @glutarama
Subscribe to my email list so that you get NEW recipes straight in your mailbox every Friday PLUS a FREEBIE and access to some amazing gluten free DISCOUNTS
*disclaimer: I use affiliate codes on my website, the vast majority are to Amazon. If you click on any of the links or images in the post and make a purchase my family will benefit from a small % of that purchase at no extra cost to you, in fact, for full transparency, in 2020 I made my first £25, and recently in 2022 I reached my next £25 (Amazon don't transfer the money until you reach £25). As you can see, it won't make me a millionaire but it will treat me to a few coffees, Lord knows I need the caffeine!
Join my friendly Facebook Group
life's a drama, gluten free doesn't have to be….