I've not been able to make many of my favourite Raw Chocolate Energy Snack recipes for a while now due to that fact that I can no longer have protein powder, nearly all protein powders I've come across have dairy in them so I was pretty excited when Nutree Life approached me wanting my opinion on their vegan products.
Disclaimer: Nutree Life sent me these products to try out for free but the thoughts and opinions are my own and I'd have it no other way!
In fact, looking back quite a few of my raw snacks and treats had protein powders in them (stolen from my husbands vanilla and chocolate protein shake powders, shh don't tell on me!) The powder I chose to have sent me was pumpkin powder, the thought of turning pumpkin seeds into a powder intrigued me. Don't make my mistake and take a HUGE whiff of it when you open the packet, it's got a punch but my goodness what a rich earthy nutty smell. I can see this working in both savoury and sweet equally as well and while I'm being honest and saying that to drink it would not be my favourite thing to do I can imagine well seasoned protein shakers would be happy to knock a pumpkin protein shake back post work out.
Whoops! I said that word 'workout' not wishing to be a fraud because I'm no gym queen, nor do I climb mountains, or play competitive sports. I walk dogs, do Pilates, Yoga and run around after my children and husband so in my view I'm permitted to have a protein pick-me-up just to keep me wake during those afternoon lulls you hear me mention so often.
So what's all this hubub about protein and why are you sticking it your food Rebecca?
The Power of Protein

Protein is an important component of every cell in the body. Hair and nails are mostly made of protein. Your body uses protein to build and repair tissues. You also use protein to make enzymes, hormones, and other body chemicals. Protein is an important building block of bones, muscles, cartilage, skin, and blood.

Along with fat and carbohydrates, protein is a "macronutrient," meaning that the body needs relatively large amounts of it. Vitamins and minerals, which are needed in only small quantities, are called "micronutrients." But unlike fat and carbohydrates, the body does not store protein, and therefore has no reservoir to draw on when it needs a new supply.

taken from WebMD – Benefits of Protein
So from that sciency bit of information I got this; it's good for your hair, nails, skin and hormones. That's good, I have all of those things and they could all be much better as far as I'm concerned!
For those of you who love the idea of my Raw Chocolate Snack Squares but are super busy it's worth knowing that I also got some delicious Protein Snack Bars and some amazing vegan burger mixes check them out on my Instagram account here and here!
Other raw gluten free energy snack recipes
I have a few of these raw recipes on my site, I went through a phase of using up bits and bobs of ingredients and had an awesome time developing new recipes, now I know them all off by heart and whip a nutritious gluten free, vegan energy ball or square in no time. Why not try these recipes for; Apricot Cacao Raw Squares (gluten, dairy, egg free), or this recipe for Simple Carob Date Balls: easy, delicious energy boost snacks, or these Deliciously Simple Fruit and Nut Chocolate Truffles that would be perfect made as a gift.
How to make energy balls and bars
I notice a lot of people asking on social media 'what makes a good energy bar'? Well, the formula for success is very simple, you need 1/3 of each food group give or take a gram or two.
Fats – it has to be a solid fat, great examples are coconut fat solids, butter, butter alternatives (I use Flora here in the UK) and even vegetable fat solids such as Trex or Crisp n Dry. The latter are less palatable. The need for a solid fat is that you need it to return to it's solid state to keep the shape. The only exception to this is if you plan to coat your energy ball in chocolate.
Fruit – to pack the nutrients into your energy balls you need dietary fibre (fiber), fructose and vitamins. Dried fruits supply you with all of these elements and in concentrated forms. The levels of vitamins you achieve in each bite depends on the combinations of fruits you use. Great inexpensive dried fruits for this purpose are; apricots, apple, dates, sultanas, raisins, figs and prunes.
Nuts/Seeds – this element of your energy ball needs to be added to increase the vitamin intake and add minerals, essential fats and omega oils. To much of this in your energy balls and you'll find you have a crumbly ball, and nobody wants to eat a crumbly ball, am I right?
Follow this rule, have fun with swapping out the ingredients and you will find yourself making loads of these powerballs in no time and sugar crashes and afternoon lulls will be a thing of the past thanks to your homemade energy balls.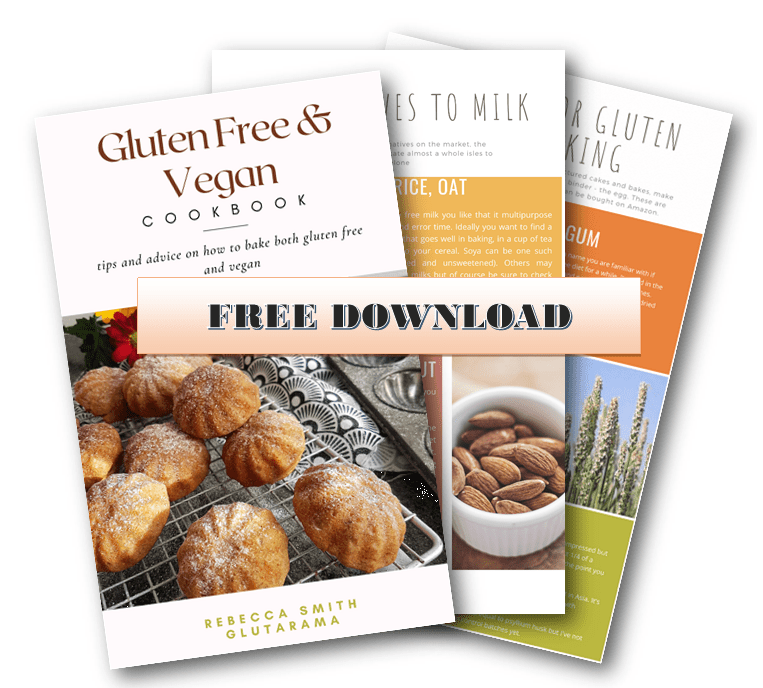 Never miss out again…
Sign up to my weekly Friday newsletter and not only get a FREE e-Book (currently my Gluten Free & Vegan Cookbook) but also get VIP subscriber discounts on free from goodies delivered to your door. Join me in my journey and learn to make anything gluten free.
Raw Chocolate Energy Snack Squares Recipe
Raw Chocolate Snack Squares
Deliciously simple to make, these Raw Chocolate Snack Squares are a no-bake alternative to the chocolate brownie. Great for having on stand-by during those hotter months when you can't stand to be in the hot kitchen but crave a gluten free treat to boost those energy levels.
Ingredients
115

g

dried figs

115

g

dried prunes

150

g

milled linseed,

I used the Harvest Morn Linseed with berries mix available at Aldi

100

g

gluten free oats,

if you can't have oats I'd sub with 50g gluten free plain flour

60

g

protein powder,

I used Nutree Pumpkin Seed Protein

50

g

ground almonds

50

g

desiccated coconut

50

g

date nectar,

or honey if you'd prefer

50

g

coconut oil

3

tbsp

cocoa powder

3

tbsp

water
To decorate
150

g

70% dairy free dark chocolate

pinch of salt

desiccated coconut
Instructions
Add all the main ingredients to a blender and blend – yes, it's that simple!

Tip into an 8×8" square brownie tin, preferably with a loose bottom and lined with greaseproof paper.

Smooth paste down with the back of a spoon, I have a bowl of water handy to dip the spoon in at intervals to stop the mixture sticking to the spoon.

Melt the chocolate and salt in the microwave on shorts blasts until smooth.

Pour over the flattened paste and tease to the edges.

Sprinkle with a little coconut for effect.

Pop in the fridge for 30 mins then remove and cut into 9 – or it watching the calories cut into 16 squares
Notes
Keep the squares in the fridge in an airtight container and have one next time you need a fix!
Nutrition
Nutrition Facts
Raw Chocolate Snack Squares
Amount per Serving
% Daily Value*
* Percent Daily Values are based on a 2000 calorie diet.
Have you tried this recipe?
Let me know how it was & I will be super grateful. Take a picture & tag me @glutarama on your social media posts – I love seeing your photos more than you will ever know x
Don't lose this recipe for Raw Chocolate Energy Snack Squares
And one last thing! I've linked with these other awesome bloggers pages, go check them out
*disclaimer: I use affiliate codes on my website, the vast majority are to Amazon. If you click on any of the links or images in the post and make a purchase my family will benefit from a small % of that purchase at no extra cost to you, in fact, for full transparency, in 2020 I made my first £25, and recently in 2022 I reached my next £25 (Amazon don't transfer the money until you reach £25). As you can see, it won't make me a millionaire but it will treat me to a few coffees, Lord knows I need the caffeine!